Take your regular papad to the next level. A quick and simple way to make masala papad with mangoes and cucumber. The papad can be fried or roasted
Do you quickly devour the papad appetizer at Indian restaurants even before the server has had the chance to put it on your table?
Well, then you are going to love this recipe and you might never look at papad the same way ever again!
It has been a long time since I have posted a recipe for an Indian dish. Indian food is part of my daily life! I love the spices, the flavors and all the variety that it is known for.
"Indian food is great tasting and good for the soul." Every day, I climb to my rooftop just so I can shout that phrase on top of my lungs. People walking below just stare at me and think of me as the crazy lady.
They, however, nod in agreement.
Cooking Indian food comes easy to me. I don't have to think about it. All the methodologies and steps have been deeply ingrained into me since childhood. Not to brag, but, I am sure I can cook it with one hand tied behind my back!
So, I take the time to create some non-Indian dishes. This blog, in one way, is to force me to get out of my comfort zone. It has become a way for me to experiment with ingredients to see what will work and what will not work.
That hasn't stopped me from bringing some Indian Spices to classic dishes from other cultures. Remember the Carmon seeds used in Fried Green Tomatillos? That recipe has been a huge success with my readers.
For this recipe, I am going to make something my mother used to make. This is in honor of her very recent birthday which was very special to both of us. This was the first time, in over ten years, that I had wished her a Happy Birthday. We had a falling out years ago and only recently reconnected.
That is a story for another day….
Every Sunday, during my formidable years, masala papad was a staple on the dinner table. For Sunday dinner, there would be masala papad, masala chips (masala french fries) and Mom would make her INFAMOUS samosas.
My mother's samosas are just as legendary as her masala papad. The samosas are slightly larger than bite-size and the perfect equilateral triangles! If you took your protractor to it, you would notice that all the angles are exactly 60 degrees!
She made her samosas from the bottom up. She would never DREAM of using store bought samosa "shells". Even now, when we are at Indian restaurants, both of us will let out a simultaneous loud grunt at the sight of the restaurant's samosas. They are bulky, have no shape and drenched in oil.
Don't worry, someday soon, I will get her to help guest write a blog post with her recipe for equilateral samosas. I am working on her slowly and I am sure I am wearing her down.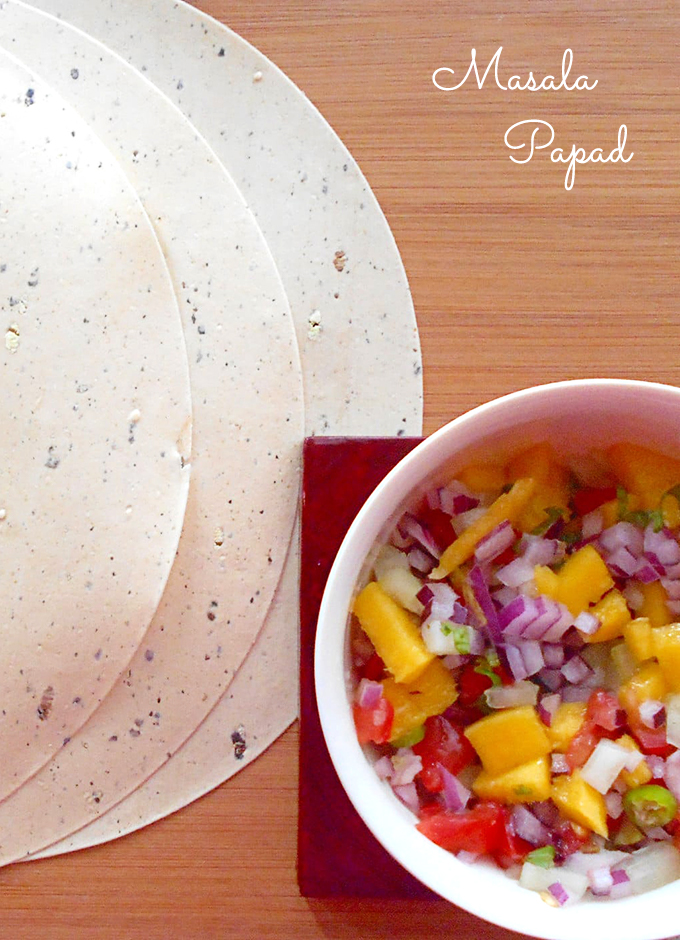 I want the whole world to see her perfect samosas.
This masala papad is her recipe with one variation. My recipe includes mango. Mango came about quite accidentally after I added it instead of onions.
Talk about happy accidents!
If you are worried about eating fried food, then, this recipe works great with roasted papad instead. Tastes just as good.
My favorite recipes from my mother are her masala papad and her samosas. What recipe of your mother do you remember the most?
You can serve this by itself or with (affiliate link) green chutney.
If you want to learn how to make papad from scratch, try this recipe version by Jain Rasoi or purchase (affiliate link) pre-made papad from amazon
I also love using a poblano and papaya chutney for this recipe
How to make Masala Papad
Masala Papad
Take your ordinary Papad and turn it up a notch!

Ingredients
3

Papad

1/2

cucumber

1/2

Red Onion

Small

1/2

Mango

Small, ripe

4-5

cherry tomatoes

Slightly Firm

1/2

cup

corn

(you can use frozen, just make sure it is dry)

4

leaves

cilantro

1/2

tsp

Chaat masala

1

Thai Chili pepper

1/8

tsp

Salt

1/8

tsp

Crushed black pepper

Optional

1/2

tsp

Cayenne pepper

1/2

tsp

lemon juice

For Garnish

1

cup

Extra Virgin Olive Oil

to shallow fry the papad
Instructions
Chop the cucumber, onion, chili and tomatoes finely. Make them as small as you can get them

Chop the coriander leaves

In your frying pan, add the oil and set the heat to medium
Frying the papad
Place paper towel flat on a big plate


Heat the oil on low heat for about 2 minutes


Hold the papad with a pair of metal tongs and dip into the hot oil

Pull out the papad immediately. Don't let it brown


Place the fried papad on the plate and let the napkin soak up the oil


Allow the papad to cool


Fry the remaining papads in the same way.
Assembling the masala papad
In a mixing bowl, bring all the other ingredients together, except the lemon

Fill the top of the fried papad with this mixture and squeeze lemon juice on top.

Serve immediately because it will get soggy

Notes
Nutrition Info is approximate
You can roast the papad instead of frying it by microwave the papad. Place a dry papad in the microwave and set it to 15 seconds. Microwave on each side for the same time. The time might vary depending on your microwave.