Have you tried matcha green tea powder? This is my first time using it in a recipe and totally love it! This is now the best Vegan Pancake Recipe I have ever made! I topped with figs and blueberries mixed with agave.
Can I just tell you that I am disappointed that it took me THIS long to start working with Matcha!
I don't know why I haven't used it before!
Even though I have had desserts made by other bloggers or in restaurants, I never really tried my hand at it!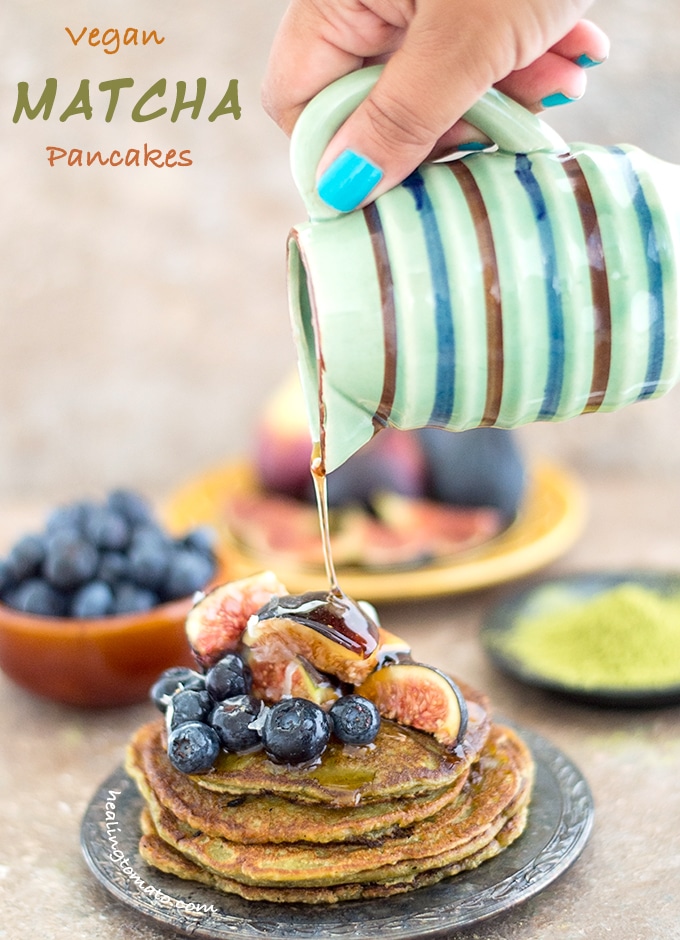 But, you have heard the platitude about better being late to Matcha than never trying it before!
Now, that I have tried it, I can't stop using it. I even flavored my sparkling water with it and it was the best drink ever made!
So, what is matcha? Its tea leaves dried and turned into a powder.
What's the difference between Green Tea and Matcha Tea Powder?
Basically, when tea is harvested, the components of the leaves are extracted and the remaining part of the leaf is discarded. That's how we get regular green tea. To make matcha, the whole leaf is used to make the powder!
This stuff is fascinating, isn't it? As I was researching it, I came across so many fun facts and matcha health benefits. I am not a dietician or health professional of any kind. These 5 fun facts are my own opinions from what I researched.
5 Fun Facts about Matcha
1) In Japan, preparing matcha is almost a religious experience
One of my many dreams, is to attend a very traditional Japanese tea ceremony. There are so many preparations that go into making the tea. There are precise steps taken during the preparation, requiring ritualistic steps. When you finally consume it, its almost a very zen moment!
Source: Honoring the Matcha Tea Ceremony: A Traditional Japanese Ritual
2) Matcha puts you in a good mood
Have you heard of L-theanine? I hadn't heard of it until now and it is a very intriguing amino acid! (I never thought I would ever say that about amino acid). It has this amazing ability to cross the blood-brain barrier and as a result, it can calm the mind. The body will feel relaxed and you will find yourself energized!
3) Best Food Source for Antioxidants
1 cup of brewed matcha tea has more antioxidants than 10 cups of green tea! Holy Antioxidants, Batman! Its measured by a method known as ORAC (Oxygen Radical Absorbance Capacity) used by USDA. After reading that Matcha is a great source of antioxidants, I have to remake my Antioxidant blast to include this powder! To keep the antioxidant power, its recommended that you don't mix it with cow's milk products.
4) True Matcha is Scarce!
Not all matcha is created equally! True matcha (or ceremonial grade) is very rare. Its only grown in 4 areas in Japan: Uji/Kyoto, Shizuoka, Nishio and Sayama. They produce high quality matcha tea and it's still harvested in the tradional way. The Kyoto variety is widely considered the highest quality tea around. Most of the traditional Japanese tea ceremonies use this grade only. It has a very distinct light green color
The premium grade is the most common type found around the world. I used it to make both my pancakes and my mineral water using this (affiliate link) TEAki Hut brand and it was delicious. It also has a very prominent green color and tastes amazing.
The less common version is the cooking grade variety and the most affordable of the three. It has been stripped of most of its goodness and mostly used to provide color to the recipe. You can distinguish it by its very dark green color
Source : Wikipedia and Encha.com
5) It has to be prepared and stored correctly

So, I need the right tools to make matcha! Using a spoon to stir it is a huge no-no. The best way to make it is to use (Affiliate Link) Bamboo Whisk Set just like they do in Japan. I ordered it, but, sadly, it didn't get here in time. So, instead, I used a brush. Use something that has bristles at the end which will ensure that the powder mixes completely with the water. To store it, put it in an airtight container and place it in a cool, dry place. I have seen people store it in the fridge too. To prepare the tea, add 1 tsp to warm (about 20° above room temperature) 8 oz water and mix. Since the powder tends to settle, its best to consume it immediately
Source: Japanese Green Tea Company and Business Insider.
For all its wonderful benefits, all matcha grades have one drawback. Since matcha is grown and extracted in its entirety, it has a high amount of lead.
Now, let me tell you about these vegan pancake recipe.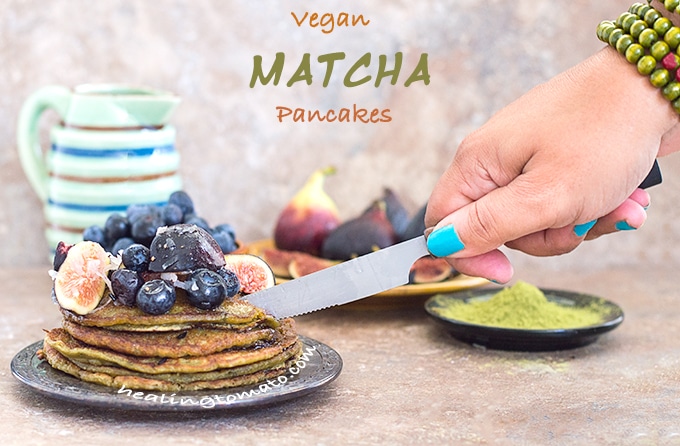 There is something so delectable about making pancakes from scratch, isn't there? I feel like I can taste every ingredient in it and savor all the sweet ingredients.
I wanted to make a very easy and quick vegan pancake recipe for Sunday brunch. This way, there is more time to devour it! Its going to be my Sunday brunch staple!
Try my savory scallion pancakes recipes. Or, go the waffle route and try my chocolate chip and pecan waffles.
Tell me about your favorite Matcha recipe.
Vegan Pancake Recipe
Vegan Pancake Recipe made with Matcha powder. Made in 20 minutes.

Ingredients
For The Pancakes
½

cup

All Purpose Flour

2

tsp

Apple Sauce

Unsweetened

1

tsp

Nutritional Yeast

2

Tbsp

Coconut Flour

1

tsp

baking powder

½

tsp

baking Soda

1

tsp

matcha powder

1

tsp

Flax Seed Meal

Optional

1½

Tbsp

Coconut Palm Sugar

2

cups

Almond milk

into 4 equal parts

2

tsp

Coconut oil

½ tsp per pancakes
For The Toppings
4

Figs

Each cut into 4 pieces

½

cup

Blueberries

1

tsp

sweetened coconut

1

Tbsp

Agave

Optional

¼

cup

Pure Maple Syrup
Instructions
In a bowl, add all the ingredients for the pancake except the almond milk


Mix with a spoon, then introduce the almond milk (¼ cup at a time). Mix well before adding the milk


Heat a griddle to medium heat and add ½ tsp of coconut oil


Add about a ¼ cup of the pancake batter and let it cook on one side


Flip after about 45 seconds or when you see the edges start to brown


Cook the other side for 45 seconds and transfer to a plate


Use up the rest of the batter. Makes about 4-5 pieces of pancakes

To Make The Toppings
In a bowl, add all the ingredients for the toppings (except the maple syrup)


Top the pancake with the fruit mixture


Drizzle the maple syrup and serve immediately