A colorful Mediterranean tomato salad with feta, olives and blackberry sauce. This is a simple, yet delicious summer tomato salad recipe.
Can you eat tomatoes all day long?
If you made these Mediterranean salad, you would make it every day too.
Drizzle with a homemade blueberry vinaigrette and you have the perfect meal on hand.
So, in honor of summer and the Greeks, here is a delicious recipe for Mediterranean Tomato Salad.
I added some wonderful Feta cheese to this salad. Feta cheese gets a bad rep because of its salty taste. However, there is a lot of nutrients in the milk that make it good for you.
If you can find Feta cheese made from Sheep's milk, it is even better. This is according to the Live Strong Foundation.
I also have a homemade vegan feta cheese recipe that I think you will love.
Olives are my favorite part of any Mediterranean diet. Whenever I find myself at a salad buffet, I always gravitate and park myself next to the olive bar!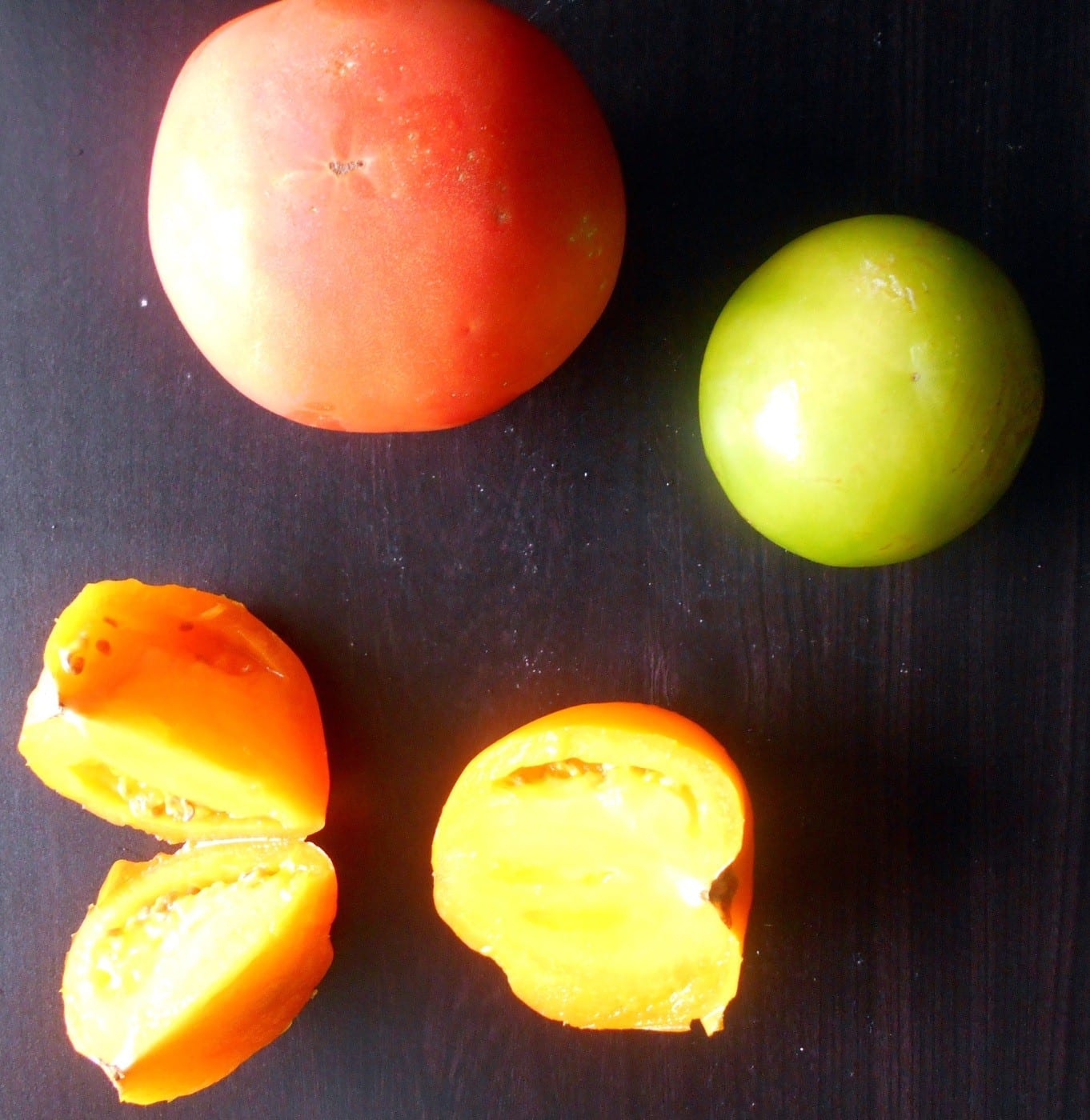 Blueberries are a huge part of Mediterranean Diets. I wanted to add whole blueberries to my Mediterranean tomato salad, but, I am not brave enough just yet. I haven't fully conquered my aversion to blueberries.
Time and baby steps will make me like blueberries at a future date.
Instead, I decided to turn blueberries into a vinaigrette and used it as a dressing to the salad. That turned out to be a wonderful idea and this Mediterranean tomato salad tasted so GOOD!!
If you are a frequent visitor to my blog, you know I LOVE unique salad dressings. I can't stand the traditional Ranch or French dressings. They are too BLAH in my opinion and too generic.
Additionally, the store bought dressings are filled with sodium and preservatives. I think it defeats the purpose of eating a salad.
It bothers chefs when I order a salad with the dressing on the side. I want to let all those chefs know that it is not them; It is me!
I like fresh ingredients in my salad dressing and I make no apologies for it.
In this salad, I decided to go colorful with my tomatoes. It is summer and the tomato choices are abundant in Florida.
My choice of tomatoes includes tomatillos. That is a hard taste to acquire. So, if you don't like tomatillos, substitute with green tomatoes.
I also love roasting tomatoes. It brings out all the juices, tang and sweetness of the tomatoes. Have you tried my oven-roasted cherry tomatoes?
Get some of my best tomato recipes ever made!
If you like walnuts, add them to this Mediterranean Tomato Salad. They will add a texture and more nutrition to the salad.
What is your favorite Mediterranean Diet dish
Mediterranean Tomato Salad
Mediterranean Tomato Salad – Usea variety of tomatoes, add olives, feta cheese and top it with a blueberry vinaigrette. Comes together in a few minutes. Quick and simple side salad
Ingredients
1

Beefsteak Tomato

1

Orange Tomato

1

Tomatillo

or Green Tomato

½

Cup

Feta Cheese

½

Cup

black Olives

or Kalamata

½

Cup

Walnuts

Chopped, optiona

2

Leaves

Mint

(Optional)

¼

Cup

Blueberry Vinaigrette
Instructions
Chop the tomatoes into wedges

Add the remaining ingredients

Chop the mint finely and spread it on the salad

Add the Blueberry Vinaigrette and toss lightly

Optionally, you can add lightly roasted pine nuts on the salad

Serve the Mediterranean Tomato Salad immediately
Notes
Nutrition info is approximate