Mexican Crepe Tacos is a an interesting choice for a blog party! Today's post comes to you as part of Mexican-themed Diner blog party which includes some of the finest food bloggers I have come to know. Stay tuned for an introduction to these fine chefs and what they bring to the blog party.
I have got to say that this has been the most fun and challenging recipe I have made. To get the crepe recipe, I had tried several combinations to satisfy both the vegan and gluten free criteria. Rice flour would have been a great choice except that it didn't have a "gluing" agent.
Ultimately, the best choice for crepe was the gluten free multi-purpose flour. Like the name implies, it is infinite in its possibilities. I made some strawberry muffins with this flour and I couldn't tell that they were gluten free.
The almond milk is such a perfect choice for crepe. It adds a little sweetness and also combines perfectly with the flour.
Who says you can't make crepes without eggs? I added 3 tsp of water for 1 tsp of flax seed flour. That is what 1 egg would have supplied to this recipe. The flax seeds also added Omega-3 fatty acid to a vegan and gluten-free diet.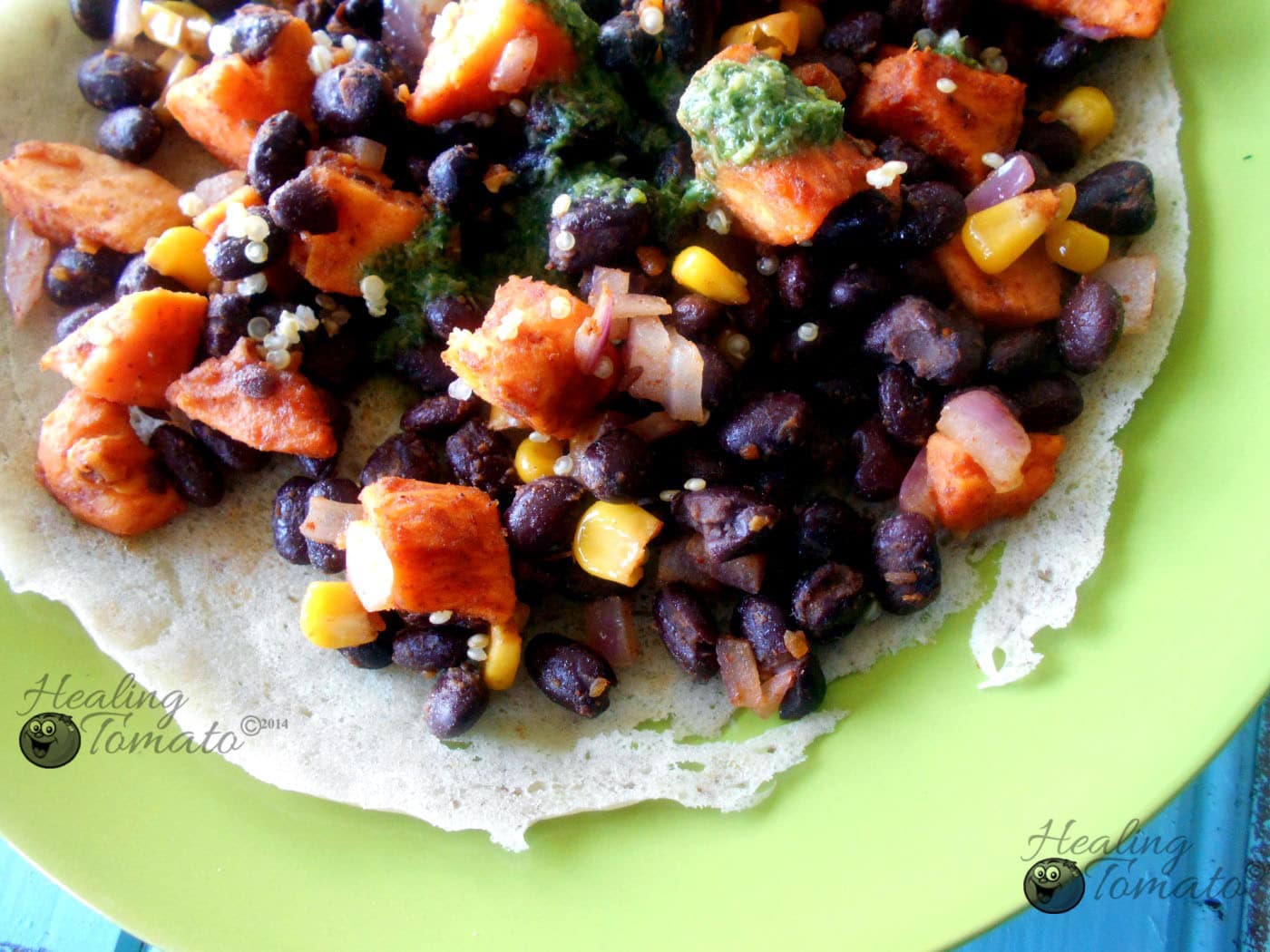 The one difference between these crepes and regular crepes is that these crepes have to be thicker since they are going to hold much more ingredients. Also, I made them crispier so that you can get that taco feel.
The star of this recipe turned out to be the sweet potato, which actually surprised me. I was hoping the chutney would get the star. However, adding the sweet potato made this a hearty meal. Additionally, it added a whole bunch of Vitamin A and B-6 to this recipe. Also, the sweetness of the potato was perfect combination with the crepe.
Have you tried my loaded sweet potato?
How to make Mexican Crepe Tacos (Vegan, Gluten-free)

Mexican Crepe Tacos – Gluten-Free, Vegan
Mexican Crepe Tacos that are vegan and gluten-free. Made with Sweet potatoes, black beans and coriander chutney
Ingredients
For the Crepes
3

tsp

of ground flax seed flour

4

cups

of Multi-Purpose Gluten Free Flour

4

cups

of almond milk

9

tsp

of water

Cooking spray
For the Taco Filling
1

tsp

of cumin seeds

2

cans of vegetarian black beans

1 1/2

cups

of whole kernel sweet corn

(frozen or fresh)

2

sweet potatoes

, medium sized

1/2

cup

of Quinoa seeds

1

cup

of red onions

, finely chopped

2

tsp

of taco seasoning

2

tsp

of sunflower oil
For the Coriander Chutney
1

stalk of coriander

1/2

cup

of almond milk

1/2

of a chopped jalapeno

3

tsp

of coconut milk

Salt to taste
Instructions
Prepare the Crepe
Sieve the gluten free flour

Mix the flax seed flour and water

Add this mixture to the gluten free flour

Slowly start adding the almond milk while mixing with the other hand

Once all the almond milk is added, use an electric whisk to blend the batter

The consistency should be thick but runny. Add more almond milk, if needed

Set aside for about 20 minutes
Making the Crepe
Heat a medium circular pan to high heat

Spray the pan using a cooking spray

When you hear the sizzling in the pan

Hold the pan handle with one hand and add about 1 cup of batter into the center of the pan

Quickly start rotating the pan in a circular motion and distributing the batter around the whole pan

It doesn't have to be perfect, but, get it as circular as possible

Also, remember to keep the crepe a little thick so that it can hold the filling well

When the bubbles start appearing from the bottom of the crepe, gently flip it

Keep it on this side for about 30 seconds

Place it on a flat plate and set aside

Continue until all the batter is done
For the Filling
Use the mini oven to bake your potato at 375 degrees. Wet the potato and wrap the potato in aluminum foil before baking

Remove the potato after about 25 minutes

Carefully open a little of the foil and stick a fork into the potato to see if it is done

Leave the potato in the foil at room temperature for about 10 minutes

If you are using frozen corn, microwave it for about 30 seconds

Cut the potato into medium sized pieces

Cook the Quinoa seeds like you would cook pasta. When the quinoa double in size, they are ready to be strained

In a medium pan, add the oil and heat for about 30 seconds

Add the cumin seeds and allow to brown a little

Add the remaining ingredients and saute for about 2 minutes

Remove from heat and set aside
For the Coriander Chutney
Wash the coriander thoroughly

Add the whole coriander bunch into a food processor

Add the remaining ingredients and pulse the contents

Make sure that all the coriander is pureed

Remove from the processor and chill the chutney for about 30 minutes
Bringing it all together
In a plate, place one crepe flat

In the middle of the crepe, place the filling mix

Top the mixture with the coriander chutney

Roll the crepe like a taco and serve