These mini sweet pepper bites are perfect Party appetizers. Can be made in less than 30 minutes. Easy appetizer recipe for the whole family
Do you crave comfort food right around holiday time? I know I do. Lately, for unknown reasons, I have been heavily craving comfort food especially Mexican comfort food.
I made Mexican lasagna, Mexican dip and stuffed jalapeno peppers. All these recipes made just in the last week only. I think that counts as serious comfort food craving.
It is no secret that these mini sweet peppers are a favorite on this blog. I have made so many recipes with them that I should think about buying stock in the company. Hold on, let me go call my stock broker.
Oh wait, I don't have a broker!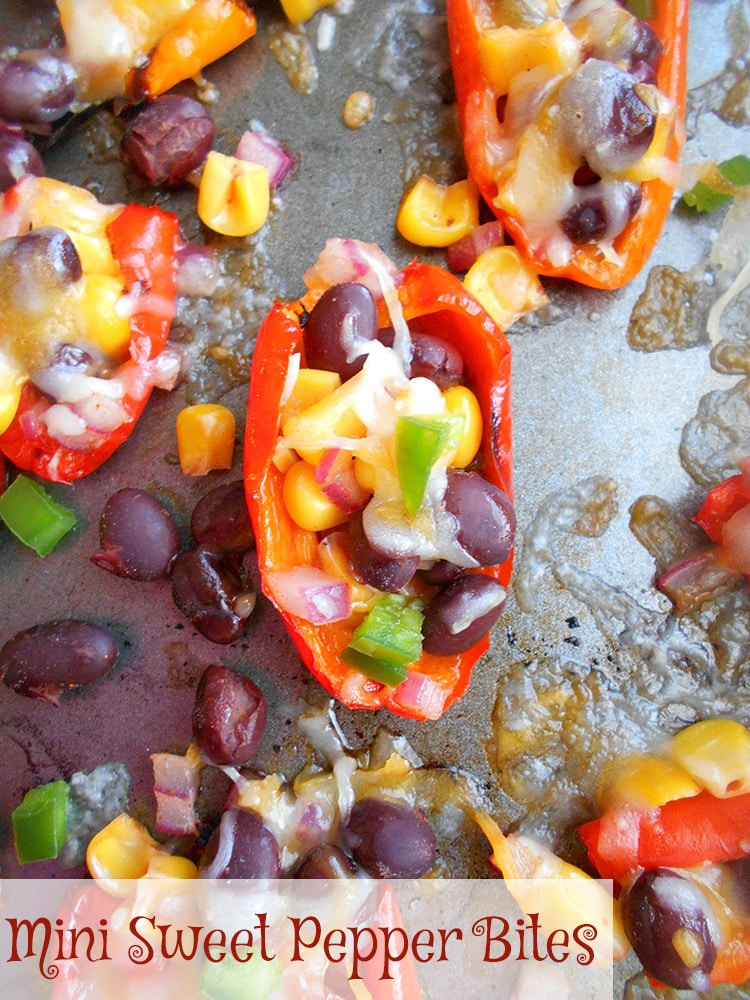 My favorite recipe to make with them are these stuffed mini sweet pepper recipe. They are made to be put into stuffed peppers recipes because they are easy to work with. Whenever I have a tapas style gathering, I make sure they end up on the menu.
Next time you are looking for party appetizers or just easy appetizer recipes, make these mini sweet pepper bites. It took me 25 minutes to make and 25 seconds to eat them all.
You can go even fancier with these recipe. Add more ingredients like avocado, sour cream, salsa, jalapeno peppers, quinoa, mushrooms and so much more. They are so versatile with any ingredient.
What is your favorite way to use these peppers?
Making Mini Sweet Pepper Bites
1) Preheat the oven to 400 degrees. In a bowl, add 1 cup of canned black beans. First, I washed them thoroughly.
2) Add ½ cup of frozen corn
3) Add a ¼ cup of chopped red onions
4) Add 1 tsp of taco seasoning
5) Juice ¼ of a lime and add it to the bowl. You can add a pinch of salt if you want. Mix well and set aside
6) Take about 15 mini sweet peppers and cut them into halves. Remove all the seeds
7) Spray a baking tray and spread the halved peppers on the tray. Space them evenly
8) Place the peppers in the oven for about 15 minutes or until the edges start to blacken
9) Remove them from the oven and cool for a few minutes. Fill the mini sweet peppers with the bean mixture. I think I put about ½ a tsp on each half.
10) Top with cheese. I used about ¼ cup of four cheese Mexican blend cheese in this recipe.
11) Place in the oven and cook for about 7 minutes or until the cheese has melted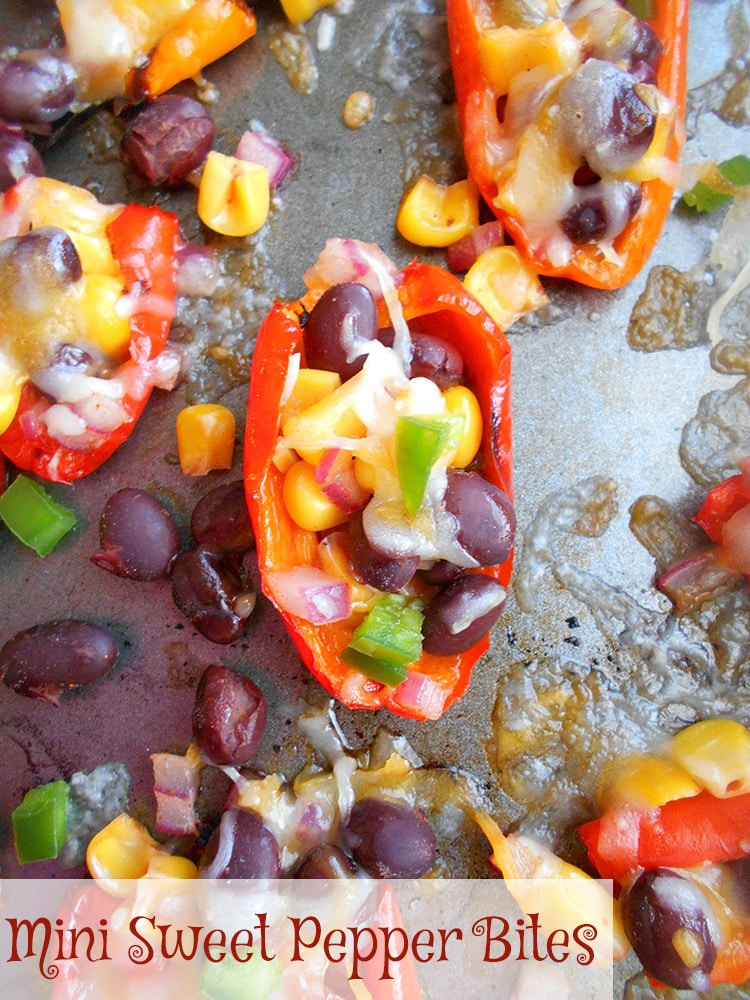 Remove from the oven and serve immediately
Mini Sweet Pepper Bites
These mini sweet pepper bites are perfect Party appetizers. Can be made in less than 30 minutes. Easy appetizer recipe for the whole family
Ingredients
1

cup

black beans

½

cup

frozen corn

¼

cup

red onions

chopped

1

tsp

taco seasoning

¼

lime

⅛

tsp

salt

(optional)

18

mini sweet peppers

¼

cup

cheese

I used four cheese Mexican Blend
Instructions
Preheat the oven to 400 degrees. In a bowl, add 1 cup of black beans

Add ½ cup of frozen corn

Add a ¼ cup of chopped red onions

Add 1 tsp of taco seasoning

Juice ¼ of a lime and add it to the bowl. You can add a pinch of salt if you want. Mix well and set aside

Take about 18 mini sweet peppers and cut them into halves. Remove all the seeds

Spray a baking tray and spread the halved peppers on the tray. Space them evenly

Place the peppers in the oven for about 15 minutes or until the edges start to blacken

Remove them from the oven and cool for a few minutes. Top with the beans and corn mixture

Top with cheese. I used about ¼ cup of four cheese Mexican blend cheese in this recipe.

Place in the oven and cook for about 7 minutes or until the cheese has melted

Remove from the oven and serve immediately
Notes
Nutrition Info is approximate