Mixed nuts made with za'atar and lemon. This is a very easy snack that happens to be very healthy. The Za'atar add a nice aroma to the nuts and flavorful.  These nuts are ready in less than 5 minutes
I made this recipe for a guest post on Jenny Melrose Family's Blog.  Reprinted on Healing Tomato with permission
Have you discovered za'atar spice yet?
If you have, you know that its one of the most flavorful spices and lends a heavenly aroma to any recipe you put it into.
I have been eating Za'atar for a long time without realizing it. It was only recently that I found its name and started using it more frequently in my cooking.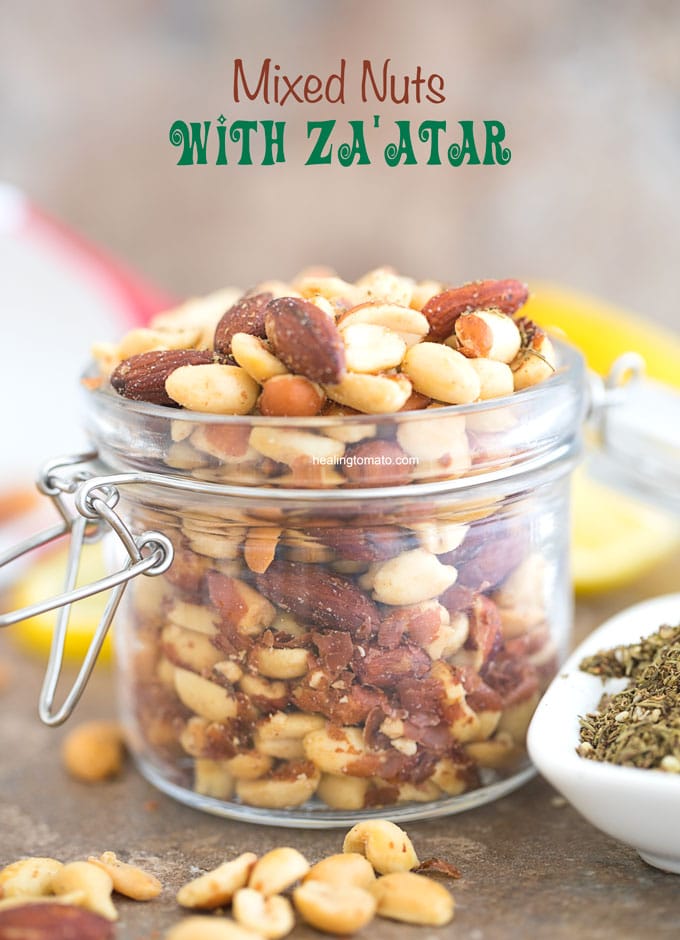 What is Za'atar (or Zaatar)?
Za'atar is a blend of spices used in Middle Eastern and some Jewish cooking. Each family seems to have their own recipe blend which makes it unique. Some will add cumin to it and others will add sage.
However, it almost always includes wild thyme which is a common in the hilly regions of the Mediterranean
What Can You Make With Za'atar?
I made Amaranth Tabouli with Za'atar and it was soooo good!  Try it for yourself and see what I am talking about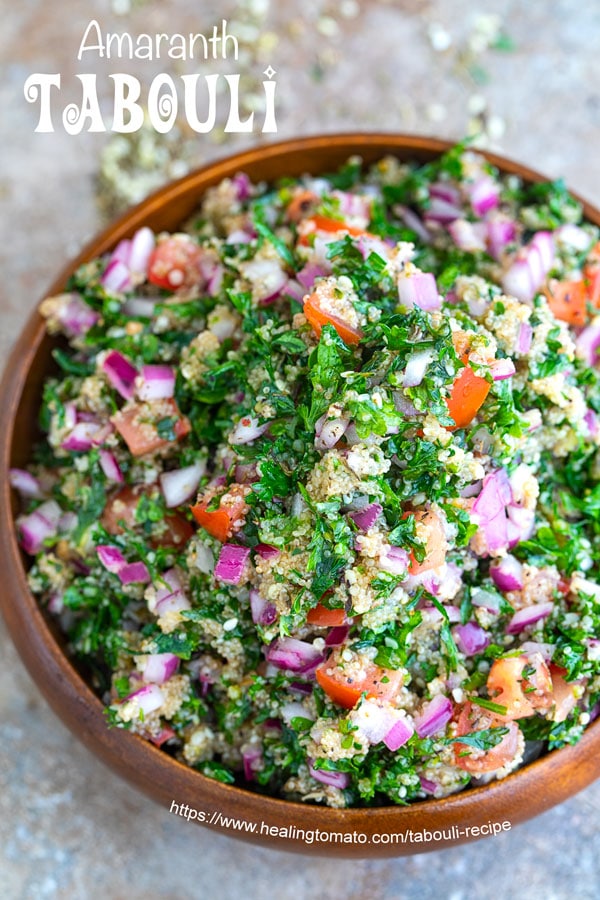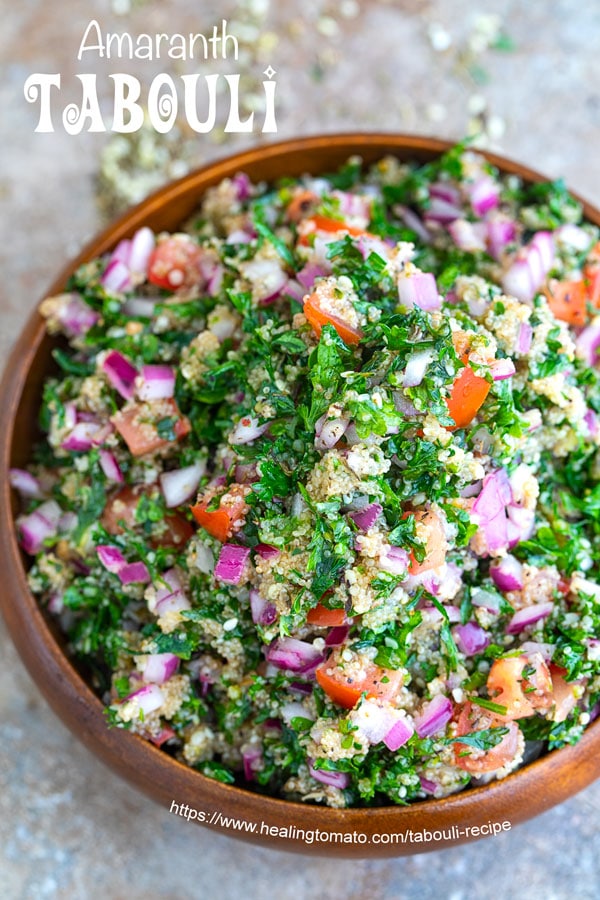 The beauty about this spice is that you can put it in almost any recipe.  That includes drinks and all the way to desserts and everything in between!
Za'atar's spices really come out when  you put it in a baking recipe.  I recently had a bread baked with Za'atar and it was soooo good.  I see it being used in more frequently in breads, muffins and sweet dessert recipes
Even cooking competition shows are loving this spice. Every time I find myself watching a competition show on TV, there is always someone using it in a recipe.  They seem to be popular in appetizer recipes on those completion shows.
Introduction of Za'atar in Western Cuisine
Many immigrants coming from the Middle Eastern countries brought their version of this recipe to western countries when they immigrated.  They also brought their time-tasted recipes
The spice and recipes are so flavorful that American and European chefs took notice of this spice and starting using it in their recipes.  Have you seen it being used prominently in pasta recipes?  I love that its being used in marinara recipes.
Its so good in marinara and pizza sauce recipes that I am thinking of modifying my recipes to include it.
To get started, I decided to use it in a simple snack recipe.
Spicy Mixed Nuts Vs Sweet Mixed Nuts
Its really strange for me to see sweet or candied nuts.  Growing up, we always made a savory or spicy version of mixed nuts.  We loved mixing cayenne pepper with cashews.  Or, black pepper and peanuts.
For this reason, I decided to make a savory recipe using mixed nuts.  It comes naturally to me.  Next time, I am trying a candied version of cashews or almonds.
It doesn't get easier than mixing nuts and za'atar.  Just put all the ingredients into a bowl and mix well.  The lemon zest adds so much aroma along with the za'atar.  You can keep using it for about 3-6 months.
Mixed Nuts Tips
Keep the freshness of the mixed nuts by storing them in a sealed container or in snack bags
Mixed nuts are a perfect healthy snack for kids and adults alike.
Add some spice by adding red pepper flakes.
The mixed nuts can easily be turned into more of a trail mix by adding raisins, chocolate chips or pretzels.
I put these mixed nuts in tiny zip-lock snack bags and kept them by my desk.  It was so cool to have healthy snacks within reach, instead of grabbing a bag of chips!
Or worse, some chocolate chip cookies!
I plan to have a few guests over the big game weekend and I plan to make my Crazy Nutty Popcorn recipe using Za'atar.  That's the beauty of this recipe!
I can add any nuts, pretzels, popcorn, raisins, etc.  It will work perfectly in a trail mix recipe!
What is your favorite way to use Za'atar spice?


How to Make Mixed Nuts With Za'atar Spice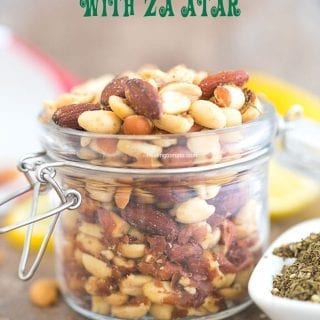 Mixed Nuts with Za'atar Spice
Quick and easy healthy snack made with Mixed Nuts and Za'atar
Ingredients
Instructions
Place all the nuts in a bowl and raisins (if using)

Add the Za'atar, zest and salt

Use a scooper to mix everything together

Serve immediately or store it in glass containers for future use
Nutrition Facts
Mixed Nuts with Za'atar Spice
Amount Per Serving
Calories 805
Calories from Fat 558
% Daily Value*
Total Fat 62g 95%
Sodium 604mg 25%
Potassium 1066mg 30%
Total Carbohydrates 52g 17%
Protein 24g 48%
* Percent Daily Values are based on a 2000 calorie diet.