Mixed nuts made with za'atar and lemon. This is a very easy snack that happens to be very healthy. The Za'atar add a nice aroma to the nuts and flavorful. These nuts are ready in less than 5 minutes
I made this recipe for a guest post on Jenny Melrose Family's Blog. Reprinted on Healing Tomato with permission
Have you discovered za'atar spice yet?
If you have, you know that its one of the most flavorful spices and lends a heavenly aroma to any recipe you put it into.
I have been eating Za'atar for a long time without realizing it. It was only recently that I found its name and started using it more frequently in my cooking.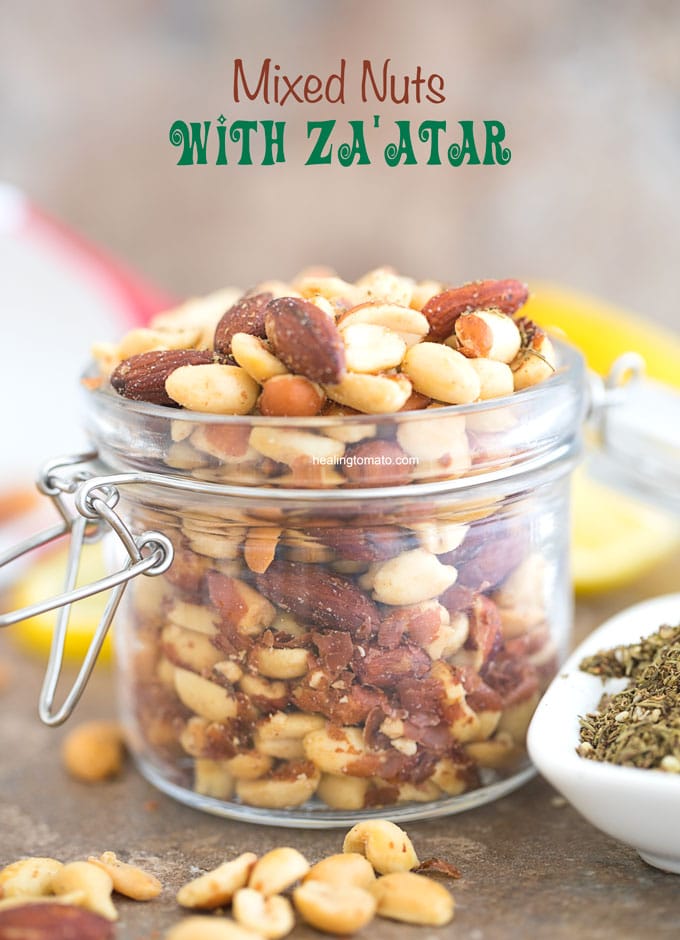 Tips for making these nuts
Keep the freshness of the mixed nuts by storing them in a sealed container or in snack bags
Mixed nuts are a perfect healthy snack for kids and adults alike.
Add some spice by adding red pepper flakes.
The mixed nuts can easily be turned into more of a trail mix by adding raisins, chocolate chips or pretzels.
I put these mixed nuts in tiny zip-lock snack bags and kept them by my desk. It was so cool to have healthy snacks within reach, instead of grabbing a bag of chips! Or worse, some chocolate chip cookies!
Answering your questions
What is Za'atar (or Zaatar)?
Za'atar is a blend of spices used in Middle Eastern and some Jewish cooking. Each family seems to have their own recipe blend which makes it unique. Some will add cumin to it and others will add sage.
How long will it last?
This spice can last for years. Store it in your pantry in a glass bottle and keep it away from direct sunlight.
Introduction of Za'atar in Western Cuisine
Many immigrants coming from the Middle Eastern countries brought their version of this recipe to western countries when they immigrated. They also brought their time-tasted recipes
The spice and recipes are so flavorful that American and European chefs took notice of this spice and starting using it in their recipes. Have you seen it being used prominently in pasta recipes? I love that its being used in marinara recipes.
Its so good in marinara and pizza sauce recipes that I am thinking of modifying my recipes to include it.
To get started, I decided to use it in a simple snack recipe.
Spicy Mixed Nuts Vs Sweet Mixed Nuts
Its really strange for me to see sweet or candied nuts. Growing up, we always made a savory or spicy version of mixed nuts. We loved mixing cayenne pepper with cashews. Or, black pepper and peanuts.
For this reason, I decided to make a savory recipe using mixed nuts. It comes naturally to me. Next time, I am trying a candied version of cashews or almonds.
It doesn't get easier than mixing nuts and za'atar. Just put all the ingredients into a bowl and mix well. The lemon zest adds so much aroma along with the za'atar. You can keep using it for about 3-6 months.
Any leftover peanuts are turned into peanut satay sauce and leftover cashews turned into arugula spread. So, its all win-win.
The beauty if this recipe is that you can add any nuts, pretzels, popcorn, raisins, etc. It will work perfectly in a trail mix recipe!
What is your favorite way to use Za'atar spice?

Related: Learn all about Amaranth Grain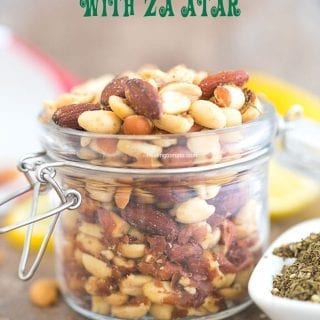 Must Make Mixed Nuts with Za'atar Spice
Quick and easy healthy snack made with Mixed Nuts and Za'atar
Ingredients
Ingredients
¼

cup

Cashews

Unsalted

¼

cup

Almonds

Unsalted

½

cup

Peanuts

Unsalted

¼

cup

Hazelnuts

Unsalted

½

cup

Walnut

Pieces, Optional

½

cup

Raisins

Optional

2

Tbsp

Za'atar Spice

1

Tbsp

Lemon Zest

More, if desired

½

tsp

Lemon Juice

½

tsp

Kosher Salt
Instructions
Place all the nuts in a bowl and raisins (if using)

Add the Za'atar, zest, lemon juice and salt

Use a scooper to mix everything together

Serve immediately or store it in glass containers for future use