Quick Vegan Muhammara recipe using pomegranate and roasted red bell peppers. Its a healthy appetizer that hits the spot. Put it into wraps, bread, pita sandwich or dip pita chips in it for the perfect light lunch
Have you tried muhammara before?
This is a spicy appetizer common in Turkey cuisine. Traditionally, its made with 3 ingredients: red pepper, walnuts and bread crumbs.
I tasted once in my life on a night that included belly dancers!
Tips for Making Muhammara
Use red bell pepper only for this recipe and roast it in the oven first. The red bell pepper should be roasted just enough so that the skin peels off easily
In my version, I use pomegranate seeds which adds an exotic flavor to the recipe. Do not skip this ingredient
I used homemade panko breadcrumbs in this recipe. If you are able to, please use freshly made bread crumbs.
Traditionally, this recipe calls for using alepo red pepper. I couldn't find them here, so, I used (affiliate link) dried red chili pepper. Cut the chili pepper in half and discard the seeds inside
If you don't have dried chili peppers, you can always use (affiliate link) crushed red pepper
My first taste of Muhammara
It was a rainy Sunday night in the lower East side (Manhattan). We walked into a Turkish restaurant!
Immediately greeted with a very festive atmosphere which included traditional music and belly dancers. It was an amazing experience.
There wasn't much I could eat from the menu, but, I was able to enjoy muhammara which is vegan friendly. It was one of the tastiest dips I have ever had.
I saw Mike of Chili Pepper Madness post this recipe and it brought bad a flood of memories.
What ingredients go into a Muhammara?
– Red peppers
– Breadcrumbs (Or use croutons that you can easily blend with the other ingredients)
– Walnuts
– Lemon juice
Using these ingredients, the recipe is more of a red pepper paste and less of a dip. Its comes out as very dark red color which is where it gets its name. Muhammara translates as "reddened". Source: Wikipedia.
Non-traditional ingredients
I am always looking to change up traditional recipes. Whereas muhammara is great with its traditional ingredients, I think it can be even better with extra ingredients. Here are the other ingredients I added to my muhammara recipe
– Tahini
– Pomegranate
– Agave
– Cumin powder
– Za'atar
– Red onions
– Roasted red bell pepper
This recipe was also another excuse for me to use my favorite new spice. Za'atar has taken over my life and I seem to put it in everything. Check out two of my recipes where Za'atar is the star: Mixed Nuts and Amaranth Tabouli
The best part of this recipe is the roasted red bell pepper. If you happen to have more bell peppers lying around, roast more and use them in a tasty mozzarella cheese sandwich.
Make it without breadcrumbs?
Yes, you can make it without breadcrumbs, but, it may not have the same texture or taste. Find something to give a similar texture to breadcrumbs.
I think roughly chopped almonds would do the trick. You can also try canned beans like Navy beans. It will be more of a hummus recipe, but, its a great alternate to breadcrumbs.
What to serve with it?
Freezing muhammara is good, but…
Yes, you should be able to freeze muhammara, but, you know what I am going to say, right?
Why freeze it when you can make it fresh!!
However, you can roast the bell pepper, remove skin, roughly chop it and freeze. When you are ready to make the muhammara, just dump the frozen bell pepper into the food processor with the other ingredients.
If you are ever confused about veganism, check out my complete guide! It is very enlightening.
Step by Step of Making Muhammara
1) Preheat oven to 400°
2) Wash the bell pepper and dry it completely. I wrap it in aluminum foil, but, you can roast it without wrapping.
3) Place the bell pepper in the oven on a baking tray and roast for 20 minutes
4) Remove the skin and roughly chop it before adding to a food processor
5) Add breadcrumbs to the processor
6) Add turmeric
7) Add cumin powder
8) Add 4 cloves of garlic
9) Add red onions
10) Add Walnuts
11) Add Za'atar Spice
11) Add salt to the processor
12) Add Tahini (I used paste form of tahini)
13) Add nutritional yeast
14) Add dried red peppers
15) Add extra virgin olive oil
16) Add agave syrup to the food processor
17) Add balsamic vinegar to the food processor
18) Add pomegranate seeds
19) Finally, add lime juice to the food processor
20) Blend on low speed until everything is well blended
21) Serve this muhammara immediately
Greek Dipping Oil
Quick and easy Greek Dipping Oil made with homemade Greek seasoning

Check out this recipe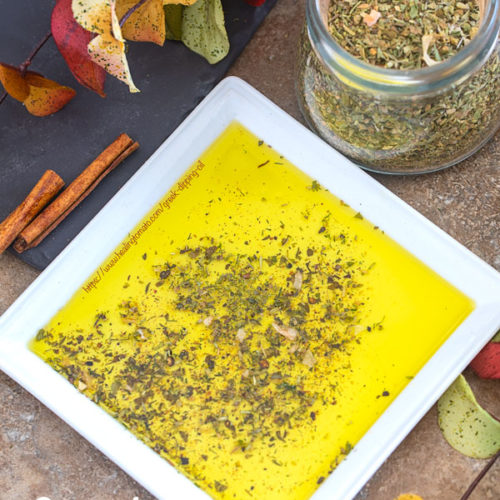 How to Make Muhammara
Muhammara Recipe
A simple, spicy roasted bell pepper dip with walnuts

Ingredients
1

red bell pepper

washed and dried

1/2

cup

panko breadcrumbs

1

tsp

turmeric

1

tsp

cumin

4

cloves

garlic

1/2

cup

red onion

roughly chopped

1/4

cup

walnuts

roughly chopped

1

Tbsp

za'atar

1/2

tsp

salt

2

Tbsp

tahini

3

dried chili peppers

1.5

tsp

nutritional yeast

2

Tbsp

extra virgin olive oil

1

Tbsp

agave

2

tsp

balsamic

1/2

cup

pomegranate seeds

1

tsp

lime juice
For Garnish (Optional)
1/4

cup

green olives

2

tbsp

pomegranate seeds

1

tsp

extra virgin olive oil
Instructions
Preheat oven to 400°


Wrap bell pepper in aluminum foil

Place the bell pepper in the oven on a baking tray and roast for 20 minutes

Remove the skin and roughly chop it before adding to a food processor

Add all the remaining ingredients for the muhammara to the food processor


Blend the ingredients on low speed until everything is well blended


Transfer to serving bowl and serve immediately

Notes
I used 4 whole walnuts, shelled.