A super simple mung beans salad that is the perfect lunch recipe. They are so easy to cook and are a very good source of vegan protein. Add pomegranate to it for color and an added crunch.
If you haven't tried mung beans before, I am willing to bet that you will fall in love with them after you try this recipe.
What I have discovered after making this recipe is that they are the perfect match for pomegranate!
For Me, mung beans are not an exotic legume. Growing up, we used to make dal with it at least once a week. It was one of my favorite recipes.
If you visit the home of any Indian family and rummage through their pantry, you will definitely find them in there right next to the basmati rice.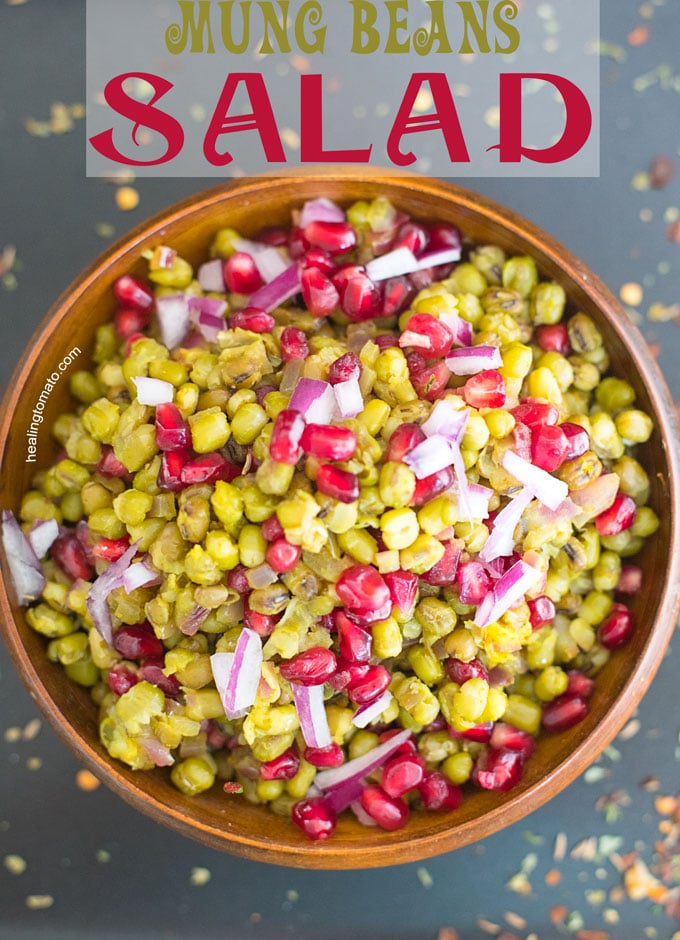 We love our mung beans and use it extensively, mainly because they are a HUGE source of protein for us. Just one Tbsp has about 3g of protein (Source: Wikipedia).
Now that I am working on becoming a full time vegan, they are forever my go-to recipe for when I need protein.
Its also referred to as Moong Beans and its delicious either way you pronounce it. They have gotten a sort of "Hippy Food" status because it was over popular in the 60s.
That just makes me sad because it can really be a delicious meal when prepared correctly. In fact, sometimes all you need is a little salt over cooked mung beans and you have the perfect post-workout snack. It has proteins, magnesium, iron, Vitamin B6 and fiber.
My friend Sharon of Nut Free Wok did a great guest post recipe for a Korean version of Moong Beans Sprouts Salad and it is so delicious. Its light and spicy which makes it perfect as a side salad or a sandwich topping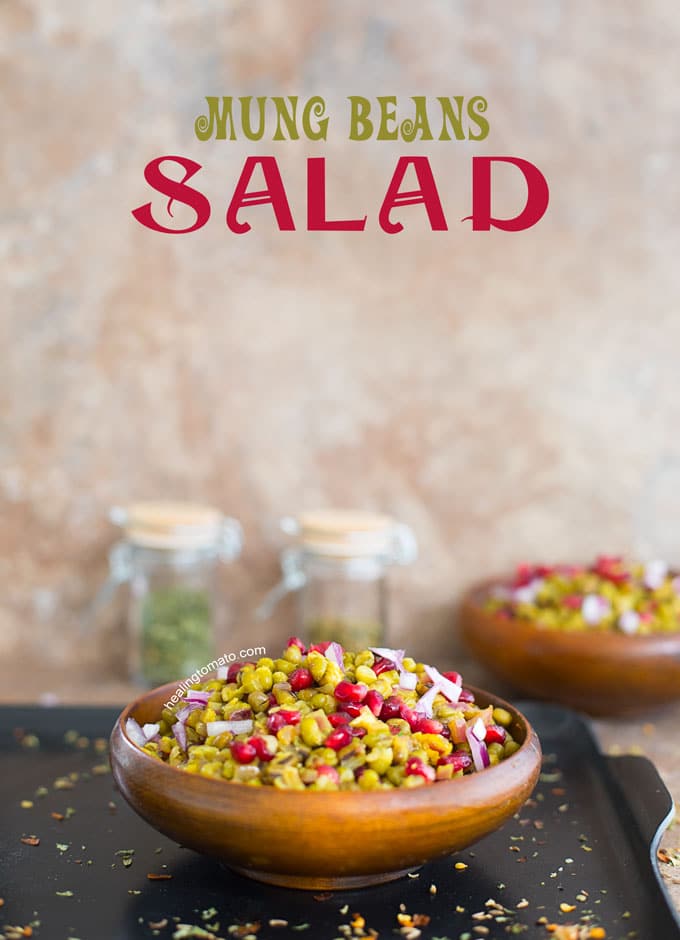 The pomegranate steal show because they really pop in this recipe. However, If they are not in season, you can substitute with (affiliate link) dried cranberries too.
I made this mung bean salad Indian because that's the only way I know how to flavor them. If you want to make a Mediterranean tasting salad, add homemade tahini. Or, you can even add a simple lemon vinaigrette and enjoy it for lunch.
How do you flavor your mung beans?
Mung Beans Salad With Pomegranate
A super simple mung beans salad made with pomegranate and spices.

Ingredients
To Soak The Mung Beans
1

cup

Mung Beans

2.5

cup

Hot Water
To Cook The Mung Beans
4

cup

Water

1

tsp

Extra Virgin Olive Oil

¼

cup

Red Onions

Finely Chopped

2

tsp

Turmeric Powder

2

tsp

Cumin-coriander Powder

2

tsp

Salt

1

tsp

Garlic Powder

Adjust to taste

⅔

cup

Pomegranate Seeds
For Garnish
2

Tbsp

Red Onions

Finely Chopped

2

Tbsp

Pomegranate Seeds

1.5

tsp

Lime Juice

Cilantro

Optional
Instructions
Put the Mung Beans in a small bowl


Add the hot water and cover the bowl. Let it soak 6 hours to overnight


In the morning, drain the water and set it aside


Boil the 4 cups of water and add the soaked mung beans


Cook for 13 minutes or until they can easily be mushed


Drain the mung beans but DO NOT discard the water (see notes)


Heat a strong bottom pan and add the oil


Add the onions and cook for about 2 minutes on medium heat


Add the turmeric, cumin-coriander powder and garlic powder


Mix and then add the cooked mung beans


Mix well and then turn of the heat after 2 minutes


Add lime juice and pomegranate. Mix everything


Transfer to serving bowls and garnish with the onions, pomegranate and cilantro

Notes
After cooking the mung beans in hot water for 13 minutes, turn off the heat. Drain the water into a bowl and preserve it. This water has a lot of nutrition and its also good for using a vegetable broth.