Mushroom bruschetta is a perfect Sunday Brunch recipe. This is a quick meal idea that is a healthy vegan recipe. Also a great lo-carb vegetarian recipe
If you love bruschetta, then this is going to be very enticing!
Forget plain old tomato and bread! This bruschetta has MUSHROOMS!
How delicious does that sound?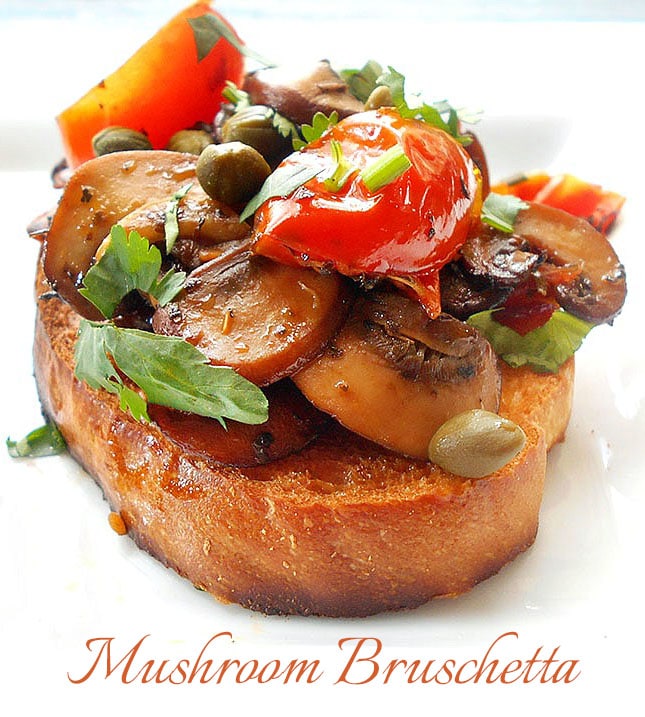 This mushroom brushetta was a big hit when I made it a few months ago. I always intended to make it again for the blog, but, time got away from me.
Let me tell you how easy it is to make this bruschetta. It took only 20 minutes to put it together. The harder part was cutting the veggies. Ok, it wasn't necessary harder, just somewhat tedious. I am my own worst enemy because I like cutting my mushrooms very thin.
To top it, I decided to go with non-pareil capers which are the smaller sizes of capers. They are 7mm in diameter and pack quite a punch. The smaller the caper the stronger the taste. In this Bruschetta, they added a delicious layer of flavor that gave me just the perfect bitter taste to offset the mushrooms and tomatoes.
If you are looking for a healthy vegan recipe, then this mushroom bruschetta is exactly what you need. It also happens to be a vegetarian recipe, so, you get double points. I actually served this to 2 people who belong Meat-and-potato group. They were licking their fingers by the end of the meal.
This meal gets to please 3 different groups of picky eaters. How often does that happen, right?
The capers are definitely the star of this mushroom bruschetta. However, if you are not into bitter flavors, skip them. There is balsamic vinegar in the recipe that will give you a hint of bitterness.
Side note: remember my bruschetta recipe with tomatillo from the early days of this blog? I truly loved that bruschetta recipe, but, I am now a fan of this mushroom bruschetta. I decided not to put any cheese in it, mainly to keep it vegan. Vegan cheese doesn't work in this recipe.
Do you love Sunday brunch as much as I do?
How to make it
1) Cut 2 cups of mushrooms in long, thin slices (I went with cremini mushrooms). I don't use the stems in this recipe. Do the same for the red onions (1/2 cup). Cut cherry tomatoes (1 cup) into 4 equal pieces
2) In a pan, add 2 Tbsp of extra virgin olive oil. Heat at medium heat for 30 seconds
3) Add the red onions and stir until they are beginning to caramelize. Add the mushrooms and stir
4) Stir until the mushrooms are soft and begin to get crisp
5) Add the cherry tomatoes and stir. Cook for about 2 minutes. The idea is not to over cook the tomatoes
6) Add the 1 Tbsp of pomegranate balsamic vinaigrette at this point and stir. Cook for 30 more seconds
7) Add 1/2 tsp of salt or adjust to your taste. I think 1/2 might have been too much because the capers added a nice saltiness to the recipe.
8) Now, add 2 cloves of garlic (cut into thin slices). I know it goes against the grain, but, no bruschetta is complete without prominent taste of garlic.
9) Add 1 Tbsp of oregano and stir. Turn of the heat and set it aside.
10) Toast 5 slices of french bread (Use this recipe for vegan french bread)
11) Lightly oil the bread and add the mushroom bruschetta mixture.
12) Add about 5 pieces of capers to each bruschetta
13) Top with cilantro. You can add a tsp of extra virgin olive oil on top, but, I don't recommend it. I think this recipe has the perfect amount of oil.
Serve immediately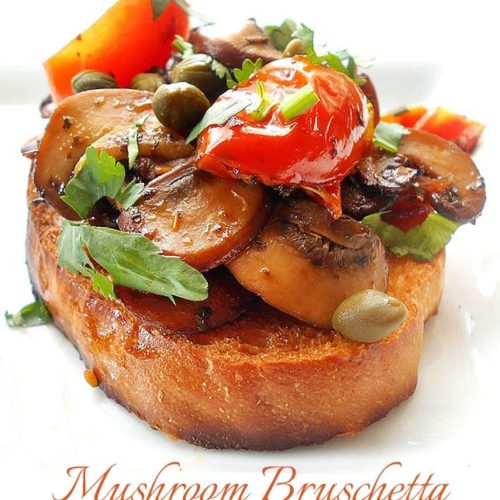 Mushroom Bruschetta With Tomatoes
Mushroom bruschetta is a perfect Sunday Brunch recipe. This is a quick meal idea that is a healthy vegan recipe. Also a great lo-carb vegetarian recipe
Ingredients
2

cups

cremini mushrooms

thinly sliced

½

cup

red onions

thinly sliced

1

cup

cherry tomatoes

quartered

2

Tbsp

extra virgin olive oil

1

Tbsp

pomegranate balsamic vinaigrette

⅛

tsp

salt

2

cloves

garlic

1

Tbsp

oregano

5

slices

french bread

1

tsp

olive oil

to oil the bread

1

tsp

non-pareil capers

Cilantro for garnish
Instructions
In a pan, add oil. Heat at medium heat for 30 seconds

Add the red onions and stir until they are beginning to caramelize.


Add the mushrooms and stir

Stir until the mushrooms are soft and begin to get crisp

Add the cherry tomatoes and stir and cook for about 2 minutes

Add the pomegranate balsamic vinaigrette and cook for 30 more seconds

Add salt, garlic and oregano. stir and set aside


Toast 5 slices of french bread


Lightly oil the bread and add the mushroom bruschetta mixture.

Add about 5 pieces of capers to each bruschetta

Top with cilantro and Serve immediately