This quick 5 minute olive salad is packed with good fats and very easy to make. Top it on a whipped feta dip for the perfect Keto, low carb lunch.
A whole recipe where olives are the center of attention?
Yes, believe it or not.
Olives love being the center of attention and it's about time they get the spotlight, right?
Tips
This is one of those rare recipes I make that can be made ahead and saved for 1-2 weeks.
Once made, put it into a glass bottle and seal tight. This will make the salad last longer.
Use "dry" sun-dried tomatoes and not those immersed in oils. They are made with extra ingredients that take away from the flavors of this recipe. If you are on keto, please omit them because they are not keto-friendly.
Also, use olives from jars that don't have any additional ingredients like sugars, guar gum or bad oils. My favorite jarred olives are Manzanilla's plain queen Spanish olives.
Nuts like pumpkin seeds, sunflower seeds and even pine nuts can be added to this recipe. Add them as the last step right before you eat the salad.
For best taste experience, use as many types of olives as you can. Each olive adds its own unique taste to the salad. My favorite are kalamata olives
Once again, there are no sugars of any kind in this recipe. If you want a little sweetness, go with honey. 1 tsp of warm honey will be perfect for this olive salad.
If the pearl onion you use in this recipe is from a jar which has been brined, wash it! The onion is so strong in flavor because of the brine solution, it takes away from the taste of the olive salad.
I serve this olive salad over a whipped feta dip. If you don't like whipped feta, you can use cottage cheese, Greek yogurt or Labneh.
This salad is great by itself. You don't need a dip or yogurt with it. But, I like the added nutrition from the feta dip.
Olives are the best stuff on earth
I can't sing enough praises of olives! They are, in my humble opinion, are the best stuff on earth.
They are packed with good fats (about 80-90% is fat content). They also have:
Antioxidant properties, with flavones
Vitamin E
Omega 3 & 6
Low cholesterol
High fiber
Lots of Iron
Lots of Copper
…… and the list is endless.
Source: Medical News Today, World's Healthiest Foods, Academic Oxford University Press, and my discussions with doctors and dieticians.
So, include olives in any way you can. Even if it is as simple as eating them out of the jar!
Best appetizer for your holiday guests
I am always being asked for healthy appetizers people can serve their Christmas guests or any holiday. Even for game days, people are searching for healthier snacks and appetizers.
The good thing about this olive salad is that it satisfies Paleo, Whole Foods diet, Keto, low carb, vegan, vegetarian and even meat eaters! This recipe brings joy to all.
I know I am going to be serving them to my guests because of the colors match the Christmas season.
This olive salad can be used in….
You can also dip chips in the olive salad and it will taste delicious. If you have had muffuletta sandwich before, then this olive salad will be familiar to you.
Chop up the olives and make the rest of the recipe as is. Put it in your muffuletta sandwich.
More ingredients to add to this olive salad
Shallots
Garlic
Seeds and/or nuts
Dates or raisins
Pepperoncini
Chives
Like traditional green salads? I have a collection of my favorite green, legume and other kinds of salad in one place – 15+ Healthy Salad Recipes.
Don't be shy, chime in below in the comments. Let me hear your opinion on this recipe.
Thank you for reading my recipe this far. If you make this recipe, feel free to give it a 5-star rating. Be sure to share it on Facebook, Pinterest, Twitter, Instagram and YouTube.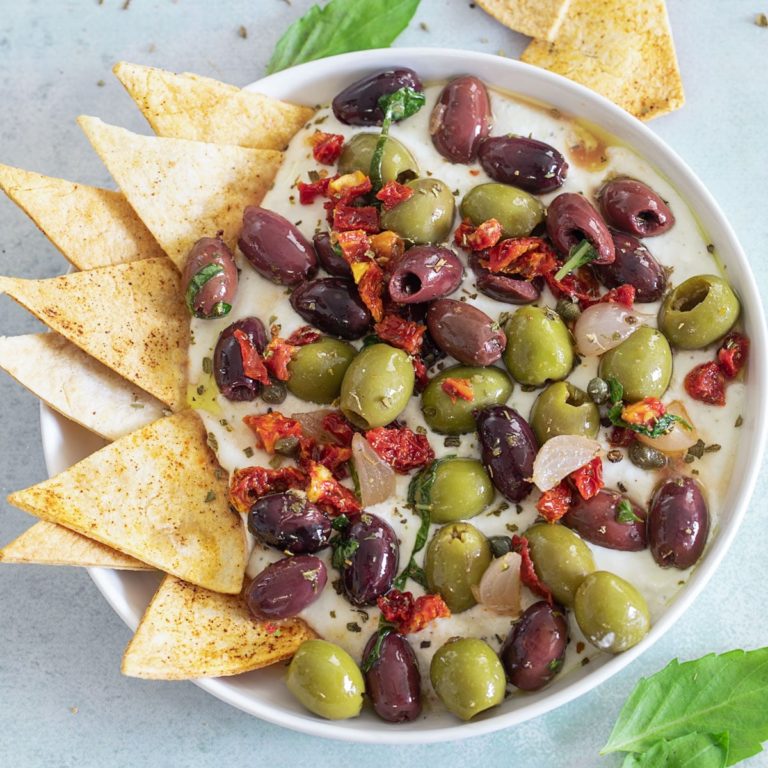 The BEST Olive Salad Recipe
Quick and easy olive salad made with simple ingredients that is packed with good fats. Perfect Keto diet recipe and low-carb recipe.
Equipment
Plastic Spatula

Glass Bowl
Ingredients
½

cup

plain green Spanish Olives, pitted

Or green olives of your choice

½

cup

kalamata olives, pitted

1

tsp

caper

1

Tbsp

sun dried tomatoes

julienne, dry (Eliminate if on keto)

1

tsp

dried oregano

½

tsp

thyme

2

leaves

basil

fresh, jullienne

1

Tbsp

extra virgin olive oil

or avocado oil
Instructions
Add all the ingredients in a glass bowl

Optionally, you can let it marinate for 10 minutes before topping it on a dip

Refrigerate remaining olive salad and re-use within 2 weeks.
Notes
**** Calorie information is approximate. Consult your dietician for a more accurate nutrition information