One Pot Healthy Dinner Ideas are in huge demand. Instead of using pasta, this recipe uses Quinoa. If you are looking for cheap meals, try this recipe.
Did you have an instant liking to Quinoa from the first bite?
For me, Quinoa has been an acquired taste. It has taken me a whole year to accept it as a meal. Even with all its purported health benefits, I couldn't get myself to like it.
To make myself eat Quinoa, I had to come up with creative ways to include it in my daily diet. I remember adding it to curries and samosas just to get my taste buds used to the texture.
A couple months ago, a friend made a wonderful kale and Quinoa salad with a lemony dressing. I think that was a turning point for me.
Today, I have evolved to the point where it can be the center of any recipe.
This is where I introduce you to the one pot healthy dinner idea that includes Quinoa as the star diva
Through trial and error, I have learned that Quinoa tends to be picky. It gets along with a select few types of ingredients. I loved that it makes Kale taste a little less bitter. When paired with sweet onions, Quinoa is delicious.
Nothing brings out the best in Quinoa when put in the same pan with a cornucopia of flavors. One pot meals are all the rage now. So, I decided to jump into the fray and come up with my own quick dinner idea for a one pan meal.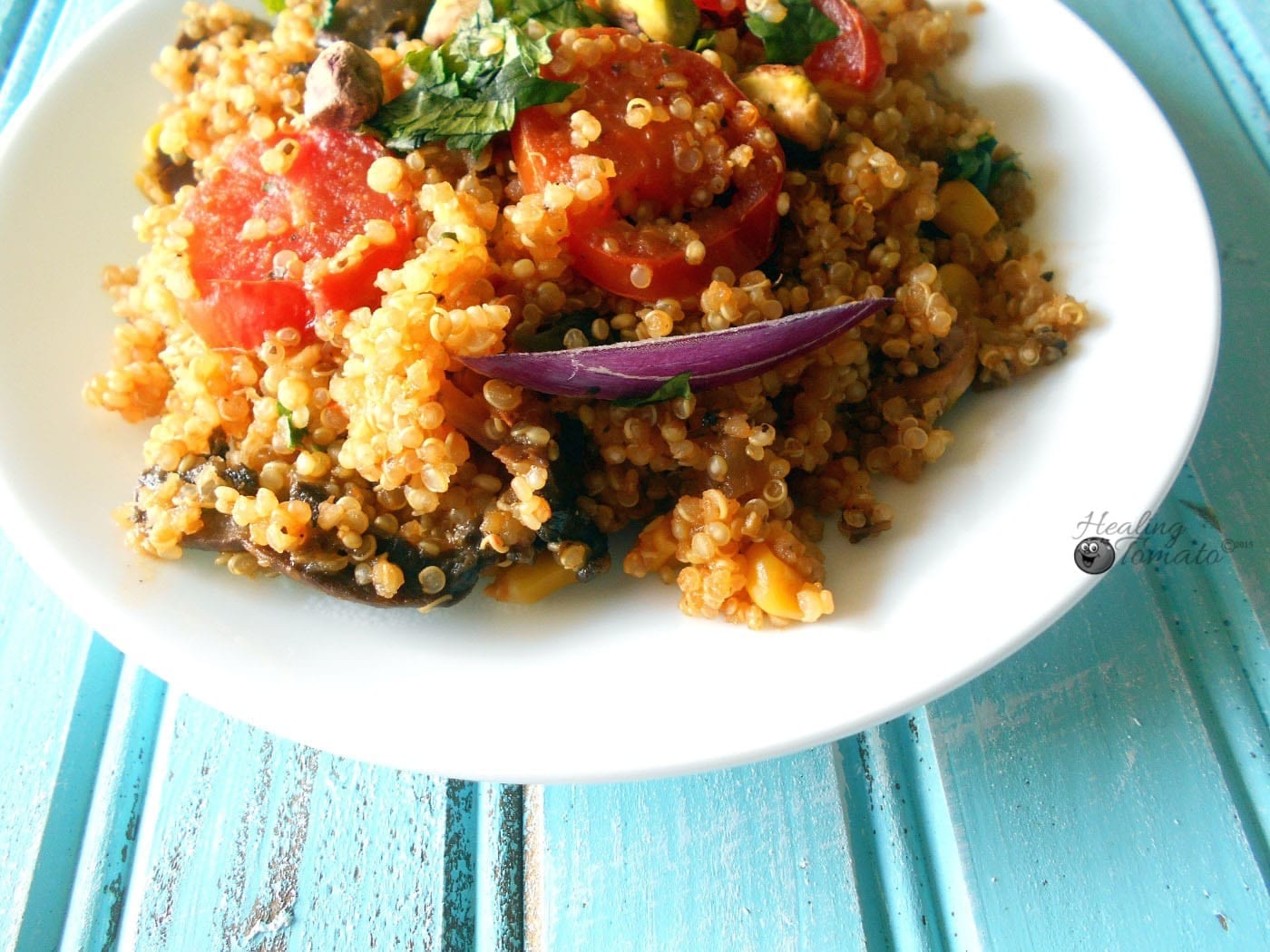 If you are into healthy eating, you might be attracted to this recipe. It is made from fresh vegetables and fall spices. I think I might make this into a once-a-week quick lunch meal.
This might not fit into a "cheap meals" category. I added Saffron and pistachios to it which can make it more expensive. If you are on a budget, then forego these 2 ingredients.
Saffron provides color and a delicious aroma. Pistachio adds a delicious nutty flavor.
What is your favorite way to use Saffron?
If you like this one pot recipe, you will love my Vegan Mexican Gnocchi, Vegan Angel Hair Pasta Pomodoro and Cauliflower Rice Biryani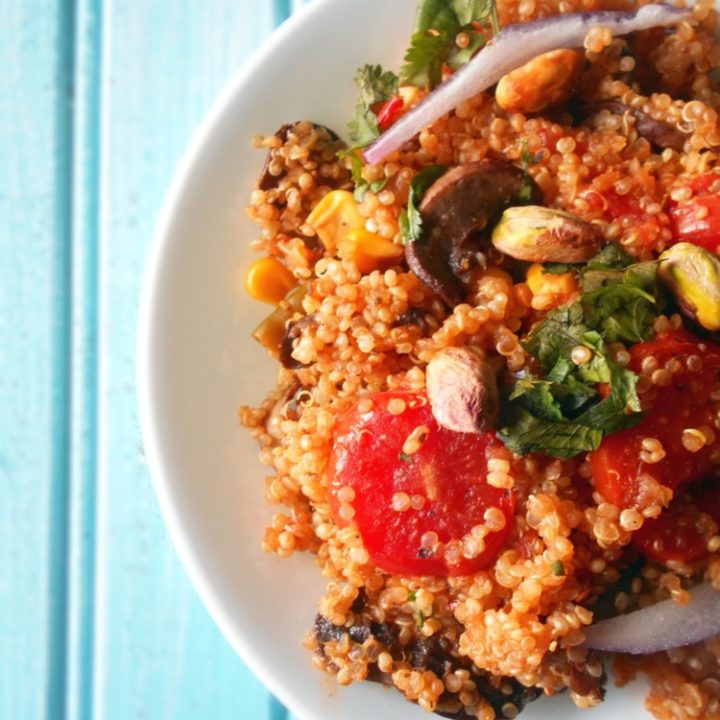 One Pot Healthy Dinner with Quinoa
One Pot Healthy Dinner – Quinoa made in one pan with Mexican flavors.

Ingredients
1

tsp

Extra Virgin Olive Oil

8

button mushrooms

thinly sliced

½

red onion

julienned or finely diced

3

plum tomatoes

cut into rounds

1

cup

sweet corn

frozen or fresh

2

cups

baby spinach

fresh, stems cut off

2

cups

Quinoa

3

Thai Chili

optional, julienned

2

tsp

red pepper flakes

3

cloves

garlic

finely grated

5

Strands

saffron

1

cup

tomato sauce

canned, unsalted

2

tsp

Cumin powder

5

pieces

sun dried tomatoes

optional

3

tsp

flax seed meal

3

tsp

kosher salt

1

tsp

pepper

freshly ground

3

tsp

basil

dried

3

tsp

oregano

dried

2

tsp

cumin powder

5

cloves

4

cups

water
For Garnish
½

cup

pistachios

shelled, unsalted

1

tsp

capers

Cilantro
Instructions
Heat a medium pan or pot at medium heat

After 15 seconds, add the oil and let it heat for another 15 seconds

Add all the ingredients in the order listed. Don't add the water, pistachios and garnishes


Let it saute for 30 seconds

Add the water now.

Set the heat to medium-high and cover

Allow it to cook for about 25 minutes or until all the water has burned off, stirring often


Once the water has evaporated, turn of the heat and let the pan or pot stand for about 5 minutes

While it is cooling, chop the coriander for garnishing

Remove the cover and add the garnishes.


If you set aside julienne red onions, add them to the recipe.