We are very serious about the tomato and it shows! This is just a small sample of all the tomato variety that we buy every week. Our tomato run is always a fun time

People don't realize just how serious I am about Tomatoes. Until they see just how many different types of tomatoes I buy each week.
Or how many different stores we go to every weekend just to find different tomato varieties.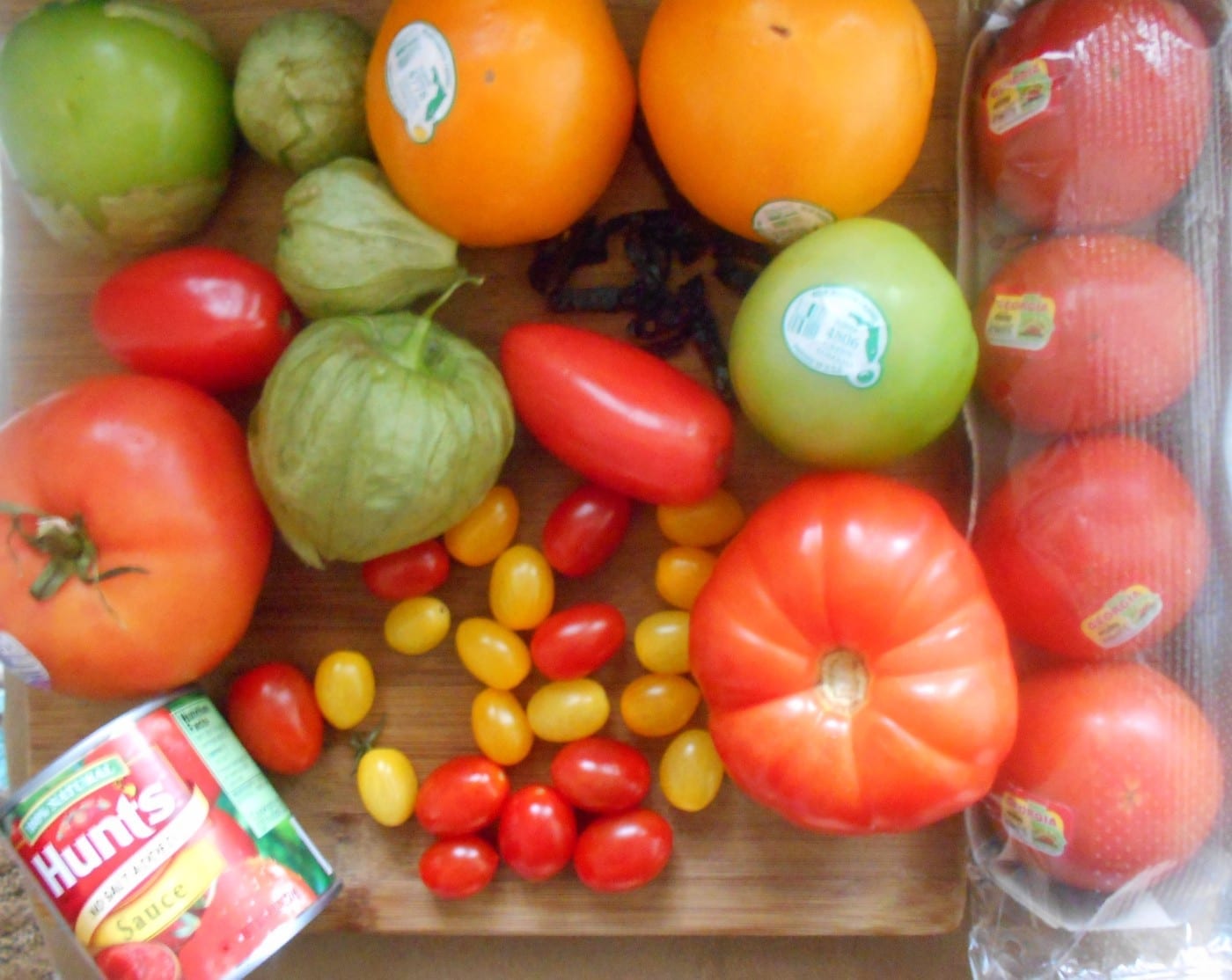 That picture above shows only a small sample of the variety and quantity of tomatoes we purchased. If I could put a picture of all the tomato quantities, it would be a fun sight.
Every week, I go to some of the local grocery stores and pick up all types of the tomato that I can find in these stores.
For me, the week doesn't even begin until a full menu for the next week has been planned. The plan doesn't come together until I have stock-piled my tomatoes. Once I have the tomatoes, then I can decide on what recipes to make.
We are lucky to be living in Florida where, thanks to the warm weather, the tomatoes are plenty and they can be gotten year round. The most common tomato is the Roma tomato. It is abundant and ubiquitous. So, that tomato is always on the grocery list. I know that I will have at least one tomato variety to work with.
This week, we got lucky and found the yellow tomato. This is a gorgeous tomato and slightly on the sweet side. There is a superb salsa recipe using this tomato that is tumbling around in my brain, right now. Will post it soon
Then there is the yellow golden grape tomato. This is available from time to time, but, it can be expensive. Luckily, I got it on sale this week and it is awesome! I think it is going to be part of a salad later in the week.
The Campari tomato, like the Roma, is also ubiquitous. It is one of my favorite tomatoes and I love to use it in sandwiches. When the sandwich is going to be a rich and heavy sandwich, I like to put the Campari tomato in it. This will add taste but not make it richer. It is also light on acidity, so, if you are a sufferer of this ailment, you will like the Campari tomato.
There is the green tomato. Since I just made a fried dish with a different type of tomato, I am going to think of a new recipe for this one. Haven't come up with anything to do with it just yet, but, I will keep you posted.
The cherry tomato will become part of an enchilada recipe this week. I think you are going to like this enchilada because of the tomatoes. It is vegetarian enchilada with cherry tomatoes and beans. Great combination! Take my word for it.
Tomatillos! I find myself using these more and more lately. The sourness of this tomato really gets my taste buds a new life. I have been experimenting recipes with this tomato and I have come up with a great curry recipe.
The final item on these tomato run are the Heirloom and beefsteak tomato. They will be great in curry dishes. However, it might not make it onto the blog. Curry recipes are too spicy for some of my readers. Don't worry, I will find curry recipes that I can post on this blog.
Sun dried tomatoes are not part of any recipes this week. At least, that is what I think for now. Sometimes, I find myself adding sun dried tomato into a recipe at the last minute into a recipe. That is why I always have sun dried tomatoes sitting in the pantry. Also, they do make great snacks by themselves. If you are looking for something to munch on, this is a healthy option. It is also very filling and nutritious, so, you are not eating empty calories.
Of course, there is no tomato run complete without the canned tomato sauce. When all else fails, you can always count on the canned tomato sauce. There have been many many times where I have found myself being out of tomatoes at the last minute. The canned version has saved me on such occasions, so, I keep them in the pantry at all times. They have a long shelf life, so, I can have them around for a while. One note, always get the unsalted version. This way, I can control the amount of salt in every recipe.
I love all the tomato recipes on my blog. Tell me your favorites
The canned tomato sauce is also very healthy and so, you are not going to regret using it. Actually, there have been arguments and discussions online about the real tomato versus the canned tomato. The discussions tend to center around which is healthier and can turn passionate around each type.
Personally, I like a real tomato that I can squeeze, touch, smell and see.
But, that is just me. I am a touchy-feely kind of person when it comes to my vegetables.
What is your favorite type of tomato?
Our Weekly Tomato Run