Granny Smith apple chips made by baking in the oven. They are a perfect salad topping or add it on a delicious sundae recipe. Or, top on pancakes and waffles.
Have you noticed that apples can work in a lunch recipe just as easily as a dessert recipe?
They were the featured ingredient in my hummus club sandwich because they took the sandwich's flavor to a whole new level.
In the dessert side, I used them for a cinnamon rolls with apples where they were perfectly at home with cinnamon.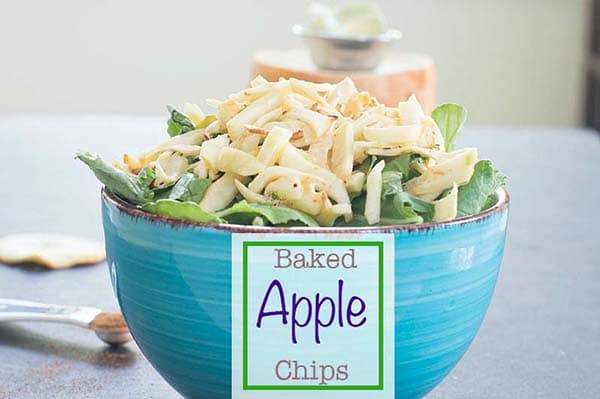 So, what is the point of popping granny smith apples in the oven and making chips out of them? Only one reason to do that: They enhance the flavor of any recipe that I top it on.
I made a sundae on Sunday (no pun intended) and I topped these apple chips on them. They bring a sweetness to the recipe without adding too much sugar.
Plus the cinnamon in these chips always remind me of Christmas morning.
These apple chips are going to be featured in a delicious salad recipe coming next week. It is one of my very first "copy cat" recipes and I can't wait to show you just how great it turned out.
In what recipe are you going to use these chips?
Make an apple butter recipe out of leftover apples.
How to make oven baked apple chips
1) Preheat oven to 350 degrees
2) Peel the skin from one granny smith apple. Use a mandoline to make thin slices out of the apples
3) Place the slices in a bowl and add 1 tsp of lime juice
4) Add 1 Tbsp of agave
5) Sprinkle ¼ tsp of cinnamon powder into the bowl and gently mix all the ingredients together
6) Lightly spray a baking tray with cooking oil.
7) Spread out the apple slices on the baking tray. You should have about 15-20 slices
8) Place them in the oven in the middle section of the oven.
9) Ideally, you want to bake them until they are browned and crispy. However, for this recipe, I didn't bake the apple chips all the way. I wanted them to be baked just enough to get them browned but not crispy. That is the perfect texture for the upcoming salad recipe
10) Remove them from the oven and set aside to cool. Eat them as is or, in my case, I cut them into strips and topped them to the sundae
Apple Chips (Oven-baked)
Granny Smith apple chips made by baking in the oven. They are a perfect salad topping or add it on a delicious sundae recipe. Vegan and vegetarian snack
Ingredients
1

granny smith apple

1

tsp

lime juice

1

Tbsp

agave

¼

tsp

cinnamon powder

cooking spray
Instructions
Preheat oven to 350 degrees

Peel the skin from one granny smith apple and


Thinly slice them using a mandolin and place in a bowl


Add agave and lime


Sprinkle cinnamon powder into the bowl and mix gently


Lightly spray a baking tray with cooking spray

Spread out the apple slices on the baking tray


Place them in the oven in the middle section of the oven.

Remove them from the oven and set aside to cool
Eat them as is or, in my case, I cut them into strips and topped them to the sundae
Notes
Ideally, you want to bake them until they are browned and crispy. However, for this recipe, I didn't bake the apple chips all the way. I wanted them to be baked just enough to get them browned but not crispy. That is the perfect texture for the upcoming salad recipe