Take the Frying Out of Fried Okra and Make the Less Greasy Version – Baked Okra. Quick and Easy to Make. Works as a Snack Too.
Fried Okra tastes great and it is definitely one of my favorite southern dish. But, I decided to try a healthier version by making baked okra.
As the number of candles on my cake grow with every birthday, I have come realize that I need to cut down on fried food.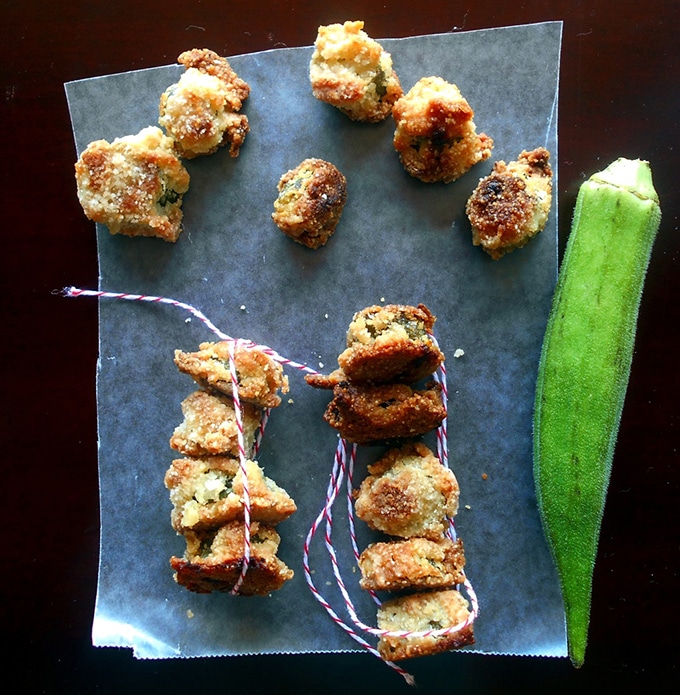 This has forced me to find different ways to make my everyday favorite recipes.
Baked okra is not a new concept and great recipes can be found all over the internet. Okra is a staple in so many cultures and everyone of these cultures have a creative version of baked okra.
Growing up in an Indian household, we used to eat okra at least once a week. Most of the time, it was prepared using a variation of stir fry with chick pea flour.
The taste of the baked okra doesn't change because it was not fried. I kept all the ingredients exactly the same way as the fried okra version.
This okra makes for a great side dish to any southern dish. However, this will now be my new snack food items. It is so much fun to have this on the side and eat them while I am working on a blog post.
This definitely goes under my "thinking food" category.
Try this baked okra with this sweet chili sauce recipe from foodandwine.com
A Few More Okra Recipes
1. Gumbo recipe
What is your favorite okra recipe?


Oven Baked Okra
Baked Okra - Made with easy ingredients

Ingredients
2

cups

okra

Cut into pieces

1

cup

buttermilk

or Coconut milk for vegan

1

cup

corn meal

1

cup

all-purpose flour

2

tsp

kosher salt

1

tsp

black pepper

Cooking spray
Instructions
Preheat oven to 375 degrees

Mix the cornmeal, all-purpose flour, salt and pepper in a big bowl

Take the cut okra and dunk them into the buttermilk

Remove them from the buttermilk and place them into the flour mixture

Coat the okra completely with the flour mixture

Repeat the coating process until all the okras are well coated

Spray a baking tray with cooking spray


Place the coated okra in the pan, leaving a little space between each one

Place in the oven for about 15 minutes

Remove from the oven and use a spoon or a spatula to flip the okra over

Place them in the oven again and bake for 15 more minutes

Remove from the oven and allow them to cool
Notes
Nutrition Info is approximate