Easiest Overnight Oats Recipe Using Yogurt and Fresh Fruits. Made in 10 minutes. Breakfast Meal Prep for the Whole Week. Never Get Bored of Breakfast Again
I am not a breakfast person! Are you a breakfast person?
I think the reason I am not a breakfast person is because I am not a morning person. Most nights, I am up until 2 am doing blog related work, so, I don't feel like waking up in the morning.
Tips for making these oats
If you are afraid of the oats getting soggy, put them in a zip-lock bag and tape it to the mason jar. Then, you just have to mix it in when you eat them
You can also use vegan yogurt instead of yoplait. Choose the small coconut based vegan yogurts
Use it up within 7 days of making them because they will taste fresh
Use pepitas or sunflower seeds too. They make for a great topping
For best results, use rolled oats (AKA old-fashioned). They are more sturdy and don't tend to get soggy
Sub oats with granola to make for a more hearty breakfast
I am not a breakfast person! Are you a breakfast person?
Why make a meal-prep breakfast?
I am not a breakfast person! Are you?
I think the reason I am not a breakfast person is because I am not a morning person. Most nights, I am up until 2 am doing blog related work, so, I don't feel like waking up in the morning.
On the other hand, if breakfast has been prepared beforehand and I need to do is grab a spoon, I will devour that breakfast!
So, when I know the week is going to be extremely hectic, I prepare overnight oats ready to be eaten. This will motivate me to start the day right and not feel sluggish all day long.
Keeping breakfast interesting
Over time, eating the same overnight oats recipe can get boring, so, I like to mix it up. I put yogurt, dates, cranberries, fruits and even include some chocolate when I can.
Today, I bring you an overnight recipe that is crazy easy to make. By crazy easy, I mean crazy deliciously easy to make. This recipe is a mix between parfaits and oatmeal. Each day of the week, I include a variety of fruits and nuts.
I dare you to get bored when eating breakfast this week!
I dare you to hate mornings when you have this waiting for you when you wake up!
Ingredients for overnight oats
Yoplait Yogurt of your choice
Fruit of choice
Flax meal
Coconut palm sugar
Steel-cut or instant oats
Pistachios
Almond slivers
Pecans
Mason jars
For this recipe, I used strawberry-banana flavored yogurt. But, you have the choice of so many other flavors. How does the vanilla orange cream flavor sound? Or, how about the strawberry peach?? They are all making you drool, right?
Alternatively, you can choose vegan yogurts. Choose coconut based yogurts or soy based yogurts.
Old-fashioned rolled oats worked great in this recipe, but, you can also try steel cut oats or instant oats. You can't go wrong with any of them. Or a simple granola will work too.
And, if you have leftover oats, put them in a mango bread. Incidentally, granola and tomatoes make for a great breakfast recipe.
I included Sunday breakfast in this meal prep even though most people go for a huge breakfast on that day. I figured you can start the day with something good before you start your cheat day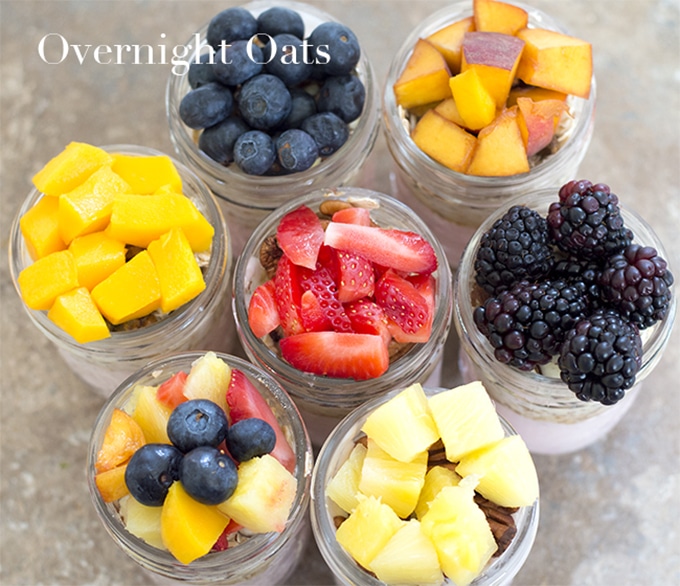 Answering Common Questions
What size jar for overnight oats?
I used 8oz mason jars for these overnight oats recipe. They are tall and that's why they make the perfect fit for layers. If you use bigger size, adjust the ingredient amounts
You can easily get these 8oz jars from Amazon. They sell a 24 pack of them that are fairly affordable. Here is an affiliate link for these jars from Amazon
How long does it take to make them?
It took me about 10 minutes to fill up 8 jars. I also bought pre-cut fruits from Walmart, so, I don't have to cut them up in the morning.
If you have everything ready, you can easily prep 7 days worth of overnight oats in just 8 minutes.
That's fast right?
Can I add peanut butter?
Yes, you can absolutely use peanut butter or almond butter or hazelnut butter or nut butter of choice.
I suggest layering the peanut butter right above the yogurt and under the oats. Or, mix it in with the yogurt first before pouring into the mason jar.
My favorite was the strawberry pecan overnight oats.
Can I use Greek yogurt?
Yes, feel free to use yogurt of choice. Greek yogurt is a little keto friendly, so, I understand using it in place of regular yogurt.
If you are on keto, exclude the oats and use a keto-friendly granola
Now it's your turn! Tell me about your breakfast challenges and how you overcome them everyday!
More breakfast recipes you will like
Since you can't eat eggs on a vegan diet, I have the perfect alternative for you! It's a mashed tofu scramble made with southwestern flavors!
If you are a vegetarian, I have the perfect hash brown recipe for you. It's made with sweet potatoes, mushrooms and seasonings
Top with a sinful amount of delicious cheese
Chocolate peanut butter smoothie
A decadent, yet, protein-packed breakfast is exactly what you need to wake up! This is my all-time favorite smoothie bowl that is so delicious that you will think about it all day.
Here is another recipe for those who are "too-early-to-make-my-own-breakfast", lol. Your crock-pot can make your oatmeal for you, so, you have no excuse! ????
---
Monday's mango-pistachio flavor was like a spoonful of island heaven.
Which overnight oats yogurt is your favorite?
Overnight Oats – 7 Day Breakfast Meal Prep
Easiest overnight oats recipe using yogurt and fresh fruits. Made in 10 minutes. Breakfast meal prep for the whole week.

Equipment
8oz Mason jars (7 pieces)
Instructions
In a bowl, add 2 cups of rolled oats

Add 1-2 Tbsp of coconut sugar.


Add 1 Tbsp of flax seed meal

Mix well and set aside

Open 8 mason jars and set the lids aside

Remove the yogurt lids from all 8 cups

Add 1 cup of Yoplait per mason jar

In each jar, add 1/4 cup of the oats mixture

Add 1/4 cup of milk to each jar. You can use any milk flavor you like

In 2 jars, add 1 Tbsp of pistachios

In the next 2 jars, add almond slices


Put pecan halves in 2 jars


The last jar was topped with almond slivers

Close the lids tightly and refrigerate
On Monday, add 1 Tbsp of mangoes to the jar. Tuesday: blackberry, Wednesday: pineapple, Thursday: blueberry, Friday: peaches, Saturday: Strawberry, Sunday: mixed fruits
Notes
Tips for making these oats
If you are afraid of the oats getting soggy, put them in a zip-lock bag and tape it to the mason jar. Then, you just have to mix it in when you eat them
You can also use vegan yogurt instead of yoplait. Choose the small coconut based vegan yogurts
Use it up within 7 days of making them because they will taste fresh
Use pepitas or sunflower seeds too. They make for a great topping
For best results, use rolled oats (AKA old-fashioned). They are more sturdy and don't tend to get soggy
Sub oats with granola to make for a more hearty breakfast
Nutrition