Easiest Overnight Oats Recipe Using Yogurt and Fresh Fruits. Made in 10 minutes. Breakfast Meal Prep for the Whole Week. Never Get Bored of Breakfast Again
I am not a breakfast person! Are you a breakfast person?
I think the reason I am not a breakfast person is because I am not a morning person. Most nights, I am up until 2 am doing blog related work, so, I don't feel like waking up in the morning.
On the other hand, if breakfast has been prepared before hand and I need to do is grab a spoon, I will devour that breakfast!
So, when I know the week is going to be extremely hectic, I prepare overnight oats ready to be eaten. This will motivate me to start the day right and not feel sluggish all day long.

Over time, eating the same overnight oats recipe can get boring, so, I like to mix it up. I put yogurt, dates, cranberries, fruits and even include some chocolate when I can.
Today, I bring you an overnight recipe that is crazy easy to make. By crazy easy, I mean crazy deliciously easy to make. These recipe is a mix between parfaits and oatmeal. Each day of the week, I include a variety of fruits and nuts.
I dare you to get bored when eating breakfast this week
I dare you to hate mornings when you have this waiting for you when you wake up!
Overnight Oats – 7 Day Breakfast Meal Prep
Walmart always has the Yoplait 8 cup packet on sell everyday. The package is so well designed that it is so easy to stock up on them. 3 fridge packs fits nicely in the corner of any refrigerator.
These tiny cups carry quite a punch! It has 20% of your daily recommended calcium and vitamin D. There is 6g of protein and 15% of vitamin A. Can you believe that you are getting all this goodness even before you stepped out of your home?!
For this recipe, I used strawberry banana flavored yogurt. But, you have the choice of so many other flavors. How does the vanilla orange cream flavor sound? Or, how about the strawberry peach?? They are all making you drool, right?
Old-fashioned rolled oats worked great in this recipe, but, you can also try steel cut oats or instant oats. You can't go wrong with any of them. Or a simple granola will work too.
And, if you have leftover oats, put them in a mango bread out of them. Incidentally, granola and tomatoes make for a great breakfast recipe.
I included Sunday breakfast in this meal prep even though most people go for a huge breakfast on that day. I figured you can start the day with something good before you start your cheat day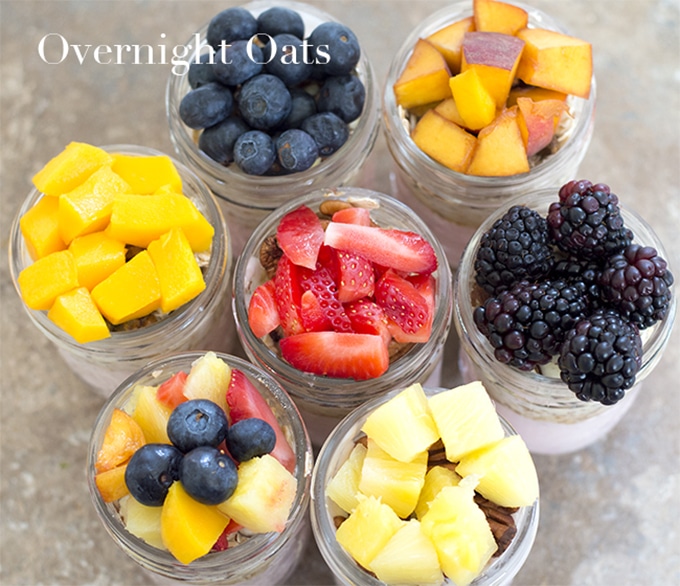 It took me about 10 minutes to fill up 8 jars. I also bought pre-cut fruits from Walmart, so, I don't have to cut them up in the morning. My favorite was the strawberry pecan overnight oats. There is nothing quite like juice Florida strawberries to start your day.
Have you tried my yogurt parfait recipe? Its another quick breakfast recipe that you can eat on the go!
Or, if you have time in the mornings, a quick tofu scramble or a sweet potato hash is a hearty breakfast recipe.
Monday's mango-pistachio flavor was like a spoonful of island heaven.
Other fruit recipes you will love:
Which overnight oats yogurt is your favorite?
Overnight Oats
1) In a bowl, add 2 cups of rolled oats
2) Add 1-2 Tbsp of coconut sugar. If you don't have coconut sugar, you can. use brown sugar
3) Add 1 Tbsp of flax seed meal
4) Mix well and set aside
5) Open 8 mason jars and set the lids aside
6) Remove the yogurt lids from all 8 cups
7) Add 1 cup of Yoplait per mason jar
8) In each jar, add 1/4 cup of the oats mixture
9) Add 1/4 cup of milk to each jar. You can use any milk flavor you like
10) In 2 jars, add 1 Tbsp of pistachios. In the next 2 jars, add almond slices. I put pecan halves in 2 jars and almond slivers in the last jar.
11) Close the lids tightly and refrigerate
12) On Monday, add 1 Tbsp of mangoes to the jar. Tuesday: blackberry, Wednesday: pineapple, Thursday: blueberry, Friday: peaches, Saturday: Strawberry, Sunday: mixed fruits
Serve immediately.
This post is written by me on behalf of General Mills. All opinions are entirely my own. This shop has been compensated by Acorn Influence, Inc. and its advertiser. All opinions are mine alone.
Overnight Oats – 7 Day Breakfast Meal Prep
Easiest overnight oats recipe using yogurt and fresh fruits. Made in 10 minutes. Breakfast meal prep for the whole week.

Print
Pin
Rate
Instructions
In a bowl, add 2 cups of rolled oats

Add 1-2 Tbsp of coconut sugar.


Add 1 Tbsp of flax seed meal

Mix well and set aside

Open 8 mason jars and set the lids aside

Remove the yogurt lids from all 8 cups

Add 1 cup of Yoplait per mason jar

In each jar, add 1/4 cup of the oats mixture

Add 1/4 cup of milk to each jar. You can use any milk flavor you like

In 2 jars, add 1 Tbsp of pistachios

In the next 2 jars, add almond slices


Put pecan halves in 2 jars


The last jar was topped with almond slivers

Close the lids tightly and refrigerate
On Monday, add 1 Tbsp of mangoes to the jar. Tuesday: blackberry, Wednesday: pineapple, Thursday: blueberry, Friday: peaches, Saturday: Strawberry, Sunday: mixed fruits
Nutrition