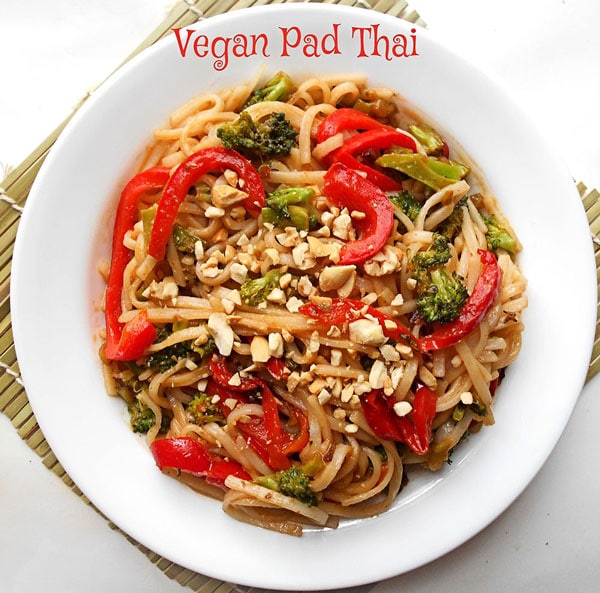 It is cold here in Florida and that is the perfect time for a quick Pad Thai recipe.
Ok, so, you might be wondering how I can put "cold" and "Florida" in the same sentence without including the word "not" in the sentence.
Well, I can say that because it was 40 degrees for the last few days and that is cold for these parts.  For me, it is the time I break out my bikini!
Don't worry, I won't share photos of me in a bikini.
Not in this post, but, elsewhere…..
Ok, back to this pad Thai recipe.  I am a huge fan of Thai recipes and that is one amazing Thai restaurant here in Florida.  It is called Royal Thai.  They make amazing curries that are just stewed to perfection. If you are ever in the Orlando area, check them out.
This is one of my favorite vegan recipes because it is filling and healthy.  I chose to go with only 2 veggies because I wanted to keep it a quick and simple Thai recipe.  If you want to include more veggies, go with snap peas, shredded carrots, cabbage and any other veggies you have in your fridge.
For the pad Thai noodles, I went with the traditional stir fry rice noodles because they are so very easy to make.  All you do is put them in hot water and you have instant noodles.
Since it is a very peanut centric recipe, I thought I would add some sriracha to accentuate the flavors of the pad Thai.  Boy, was that a good decision! This meal has a nutty and spicy flavor.
Incidently, I have heard this recipe being referred to as Padthay.  How do you refer to it?
Pad Thai Recipe
1) Chop 1 broccoli crown to make about 2 cups of finely chopped broccoli.  Chop half of a red pepper finely
2) Bring 3 cups of water to a boil
3) While the water is boiling, add 3 Tbsp of peanut oil or sesame oil to a pan.  Heat for 30 seconds
4) Add the broccoli and red peppers to the pan and stir
5) Add 1/4 tsp of salt to the pan and stir gently
6) Add 1 Tbsp of soy sauce to the pan and stir gently.  Cook until the broccoli is tender and then turn of the heat.  Set aside
7) The water should be boiling now, so, remove from the heat and add the stir fry noodles to it.  Don't leave them in the water for more than 8 minutes.
8) In a small pan, add 3 Tbsp of soy sauce and heat at very low heat
9) Add 1 Tbsp of sriracha sauce and mix well
10) Add a 1/4 tsp of finely chopped ginger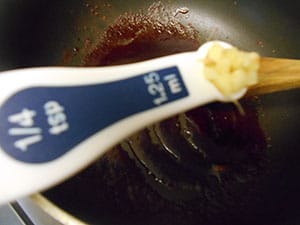 11) Add 1/2 tsp of peanut butter (not pictured) and 2 tsp of brown sugar.
12) Add 3/4 cup of water (not pictured) and mix well.  Remove from heat and set aside
13) Drain the noodles and put them in the same pan that you drained them.
14) Add the broccoli and red peppers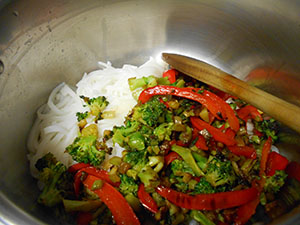 15) Add the sauce and mix well.  Top with 1/4 cup of roughly chopped peanuts (unsalted)
Pad Thai Recipe (Vegan)
Ingredients
2

cups

of chopped broccoli

(finely chopped)

3

cups

of water

(for soaking the noodles)

3

Tbsp

of peanut oil

1/4

tsp

of salt

4

Tbsp

of soy sauce

(split into 1 Tbsp and 3 Tbsp)

8

Oz

of Stir-fry Rice Noodles

1

Tbsp

of sriracha sauce

Add a 1/4 tsp of finely chopped ginger

1/2

tsp

of peanut butter

2

tsp

of brown sugar.

3/4

cup

of water

(For the sauce)

1/4

cup

of peanuts

(unsalted)
Instructions
Chop 1 broccoli crown to make about 2 cups of finely chopped broccoli. Chop half of a red pepper finely

Bring 3 cups of water to a boil

While the water is boiling, add 3 Tbsp of peanut oil or sesame oil to a pan. Heat for 30 seconds

Add the broccoli and red peppers to the pan and stir

Add 1/4 tsp of salt to the pan and stir gently

Add 1 Tbsp of soy sauce to the pan and stir gently. Cook until the broccoli is tender and then turn of the heat. Set aside

The water should be boiling now, so, remove from the heat and add the stir fry noodles to it. Don't leave them in the water for more than 8 minutes.

In a small pan, add 3 Tbsp of soy sauce and heat at very low heat

Add 1 Tbsp of sriracha sauce and mix well

Add a 1/4 tsp of finely chopped ginger

Add 1/2 tsp of peanut butter (not pictured) and 2 tsp of brown sugar.

Add 3/4 cup of water (not pictured) and mix well. Remove from heat and set aside

Drain the noodles and put them in the same pan that you drained them.

Add the broccoli and red peppers

Add the sauce and mix well. Top with 1/4 cup of roughly chopped peanuts (unsalted)