Paneer Pizza made with Greek Flavors because I just had to see how Indian Food and Greek Food worked together. I am so glad I tried it, but, this pizza turned out to be so delicious and easy. There is also a quick recipe video which shows just how easy it is to make this pizza
Is "Indo-Greek Cuisine" a thing?
If its not, I am making it a thing.
I have always wanted to make Greek Pizza and Naan Pizza. So, this is a 2-in-1 recipe and it was so delicious. I was literally licking my fingers!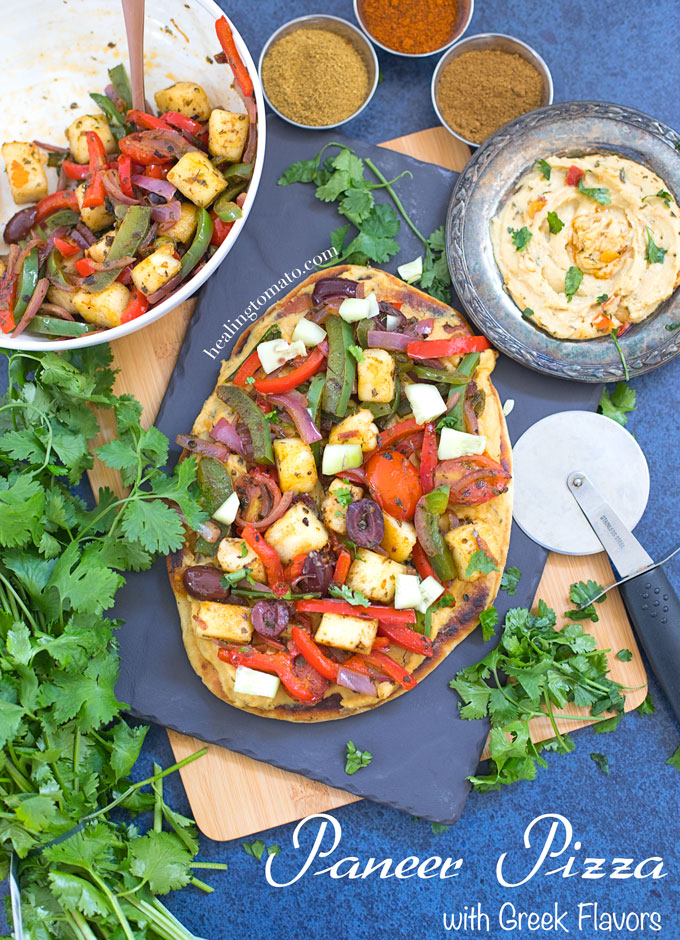 So, you probably didn't come to my blog to get a history lesson on the "Indo-Greek" Kingdom (AKA Graeco-Indian Kingdoms)!
(Oh yes, that WAS a thing!)
Click here if you want to skip the history lesson and go directly to the recipe
Around the 2 Centuries BC, Parts of Northwestern India (and other countries in the area) were under Greek rule. It was founded when King Demetrius invaded the area and was under the Indo-Greek Kingdom for 2 centuries
As a result of this kingdom, there was a great deal of fusion of the 2 cultures. That included language, fashion, symbols, coins and FOOD!
Here are just a few examples of Food that both cultures have in common:
– Baklava
– Moussaka (Ringan no olo)
– Dolmades (Dolma)
Ok, that's the end of the history lesson. If you want to get more details (which I know you love just as much as I do), Here are just a few quick sources
1) Indo-Greek Kingdom (Wikipedia)
2) Legacy of Indo-Greek (Wikipedia)
3) Indo-Greek Kingdom (Encyclopedia Britannica)
4) They Say Dolmas, We Say Dolma (Swarajya Magazine)
5) How Greek Food is Similar to Indian Food (NDTV)
There are so many similarities in Mediterranean Food Recipes, Indian Cuisine and Middle Eastern Food. So, if you like one of these cuisines, chances are you will also like the others.
I think this is only the beginning of my exploration of Indian and Greek Food fusion. I hope to find more recipes to bring to you.
If you like hummus, try my Parsley Hummus or my Beet Hummus
What's your favorite Naan Bread Pizza Recipe?
Paneer Pizza with Greek Flavors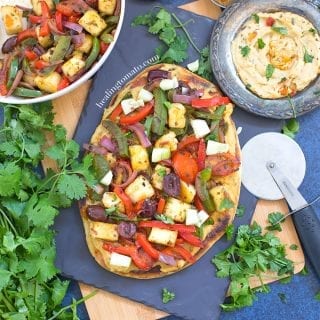 Paneer Pizza with Greek Flavors
Paneer Pizza with Indian and Greek Spices. Served over Hummus-layered Naan
Ingredients
3

Tbsp

Extra Virgin Olive Oil

Divided into 2 Tbsp and 1 Tbsp

2

Thai Chili

deseeded and cut into long strips

1

cup

Paneer

Cubed

½

tsp

Salt

½

tsp

Cumin Powder

Optional

½

tsp

Garam Masala

1

cup

Onions

1

cup

Green Bell Peppers

Cut into small strips

1

cup

Red Bell Peppers

Cut into small strips

5

Cherry Tomatoes

halved

2

tsp

Oregano

Dried

1

tsp

Parsley

Dried

¼

cup

Kalamata Olives

halved

1

Tbsp

Capers

1

tsp

Pink Salt

Cooking Spray

2

Naan

Garlic-flavored

10

oz

Hummus

about 1 ¼ cups
For Garnish
Cilantro

1

Tbsp

Cucumber

Cubed
Instructions
In a heated pan, add 2 Tbsp of the oil


Add the Thai Chili and Paneer


Keep Heat at Medium and let the paneer brown. Stir to make sure the paneer doesn't stick to the pan


Remove and set it aside


Add the 2nd portion of oil to the same pan and set heat to medium


Add the Onions, Bell Peppers, Tomatoes, Oregano, Parsley and Pink Salt


Cook until the bell peppers have softened (about 15 minutes), stirring frequently


Add the Paneer and mix well.


Transfer the cooked veggies and paneer to a bowl


Use the same pan and set it to medium heat


Use Cooking spray on the pan


Gently place the garlic naan on the pan and cook on one side for about 2 minutes or until browned


Flip the naan and spread half of the hummus on top of the naan


Place ½ of the Paneer mixture on the Naan and gently transfer naan to plate


Repeat from step 10 for the 2nd naan.


Serve immediately

Notes
– I used a Roasted Pine Nut Hummus but you can choose any type of hummus.
– If you can't find garlic naan, add about 1 tsp of crushed garlic before you add the onions