Paneer is very easy to make at home using just 2 ingredients. It's basically curdled milk that is then pressed to get the signature block shape.
Mornings are very hard for me. Getting out of bed is a chore all of its own!
So, I am trying different bribing methods to give me the willpower to get out of bed. This morning, I bribed myself with the thought of Paneer Skewers!! Paneer Skewers have been one of my favorite appetizers to order at Indian restaurants. Paneer is roasted in skewers, separated by cherry tomatoes, Bell Peppers, Onions and Squash.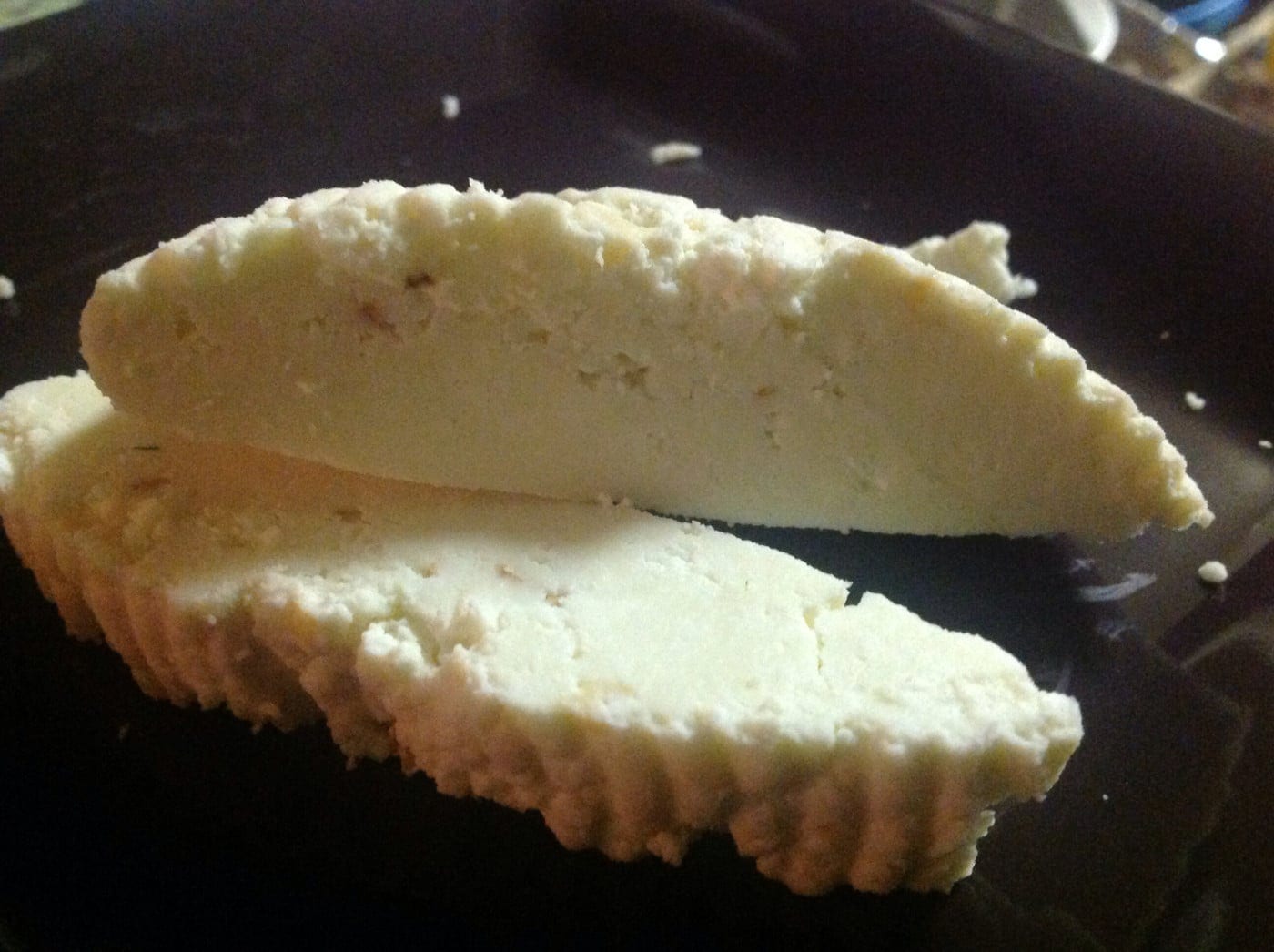 If you have had the privilege of tasting them them even once, then your mouth should probably be watering right about now. You are welcome! Or should I say, "Sorry for that!"?
Either way, Paneer Skewers are great comfort food. No one can deny that.
My bed made a squeaking sound when I jumped out of it. I think it approved of my choice or it was just happy to see out of it.
I open the freezer and locate the familiar container that has the store bought frozen paneer. When I bring home the paneer from the store, I cut it into cubes and store them in the freezer. This way, they can last up to a one month.
NOT THIS TIME!
You see, the paneer that was in my freezer was purchased on October 4, 2013. Yes, that was around a month ago and right around the time I experienced the gargantuan betrayal. This paneer never had the chance to be cooked until today. Today, I noticed that had gone grown some brown mold on it!!
Panic took over! This was the reason I had gotten out of bed, so, what am I supposed to do now??
Oh, wait! What did I do before I was conditioned to purchase oaneer from the store? Wasn't there a time when I used to make my OWN paneer? It is easy and it will not take that long, right?
Almost right…..
I realized one potential problem. I didn't have enough milk. The Paneer Skewers recipe requires at least 10 pieces which means I need one gallon of whole milk. Looking in my fridge, I had less than half gallon.
"No biggie", I thought to myself. I will make enough for just one skewer and this blog post.
That was just the first mistake…….
I thought I would get my camera and make a You Tube video of the process. This should be helpful to others who may, someday, find themselves in the same position as I am.
Two things I learned from today:
1) Always have frozen paneer handy
2) You cannot hold the camera and cook at the same time.
This seems obvious now, in hindsight. However, at the time, I thought that it is easy to hold the camera in one hand and make the Paneer with the other hand. I have seen lots of successful You Tube videos of people cooking and filming at the same time.
Those videos should come with the disclaimer to not try this at home! Unless you are a pro!
I am not even supposed to be talking at all. Doctor's orders! Notice my voice is breaking in the video and makes me sound like I am 150 years old.
Anyway, all was not completely lost. I took a few pictures that I can use on the blog post.
The ingredients for making paneer are very few. Milk and lemon! Only 2! That's it.
Items needed: Sieve, Draining pan, "Cheese" cloth and something to weigh it down.
Bought the milk to a boil, added the lemon juice and the whole disaster unfolded on video. I swallowed my pride and posted the video at the end of this blog post. Watch it, if you want to laugh.
So after I calmed myself down, I put the sieve and pan in the kitchen sink.
I put a "cheese" cloth over the sieve. So, why is the cheese in quotes? Well, regular cheese clothes have large mesh holes and the paneer would pass right through it. The cloth I used was not born as a cheese cloth. It was actually born as a very light and see-through T-Shirt.
Don't worry, I had a moment of silence after I cut it up.
I made a classic Indian Peas recipes and a Indo-Greek Pizza with paneer
Ordinarily, I would need a flat sieve to put under the clothed paneer before weighing it down. But, as you can imagine, I don't have one of those. My kitchen needs re-stocking, I know.
So, I got a little more creative. I used a frying strainer under the Paneer and weighed it down with two cans of Goya Chick Peas cans. Yes, I know! The chick pea cans were not born to be weigh downs for Paneer, but, desperate times call for unusual bedfellows….
As I was thanking these Chick Peas cans for helping me out, I also got a sinking feeling. This paneer is not going to be enough to make the Paneer Skewers. In fact, this paneer is not enough to make any recipes for more than one person. The paneer would have to be integrated into a recipe where it was not the main star.
All that trouble for NOTHING!
Well, not nothing….. It was a learning experience and also exposed some of the holes in my kitchen inventory.
And it got me out of bed this morning.
I wish stores like Publix, Wal-mart or even Target would carry Paneer in their cheese section. It is just as common a cheese as Mozzarella and Cheddar, I think.
Learn more about the history of paneer on Wikipedia
Now, off to scrub my stovetop…
How to make paneer
Quick and easy homemade paneer

Ingredients
2

Lemons

Juiced

1

gallon

Milk

Use full fat whole milk
Instructions
In a large pan, pour the milk and bring to a boil

Make sure you stir it constantly to prevent it from sticking to the bottom of the pan.

Once the milk has come to a boil, turn it off and pour the lemon juice slowly

Keep steering

Almost immediately, you will see the separation of the curd and the whey

Place the sieve over the pan in the sink

Cover the sieve with the cloth and gently pour in the curd and whey

The whey will collect at the bottom and the paneer will remain in the cloth

Collect the edges of the cloth and pull it up.


Hold it firmly from the top. Be careful because it is going to be very hot

Slowly start twist the cloth from the top all the way to the bottom


Once you have squeezed all the whey out of the cloth, place it on a flat surface


Weigh it down with something heavy


Let the paneer sit under the weight in a cool dry place for about three hours.
Shelf life: 2 weeks in the refrigerator and about 1 month in the freezer.
Notes
– Most of the total time is for weighing down the paneer. No work required on your part during this time.
– Shelf life: 2 weeks in the refrigerator and about 1 month in the freezer.