This is a Simple Recipe for Papaya Chutney made with Pineapples & Pablano Peppers. It is a Wonderful Sweet and Spicy Caribbean Inspired Chutney
I challenged myself to make a recipe with 3 ingredients that begin with the letter P!
I tried combinations like pineapple, potato and paprika.
Not shockingly, that didn't work!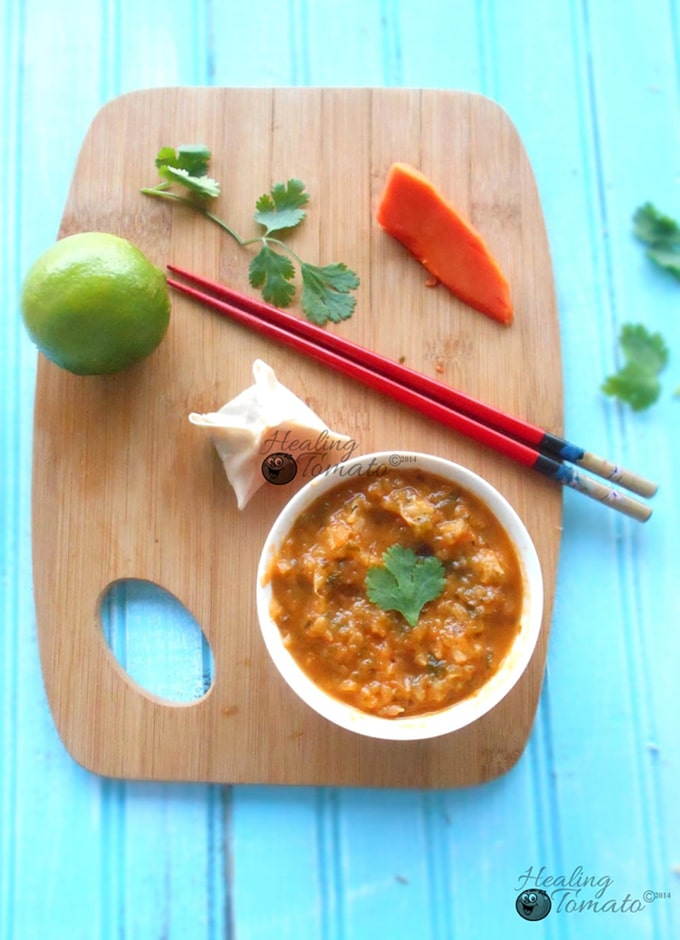 You don't even want to see the disaster that was peaches, pecans and paprika!
What worked?
Well, the proof is in the picture. Poblano, Pineapple and Papaya worked great together
To get a good and natural taste of a sweet + spicy chutney, I decided to go with Pineapples and Papaya for sweetness. The Poblano pepper is only there for its heat!
To really bring out the Caribbean flavors in this chutney, I roasted the poblano on low heat in the mini oven. They roasted for about 15 minutes and then I peeled the skin off.
Trust me, you will love the aroma of a roasting poblano coming from your kitchen. I felt like I was in a Mexican Cucina with Mariachis singing sweet music.
Sure, Mexico has nothing to do with Caribbean flavors. I just have a low attention span.
I couldn't find fresh pineapples or good ones. So, I went with the canned pineapples. They are always preserved at their peak so they tasted just like it was fresh.
However, there is no getting around the fresh papaya. This recipe works so well with fresh papaya, especially if it is the peak of ripeness. Add fresh lime juice at the time of serving and it will round out the Caribbean taste to the recipe.
The poblano pepper is not very spicy, at least to those who are used to spice on their taste buds. It ranks about 1000 – 2000 on the scoville scale which is really mild.
I made this papaya chutney recipe with a pulp consistency, but, you can strain the pulp and serve it in pure liquid form. Personally, I am a fan of Pulp in almost everything.
Speaking of papaya, have you tried my papaya mousse?
Speaking of pineapples, you have to try my pineapple rice!
(…and one last one, I promise)
Speaking of poblano, you must try my stuffed poblanos! They cheesy delicious!
I served this with my samosa wonton recipe. With what meal will you serve this chutney?
Papaya Chutney with Poblano and Pineapples

Chutney with Pineapple, Papaya & Poblano
Quick and simple chutney recipe made with Pineapple, Poblano and Papaya. Has Carribean flavors. Goes great with any meal.
Ingredients
1

Poblano Pepper

½

cup

Pineapple

Cubes, keep juice from can

½

cup

Papaya

Cubed, fresh

2

tsp

Ginger

grated

3

Cilantro Stems

1

tsp

Salt

5

pieces

Peppercorns

2

tsp

Extra Virgin Olive Oil

⅛

tsp

Cardamom Seeds

optional

½

Lime

Squeeze the juice

1

tsp

Sugar

Only if pineapple is not sweet enough
Instructions
Heat up the mini oven at 350 degrees


Lightly baste the poblano with a couple drops of the olive oil


Place the Poblano in the mini oven and let it roast for about 15 minutes

Remove from the oven and allow it to cool


Discard the blistered skin and dice it roughly

In a medium pan, heat the olive oil

Add all ingredients, except for a a couple cilantro leaves for garnish. Be sure to add the pineapple juice too.


Heat until all the ingredients are soft and can be crushed easily by a spoon


Put the mixture into a food processor

Pulse the mixture slowly until it has a smooth texture


Optional: Sieve the chutney if you want an even smoother consistency