Peach Frozen Yogurt
I like making peach frozen yogurt because it is a healthy dessert that also doubles as a guilty-free pleasure.
This peach frozen yogurt takes only 5 minutes to make! Talk about time saving dessert that is packed with Vitamin A and other nutrition. 
Vegan yogurt comes in many flavors.  I am a huge fan of all the Silk Products because they make delicious vegan yogurt.
Easy vegan desserts are always in demand.  I find myself searching for good recipes, especially on Fridays.  So, I figured I would make one myself and I am so glad I make this yogurt.
What do you think about calling it "Peach Fro Yo"?
Does it sound like nails on a chalkboard or is it a time saving way of saying Peach Frozen Yogurt?
Peach Frozen Yogurt
1)Take 2 tsp of cashews and roast them on the stove top. Set aside to cool
2) Take 2 cups frozen peaches and put it into the cup of a food processor
3) Add 1/2 cup of Silk Vegan Yogurt or your favorite vegan yogurt
4) Add 1/4 cup of brown sugar
5) Add 2 Tbsp of maple syrup
6) Juice 1/2 of a lime (if you prefer lemon, use that instead)
7) Blend on low speed until the mixture has a smooth consistency.
Place the yogurt in a bowl and top with the cashews.  Serve immediately
Note: You can choose any toppings with it.  I have tried chocolate sprinkles and they weren't bad.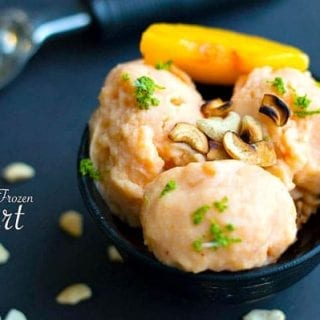 Peach Frozen Yogurt
Ingredients
2

tsp

of cashews

2

cups

frozen peaches and put it into the cup of a food processor

1/2

cup

of Silk Vegan Yogurt

(or your favorite vegan yogurt)

1/4

cup

of brown sugar

(or adjust to your taste)

2

Tbsp

of maple syrup

1/2

of a lime

(if you prefer lemon, use that instead)
Instructions
Take 2 tsp of cashews and roast them on the stove top. Set aside to cool

Take 2 cups frozen peaches and put it into the cup of a food processor

Add 1/2 cup of Silk Vegan Yogurt or your favorite vegan yogurt

Add 1/4 cup of brown sugar

Add 2 Tbsp of maple syrup

Juice 1/2 of a lime (if you prefer lemon, use that instead)

Blend on low speed until the mixture has a smooth consistency.

Place the peach frozen yogurt in a bowl and top with the cashews. Serve immediately
Recipe Notes
Note: You can choose any toppings with it. I have tried chocolate sprinkles and they weren't bad. Try raisins, pecans, pistachios, etc.This will stay well for 2 weeks, if refrigerated