Make your own Vegan Peach Frozen Yogurt. Takes only 5 min to make and you only need 5 ingredients. Its the perfect healthy dessert or healthy vegan snack. Vegan frozen yogurt never tasted so good!
I like making peach frozen yogurt because it is a healthy dessert that also doubles as a guilty-free pleasure.
This peach frozen yogurt takes only 5 minutes to make! Talk about time saving dessert that is packed with Vitamin A and other nutrition.
Easy vegan desserts are always in demand in my home.  I find myself searching for good recipes, especially on Fridays.  So, I figured I would make one myself and I am so glad I make this yogurt.
I went with frozen peaches, but, you can also use fresh peaches.  Or, substitute for anyone of your favorite fruits like raspberries, strawberries, bananas, pineapple and so much more
If you use fresh fruits, add ice cubes too.  For every one cup of fresh fruit, add about 1/2 cup of crushed ice.
If you have any peaches leftover, put them into a peach lemonade or a peach kale salad.
Does Vegan Yogurt Freeze?
Vegan yogurts that are made with soy or coconut milk freezes really well.  So, its perfect to use for this recipe.  I have heard that almond milk yogurt freezes really well, but, I have never tried it.
If your vegan yogurt is made with other products, I think you will need to experiment.
What kind of toppings can I use on vegan frozen yogurt?
When I used to go to a frozen yogurt place, my toppings were always more than the ice cream itself.  I used to put all kinds of toppings, especially sprinkles! I couldn't get enough of chocolate sprinkles.
That is why I love this question because the answer has infinite possibilities.  I only topped it with cashews in this recipe, but, you could add any or all of these ingredients:
Peanuts
Raisins
M&Ms
Dried apricots
Sour Patch
Cookie Dough
Walnuts, Pecans, Almonds
Cherries
What topping will you use with this frozen yogurt?


How to Make Peach Frozen Yogurt
1)Take 2 tsp of cashews and roast them on the stove top. Set aside to cool
2) Take 2 cups frozen peaches and put it into the cup of a food processor
3) Add 1/2 cup of Silk Vegan Yogurt or your favorite vegan yogurt
4) Add 1/4 cup of brown sugar
5) Add 2 Tbsp of maple syrup
6) Juice 1/2 of a lime (if you prefer lemon, use that instead)
7) Blend on low speed until the mixture has a smooth consistency.
Place the yogurt in a bowl and top with the cashews.  Serve immediately
Note: You can choose any toppings with it.  I have tried chocolate sprinkles and they weren't bad.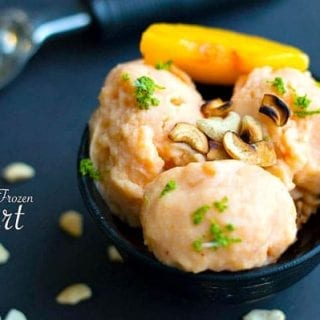 Peach Frozen Yogurt
5 ingredient Peach yogurt recipe

Print
Pin
Rate
Freeze Overnight:
4
hours
10
minutes
Ingredients
2

tsp

cashews

2

cups

frozen peaches

1/2

cup

Silk Vegan Yogurt

(or your favorite vegan yogurt)

1/4

cup

vegan brown sugar

(or adjust to your taste)

2

Tbsp

maple syrup

1/2

lime

(if you prefer lemon, use that instead)
Instructions
Take 2 tsp of cashews and roast them on the stove top. Set aside to cool

Take 2 cups frozen peaches and put it into the cup of a food processor

Add 1/2 cup of Silk Vegan Yogurt or your favorite vegan yogurt

Add 1/4 cup of vegan brown sugar

Add 2 Tbsp of maple syrup

Juice 1/2 of a lime (if you prefer lemon, use that instead)

Blend on low speed until the mixture has a smooth consistency.

Place Yogurt in a freezer friendly container. Freeze overnight


Place the peach frozen yogurt in a bowl and top with the cashews

Notes
Note: You can choose any toppings with it. I have tried chocolate sprinkles and they weren't bad. Try raisins, pecans, pistachios, etc. This will stay well for 2 weeks, if refrigerated Nutritional info is approximate
Nutrition
Serving:
4
g
|
Calories:
121
kcal
|
Carbohydrates:
26
g
|
Protein:
2
g
|
Fat:
1
g
|
Cholesterol:
1
mg
|
Sodium:
20
mg
|
Potassium:
216
mg
|
Fiber:
1
g
|
Sugar:
24
g
|
Vitamin A:
4.2
%
|
Vitamin C:
7.5
%
|
Calcium:
6.6
%
|
Iron:
2.2
%