Roasted Peach Lemonade Recipe is one of my favorite summer drinks. The peaches are lightly roasted with sage and then added to the lemonade, giving it a nice roasted drink.
This shop has been compensated by Collective Bias, Inc. and The Coca-Cola Company. All opinions are mine alone.
Is there another state that drinks more lemonade than Florida?
When it comes to drinking lemonade, any Floridian can drink the rest of the country under the table!
Here in Florida, having 90 degree temperatures on Christmas day is expected and it is completely normal to be sipping lemonade while opening presents.
Even as I write this post, Floridians are enduring enjoying 93 degrees with 58% humidity. It feels like 110 degrees when I walk outside. I am so glad I have a pitcher of this peach lemonade to keep me cool while tap away on the keyboard.
That is why lemonade is huge around these parts. In our home, we go through 5 bottles a week. We also make the lemonade at home when we get a fresh batch of lemons.
The 2 things you are bound to find my fridge at any given time are Salted Lassi, Watermelon Lassi or lemonade! I consider them my allies in my fight against the unrelenting heat.
To jazz up my lemonade recipes, I always try infusing various ingredients. Mango lemonade is a fan favorite in my home, but, this peach lemonade is now an instant hit.
It has the right amount of sweetness to it, so, that makes it perfect.
In our home, we only use Simply Lemonade because we can buy it easily at Sam's club. Whenever I hear that the lemonade is on sale there, I brave the rush hour traffic to restock my pantry .
SCOREEE!!
I roasted 3 peaches with sage and then added Simply Lemonade® . Just like that, I had the best lemonade recipe. The reason I like this specific lemonade is because it is made with all-natural ingredients and no added preservatives. That is always music to my ears.
When I read the back of the bottle, it lists the ingredients listed as "Pure filtered water, cane sugar, not-from-concentrate fruit juice and natural flavors".
All the ingredients can be found in my own pantry. It is just like I made it myself in my kitchen, but, I don't have to suffer the inevitable carpal tunnel from squeezing the juice out of lemons.
I have been invited to so many picnics and outdoor events this summer. Each time, I have taken this original flavor lemonade to an event, it is always the first to run out.
Everyone appreciates its light and natural flavors. Also, I find that they don't taste too sour.
The reason I roasted the peaches was because roasting them really brings out its natural juices and sweetness. I went with a combination of white and yellow peaches because I like both of them. Also, they are in season here which makes them very affordable.
Use fresh sage leaves and not dried sage because you can remove the leaves after the peaches are roasted. After pureeing the peaches, I sense the slight aroma of sage in the puree
So, the question becomes, are you on team original flavor or team raspberry flavor?
Related: have you tried my peach frozen yogurt?
How to make it
1) Preheat oven to 450 degrees
2) In a small bowl, add ¼ cup of agave and microwave it for 7 seconds. That should be enough to get it warm and easy to spread
3) Add 1 tsp of sugar to the warm agave and mix with a spoon
4) Take 2 golden yellow peaches and 1 white peach. Cut them in half and remove the pit
5) Using a brush, coat the top of the cut peach. This is the side where you can see the pit hole. Be generous with the agave on each peach. Don't worry if you don't use it all. The remainder will be used in step 12
6) Place the peaches on a baking tray. I placed the peaches skin side down
7) Take 6 sage leaves and place one leaf in the pit hole of each peach
8) Roast for 30 minutes or until you the top browns. You will see the top of the peach begin to crinkle and turn dark brown
9) Remove the peaches from the oven and allow them to cool for about 10 minutes
10) Remove the sage leaves and freeze them. I tend to reuse them in soup or pasta sauce recipes
11) Turn the peaches upside down and remove the skin from the peaches. It should come off with minimal effort
12) Throw the peeled skin away and place the peaches in a blender. If you have any of the agave and sugar mixture left over after step 5, add it to the blender
14) Add ¼ cup of water and 1 Tbsp of sugar. Sugar is optional. Blend on low speed until the peaches are completely pureed
15) Transfer the pureed peaches to a sieve and strain. Once again, I save the pulp for use in a soup recipe.
16) Transfer the sieved liquid to a pitcher. Add 3 and a ½ cups (about half of the container) of Simply Lemonade Original Flavor
17) Mix well and refrigerate. If you want to serve this peach lemonade immediately, add ice to it. If it is refrigerated, make sure you mix it well when you remove it from the refrigerator before serving.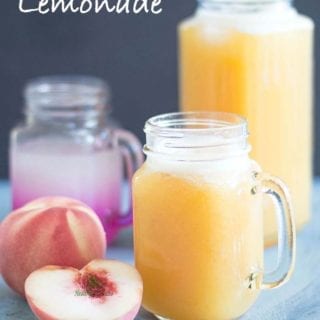 Peach Lemonade Recipe With Sage
Roasted peach lemonade is very easy. Roast peaches with sage and then puree them. Sieve and add Simply lemonade original flavor. Best summer lemonade recipe
Ingredients
¼

cup

agave

1

tsp

sugar

(for the basting)

2

peaches

Pitted, cut into halves. I used golden yellow peaches

1

white peach

Pitted, cut into half

6

leaves

sage

¼

cup

water

1

Tbsp

sugar

(optional)

3.5

cups

Simply Lemonade Original Flavor

(about half the container)
Instructions
Preheat oven to 450 degrees

In a small bowl, add ¼ cup of agave and microwave it for 7 seconds


Add 1 tsp of sugar to the warm agave and mix with a spoon

Using a brush, generously coat the top of the cut peach.


Place the peaches on a baking tray with skin side down

Take 6 sage leaves and place one leaf in the pit hole of each peach

Roast for 30 minutes or until you the top crinkles and browns.


When done, allow them to cool for about 10 minutes

Remove the sage leaves and freeze them (see notes)


Peel off and discard the skin from the peaches


Place peaches and any of the leftover agave mixture from step 3, water and sugar


Blend on low speed until the peaches are completely pureed

Transfer the pureed peaches to a sieve and strain (see notes)


Transfer the sieved liquid to a pitcher


Add the Simply Lemonade Original Flavor

Mix well and refrigerate for 30 minutes before serving

Notes
– The sage after baking actually retain a lot of their flavor and aroma, making them perfect for soups and sauces. That's why I like to freeze them for future use
– The pulp remaining after the sieve process is actually very useful. Add it to soup and you will notice a delicious taste in the soup
– Nutritional info is approximate