5-Minute keto vegan peanut satay sauce can easily be made at home from scratch! It tastes just like the traditional Thai version and costs a fraction of the price. This peanut sauce can be used in many recipes!
How psyched are you that this peanut satay sauce is vegan and keto recipe!
It's always nice to have a recipe that can accommodate your keto vegan friends, right
Best part is that this sauce takes just 5 minutes to make!
Tips for making this sauce
Refrigerate this satay sauce after making it, if you are not going to use it right away.
If you have time, roast your peanuts in the oven or stove top. They will add a more nutty flavor (but sauce might be a little course in texture)
You can also use this as a dip for your veggies. I really like dipping my celery in it.
What is peanut satay sauce?
Peanut satay sauce is a sauce made with roasted peanuts or sometimes fried peanuts. The "satay" is from Indonesian which is skewered meat. The sauce is often poured over skewered meat and also works great for marinating meat that is going to be put on a stick.
In most countries outside of the Philippines, Indonesia and Thailand, its common to use peanut butter to make the recipe. Also, red pepper flakes are also substituted for chili. I think it has to do with convenience which is why there are so many different types of recipes for this sauce
For me, I am going to use it to saute tofu and maybe even paneer, if I can. Then, I am going to use that tofu in another recipe, so, stay tuned. I am still in the experimental phases, but, you will get to see this recipe soon.
Source: Wikipedia
Is this peanut satay sauce Keto?
Yes, peanut satay sauce is made using all keto approved ingredients. There are processed sugars or ingredients in this sauce. Additionally, I have used no sugars to sweeten the sauce.
The only thing to change is to use coconut aminos instead of soy sauce.
Using tamari or coconut aminos will also make this a gluten free sauce. I have used this (affiliate link) tamari sauce brand in the past and highly recommend it.
Consult your medical professional for a more accurate ingredient information.
Is it vegan?
My peanut satay sauce is vegan friendly! I don't use any bad sugars and there is no Worcestershire sauce in it.
In my recipe below, I use nutritional yeast and coconut aminos to compensate for the fish sauce. It tastes really good and I am told that my recipe tastes just like the traditional version.
You can also use vegan Worcestershire sauce which is a vegan replacement for fish sauce in many recipes. Annie's makes an amazing (affiliate link) Worcestershire sauce that you can use in this recipe.
If you didn't know that Worcestershire sauce is not vegan, check out my comprehensive list of foods that are not vegan. Which one surprised you the most?
I also used non-dairy milk in this recipe. My favorite is hazelnut milk for this recipe. You can also use coconut milk which will make it more creamier.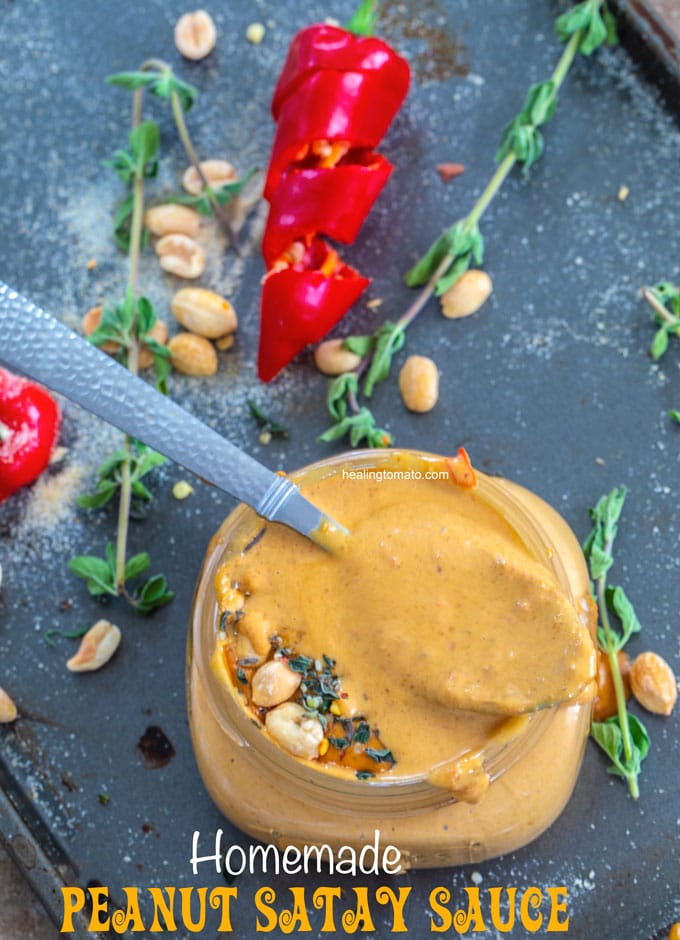 How long does this sauce last?
The store bought versions have a long shelf life. I think they can stay refrigerated for about six months. When you purchase it from a grocery store, make sure you look at the expiration date to be sure.
If you make my recipe below, it can stay refrigerated for about a month. You can also freeze it in ziplock bags or freezer friendly containers.
What else can I add to it?
Fresh oregano
Hemp Seeds
Chia Seeds
Walnuts
Pistachios
Sesame seeds
The world is my pantry, so, I will use anything I can find. Feel free to experiment with any ingredients.
P/S: If you like homemade sauces, you will love this Tahini sauce made with sesame seeds.
Can I use roasted peanuts?
Yes, you can use roasted peanuts. They make for an absolutely delicious sauce.
If you have time, roast the peanuts first before grinding them. Roast them in the oven at 250° for about 10 minutes or until they brown. You can also roast them in the mini oven or stove top.
And, if you like peanuts, have you tried slow cooker boiled peanuts before? They are so good!
What is your favorite way to use peanut satay sauce?
How to use this sauce
Recipe Inspiration
I have used peanut satay in many recipes (like this summer spring rolls). But, I always used store bought.
They started getting very expensive especially because I was going through 2-3 bottles a week.
Time for me to make it at home and save some money!
This peanut satay sauce turned to be easier to make than I thought. First, it only took 5 minutes to make which really surprised me. I thought I would have to find complicated ingredients online and try to mix them in the right combination!
I have never been so happy to be so wrong!
How to make Vegan Peanut Satay Sauce
A quick 5-minute recipe for homemade peanut satay sauce

Instructions
Grind peanuts in food processor until creamy


Add the remaining ingredients in the order listed above


Blend all the ingredients until everything is mixed well


Transfer to a glass bottle and refrigerate

Notes
– If you have time, roast the peanuts in the oven or stove top. Roast them at about 250° until they brown (about 10 minutes)
Nutrition