Quick and Easy Fried Rice Made with Pineapples and Jalapeno (Vegan)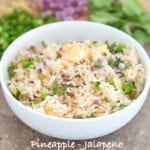 Quick and easy fried rice made with pineapples and jalapeno. This Vegan Pineapple Fried Rice is the perfect side dish or and a lunch recipe.
"What are your favorite pizza toppings?"
Well, since you asked, let me tell you!
Its pineapple and jalapeno!
Did the shocked emoji just jump into your head?
If you have never tasted melted cheese, rice and pineapple,  you have missed out one of the most creative taste culinary combinations!
In fact, I love it SOOOOO much that I have 2 more recipes coming soon where I use this pineapple+jalapeno combination!  I think you are going to love each of those recipes and like me, you won't be able to choose a favorite.
(Ok, maybe I can choose a favorite and it is this one!)
Ever since I can remember, I have loved the combination of pineapple and jalapeno!  The sweet and tangy mixed with the spice is my favorite kind of flavor.
Rice has made a good home here on my blog! I have put it in Brussels sprouts pilaf, mixed it with coconut and peas and made fried rice out of it!
For this pineapple fried rice recipe, I went with pineapple chunks.  In retrospect, I think I should have used bits of pineapple since it will blend better with the rice.
It still tastes delicious, either way.
I only use Basmati rice and I have admitted to being a snob about it.  Its the best rice ever made!
But, the beauty of this pineapple fried rice recipe is that you can substitute it for any rice types
Speaking of, how many types of rice can you name?  Here are some of the types I have tried and (sort of, kind of) like.  They are great in their own way, but, they aren't Basmati!
1) Black Rice
Its also known as the forbidden rice and is considered part of ancient grains.  This is not a popular rice, but, it is definitely one healthy rice.  Black Rice is packed with antioxidants, its heart healthy and a good source of fiber!  Its definitely tastes good, but, don't give me a bowl of it.
Forbidden rice on amazon (affiliate link)
2) Jasmine Rice
This rice is originally from Thailand, but, its made its way into so many Asian cuisines.  Even western cuisines have started loving these rice.  Its an easy rice to prepare since its similar to the basmati rice.  I found that it can be great for stuffing peppers.  When done, this rice is a little sticky, so, its appropriate for sushi too.
Jasmine rice from amazon (affiliate link)
This is often considered the healthiest of rices in part because of how its harvested.  The rice is left in its husk when harvested and then steamed and cooked in it.  The rice absorbs all the nutrients of the husk and also has less starch after the process.   Its very common to use it in curry recipes because it absorbs the flavors like a sponge
Parboiled rice from amazon (affiliate link)
4) Wild Rice
I am always confused about this rice.  Some wild rice is made up of all black, long grain rice.  Then, there is the wild rice that I used to make my Brussels sprouts pilaf which is blended with long, brown and black rice.  Wild rice is more of a grass than a rice, but, who cares, right?  Its still not Basmati!
Wild rice from amazon (affiliate link)
5) Arborio Rice
I love using this rice in risottos and nothing else.  Its "clumpy" texture when cooked makes them perfect for risotto.  My favorite ingredient in risotto is mushrooms.  I have seen some chefs use it in sushi and it does taste good.  So, next time you are making a vegetarian california roll, try it and let me know what you think?
Arborio rice from amazon (affiliate link)
I have seen this rice in mostly western cuisine.  The deep south use it to make some amazing soul food like red beans and rice.  Even I used it with my collard green stew with black eye peas.  This rice is one of the easiest rice to cook, so, makes great for busy dinner nights.
Long grain rice from amazon (affiliate link)
Elaborate rice recipes are so delicious, but, I am a simple gal who likes simple rice recipes!  Just give me a bowl of steamed rice and I will happily dig in!
What is your favorite type of rice?


Pineapple Fried Rice with Jalapeno (Vegan)
Pineapple Fried Rice with Jalapeno (Vegan)
Quick and Easy Fried Rice Made with Pineapples and Jalapeno (Vegan)

Print
Pin
Rate
Instructions
In a pan, add the coconut oil and heat at medium heat for 20 seconds


Add the onions and let them brown slightly


Add the ginger and mix.


After 30 seconds, add the jalapeno


When the jalapeno are softened after about 3 minutes, add the pineapples and juice


Let some of the water dissipate before adding the rice


Adjust for salt, if needed

Nutrition
Serving:
1
g
|
Calories:
612
kcal
|
Carbohydrates:
114
g
|
Protein:
8
g
|
Fat:
14
g
|
Saturated Fat:
11
g
|
Sodium:
299
mg
|
Potassium:
446
mg
|
Fiber:
5
g
|
Sugar:
34
g
|
Vitamin A:
265
IU
|
Vitamin C:
40.9
mg
|
Calcium:
62
mg
|
Iron:
1.4
mg