Quick and easy fried rice made with pineapples and jalapeno. This Vegan Pineapple Fried Rice is the perfect side dish or and a lunch recipe.
"What are your favorite pizza toppings?"
Well, since you asked, let me tell you!
Its pineapple and jalapeno!
Did the shocked emoji just jump into your head?
Tips for making this rice
Make the basmati rice before making the rest of the recipe
Use pineapple chunks for best results. Or you can cut them into smaller pieces.
Use the juice that comes with the pineapple because it will make it naturally sweeter. Perfect offset for the jalapenos
Fresh pineapple is better, but, they are too much work. So, canned pineapple is fine. Check out how Clean & Delicious cuts a pineapple
This rice is good to refrigerate but don't freeze it. The rice just won't hold it's texture or taste when frozen.
Types of rice to use
I only use Basmati rice and I have admitted to being a snob about it.  Its the best rice ever made!
But, the beauty of this pineapple fried rice recipe is that you can substitute it for any rice types. Try wild rice, arborio rice, jasmine rice, brown rice or long grain rice
Elaborate rice recipes are so delicious, but, I am a simple gal who likes simple rice recipes! Just give me a bowl of steamed rice and I will happily dig in!
More rice recipes
Rice eating is inherent for me. Rice is a staple for us, going back at least 10 generations.
So, I have quite a few rice recipes and some of them have even made it to the blog, lol.
Check out some of my favorite rice recipes:
Brussels sprouts with basmati rice is a healthier rice recipe that is very easy to make.
Brussels sprouts pilaf recipe
Brussels sprouts pilaf made with wild rice blend and topped with dried cranberries is an easy side dish or main course meal to make for any meal. It is hearty and nutritious recipe for the whole family
Check out this recipe
Add coconut milk to cooked rice for an exotic flavored rice recipe.
Coconut Rice
Coconut rice recipe made with easy ingredients that can be made in 25 minutes. Rinse the rice, add cooked peas, coconut milk. Garnish with lime and cilantro
Check out this recipe
Why eat just plain rice when you can have a colorful saffron rice?
How To Make Saffron Rice
How to make a fluffy saffron rice. This recipe is so easy to make and it's very aromatic
Check out this recipe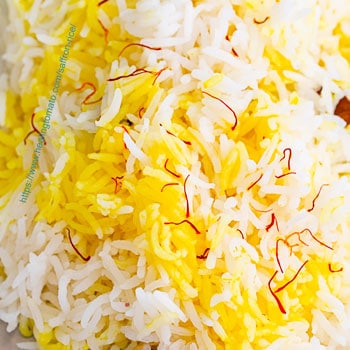 Rice with Mexican flavors is exactly what I want to eat today.
Mexican Fried Rice
Simple Mexican fried rice made with colorful peppers and Mexican seasoning
Check out this recipe
What is your favorite type of rice?
Pineapple Fried Rice with Jalapeno (Vegan)
Quick and Easy Fried Rice Made with Pineapples and Jalapeno (Vegan)

Ingredients
1

Tbsp

Coconut oil

1/4

cup

Red Onions

finely chopped

1

tsp

Ginger

finely chopped

1

Jalapeno

finely chopped, deseeded

8

Oz

Pineapple chunks

with pineapple juice

1/2

cup

Basmati rice

cooked

1/8

tsp

salt

optional
Instructions
In a pan, add the coconut oil and heat at medium heat for 20 seconds


Add the onions and let them brown slightly


Add the ginger and mix.


After 30 seconds, add the jalapeno


When the jalapeno are softened after about 3 minutes, add the pineapples and juice


Let some of the water dissipate before adding the rice


Adjust for salt, if needed

Notes
Nutrition info is approximate