Quick and Easy 5 Ingredient Pineapple Skewers are the Perfect Summer Grilling Recipe.  Takes less than 30 Minutes to Make on the Stove Top or a Grill.
Be prepared to be skewered!
It's skewer week here on my blog and I can't wait to show you all the recipes I have in store!
First up, this is the easiest Pineapple Skewer recipe you will ever make!
MY LATEST VIDEOS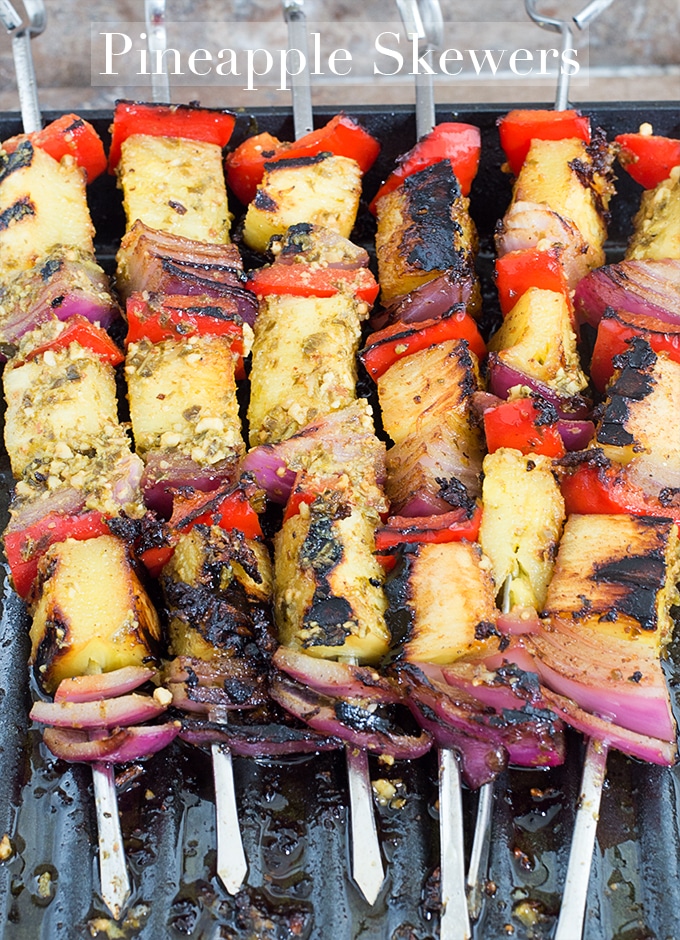 If you are feeling lazy on some days and don't feel like making a huge meal, this would be the perfect meal!
Believe me, even though I am a food blogger, some days, I just don't feel like cooking.  The Chinese restaurant menu is just calling my name and I am too weak to resist.  "Just this once", I say to myself, "let someone else do the cooking"
But, the thought of saving money on ordering in is far too alluring and I stop myself from dialing.  I rummage through my pantry and come up with the simplest recipe that will require no effort on my part
That's the origin story of these pineapple skewers.
I had an onion, a red bell pepper and a pineapple can.  There was some left over basil pesto from my vegan potato salad which would be the perfect topping for this skewers
The vegetables were roughly cut up and I had pineapple that I bought for my antioxidant smoothie.  Since I am addicted to my new stove top grill, I figured I should just put the ingredients into a skewer and grill them!
You can eat them by itself, but, I also discovered a new product on the market and I tried it out.
There are new mini Naans made by the famous company that makes all the naan products.  They have come out with a new mini Naan that can be heated up in a toaster oven!
Can you believe how awesome that is?!?!
I put them on these mini naans and took a bite! It was the best meal I have ever had!  It was sweet, juicy, salty and just a little crunchy! All the flavors in one little meal.
What more could I ask for!
I was so eager to try them that I forgot to photograph them.  I actually had to go out and get all the ingredients and make them again just for the blog.
Not that I am not complaining! I could make this recipe about a thousand times a day and still have time to sleep 8 hours.
So, I don't want to take up any more of your time.  I am sure you want to run to the kitchen and make this recipe!
What is your favorite quick recipe?
Pineapple Skewers
5 Ingredient Pineapple Skewers
Quick and Easy 5 Ingredient Pineapple Skewers are the Perfect Summer Grilling Recipe. Takes less than 30 Minutes to Make on the Stove Top or a Grill.
Ingredients
Instructions
I used six 10" stainless steel skewers on an 11" stove top grill


Take one skewer and start by skewing a red bell pepper piece


Next, skew the pineapple chunk


Skew one of the red onion wedge


Repeat the above steps 2 more times and set it aside


Complete the process for the remaining 5 skewers


Heat the stove top grill for about 3 minutes or until completely hot


Baste the skewers with the Maple syrup and place them on the grill


Generously baste the skewers with the basil pesto


Grill each side for about 30 seconds or until browned


I basted each side with the pesto as I turned the skewers

Remove from the grill and let them cool for a few seconds


Serve by itself or on mini Naans

Nutrition Facts
5 Ingredient Pineapple Skewers
Amount Per Serving (6 skewers)
Calories 485
Calories from Fat 306
% Daily Value*
Total Fat 34g 52%
Cholesterol 7mg 2%
Sodium 875mg 36%
Potassium 344mg 10%
Total Carbohydrates 38g 13%
Protein 6g 12%
* Percent Daily Values are based on a 2000 calorie diet.