Easy vegan potato salad made only 7 ingredients. Put sauteed arugula and spinach then top it with pesto. Perfect for picnics and cookouts or as a side dish. Version 2
I love colorful potatoes!
Vegan Potato salad is so easy to make. In just under 45 minutes, you will have this perfect dish.
It is no secret that I am attracted to bright colors.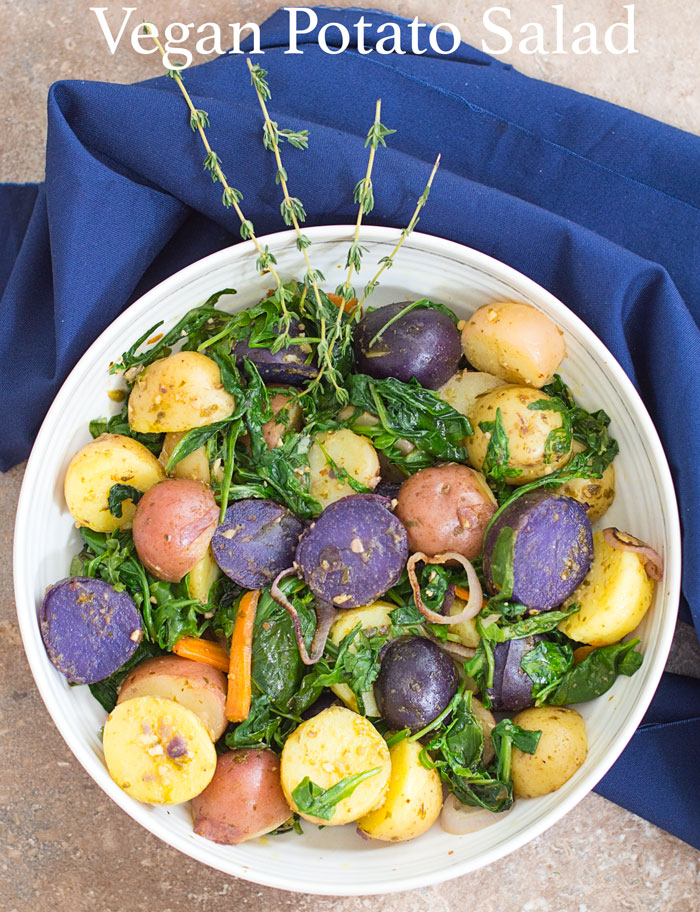 When I saw some colorful potatoes in the grocery aisle, I was like a moth to flame. A vegan potato salad recipe immediately leaped in my mind. A potato salad is not a potato salad until it has some color in it.
For this recipe, I went with Pesto instead of using the traditional mayo. You can use your favorite basil pesto recipe or try my vegan arugula pesto recipe.
The pesto makes this salad very flavorful and it works so well with the sauteed greens. It does have arugula in it just like the pesto. However, all the arugula works really well together with the potatoes and other greens.
I have to stop for and admire the potatoes. Just look at how colorful these tiny potatoes are!!!
This potato salad recipe will delight vegetarians and vegans alike. Even the meat lovers will fight over the last potato
If you are looking for comfort food, then this is perfect for that occasion. It is such a quick and easy recipe that anyone can make it.
Are you looking for tips on how to bake a sweet potato? Read my 5 quick and easy tips on how to bake the perfect sweet potato.
What is your favorite potato recipe for cookouts?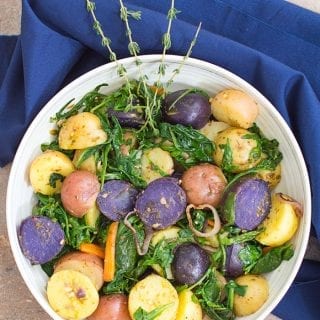 Potato Salad with Vegan Mayo
Easy vegan potato salad made with sauteed arugula and spinach. Topped with pesto

Ingredients
For the Potato Salad
28

oz

baby potatoes

purple, white and red colors

Water for boiling the potatoes

2

cup

Baby Arugula

3

cup

Baby Spinach

2

baby carrots

optional, cut into ribbon shaped

1

shallot

cut into rings

1/4

tsp

sea salt

optional

1

tsp

extra virgin olive oil

3

Tbsp

Pesto

1

sprig

Fresh thyme

for garnish
Instructions
Bring a pot of water to boil, then add the potatoes


Boil the potatoes for 30 minutes or until they pass the knife test


While the potatoes are boiling, add the oil to a wok


Heat on medium heat for 30 seconds then add the shallots and carrots


After 45 seconds, add the spinach and arugula


If using the salt, add it now. Stir fry on medium heat for only 2 minutes.


Remove and put them into a serving bowl


Drain the water in a coriander and then cover with a napkin

Cut the potatoes into halves


Add them to the wok and add the pesto


Mix well and place them in the bowl with the greens


Mix everything together and garnish with thyme leaves


Serve immediately

Version 1 of this recipe
Occasionally, I will revisit previous recipes and do a makeover on them. You probably came to this page based on this photo. It was made with vegan mayo. However, I decided to re-vamp the recipe and bring you the new version you see above. I think you will like.