Pumpkin Spice Oreos Popcorn – Mix Oreos and popcorn to make this very quick snack item. Takes 5 minutes to make Comfort food and movie time snack
Are you rubbing your eyes and wondering what you are seeing is true?
Are you staring in disbelief at the the Popcorn recipe because of the pumpkin spice oreos?
Yes, that is indeed Pumpkin Spice Oreos in the popcorn. I discovered them last month and I haven't been able to stop talking about them. I am not an oreos fan but these oreos made a fan out of me!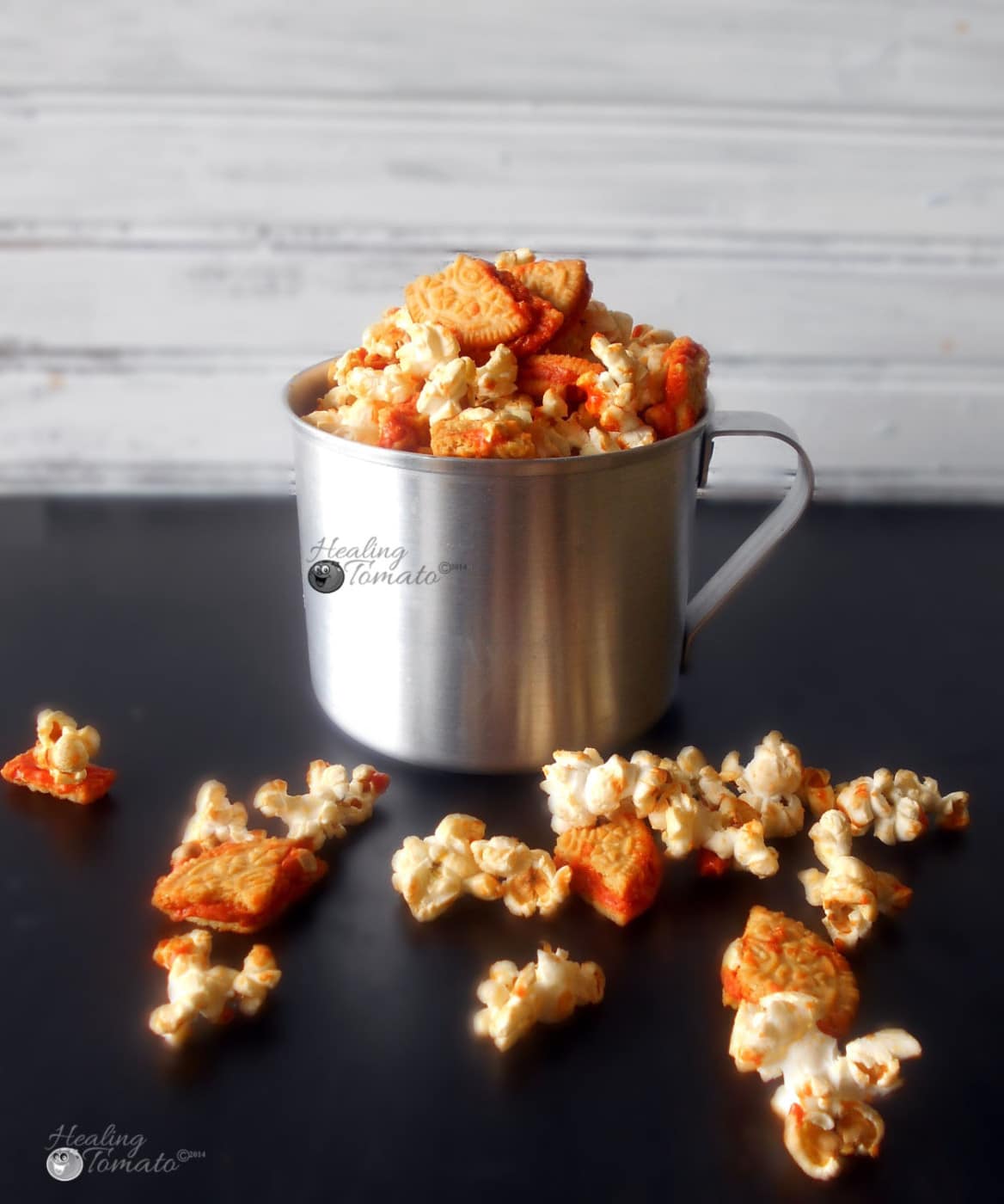 This blog came about because of Movie night. There was popcorn and there was oreos for the movie night! There was Matthew McConaughey and some mud, but, it was these pumpkin spice oreos popcorn that stole the show! McConaughey's abs couldn't hold a candle to them.
The best part of this recipe is that it takes only 3 simple ingredients!!! No need to cook for hours and no need to spend time away from your family.
This recipe is so simple that you can bring the kids in to help. They will love crumbling the pumpkin spice oreos and mix it with the popcorn.
Overall, it too only ten minutes to make this recipe!!! This was the most fun recipe to make.
The pumpkin spice oreos comes with cinnamon spice built into the cookie. It makes for a wonderful flavored popcorn that you can even serve at your Halloween party.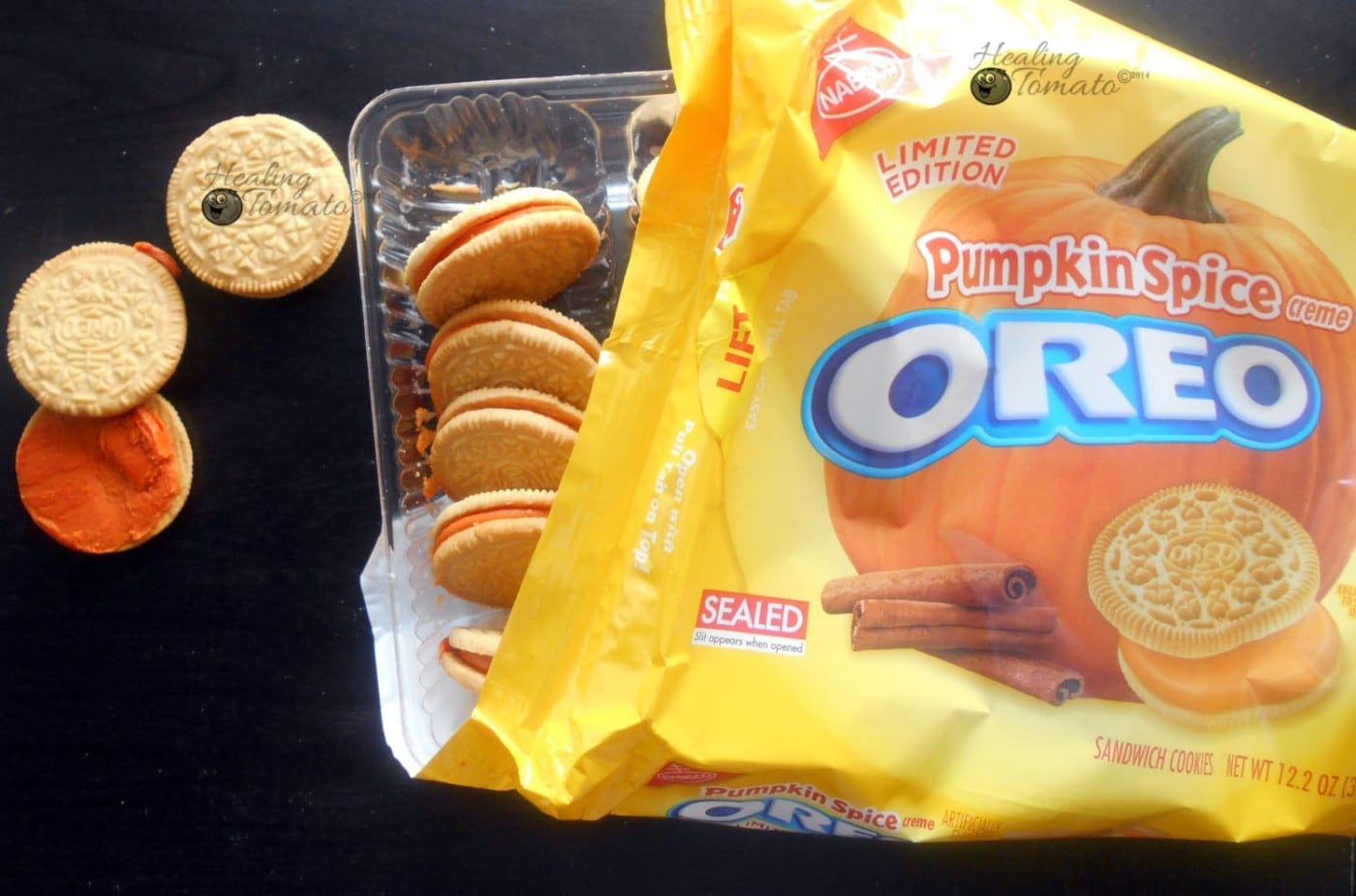 Instead of popping my own corn, I decided to use a packaged popcorn. This popcorn was being sold by a local Boy Scout group that were trying to raise funds for a camping trip. Therefore, I figured that this corn would be the perfect for the recipe.
The secret behind choosing the popcorn type is to use a recipe that is light on butter. If you can find a non-butter version, choose that instead. Since you are going to add more butter to the popcorn in order for the oreos to stick, it makes sense to have a low-butter recipe.
What recipe do you want to make from Pumpkin Spice Oreos?
Other popcorn recipes – Crazy Nutty Popcorn, Caramel Popcorn and Tomato Popcorn
How to make Pumpkin Spice Oreos Popcorn

Pumpkin Spice Oreos Popcorn
Pumpkin Spice Oreos Popcorn - Mix Oreos and popcorn to make this very quick snack item. It is a simple snack that only takes 5 minutes to make. Comfort food and movie time snack
Ingredients
2

packets

Light Butter Popcorn

(Choose No Butter Popcorn, if possible)

1

packet

Pumpkin Spice Oreos

1/2

stick

unsalted butter
Instructions
Chop up the pumpkin spice oreos into smaller pieces

Microwave the popcorn as directed on the packet

In a medium sauce pan, melt the butter

Add the popcorn to the butter

Add the Pumpkin Spice Oreos to the popcorn

Turn of the heat

Toss the butter and oreos
Notes
Stays fresh for about 5 days.
Nutrition value is approximate
Nutrition
Serving:
4
g
Calories:
105
kcal
Fat:
11
g
Saturated Fat:
7
g
Cholesterol:
30
mg
Sodium:
6
mg
Vitamin A:
355
IU
Calcium:
3
mg