Purple sweet potatoes are packed with so much nutrition and taste like a little slice of heaven! They aren't just there to sit and look pretty! Get to know your purple sweet potato on a more intimate level.
Don't you just love food that looks pretty AND is healthy?
I know I do!
The purple sweet potato is the complete package! It has beauty, taste and nutrition. I make it part of my everyday meal.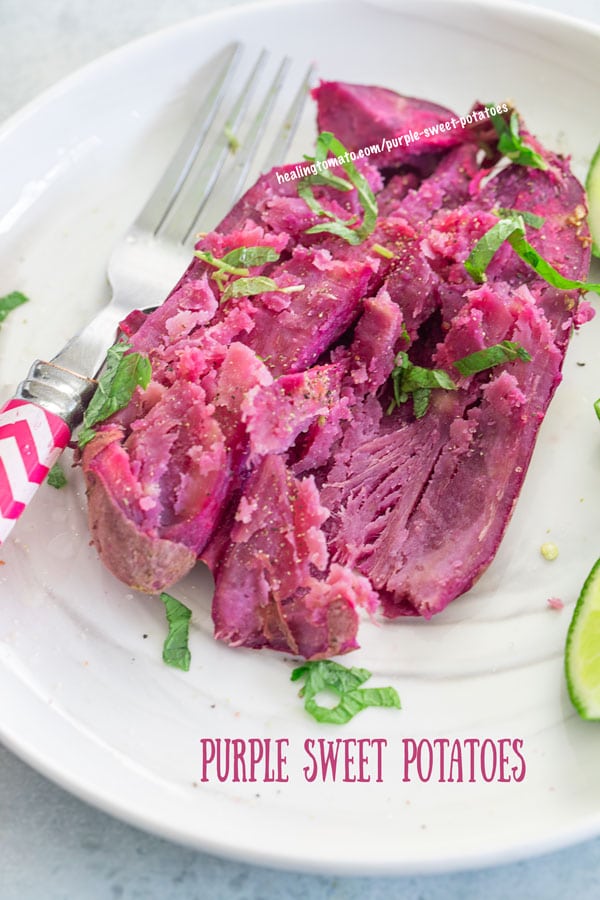 Tips for working with them
Always go with the organic purple sweet potato. They don't have any of the nasty pesticides and they also taste much better.
Personally, I don't like air frying them because they turn out dry. Maybe, I am just doing it wrong, lol! I prefer cooking them in the Instapot and also oven bake them. I have boiled them stove top too and that wasn't so bad. But, for me, Instant pot is the best way to cook them.
Use them up as soon as you can. I cook them and eat them up in the same day. They don't take too much time to cook, so it's easy to make and eat them immediately.
I eat it as part of my "eat the rainbow" diet. Along with greens, oranges and reds, this purple color adds more nutrition to
Choosing the right purple sweet potato
I look for the baby purple sweet potatoes. They are sweeter and have a more even taste when cooked.
Also, I look for firm and softer skin. They are easy to cut into and it will cook easily.
Go for the long and symmetrical looking purple sweet potatoes. If this sounds familiar, it's because I look for the same when buying regular sweet potatoes. At least I am consistent, right? LOL.
Finally, it goes without saying. Wash, wash, wash these cute little purple sweet potatoes. Even though they are organic, they get to travel a long way before they reach your plate. You never know where it's been, haha!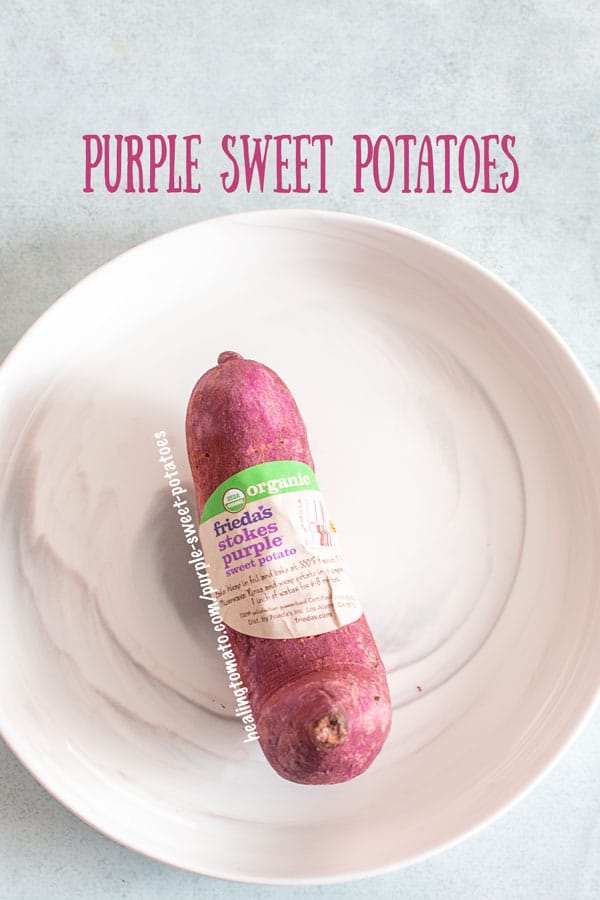 Less is more!
I know it's tempting to put all kinds of ingredients into sweet potatoes. But, sweet potatoes are best when you eat them as plain as possible.
For my money, I only salt and pepper it with dab of fresh lime juice. If I have fresh mint, I will add it to the sweet potatoes because mint brings out the best in the sweet potato. The minty taste mixed with tangy and sweet taste is a HEAVENLY combination.
I love what Mommy Evolution did with purple sweet potatoes. She puts the into an Irish potato fondue recipe which makes them taste so delicious! They are perfect for serving on St. Patrick's day AND during the holiday season.
Resist temptations to douse it with sour cream, mayo, butter, black beans and corn and any other ingredients! Channel that temptation, instead, into loading a baked sweet potato.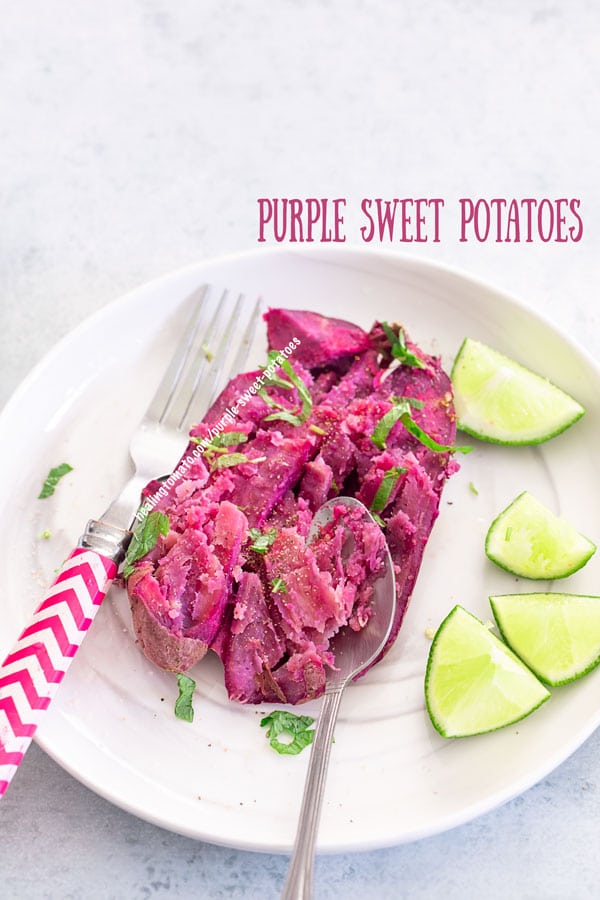 Stokes Purple® sweet potatoes
Stokes purple sweet potatoes are my favorite to make and eat! They are created in the United States and get their name from their birthplace.
Stokes, North Carolina!
Even though they get to grow in CA now, they still bear their original name. They still have same great taste and nutrition.
"That's not a purple sweet potato, that's a YAM!!!"
Inevitably, some troll is going to tell me or you that this is known as yam or ube or taro or even a Charleston sweet potato.
Set them straight! These are stokes sweet potatoes that are famous for their taste and color. They are definitely classed as sweet potato because they have the same texture and taste.
Also, it says right on the top of the potato that it's a purple sweet potato. Don't worry about what the trolls say, just read the label and devour the potato.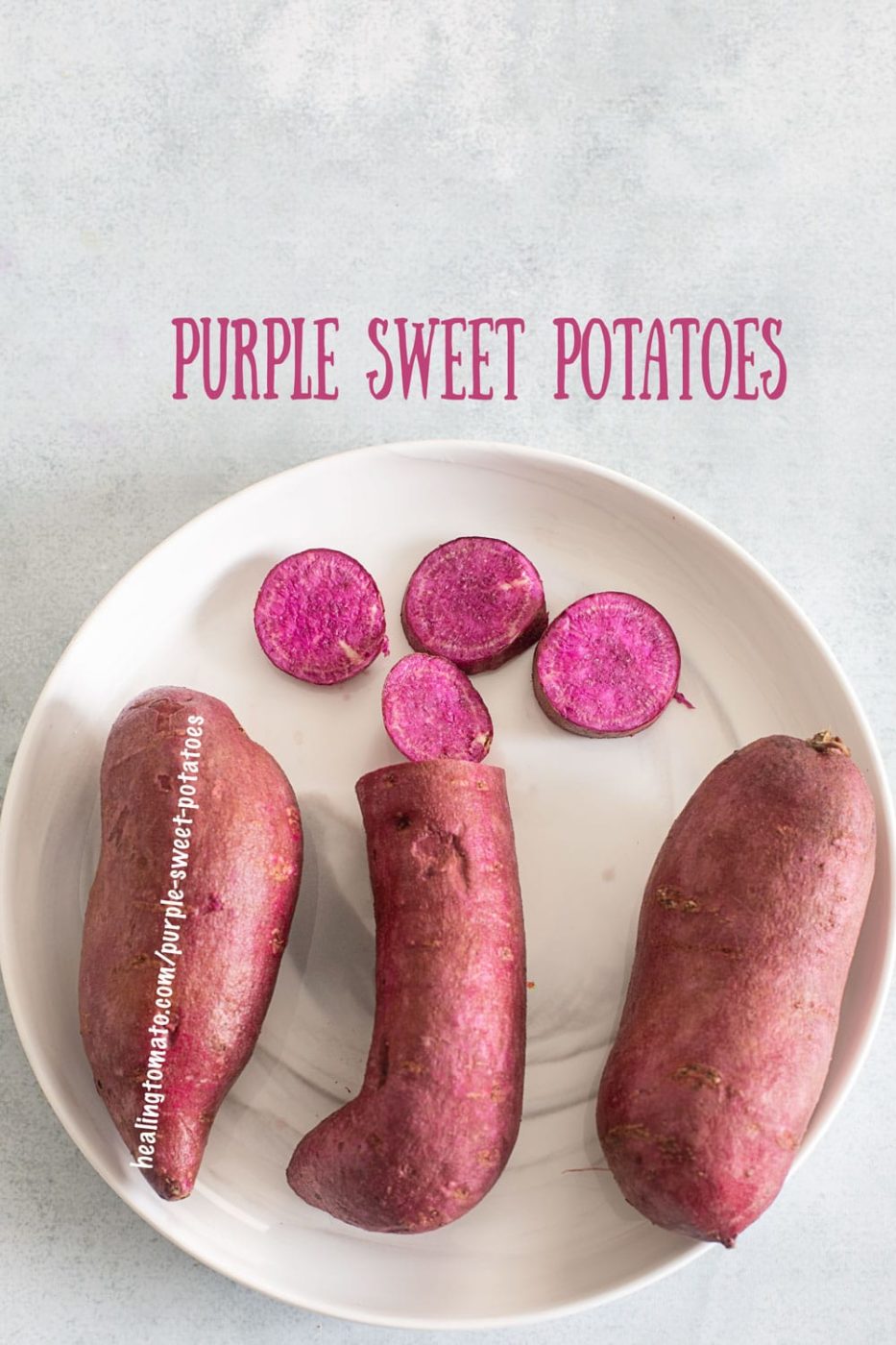 Nutrition benefits of Stokes Purple sweet potatoes
Rich in antioxidants! – Anything with the color purple is always a sign that it's packed with antioxidants. They have a ton of Anthocyanin antioxidants in them.
Packed with beta carotene! – Beta carotene is mostly in the skin but the whole sweet potato has plenty of it too.
Good source of Vitamin C! – Just one purple sweet potato contains 20mg of Vitamin C.
Wonderful source of Magnesium – It has 17mg of magnesium and happens to be bio-available too.
Other trace nutrients – Manganese, folate, folic acid, copper, calcium, Vitamin B6, Vitamin K and Zinc.
Source: Ecowatch, Freida's Stokes sweet potatoes, wholefoodsmarket.com
Benefits are skin deep and beyond!
You know how we love to discard the skin in, oh, EVERY veggie?
We need to stop doing that once and for all! Even I am guilty of doing it.
Most veggies have so much nutrition and fiber content in the skin. The skin in these purple sweet potatoes are rich in beta carotene and antioxidants. Also, there is plenty of fiber in the skin that your gut bugs really love munching on!
So, no matter how you cook them, be sure to keep the skin on! I even keep the skin for air fryer potato nibbles
Answering your questions
Can I freeze them after cooking them?
Yes, you can refrigerate or freeze them. But, I don't recommend it! Most of the nutrition is lost in the process of freezing and heating it.

If you have to freeze them, cook them, let them cool down and freeze immediately. Don't season them first.

When you are ready to serve them, place them in a heated oven directly from the refrigerator. Heat for about 20-30 minutes before serving.
Can I microwave them?
I am not even going to dignify that question!

I will just say that microwaving them kills most, if not all, of the nutrition.
What you are left with is just a hard rock with no nutrition or taste!
Is the potato skin edible?
Yes, the skin is edible. These purple sweet potatoes are packed with nutrition that extends to their skin too. Don't discard them because they have so much nutrition.
What gives them the purple color?
They get the purple color because they are rich in antioxidants called Anthocyanin. This antioxidant is responsible to give the vibrant color in so many veggies, like purple sweet potatoes.
So, how to bake purple sweet potatoes? Check out my two methods below.
Baking them in the oven
This is generally the recommended way to cooking them. The company that makes them suggest that they should be oven baked to retain most of their nutrition content.
I have to agree with them because they do taste so good when oven roasted.
1. Wash them thoroughly
This is one of those steps that I see most people make a mistake. Either they will forget to wash them or just give the a quick rinse.
Take a vegetable brush to the sweet potato and clean it thoroughly. Since we are eating the skin of these potatoes, it helps to make sure it's clean, right?!
2. Fork it!
I like to poke some holes into them because they cook evenly and cook from the inside out.
Be careful when you are forking it, though. I have poked myself hard with a fork and the pain is unimaginable, lol! So, learn from my excruciating pain and pierce it carefully.
3. Wrap it up and bake in the oven
The company that makes it recommends wrapping it in foil before chucking them in the oven. I make sure I wrap them tightly in foil and then place it in the preheated oven. It cooks the potato evenly.
Saving the best for last! I put the wrapped potato on a baking tray to collect any juice drippings while the sweet potato is being cooked. in a 350°F (176°C). Place the wrapped potato in a 350°F (176°C) and let it cook, uninterrupted, for 1 hour at least.
Please note that oven temperatures vary by manufacturer and your altitude too. Also, if you are using a toaster oven, you will need to bake it longer than hour.
Once it's cooked, I like to leave it in for about 20 minutes so that the potato cooks a little more.
Remove from the oven and season it. Serve it immediately.
Cooking them in an Instant Pot
If you are a fan of the instant pot, like me, your first instinct is to cook the sweet potato in it. I like cooking it in the Instant Pot because it doesn't turn out dry, like it did in the air fryer.
Place a washed purple sweet potato into a stackable pans like these on (Affiliate Link) Amazon or you can use a steamer basket too. I strongly recommend using one or the other and not putting the potato directly into the inner pot.
1. Wash, Fork the purple sweet potato
Wash and poke the purple sweet potato with a fork. I highly recommend poking it because it cooks the sweet potato from the inside out.
2. Put the sweet potato in a separate container
Use a steamer basket or a stackable pan. Place your washed sweet potato in it and place that container in the instant pot. Cover the lid of the instant pot.
3. Place a little water in the inner container of the instant pot
I add about a 1 cup of water to my 6qt instant pot container
4. Place the container in the instant pot
Put the stackable or wire basket in the instant pot and close the lid
5. Set the instant pot to "Bean/Chili"
Connect your instant pot and set it to "Bean/Chili". Remove the "Keep Warm" option and let it cook by itself for about 25 minutes.
FYI, it took one Stokes Purple Sweet Potato about 25 minutes to fully cook in the instant pot.
The cook time will depend on the size of your sweet potato.
6. Let the instant pot cool down
Don't rush to open the instant pot, if you can avoid it. I know it's tempting to open it quickly and devour that delicious sweet potato! Resist the urge, if you can.
Once the float valve pin drops, you should be able to safely open the instant pot. Open it and remove the sweet potato using tongs.
Place it on a plate and split it using a pairing knife. Scoop the insides a little and then top it with salt, pepper and fresh lime juice. Garnish with fresh mint and serve immediately.
Thank you for reading my post this far. If you found this purple sweet potato post useful, please feel free to give it a 5-star ratings. Your comments are always welcome below. Be sure to share it on Facebook, Pinterest, Twitter and Instagram.
Here are a few more recipes you might enjoy:
Sweet potato hash loaded with mushrooms and cheese! Made in a skillet, it will be your new favorite Sunday breakfast recipe.
Roasted sweet potatoes with seasoning and bread crumbs! You won't believe how easy it is to make these wedges. I make it all the time because it is so delicious.
I bake sweet potatoes and them put them into a creamy vegan cheese sauce! This makes for the ultimate vegan mac and cheese! Trusts me, it tastes just like the real thing.
Shockinglydelicious has baked the purple sweet potato skins and then topped them with brie and walnut!. DELICIOUS!
Sharing is caring
Don't be shy, chime in below in the comments. Let me hear your opinion on this recipe. If you enjoyed this, please give it 5 stars and share it on Facebook, Pinterest, Twitter, and Instagram.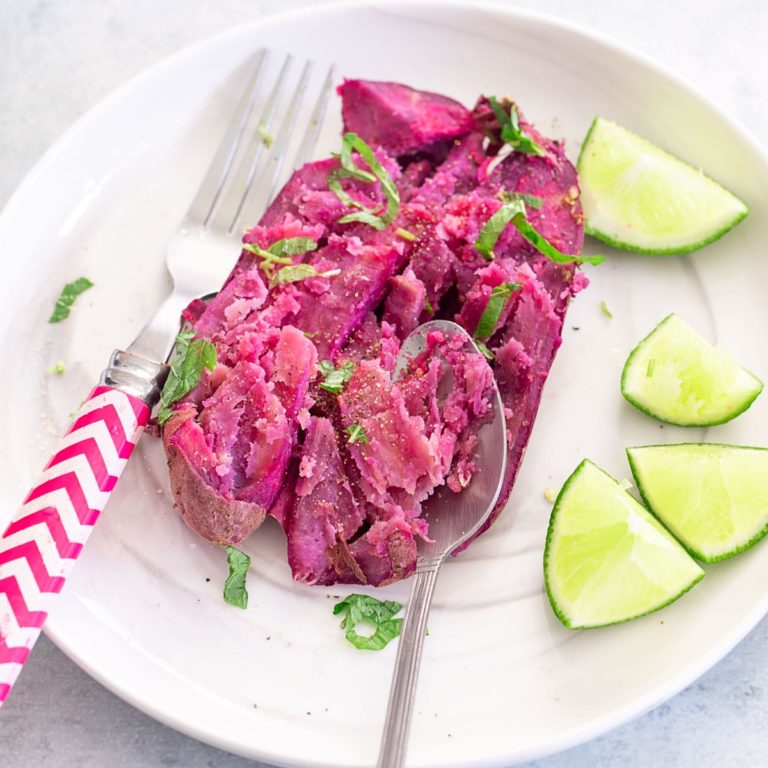 Purple Sweet Potatoes
Quickly bake purple sweet potatoes in the oven or in your instant pot. Packed with tons of nutrition. This is a healthy vegan side dish.
Instructions
If using the oven, be sure to preheat it 350°F (176°C) first
Thoroughly wash the sweet potato

Using a fork, poke some holes into the sweet potato
Baking in the oven
Wrap the sweet potato in foil

Place the wrapped potato on a baking tray

Put the tray in the oven and let it bake for 1 hour

Turn off oven and let the potato stay inside for about 20 minutes.
Cooking in the instant pot
Place the washed sweet potato in a stackable pan or a steamer basket

Place the container inside the Instant Pot

Close the lid and choose the "Bean/Chili" option. Remove the "Keep Warm" option

Let it cook for about 25 minutes and then wait for the float valve pin to drop.

Open it and use a pair of tongs to remove the sweet potato
Serving the purple sweet potato
Split it longitudinally and scoop out the pulp a little using a fork.

Season it with salt, pepper and lime.

Garnish with mint and serve.
Notes
Always go with the organic purple sweet potato. They don't have any of the nasty pesticides and they also taste much better.
Personally, I don't like air frying them because they turn out dry. Maybe, I am just doing it wrong, lol! I prefer baking them in the oven and the Instant Pot.
Eat them up as soon as you can. I cook them and eat them up in the same day. They don't take too much time to cook, so it's easy to make and eat them immediately.
Nutrition