Made with fresh veggies and black beans, this spicy quinoa bowl is perfect dinner idea. Roasted habaneros add a little kick. A delicious vegan dinner idea
We are a household of spicy food lovers and we don't apologize for it!
The training of my taste buds started very young.  I remember attending festivals at the age of 7 and eating foods that included Thai Chili.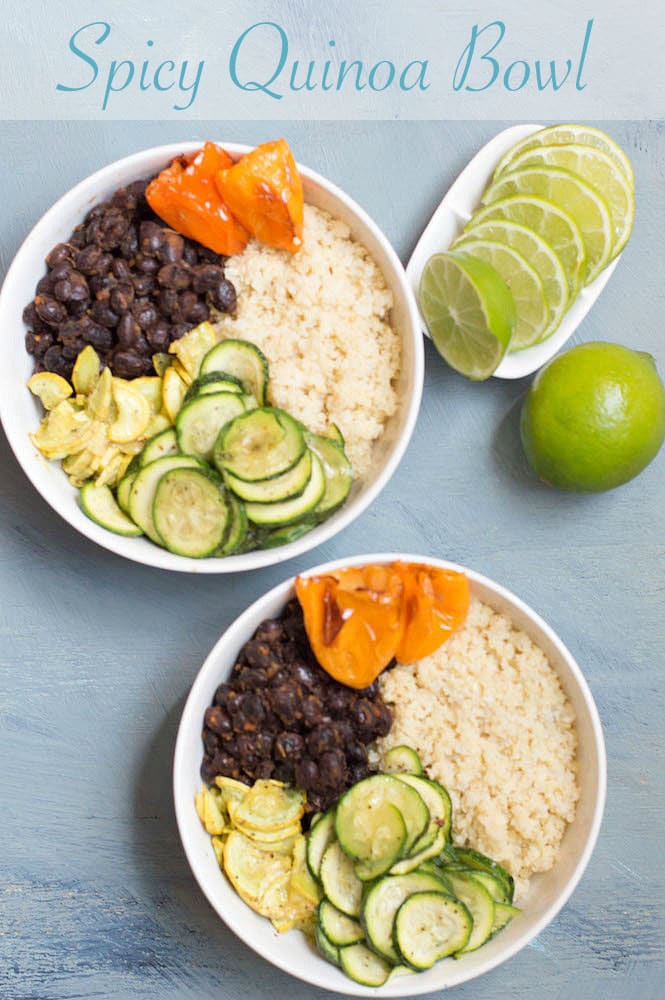 A few years ago, I was fortunate enough to attend a pepper tasting event.  I got to taste many peppers that have a very high scoville scale such as Jamaican hot pepper and the Bahamian pepper.  Bhut jolokia (ghost pepper) was the featured pepper of the event.
My taste buds still remember that tasting event.  If there is a pepper tasting even around me, you bet your bottom dollar, I am going to attend it.
The perennial favorite in our home is the habanero pepper.  Habanero roasting days are a a favorite time in our home.  The aroma of a habanero raosting draws the whole family together.
In today's recipe, I add roasted habanero into a spicy quinoa bowl.  What a delicious meal this turned out to be!
What is your favorite spicy pepper?
Spicy Quinoa Bowl Recipe
1 can of black beans
2 zucchinis
1 yellow squash
2 cups of quinoa, cooked
2 Habanero
2 tsp of taco seasoning
2 tsp of extra virgin olive oil
1/2 tsp of cumin seeds (optional)
1/4 tsp of salt
1/4 tsp of garlic powder (divided into 2 parts)
1 tsp of freshly squeezed lime juice
1/4 tsp of oregano
1) Preheat oven to 450 degrees
2) Cook the quinoa
2) Start with 2 habaneros.  If it is too spicy for you, go for the Jalapeno.  Cut the top off and remove the seeds.
3) In a small bowl, add 1/4 tsp of sesame oil and a 1/4 tsp of garlic powder.  Place the habaneros in it and coat it with this oil combination.
4) Place the habanero on an aluminum foil and put it in the oven.  Roast for about 7 minutes or until its skin is dark brown.  Remove and let them cool
5) While the habaneros are roasting, use a mandolin to cut the zucchini and squash into thin slices.  Place them in a large bowl and add 2 tsp of extra virgin olive oil
6) Add 1/8 tsp of garlic powder, 1/4 tsp of salt and 1/4 tsp of oregano to the bowl.  Mix well and spread them out on a baking sheet
7) Roast for about 15 minutes or until the edges start to turn brown.  Remove from the oven and allow them to cool
8) Open a can of black beans and rinse them thoroughly.  I like to use cold water.  Let them sit in a strainer to let the water drain completely
9) In a medium saucepan, add 1 tsp of extra virgin olive oil.  Heat on medium heat for 30 seconds.
10) Add 1/2 tsp of cumin seeds.  This is optional.
11) Add the black beans and then 2 tsp of taco seasoning.  Mix well and let it heat for 2 minutes.  Remove from the heat and set aside
12) Take a bowl (I like to visually divide the inside of the bowl into 4 parts).  In one quarter, add the quinoa.  Add black beans in the second one and the two squashes take up the other two quarters.
13) Top with the habanero and serve immediately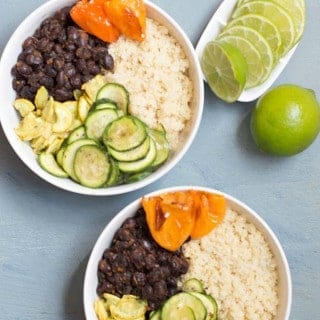 Spicy Quinoa Bowl Recipe
Made with fresh veggies and black beans, this spicy quinoa bowl is perfect dinner idea. Roasted habaneros add a little kick. A delicious vegan dinner idea
Print
Pin
Rate
Instructions
Preheat oven to 450 degrees

Cook the quinoa

Cut the top off the habanero and remove the seeds.

In a small bowl, add sesame oil and 1 part garlic powder

Add the habaneros in it and coat well

Place the habanero on an aluminum foil and roast for about 7 minutes or until dark brown

Remove and let them cool for about 5 minutes


While the habaneros are roasting, slice up the zucchini and squash


Add remaining garlic powder, salt and oregano to the bowl


Add squash and zucchini to this bowl. Spread them out on a baking sheet

Roast for about 15 minutes or until the edges start to turn brown.


Remove from the oven and allow them to cool

Open a can of black beans and rinse them thoroughly

In a medium saucepan, extra virgin olive oil and heat 30 seconds.

Add cumin seeds, black beans, taco seasoning and mix well


Heat for 2 minutes and set aside

Arrange the beans, squash, quinoa and habenero in the bowl


Serve immediately
Nutrition
Serving:
8
g
|
Calories:
927
kcal
|
Carbohydrates:
149
g
|
Protein:
38
g
|
Fat:
20
g
|
Saturated Fat:
2
g
|
Sodium:
328
mg
|
Potassium:
2201
mg
|
Fiber:
25
g
|
Sugar:
7
g
|
Vitamin A:
13.7
%
|
Vitamin C:
81
%
|
Calcium:
16
%
|
Iron:
66.2
%