Quick and easy Vegan Fajita Bowls with quinoa and fresh bell peppers is a healthy lunch recipe. Put this recipe in meal prep containers and enjoy it all week. Made in only 30 minutes.
This post is sponsored by Mezetta. All opinions are my own
Are you on Team Brown Quinoa or Team White Quinoa???
Personally, I love BOTH and usually end up using a mix of both in recipes
And they look so pretty together!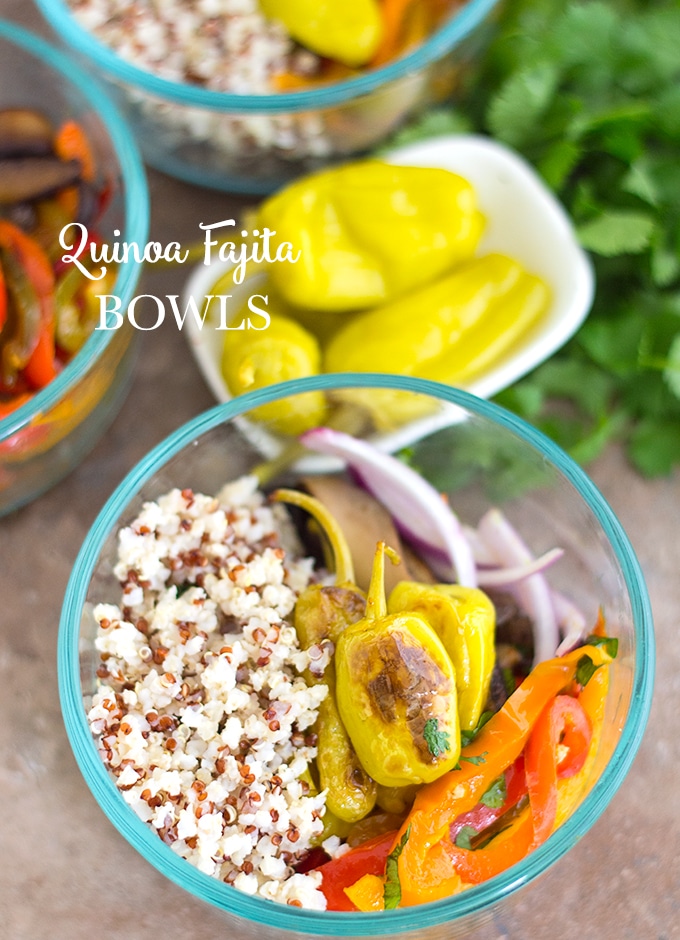 Tips for making this bowl
The peperoncini is the star of this recipe. It adds a unique taste and flavor to the quinoa bowl. I highly recommend using it.
Sear the peperoncini for a few minutes on the stove. That blistering look not only gives them an unique look, it also brings out the juice and flavors.
You can add more veggies like zucchini or squash.
Garnish with pickled jalapeno, avocado and red onions.
To make this more keto friendly, you can sub the quinoa with cauliflower rice. Use keto-friendly peperoncini like Jeff's Garden Whole Peperoncini
Use portbello mushrooms in this recipe because they add a meaty texture. You can get the pre-cut version. If you cut them yourself, please be sure to wash and dry them thoroughly before cooking them.
The mushrooms take longer to cook then the rest of the veggies. So, cook them first and then add the remaining veggie. You can even grill the portobello mushrooms, if you want.
If you are using frozen veggies, do not thaw them. Gently put the frozen veggies directly from the freezer and into the hot pan. Just be aware of a few splatters.
Related: Here is how I cook frozen peas in the instant pot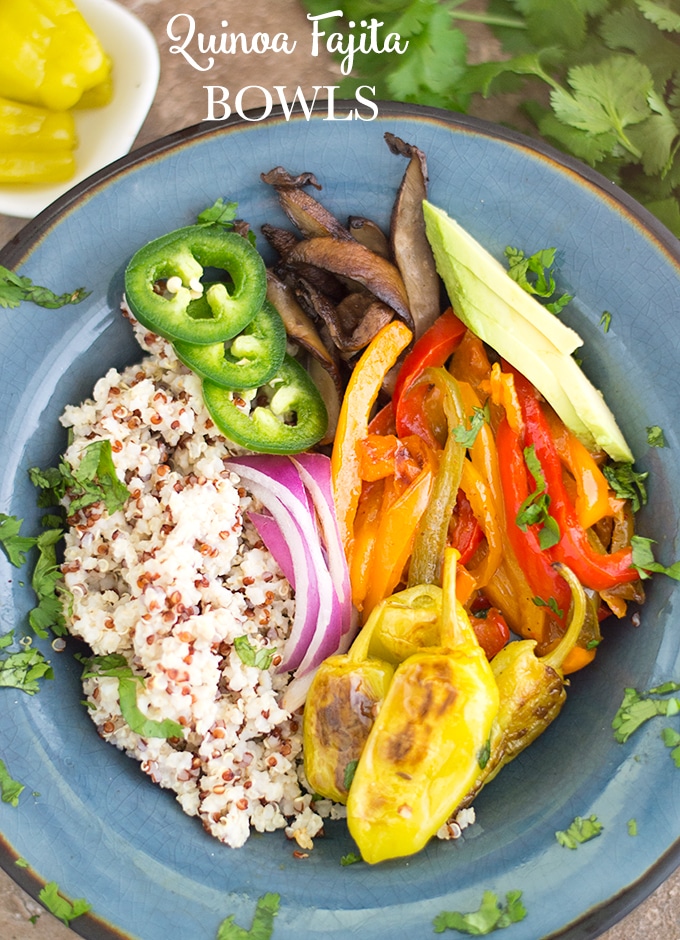 What veggies to use in fajitas
Bell peppers – Use any one color or multiple colors of bell peppers. Even mini bell peppers will work great in vegan fajitas
Portobello mushrooms
Red onions
Zucchini or zucchini noodles
Keto-fying this vegan fajita bowl
Sub the quinoa with cauliflower rice or zoodles
Since mezetta's peperoncini is not keto friendly because it uses dyes and sulfites, it's not going to help you. Instead Jeff's Garden makes an amazing Greek Peperoncini that is all natural. It can be found online on their websites or via Whole Foods, Fresh Market and your local health department.
Almost all Fajita seasoning from grocery stores includes keto unfriendly ingredients. So, mix up your own seasoning at home using Diet Doctor's recipe.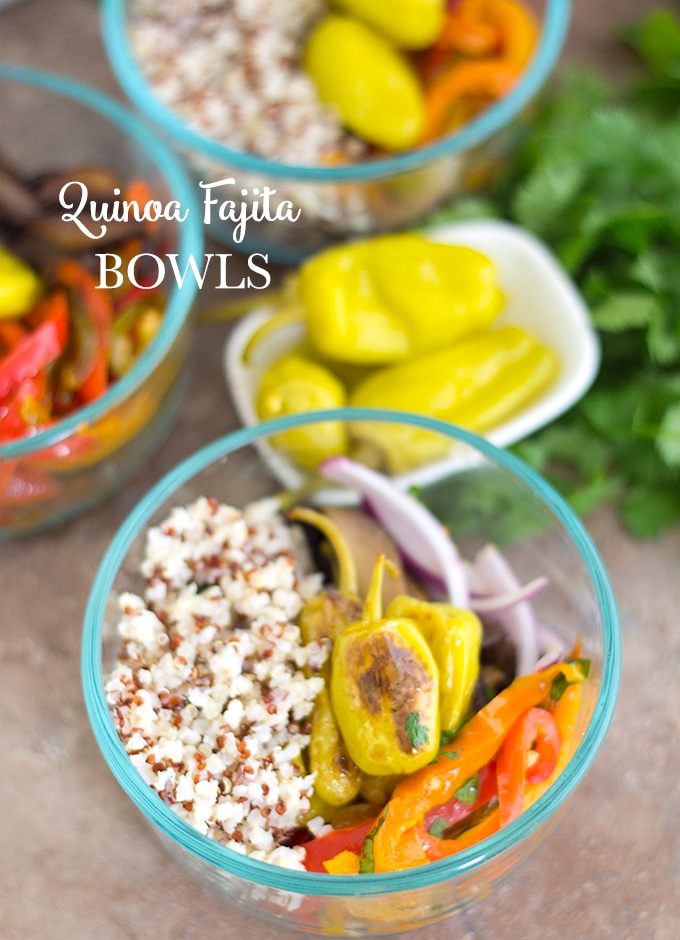 Can I use frozen vegetables in fajitas?
Yes, frozen vegetables can be used in fajitas. They are a huge time saver. I know that some of the big box stores do carry it in their frozen vegetables aisle.
You will have to cook them a little longer than fresh vegetables. Also, do not thaw them before hand. Put them into the pan right out of the freezer.
Defrosting them will make them limp and watery. That defeats the purpose of eating sizzling fajitas.
What can I use to season fajitas?
Fajita seasoning is the obvious and best choice for fajitas. It's not exactly gluten-free because it has corn starch in it.
McCormick makes a gluten-free fajita seasoning mix that is the perfect flavor for it. It can be found in any grocery store or online.
Alternatively, you can season it with:
Can I make a meal prep version of this vegan fajita bowls?
This fajita recipe is tailor-made for a meal prep recipe. I suggest using glass containers to store them for future use. They can also be warmed in it. I suggest using toaster oven to heat them and NOT to microwave them.
How to make a meal prep fajita bowl
Take a glass container that is freezer friendly and can be put in the oven
Put the quinoa in half of the container. You can also use orzo pasta or brown rice in its place
Place the cooked portobello mushrooms in half of the remaining space
Put the cooked bell peppers in the remaining space, but, keep just a little for the garnish, if using. I like adding avocado and red onions for garnish
Put the seared peperoncini on top and closed the lid
Put in the container(s) in the refrigerator and use up within seven days.
Peperoncini can do so much more than pizza
Peperoncini are not just fun to say and sit there to make your pizza look pretty!
It can change the way you flavor any dish. They add a natural tang and spice to any dish. It's flavors are more complex than jalapeno which makes them perfect for any recipe.
Try them in:
This is now my favorite way to prepare vegan fajita bowls. The quinoa is so delicious when combined with the pepporoncini. It's a really light lunch recipe that anyone can make and enjoy
Don't be shy, chime in below in the comments. Let me hear your opinion on this recipe.
⭐️ If you tried and enjoyed these vegan fajita bowls, please rate it 5 stars! Share it on Facebook, Pinterest, Twitter, and Instagram
So, what is your favorite way to use these delicious peperoncini's?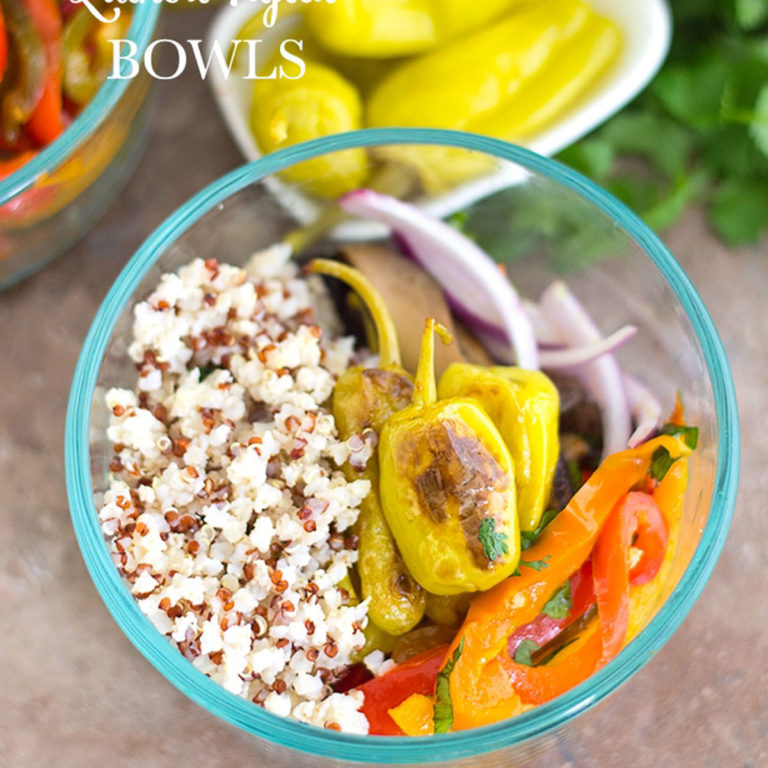 Vegan Fajita Bowls with Quinoa and Peperoncini
This is a very easy vegan fajita bowl with quinoa and peperoncini. It's a very quick lunch recipe.
Ingredients
For Garnish
Cilantro

chopped

1

Jalapeno

optional, cut into circles
Instructions
Remove stem from mushrooms and remove the black gills at the bottom with a spoon.


Using a brush, lightly oil both sides of the mushrooms


Place on a stove top grill and grill mushrooms on both sides. It should take about 8 minutes on medium heat


While mushrooms are grilling, heat a skillet on medium heat


Add the remainder of the oil to the skillet and gently put the julienned bell peppers in it


Let them cook for about 7 minutes or until they start to brown. Be sure to stir frequently


When mushrooms are cooled to touch, cut them julienne style and add to the bell peppers


Add the salt (if using) and the fajita seasoning


Mix well and turn off heat


Place in a bowl or into 4 meal prep containers.


Don't wash the pan. Instead, add the peperoncini and heat on medium heat until they blister. Flip them to blister on the other sides


Add blistered peperoncini and red onion to the bowl or containers


Garnish with Cilantro and Jalapeno

Notes
To get 2 cups of quinoa, you will need 1/2 cup of both clear and brown uncooked quinoa. Add it to about 4 cups of boiling water and cook for 20 minutes.
Nutrition
Serving:
4
cups
Calories:
401
kcal
Carbohydrates:
66
g
Protein:
14
g
Fat:
9
g
Saturated Fat:
1
g
Sodium:
307
mg
Potassium:
960
mg
Fiber:
10
g
Sugar:
7
g
Vitamin A:
3840
IU
Vitamin C:
175.7
mg
Calcium:
55
mg
Iron:
4.6
mg