Quick and easy Vegan Quinoa Fajita Bowls with fresh bell peppers. Put this recipe in meal prep containers and enjoy it all week. Made in only 30 minutes.
This post is sponsored by Mezetta. All opinions are my own
Are you on Team #BrownQuinoa or Team #WhiteQuinoa???
Personally, I love BOTH and usually end up using a mix of both in recipes
And they look so pretty together!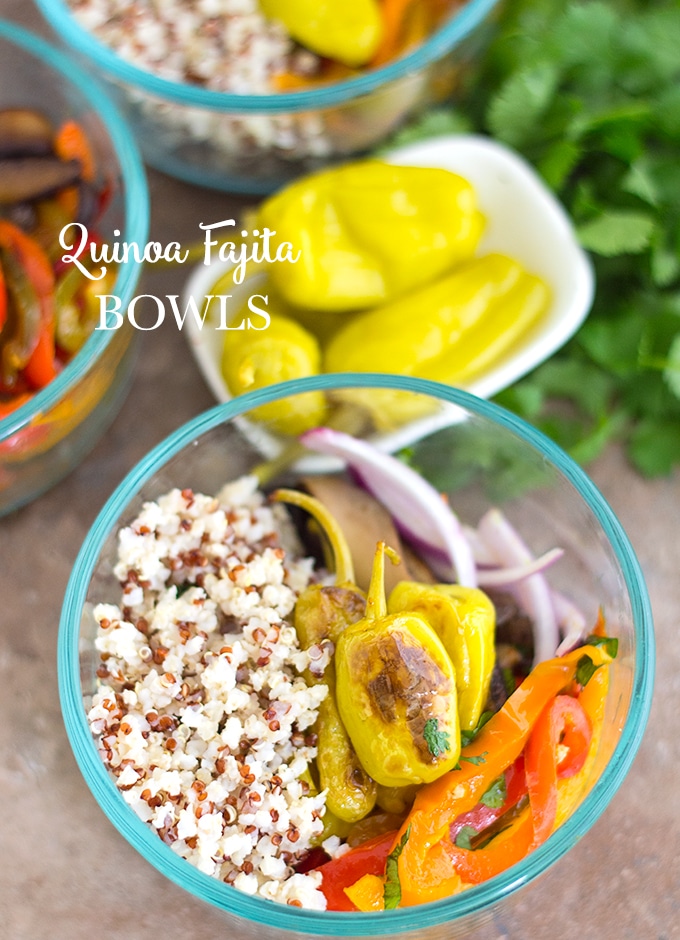 Recently, I started adding more quinoa to my recipes because I like how light and easy it is to use.
But, I have discovered that I have to keep it interesting in every recipe so that it doesn't get boring.
Normally, I just add Bell Peppers to quinoa and have that as a lunch meal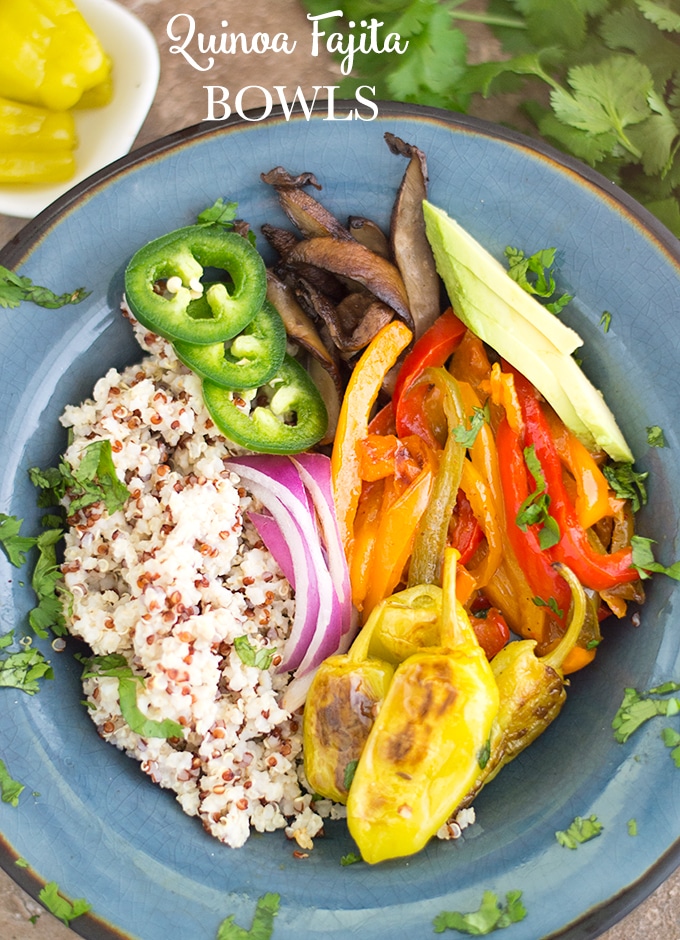 So, I went hunting for an ingredient that will make the recipe go POW! and wake up your taste buds!!
Instead of going with something spicy (which is my automatic instinct), I went with something tangy.
I have used Mezzetta's Peperoncini in the past to make pestos or pasta sauces.  Its normally hidden inside some recipe and goes mostly unnoticed.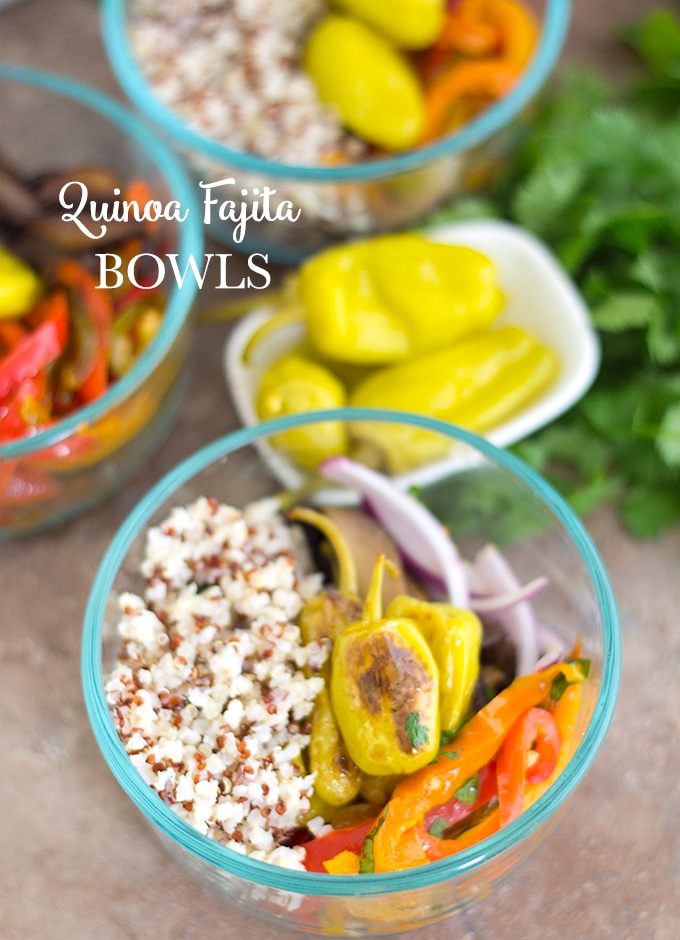 That's a huge shame because these peperoncini are far too pretty to be hidden away in some dull recipe, right??  I mean, just look at how delicious they look when lightly roasted!!
Its a huge loss to any recipe for not taking full advantage of the strong flavor of these peppers.
They have the perfect level of tang which meant I didn't even have to use lime in this recipe!
I have a love for Mezzetta products.  I have used them in meatloaf recipes, sandwich recipes and even an olive pie recipe!  Mezzetta's passion for using fresh ingredients matches my love for using only fresh ingredients.
It was 1935 when Mezzetta started creating amazing taste adventures in each jar.  The brining techniques they use to pickle these peperoncini to perfection is a time-tested process that makes them so delicious to eat!!
My Quinoa Fajita bowls will never be the same after I started using peperoncini.  Its a mix of light spice, slight crunch and whole lot of blistered tang!
Is your mouth watering yet?
These quinoa fajita bowls are the perfect meal prep recipe because you can put them into containers and enjoy them all week long.
You can also plate it and and consume it immediately.
Doesn't that bowl look so inviting??  I really wish that was sitting in front of me right now!
I used portobello mushrooms in this bowl and it added a delicious meaty texture.  Since they take a while to cook, I normally grill them separately.  Incidentally, have you tried my grilled portobello mushrooms recipe?  They have Asian flavors that  you can eat with rice or quinoa
This recipe will make about 4 days worth of meals, so that's 4 days of not cooking!  I used them for lunch, but, they work great as dinner too.
Put them in tortillas and you have a very filling meal.
This is now my favorite way to prepare fajitas.  The quinoa is so delicious when combined with the pepporoncini.  It's a really light lunch recipe that anyone can make and enjoy
So, what is your favorite way to use these delicious peperoncini's?
Vegan Quinoa Fajita Bowls (Meal Prep)
Vegan Quinoa Fajita Bowls (Meal Prep)
Mixed Quinoa mixed with Stir Fried Bell Peppers, Mushrooms and Peperoncini

Ingredients
2

cup

Quinoa, Cooked

4

bell peppers

Julienne; I used one of each color

2

portobello mushrooms

thouroughly washed and dried

1/2

onion

julienne

9

peperoncini

Mezzetta's Golden Greek Peperoncini

1/2

tsp

salt

optional

2

tsp

Fajita seasoning

3

tsp

Extra virgin olive oil
For Garnish
Cilantro

chopped

1

Jalapeno

optional, cut into circles
Instructions
Remove stem from mushrooms and remove the black gills at the bottom with a spoon.


Using a brush, lightly oil both sides of the mushrooms


Place on a stove top grill and grill mushrooms on both sides. It should take about 8 minutes on medium heat


While mushrooms are grilling, heat a skillet on medium heat


Add the remainder of the oil to the skillet and gently put the julienned bell peppers in it


Let them cook for about 7 minutes or until they start to brown. Be sure to stir frequently


When mushrooms are cooled to touch, cut them julienne style and add to the bell peppers


Add the salt (if using) and the fajita seasoning


Mix well and turn off heat


Place in a bowl or into 4 meal prep containers.


Don't wash the pan. Instead, add the peperoncini and heat on medium heat until they blister. Flip them to blister on the other sides


Add blistered peperoncini and red onion to the bowl or containers


Garnish with Cilantro and Jalapeno

Notes
To get 2 cups of quinoa, you will need 1/2 cup of both clear and brown uncooked quinoa.  Add it to about 4 cups of boiling water and cook for 20 minutes.