Raspberrry Mojito is a twist on the Cuban classic Mojito recipe made with fresh raspberry, mint, rum and vodka. Topped with Lemon Soda, it makes this a very bubbly fruity cocktail
Disclaimer: This is a post for readers who are 21+ years old. Its also a guest post recipe made for Juggling Act Mama's Blog. You can get the full recipe on her blog by clicking here.
I don't know why I don't have many alcohol recipes on my blog. This raspberry mojito recipe was soooo much fun to make and photograph.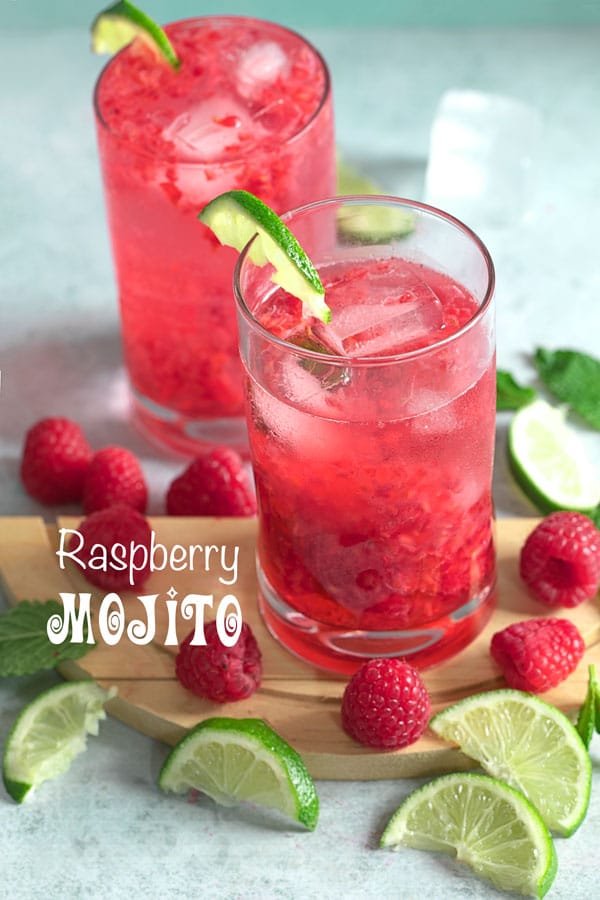 Why I love this Raspberry Mojito Recipe
Alcohol brings out the colors in fruits, especially a vibrant red colored raspberry. I got the perfect raspberries from the farmer's market and you can see the difference.
An organic raspberry's red is so much more colorful, don't you think?
I have made blackberry martini and a fruity cantaloupe margarita, which are fan favorites. So, this raspberry mojito recipe has inspired me to make more fruity cocktails.
Its also inspired me to have more Girls' night in parties where mojitos will be well received!
Where to get this recipe
In the meantime, head over to my good friend Ang at Juggling Act Mama. I posted this colorful mojito recipe on her blog, so, go show her some love.
You will need both rum and raspberry vodka for this recipe because they really bring out the flavors of the raspberry. A fruity mojito on a HOT day is exactly what the doctor ordered!
Once again, I got to use fresh mint in this raspberry mojito recipe, an ingredient that I have been seriously obsessed with lately. Mint is good for drinks, appetizers, dressings, dinner recipes and so much more.
If you have any leftover raspberries, put them into a breakfast meal prep recipe. I also have over 15 refreshing drinks that will keep you cool on a HOT summer day.
Wikipedia has so much information on mojito. Check it out and send me your tips too.
So, its your turn to tell me. Are you a fan of fruity drinks like me?