Raspberrry Mojito is a twist on the Cuban classic Mojito recipe made with fresh raspberry, mint, rum and vodka. Topped with Lemon Soda, it makes this a very bubbly fruity cocktail
Disclaimer: This is a post for readers who are 21+ years old. This was a guest post recipe that I originally crated and published for Juggling Act Mama's Blog. Reprinted here with permission.
I don't know why I don't have many alcohol recipes on my blog. This raspberry mojito recipe was soooo much fun to make and photograph.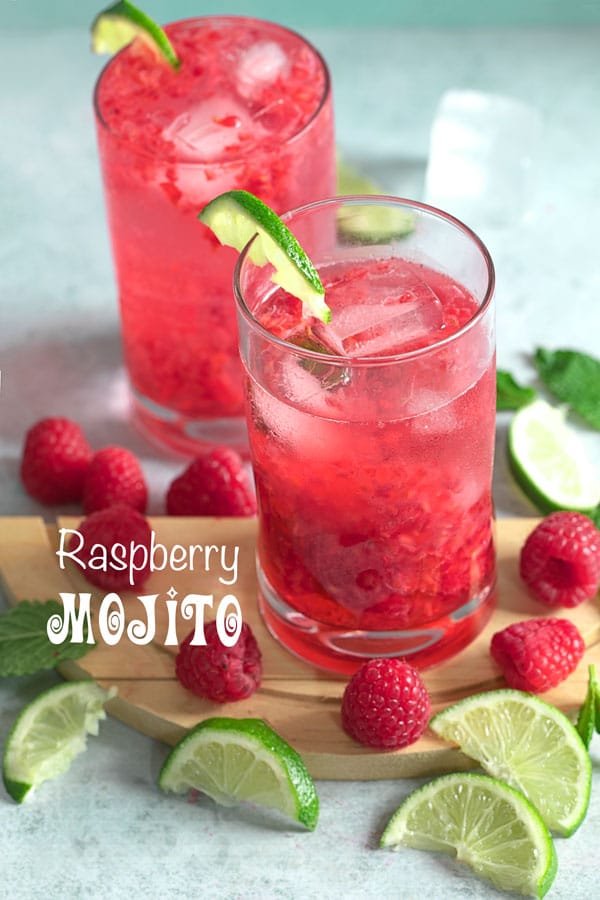 What is a mojito?
A mojito is a classic Cuban highball drink. It is popular mainly because it is a light drink that has very cooling effects. That's why it is so famously drank in the heat of summer.
At the core of the traditional mojito is white rum and mint leaves. These two are always in a mojito. The other ingredients will be interchangeable, but mint and white rum will never be replaced.
Originally, it was used for medicinal properties. The lime juice was to combat scurvy and dysentery. As its ingredients were supplied to the British, it turned into a luxury drink.
Get the full history of Mojitos on Wikipedia and LocoGringo.com
Tips for making it
There is no replacement for fresh raspberry. They will add a natural flavor that frozen berries won't. Plus, they have extra water in them which will change the denseness of the mojito
This drink is best served fresh. The raspberry can't retain their flavor for more than a few minutes because the alcohol degrades it.
Muddling is the most crucial part of this recipe. If you want to get the best flavors out of your mojito, you must muddle the raspberries and mint.
If you don't want to buy the whole bottles of rum and vodka, do what I did. I bought the tiny airplane size bottles to use in this recipe. This way, I don't waste a big bottle of it for making just 2 mojitos
I know that club soda is used in making mojito. But, I used lemon soda (Affiliate Link -> Sprite Lemon) instead. It tasted much better and had an added frizz to the drink.
Why I love this mojito
Well, the answer is simple. I have an affinity for fruity drinks!! If it has fruits and alcohol, then, I am sold!
Alcohol brings out the colors in fruits, especially a vibrant red colored raspberry. I got the perfect raspberries from the farmer's market and you can see the difference.
An organic raspberry's red is so much more colorful, don't you think?
I have made blackberry martini and a fruity cantaloupe margarita, which are fan favorites. So, this raspberry mojito recipe has inspired me to make more fruity cocktails.
This mojito is perfect to serve on New Year's Eve Parties, Christmas parties, Valentine's Day, girls' night in (or out!),
Ingredients to make this mojito
Fresh raspberries
Mint
Lime juice
Simple syrup
Raspberry vodka
Bacardi rum
Lemon soda
Ice cubes
Questions when making this mojito
Chances are, you will have questions when you are making this mojito. So, my aim here is to answer as many as I can think of answering. If you have other questions, please feel free to ask them below.
Can I make a virgin mojito?
Yes, you can make this a virgin by eliminating all the alcohol in it, adding more sprite lemon and adding a few more raspberries. If you can find a raspberry syrup like this (Affiliate Link) Monin raspberry syrup, use that. If you want to be more adventurous , try this blue raspberry prime drink recipe.
Is there an alternative to using a muddler?
Use a small shot glass and the back of a wooden spoon to muddle or crush the mint and berries. If you are a mortar and pestle addict like me, you can use that too.
I use my mortar and pestle to make homemade pumpkin pie spice! There is nothing better than a home ground spice.
What kind of glass is used to serve mojitos?
Highball glass (This is the traditional glass used to serve Cuban mojitos)
– Collins glass
– Pint glass
– Mint julep glass
– Bormioli glass
Basically, any tall glass will be the perfect serving vessel for mojitos.


I don't like the raspberry bits in the mojito, can I strain them?
Yes, you can strain them out of the raspberry mojito. Use a cloth strainer for best results.
What is simple syrup?
It's basically just equal parts water and sugar! Heat the water and sugar combination until the sugar is completely dissolved. Wait for the liquid to cool down and add it to your drinks. Or, put it into bottles and refrigerate.
How to make raspberry mojito
Add 7 raspberries to your muddler
Add mint to the berries
Add lime juice
Muddle the berries, lime juice and mint
Add the simple syrup and ice cubes
Add the raspberry vodka
Add the plain white rum
Top it off with the lemon sprite and garnish with lime slice.
Serve immediately
A fruity mojito on a HOT day is exactly what the doctor ordered! Thank you for reading my post. Your participation is always appreciated. Feel free to comment below, share it on Facebook, Pinterest and Twitter.
P/S: If you have any fresh mint left over, use my complete mint guide to store and use it in future recipes
If you have any leftover raspberries, put them into a breakfast meal prep recipe. I also have over 15 refreshing drinks that will keep you cool on a HOT summer day.
So, its your turn to tell me. Are you a fan of fruity drinks like me?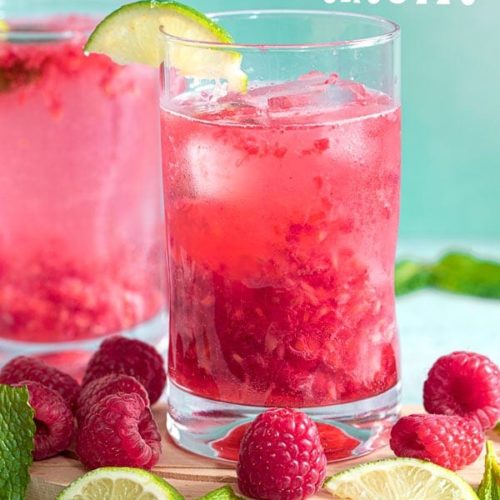 Refreshing Raspberry Mojito
Simple, easy raspberry mojito recipe made with fresh raspberries and mint. Serve it on New Year's Eve party, Valentine's Day and on a Girls' night out.
Equipment
Mojito Muddler

Cocktail Shaker
Ingredients
7

raspberries

fresh, thoroughly washed

2

mint leaves

1

tsp

lime juice

80

ml

simple syrup

50

ml

white rum

½

cup

lemon soda

3

ice cubes
Instructions
Add 7 raspberries to your muddler

Add mint to the berries

Add lime juice

Muddle the berries, lime juice and mint

Add the simple syrup and ice cubes

Add the raspberry vodka

Add the plain white rum

Top it off with the lemon sprite and garnish with lime slice.