An Easy to make vegan butternut squash risotto recipe made in the Dutch oven using just a few ingredients. This is the ultimate date night risotto recipe that is fancy looking, but, takes very little effort to make.
This post was originally posted on October 25, 2017 and it was sponsored by Alexia. This new post is not sponsored. Get version 1 details here
Is risotto rice or pasta?
It's rice!
Don't let anyone tell you otherwise!!
Risotto is part of the rice family because it's grown in the ground and harvested like rice. It's not made in the kitchen like pasta!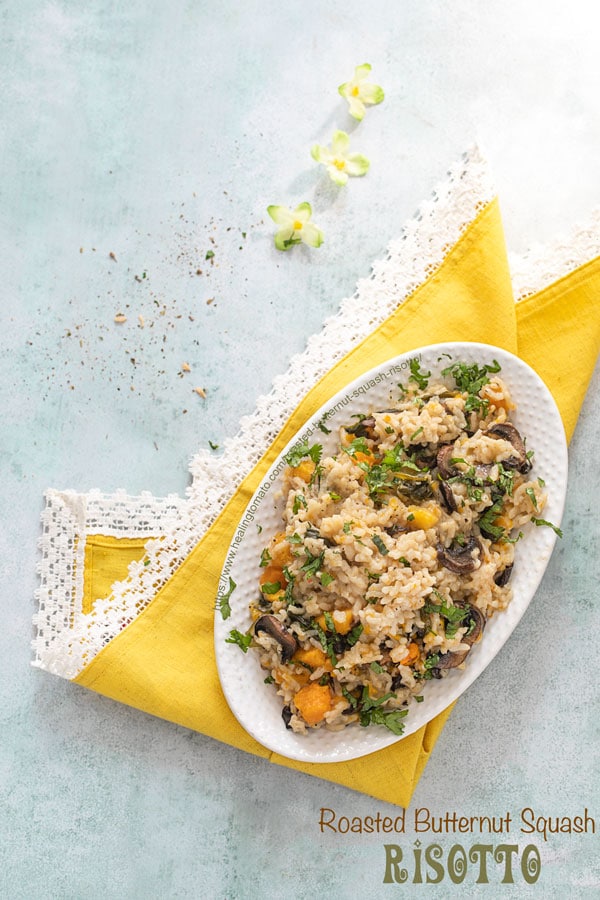 Tips for making butternut squash risotto
This tips are for making risotto in the Dutch oven.
Use only arborio rice and no other kind of rice to make this risotto
I used the Dutch oven to make this rice because I wanted it to be as hands-off as possible. Risotto is best when it's allowed to cook on it's own.
To make your life easier, get the pre-cubed butternut squash from your local grocery store. It takes a lot of elbow grease to cut it yourself.
I stirred this risotto only 3 times during the cooking process. It's tempting to stir it often, but, resist it. The rice will be clumpy if stirred often
Slice the mushrooms as thin as possible because they will cook faster and practically melt in your mouth
The butternut squash risotto is best served hot. I like to serve it right out of the oven.
What is risotto
Risotto is an Italian rice dish. "Riso" in Italian means rice and it's grown in only place in Italy.
The rice used in most risottos is Arborio rice and it comes from Northern Italy where it's grown. There are Martelli and Vialone Nano rice are considered the best rice for risotto, but, they are very expensive.
Arborio rice has become the default rice for risottos. It's a short-grain, white rice that is high in starch, yet, has an aphrodisiac property. That's why they are so perfect for date night recipes.
Did you know that saffron was used originally in risotto to flavor and color it?
Source: Wikipedia, Walks of Italy and my own experiences
Making risotto without wine
So, we all know that Italians love their wines and they use it in all their cooking! Wine and water are interchangeable for them. It's a good thing because their pastas and sauces are made that much better because of the wine.
I love cooking with wine too, especially in risottos. It makes the risotto soft and gives it a little bit of acidity.
But, this time, I made the risotto without any wine. I am trying to cook without alcohol in my recipes so that they are more family friendly.
If you would like to use wine, I suggest dry white wine like a sauvignon blanc. Or, try something a little bold like a pink wine like a pinot noir blanc.
Questions about making butternut squash risotto
I wanted to make this butternut squash risotto as easy as possible. It was my goal to make sure you can make it without breaking a sweat. Below, I answer a few questions that I think you might have while you make it.
If you have other questions, please feel free to leave a comment below or contact me.
Do you cover risotto while cooking?
Yes, cover the risotto while it's baking inside the oven. When making risotto in the Dutch oven, it's always better to cover it, for two good reasons.
One reason is that it will cook the rice more evenly. Otherwise, the top might get crispy but the bottom may be soggy.
Also, when the rice comes to a boil, it might start to bubble out of the Dutch oven. All the splashing and bubbling into the oven can make for a huge mess.
Who has the time to scrub and clean the inside of the oven anymore?! I know I don't and I do hate scrubbing.
Why did my risotto turn out sticky?
If your risotto turned out sticky, pat yourself on the back. That is exactly how it should turn out and it's also the hardest part of making risotto.
Risotto is sticky because of the arborio rice. This short-grain rice doesn't absorb too much water and it tends to stick to other rice grains in the pan.
So, to achieve the perfect balance of taste and sticky texture is an art form. It depends on 3 important factors:
Amount of water
How much stirring you do
The amount of heat you apply to it.
Cooking in the Dutch oven takes care of all the problems and makes the rice cook perfectly.
Have I mentioned that I LOOVE my Dutch oven? It cooks everything evenly and quickly!
Shouldn't I be using stock instead of water.
Yes, traditional risotto is always made with stock of some kind. Most Italian cooking uses beef stock or chicken stock. You can also use vegetable stock to make this risotto.
If you are a long-time reader, you know that I have a love-hate relationship with stock. You will never see me using it in any of my soup recipes or any other recipe.
So, feel free to use stock instead of water. Just don't tell me about it! 🙂
Can I freeze this butternut squash risotto?
No, I don't recommend freezing butternut squash risotto. When you thaw it, frozen risotto becomes gluey or clumpy. It looses all it's unique sticky texture.
You can refrigerate risotto, but, use it up within a day or two. To re-heat it, put the rice in a Dutch oven and place it a 300° preheated oven. Bake it in there for about 15 min, depending on how much you have left over.
What can I serve with risotto?
Risotto is the perfect main course meal and doesn't really need an accompanying meal. Here are some sides that I think work great with risotto.
What can I substitute for the Arborio rice?
Arborio rice is expensive, so, I understand if you want to sub it. What I did when I was testing the recipe was to find prepackaged risotto with flavorings already in it.
Alessi's mushroom flavored risotto is cheaper than buying the actual risotto, so, you can try it that way. I washed it first in order to remove all the flavorings from it.
You can also try any short-grain rice to make this risotto. It may not have the same texture as risotto, but, it will work when on a budget.
Ingredients in a butternut squash risotto
Mushrooms
Red onions
Butternut Squash
Arborio rice
Spinach
Lemon juice and cilantro (or parsley) for garnish
How to make butternut squash risotto
Before starting to make this recipe, preheat oven to 450°.
Start with spraying the inside of the Dutch oven with a light oil-spray. It will prevent the ingredients from sticking to the base
Add 1 tsp of cumin seeds. It provides a nice aroma to the mushrooms
Add 1 cup of finely diced red onions
Add the finely sliced 8 oz mushrooms next
Grate about 4 cloves of garlic (2 tsp) and add to the dutch oven
Next, add 1/4 cup of extra virgin olive oil. Do a quick stir of the ingredients and spread them out. Don't crowd the mushrooms because they will cook unevenly
Place the Dutch oven into a 450° preheated oven for 12 min
Remove from the oven (do not turn off oven) and gently open it. There will be a lot of steam coming out of it, so, be careful.
Give it a quick stir before you add 8 oz butternut squash, cubed
Add 8 oz risotto (arborio rice)
Flavor it with 2 tsp salt (adjust to taste), 1 Tbsp of oregano and 1/8 tsp of cinnamon. Give it a quick stir
Top with 1 cup of baby spinach but do not stir
Close the lid and place the Dutch oven back into the 450° oven. This time, let the risotto cook for 35 min. At about the 20 min mark, give it a gentle stir
Remove from the oven and stir gently
Serve immediately
Version 1 of this recipe
This butternut squash risotto recipe was originally posted on October 25th, 2017 at 1:09pm. Click here to see the original post
From time to time, I will go through old recipes to update the content. Sometimes, I update just the images and sometimes, I give the recipe a complete makeover
This recipe went through a complete change. In the original recipe, I used cauliflower rice risotto by Alexa foods. The recipe was delicious in every way.
But, I want to make a real risotto recipe using arborio rice. So, I kept some of the ingredients the same, but, changed it other ways.
Butternut Squash Risotto
An easy vegan butternut squash risotto made in the Dutch oven using just a few simple ingredients
Print
Pin
Rate
Ingredients
For Garnish
1

tsp

lemon juice

cilantro

or curly parsley
Instructions
Start with spraying the inside of the Dutch oven with a light oil-spray

Add cumin seeds, red onions, mushrooms and garlic

Next, add 1/4 cup of extra virgin olive oil

Do a quick stir of the ingredients and spread them out

Place the Dutch oven into a 450° preheated oven for 12 min

Remove from the oven (do not turn off oven) and gently open it

Give it a quick stir before you add the butternut squash

Add the arborio rice and water

Stir in the salt, oregano and cinnamon

Top with 1 cup of baby spinach but do not stir

Close the lid and place the Dutch oven back into the 450° oven

This time, let the risotto cook for 35 min (Stir at the 20 min mark)

Remove from the oven and stir
Garnish with lemon juice and cilantro before serving
Notes
– Nutrition info is approximate
Nutrition