Spicy Roasted Chickpeas recipe that can be oven-roasted or pan-fried. It's a twist on the traditional Indian street food called chana chor. It's a healthier snack and a fun way to eat chickpeas
Have you tried Indian street food before?
Some of the most delicious Indian recipes started out as very creative street food.
Today, I am bringing you this roasted chickpeas snack recipe that has its roots in Indian street food and continues to be a popular snack to sell on the streets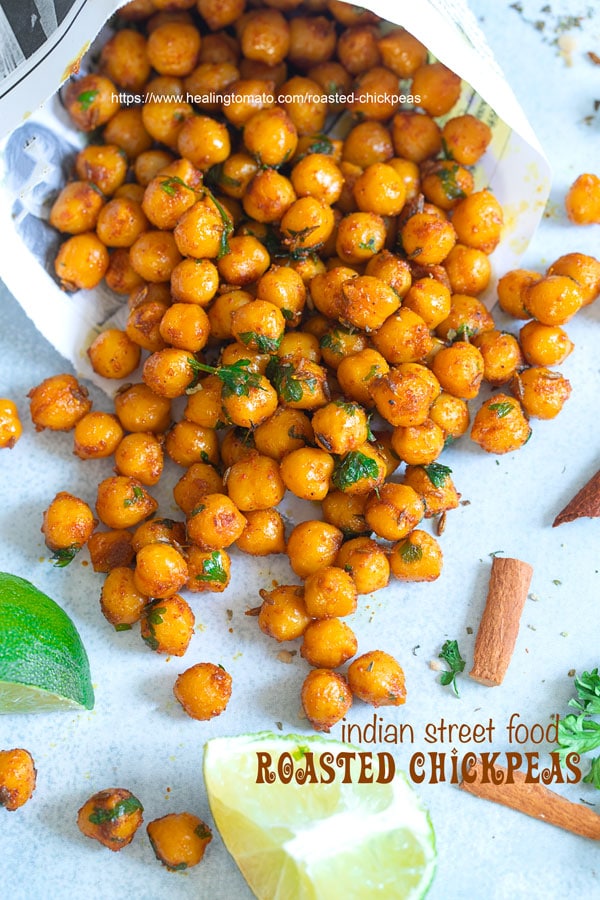 My experience with Indian street food
Some people I know are visiting India and I am envious of all the wonderful food they are getting to eat.
It takes me back to my last visit to India which was almost 30 years ago. I have some memories of that trip, and not surprisingly, most of them have to do with the food!
Shocking, I know, haha!
What I remember most about street food was that it was always served in newspapers!
It could be light snacks like these roasted chickpeas and samosa chaat or it could be heavy, oily meals like fried samosas which would drench the newspaper in grease.
You will often see these chickpeas served with a cup of the best chai tea! Indians love our chai and can drink it with any recipe.
Newspapers could even fall apart right after the food is put into it!
But, it was always served in newspapers!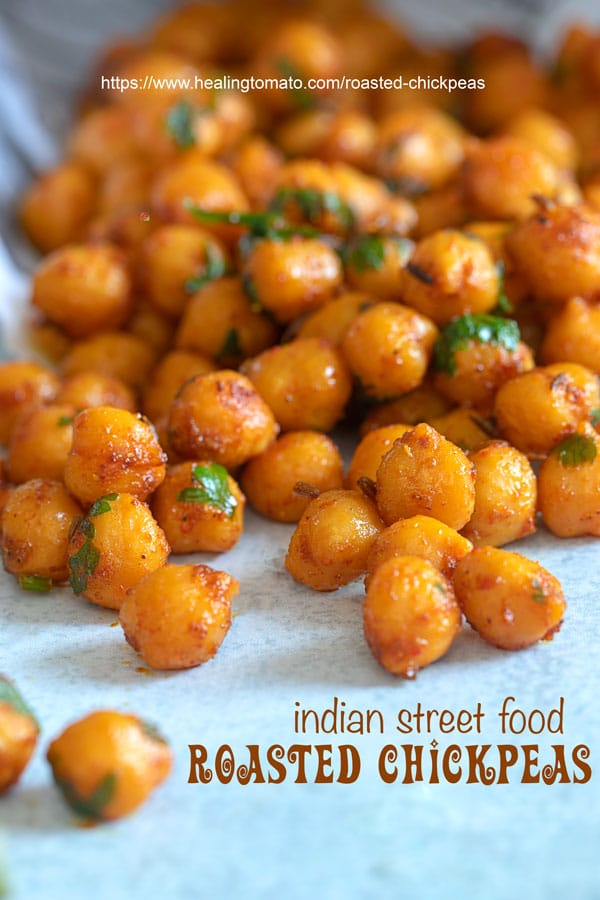 Why is Indian street food served in newspapers?
Most of the newspapers are cheap or can be gotten free. The business owners and cooks who sell street food are working very hard to make ends meet
So, buying paper plates is an added expense that they can't afford. The newspapers are widely accepted form of "paper plates"
Now, its just become a tradition to serve street food this way, even if you can afford to serve them on plates. I served these roasted chickpeas in a newspaper too
Personally, I LOVE eating street food out of newspapers because it just has a very authentic feel!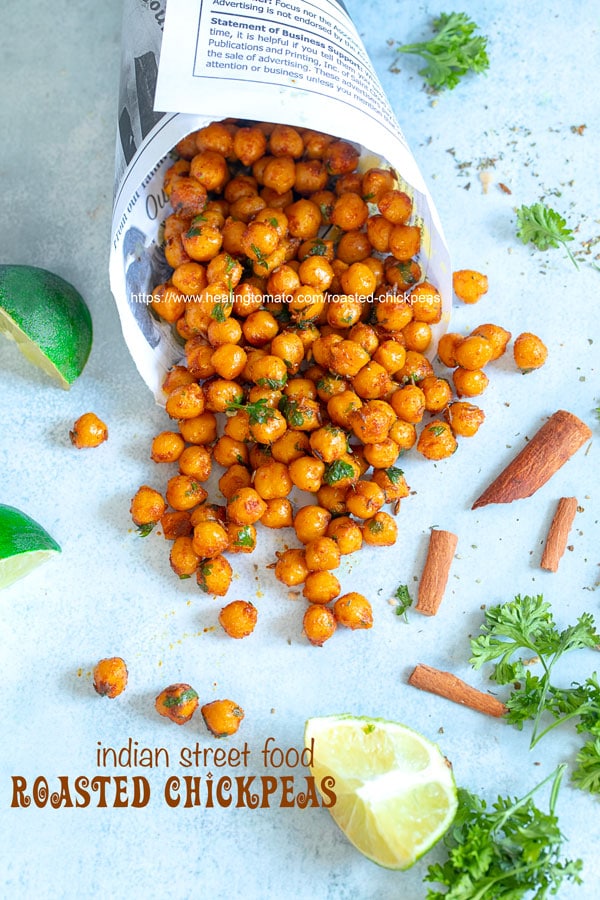 Answering Common Questions
Can I use Canned Chickpeas?
Yes, Canned chickpeas are perfect for making these roasted chickpeas. They will save you a lot of time
Can I use dry chickpeas?
If you have time, you can soak about 1 cup of chickpeas overnight and then cook them in boiling water for about 2-3 hours. In the past, I have tried Tori Avey's method of cooking dry chickpeas and they turned out perfectly!
What is cumin coriander powder?
Cumin and coriander are normally sold as two different spices in American stores. However, in Indian cooking, these spices almost always go together in most recipes. Therefore, you will see packets of "cumin-coriander powder" being sold in Indian stores. They are blended together to make it easier to put into different recipes.
How to store roasted chickpeas
You can make a whole batch of these roasted chickpeas and store them in an airtight container. This way, they won't go stale. I like to store it in this (Affiliate Link) glass canister and snack on it after lunch.
How long will roasted chickpeas last?
When refrigerated, they will be good for 1-2 months. On the countertop or in the pantry, they are only good for about one week.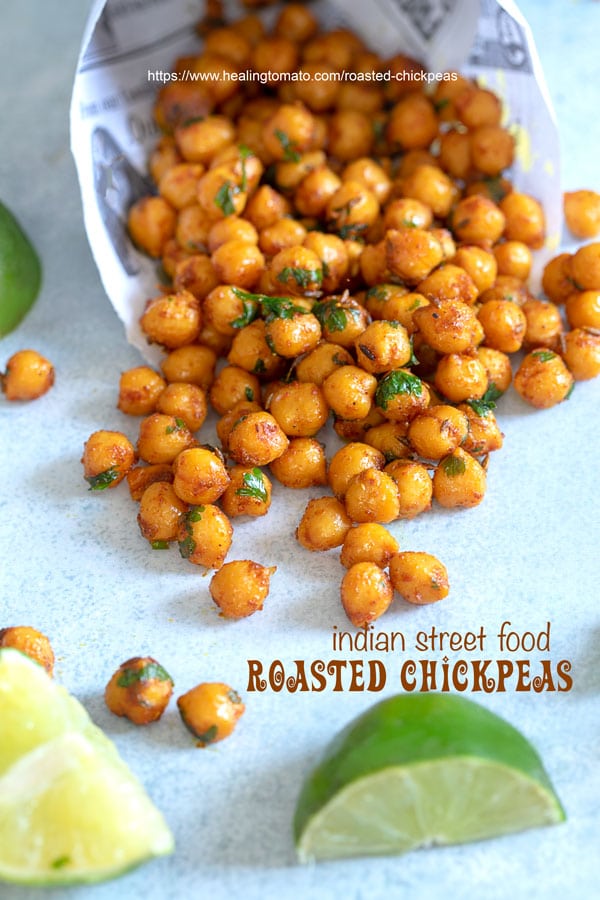 Pan-fried chickpeas versus oven-roasted?
I have cooked them both ways and I prefer the pan-fried chickpeas since it's faster. But, the oven-roasted chickpeas are crispier.
I prefer roasted chickpeas in the oven because they are faster and don't need much supervision. With the pan version, they come out just as delicious, but, need to be watched constantly. Use oven roasted chickpeas method or the pan-fried chickpeas version
How to pan fry chickpeas
– Heat a skillet on medium heat for 30 seconds
– Add sunflower oil
– Add the drained and dried canned chickpeas to the oil
– Add all the spices and mix well
– Roast for about 10 minutes or until the chickpeas start turning crispy
– Transfer these pan-fried chickpeas to a bowl, drizzle with lime juice, and garnish with parsley before serving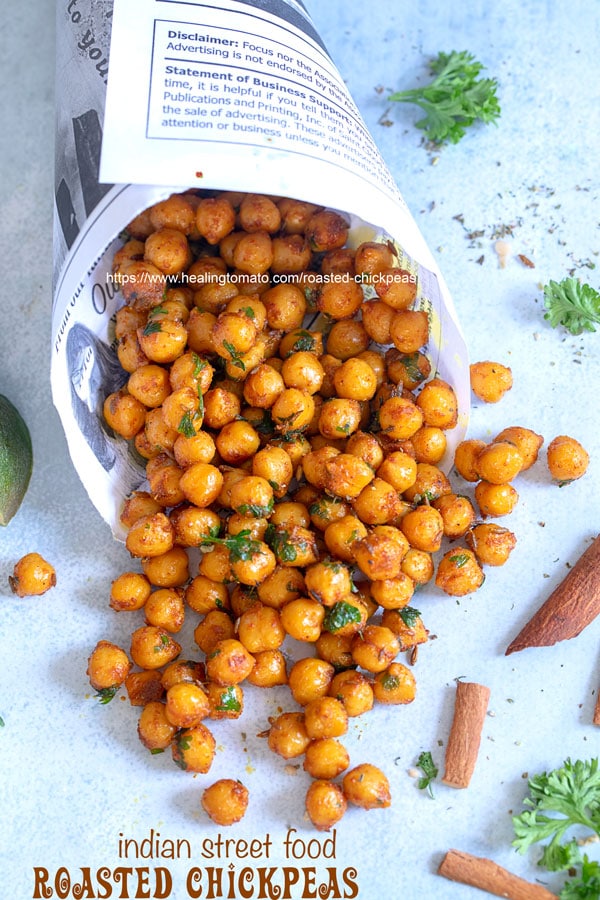 More street food snacks
Here are a few more nuts and legumes that can easily be Indian street food. These delicious snack recipes are from other talented food bloggers who understand that healthy snacks for traveling tourists never go out of style!
Mixed Nuts Recipe – This is my recipe where I used Za'atar and lemon tastes even better in newspapers. Try it and let me know what you think
Slow Cooker Boiled Peanuts – I put cinnamon and cloves in the boiled peanuts which is a fun food to snack on while you are exploring the beautiful streets of India.
If you are a fan of Indian Food, check out more of my Indian recipes. How many of them can I serve in newspapers?
The traditional version called (affiliate link) chana chor is actually flattened chickpeas. If you have time, you can flatten them after you cook them.
You can also add these roasted chickpeas to my Kachumber salad because the flavors are a perfect mesh.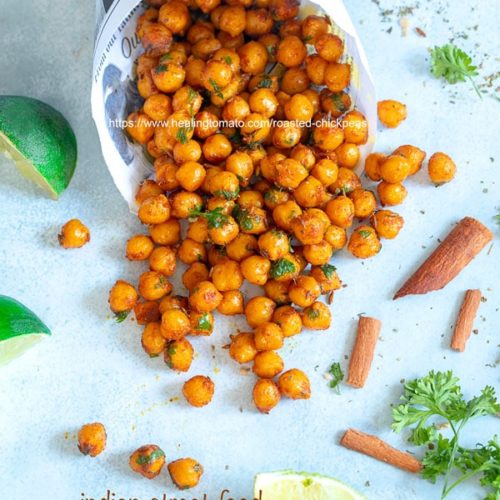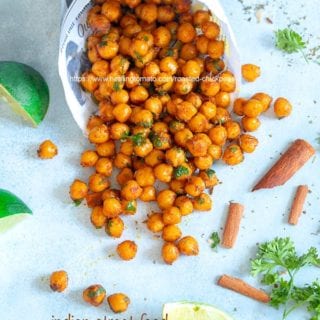 Indian Style Roasted Chickpeas
Quick roasted chickpeas made with Indian spices and served in a Newspaper

Instructions
Preheat oven to 400°


Drain and thoroughly dry the chickpeas. Use a salad spinner, if necessary


In a bowl, add all the ingredients except the lime juice and parsley


Use a wooden spoon to mix all the ingredients together


Spread the chickpeas in a sheet pan and place in the oven


Bake for about 15 minutes, then, open the oven and stir the chickpeas to ensure they bake evenly


Bake for another 10-15 minutes until they chick peas are crispy


Remove from tray, transfer to a bowl


Mix in the lime juice and parsley

Additional ingredients to add when serving: red onions, chaat masala, peanuts
Notes
Nutrition info is approximate
Nutrition
Calories:
90
kcal
Carbohydrates:
1
g
Fat:
9
g
Sodium:
402
mg
Potassium:
17
mg
Vitamin A:
295
IU
Vitamin C:
2
mg
Iron:
0.3
mg