This roasted red pepper sauce recipe can be used in place of Pasta Sauces. It is a healthy vegan keto sauce and made with tofu for a creamy texture.
I spent a lot of time watching Food Network TV.
I am fascinated by the professional chefs, but, I don't really care for all the food competition shows.
The cooking process and what the chefs make has a very hypnotic effect on me.
That's how this recipe came into existence! I was watching Daphne Brogdon while she was making "The Best Cauliflower Ever Recipe" with a roasted pepper sauce and I was completely mesmerized by her presentation.
She is so talented and not just when it comes to cooking food. She is very articulate, humble, funny and intelligent.
Her recipe is so awesome, I just had to make it myself. My version is a lot more spicier than hers because I like my sauces on the spicy side.
I am always looking for new ways to make pasta sauces or ravioli sauces, so, Daphne's recipe piqued my interest immediately.This sauce also works as a chili sauce and as a dip. I tried dipping a few chips in it and it tasted so good.
The best part about this sauce was that I can preserve it and use it for a long time. Using this method of canning mason jars, I canned a few jars and put them in the freezer.
This way, I can use them for months and not have to worry about making a new batch every time.
Ball canning is a process that has been a little challenging for me. After repeated tries, I was finally able to get the process right.
Whew!
The hard part was the actual sealing. For some reason, I couldn't get the seal to "seal". I had to watch several videos before I could get it to seal.
It shouldn't be hard for those that do canning frequently.
This sauce is so awesome vegan dinner recipe. Together with lentils, this could make a very hearty meal.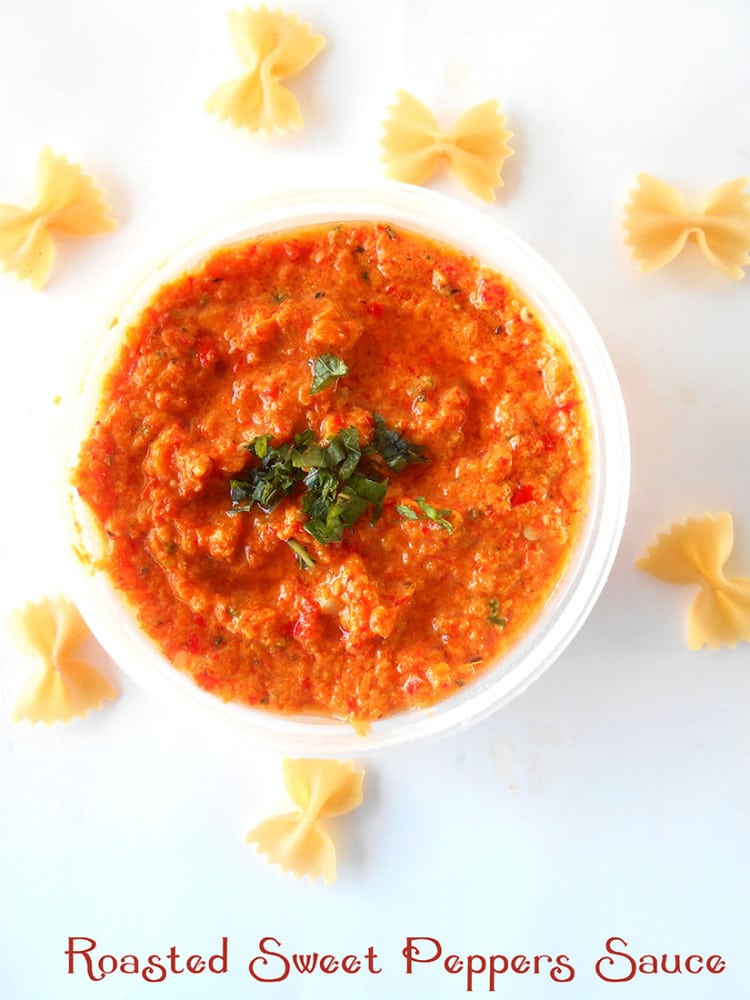 What is your best tip for canning?
Roasted Red Pepper Sauce
Roasted Red Pepper Sauce
Made with roasted red pepper, tofu and spices. Easy vegan keto sauce recipe that can be used in lasagna, pastas or casseroles
Ingredients
3

cup

mini sweet peppers

2 cups red color and 1 cup orange color

4

Thai red chili

or adjust to your spice tolerance

1/4

cup

cherry tomatoes

1/2

Tofu Block

4

cloves

garlic

1

tsp

salt

1

Tbsp

Extra virgin olive oil

divided into 2 equal parts

1

tsp

dried basil

1

tsp

dried oregano

1/4

cup

cilantro

chopped, optional
Instructions
Preheat oven to 400 degrees

Cut the mini sweet peppers into half and remove all seeds

Cut the cherry tomatoes into half

Place the tomatoes and peppers into a mixing bowl

Add garlic, salt and 1 portion of the oil to the mixing bowl

Mix well

Place the peppers and tomatoes in a baking sheet and spread them out evenly

Heat in the oven for about 20 minutes or until the outside of the peppers starts to char

Remove from heat and allow to cool for a few minutes

Remove the charred skin from the peppers

Add them to a food processor

Add the remaining ingredients and blend well. I prefer a coarse texture


Use canning methods to store the sauce for longer period of time

Notes
Nutrition Info is approximate
Easy vegan keto sauce recipe that can be used in lasagna, pastas or casseroles