Only 4 ingredients needed to make this restaurant-style Salted Lassi. Cumin powder, salt, water + yogurt whipped together to get the perfect restaurant lassi in just 10 minutes
Lassi is a very popular Indian yogurt drink made by mixing yogurt and water. Its known as namkeen lassi which translates into English as salted lassi.
It takes less than 10 minutes to make this restaurant lassi recipe and it is the most refreshing drink, especially during the hot summer days!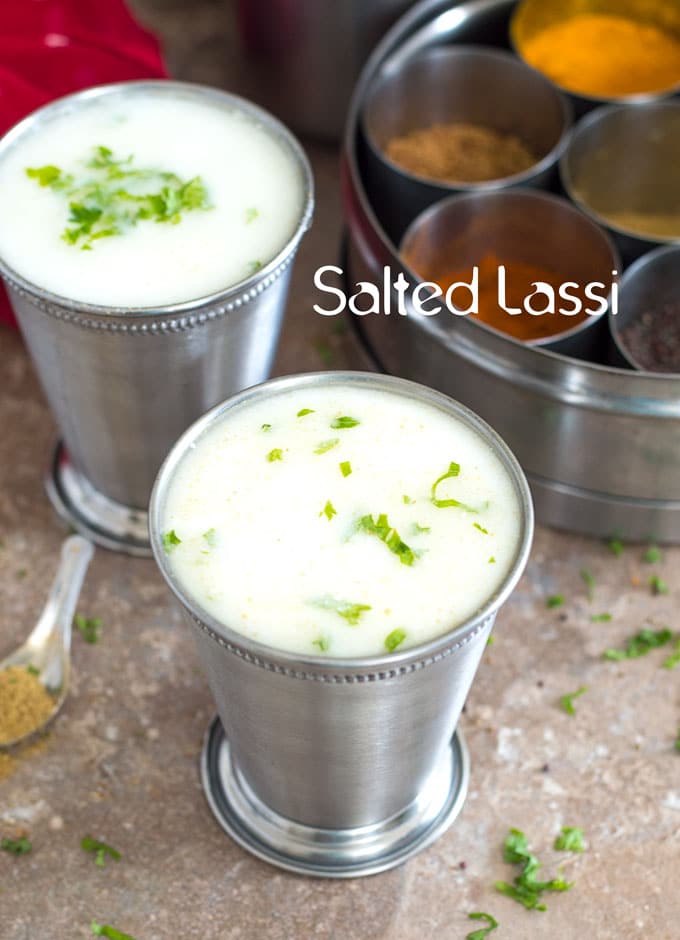 Jump to:
The ease of making lassi
Indian recipes don't get any easier than salty lassi! 4 ingredients brought together by whisking and bam! You have a heart-healthy drink!
Ten minutes later, you are sitting on your porch with a tall glass of this lassi in one hand and a romantic novel on the other hand. It has healing properties that will cool you from the inside out.
You could come to my home at 2 am on a Saturday morning and you would see a huge jar of this lassi sitting pretty in the fridge. There is never a time in our home when there is no lassi.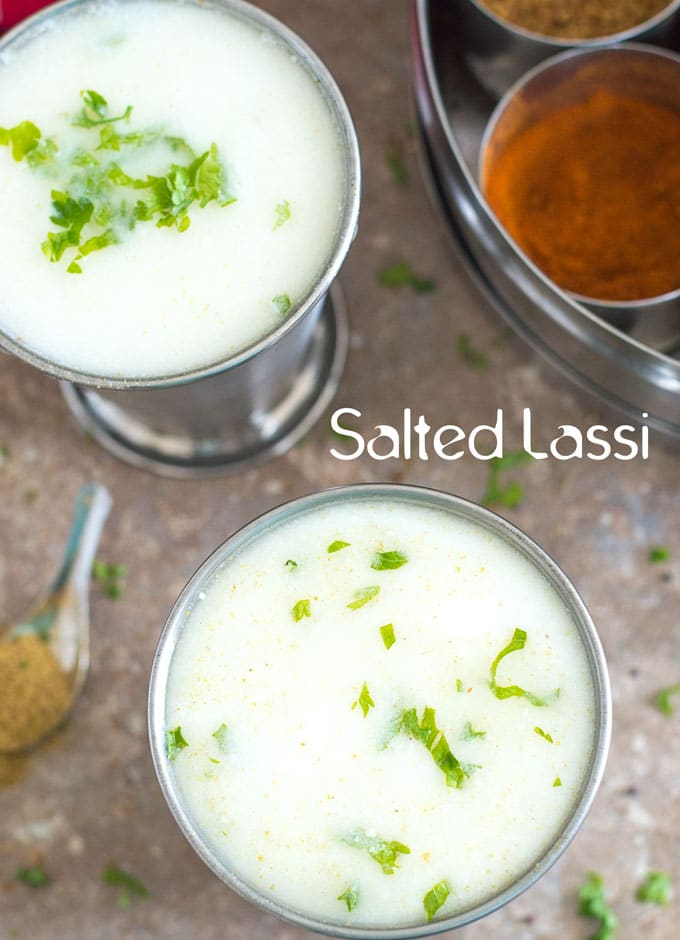 👩‍🍳 Substitution tip: To make vegan lassi, use unflavored vegan yogurt and add a Tbsp of vegan sour cream to get a thicker consistency.
Rising in popularity
So, why is lassi so popular? Some of the Salted Lassi benefits include a cooling effects on the stomach. It also has the good bacteria that help "oil" the intestine and the Gastrointestinal tract in general.
Additionally, it acts as a re-hydration agent for those who are dehydrated. One glass can make a big difference!
For me, I love salted lassi for its cooling effect. Florida is known for its theme parks, but, it is also known for it unrelenting, overbearing summer heat!
A glass of this lassi after being in the oppressive heat is exactly what I need. It cools me from the inside out! I always drink out of these (affiliate link) mint julep glasses because they are so cool!
Tips for making this lassi
The key to this recipe is the cumin. If you can find roasted cumin powder, use that. Roasting cumin brings out all its intensity.
The yogurt is also homemade in this recipe. I use whole milk because it produces the best yogurt ever. It gives yogurt a dense and thick texture.
Making yogurt is as easy as boiling 2 cups of milk, letting it cool to room temperature. Whisk a ½ tsp of full fat yogurt, cover and let it stay overnight.
For the instant pot version of making yogurt, The Foodie Affair has a step by step post.
🍅 Handy Tip: Always use whole milk yogurt to make lassi. It gives a thicker texture. Whole milk is also the less processed of the milks.
How to make cumin powder
You can also add a freshly roasted cumin powder to add to this lassi. It's really easy to make.
Heat a small skillet pan at medium heat.
Add 2 Tbsp of cumin.
Roast for about 2 minutes, stirring constantly so that it doesn't burn.
Let it cool for a minute.
Place the roasted cumin in a coffee grinder and grind it up to a fine powder. Alternatively, you can use a mortar and pestle to grind them yourself.
👩‍🍳 Substitution tip: Can find cumin powder? It's easy to make it at home. Roast cumin for 2 minutes and then coffee grind them or use a mortar and pestle.
What to serve with lassi?
Lassi is a drink that is had with any meal. Many households even have it at breakfast. I always serve it with peanut rice and basmati rice.
It goes so great with main course meals like Bombay pototoes, Palak makhani and bhindi aloo. If you find Indian food too spicy, Lassi takes away most of the heat.
Of course, lassi is not complete without kachumber on the side.
Try this other drink recipes
Sharing is caring
Don't be shy, chime in below in the comments. Let me hear your opinion on this recipe. If you enjoyed this, please give it 5 stars and share it on Facebook, Pinterest, Twitter, and Instagram.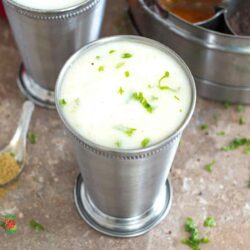 Salted Lassi Recipe
Only 4 ingredients needed to make this restaurant-style salted lassi. Made with simple ingredients, this restaurant lassi recipe
Ingredients
3

cups

yogurt

Use plain, whole milk

1

cup

water

1

Tbsp

cumin powder

(roasted cumin powder is better)

1

tsp

salt

(or to taste)
Instructions
In a bowl, add the yogurt

Add the salt and cumin powder

Mix with a spoon

Add the water to the bowl

Using a whisk or hand blender, mix the ingredients on low speed


Mix until it is frothy

Transfer to a pitcher and refrigerate for up to 1 hour

If you need to serve immediately, add ice cubes
Version 1 of this recipe
Did you do a double take? Occasionally, I will revisit previous recipes and do a makeover on them. You probably came to this page based on this photo. It was made with vegan mayo. However, I decided to re-vamp the recipe and bring you the new version you see above. I think you will like.
Pin image: