Try the healthier version of samosas. This samosa wonton recipe is the guilt-free version of samosas. The chutney is Caribbean Inspired.
Is there anyone who doesn't love samosas?
As far as I know, there isn't anyone on this earth who doesn't love a good samosa recipe.
Samosas are very easy to make, if you are using wonton wrappers.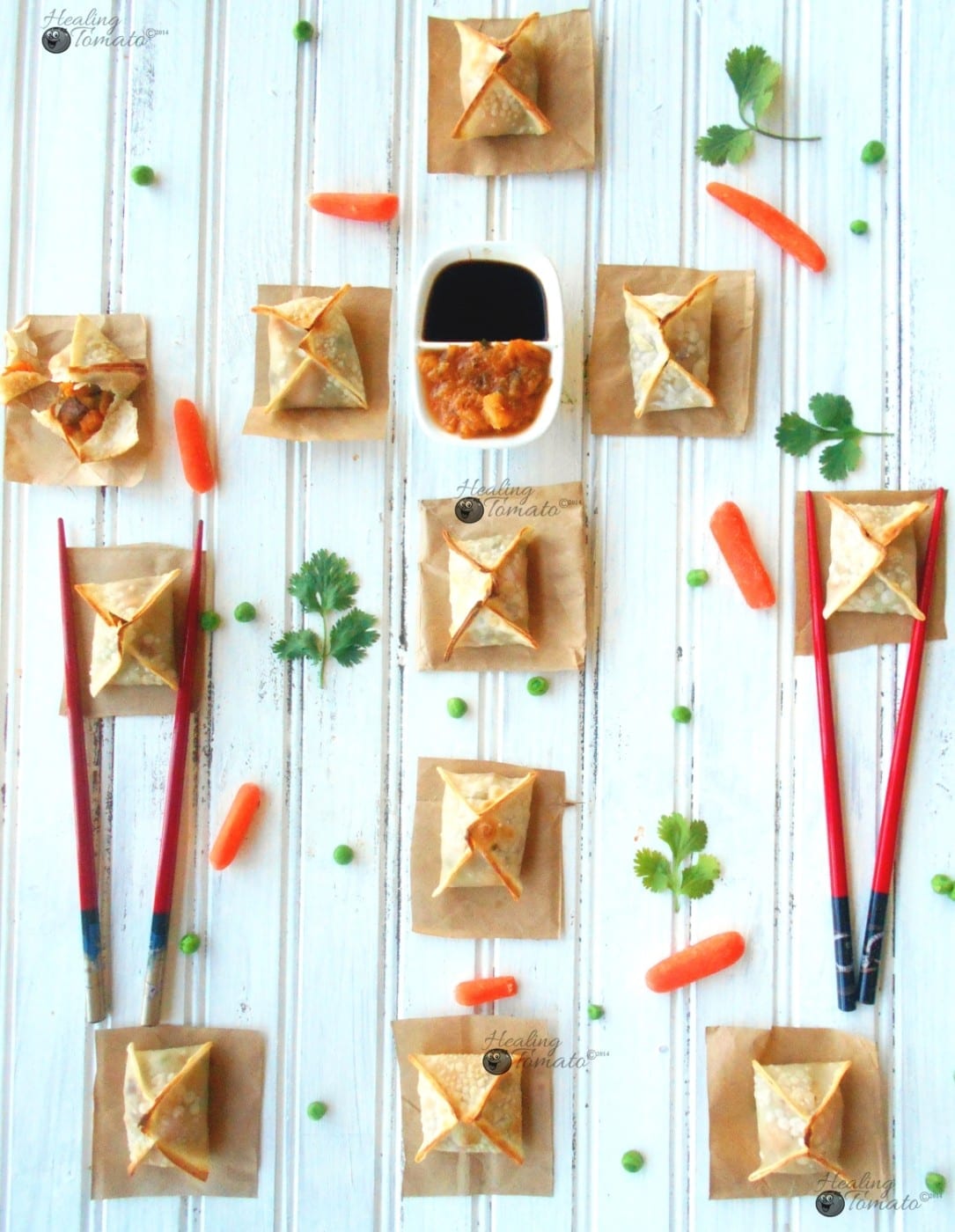 Ever since I remember, my mother has made the perfect samosas. You could take a compass to it and it would be an equilateral triangle with 45 degree angles!
Unfortunately, I did not inherit her trait for symmetry and perfection.
Over the years, I have experimented with so many variations of samosas. I will not bore you with the disaster that was the Mexican Samosa.
Then there was the Greek version of samosas where the Feta cheese was fried which ended in a huge mess.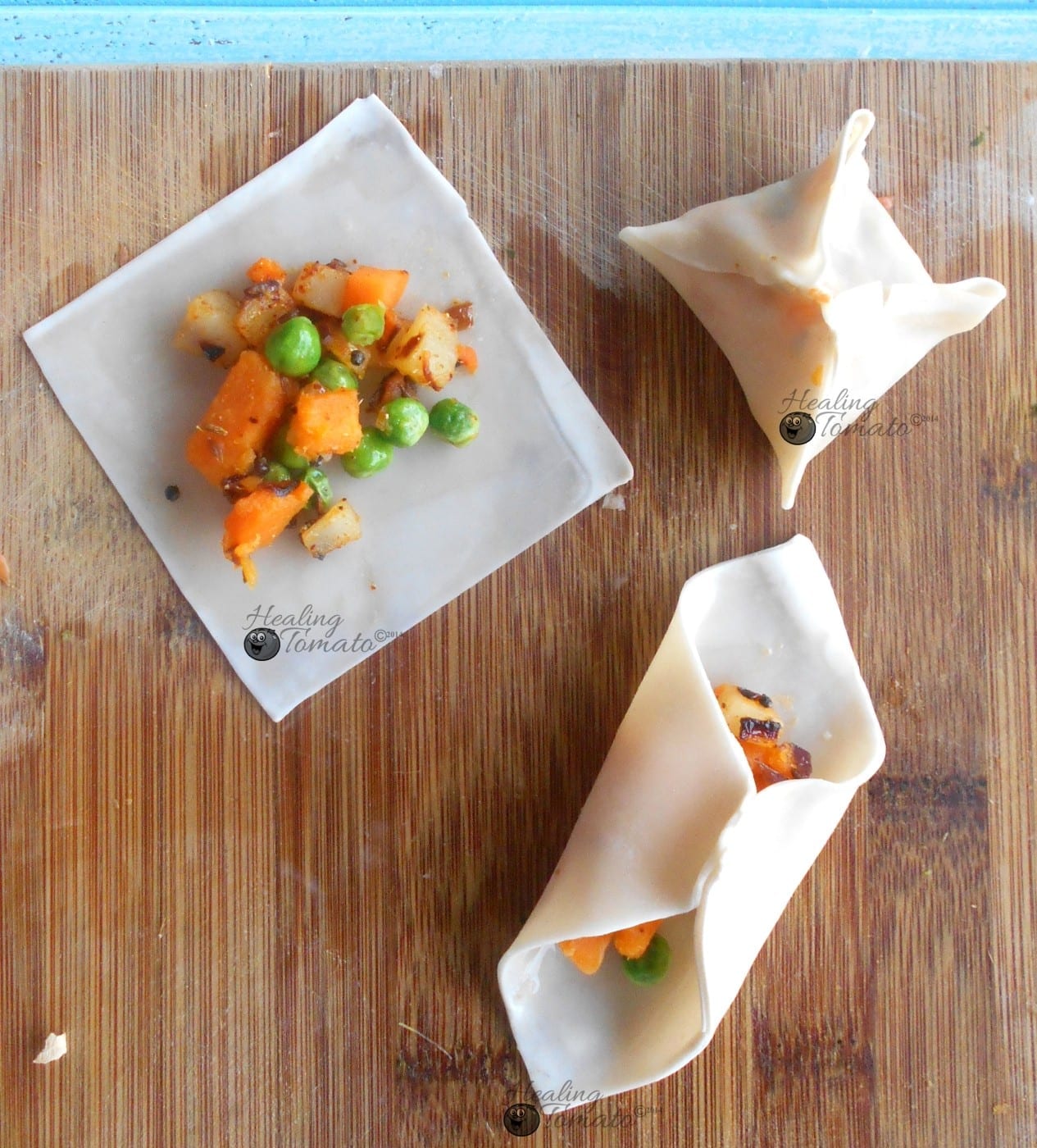 This recipe has some Chinese influence and some Caribbean influence. Also, I decided to make Sweet potatoes to be the focus of the recipe, although, I didn't stay away from regular potatoes either.
Sweet potatoes with peas and carrots make up this recipe more interesting and healthy. It takes 45 minutes to make these samosa wontons, so, you won't be spending your whole day slaving over the stove.
To save some time, bake the sweet potato in a mini oven for about 15 minutes.
In a medium wok, add the oil and add black mustard seeds. When the mustard seeds start popping, add the cumin seeds.
Turmeric powder is vital in all Indian cuisine and it is also very therapeutic in nature. It has a long list of health benefits as outlined in this WebMD's article.
I served this with Caribbean Style Chutney which was a great combination. The dish has a very West Indian flare and the samosa wontons fit right in.
How To Make Samosa Wontons
Samosa Wontons
How to make Samosa Wontons - The wontons are filled with samosa fillings and baked in the oven. This is a twist on the classic Indian samosa recipe
Ingredients
20

Wonton Papers

(thawed at room temperature for at least 30 min)

1

Sweet Potato

Partially Baked

1

Red Potato

finely chopped(Optional)

½

cup

red onions

finely choppe

1

cup

carrots

finely chopped

½

cup

frozen peas

2

tsp

Extra Virgin Olive Oil

1

tsp

black mustard seeds

1

tsp

cumin seeds

2

tsp

sea salt

1

tsp

turmeric

1

tsp

Cayenne Pepper

(Optional)

1

tsp

lime juice

½

cup

water

Oil or Oil Spray for brushing the wontons

Cilantro for Garnish
Instructions
Making the Filling
Finely chop all the ingredients

In a medium wok, add the oil and heat for 30 seconds

Add the Mustard seeds and wait for them to pop

Add the Cumin Seeds and let them brown for about 15 seconds

Add the red onions and let them caramelize. Should take about 5 minutes.

Add the Turmeric and Cayenne Pepper

Add the carrots and potatoes

Add the salt and stir well

Once the carrots and potatoes have softened (about 10 minutes), add the peas

Stir well

Cook uncovered for 10 more minutes. If the potatoes start to brown, turn it off

Add the lime juice and stir well

Preheat the oven to 300 degrees
Bringing the samosa wontons together
Start preparing the wontons wrappers

Add 1 tsp of the mixture in the middle of the wonton

Take a small spoon and dip it in the water

Then, take the spoon to the edges of one wonton wetting them slightly

Pull the top left and the bottom right end together and pinch gently

Do the same for the 2 remaining sides

Gently pinch all the sides of the wonton together

Spray the wonton well. Spray the top and the bottom of the wonton well


Place the wonton on a baking sheet

Repeat the above steps for the remaining wontons

Place the wontons in the oven and allow them to bake for 20 minutes or until they turn brown

* Serve with my Papaya Chutney *
Notes
Nutritional info is approximate. Consult your dietician for more accurate info