Easy Scallion Pancakes – With only a few ingredients, you can make this soft and easy savory pancakes for breakfast or brunch. The secret to these soft pancakes is yogurt.
* I teamed up with Bob's Red Mill to bring you this delicious scallion pancake recipe. All opinions and ideas are mine
If I ever find myself in China, I want to eat authentic Chinese street food while standing in the street.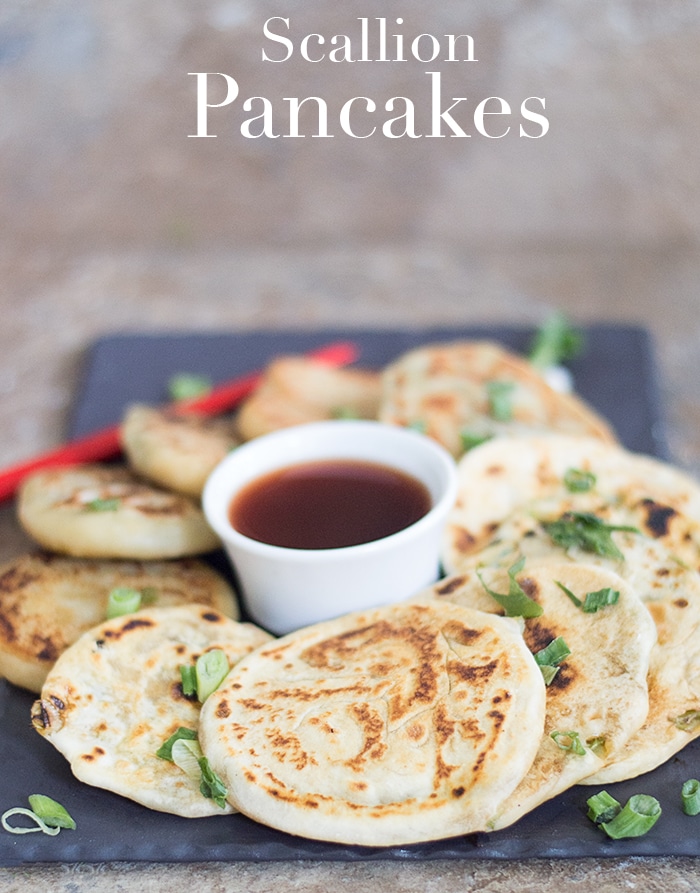 One of the foods on my list is scallion pancakes. I hear that they are the best Chinese street food and no one should miss that experience. It is #9 on my bucket list.
When we make naan, we always put yogurt in the dough to soften it. This makes the homemade naan come out so soft and delicious.
So, I figured that since the dough is the same, why not try using yogurt in this recipe too?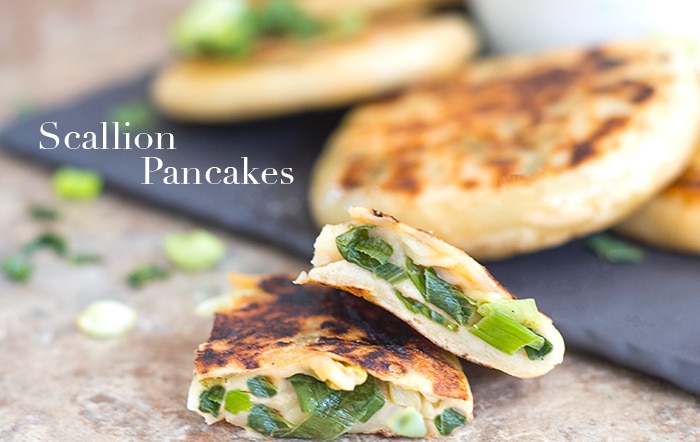 The yogurt in the dough made all the difference. The pancakes were very soft and flaky. Combined with the green onions, it practically melted in my mouth!
Of course, it helps that the flour I used was top-notch. I love all the flour products from Bob's Red Mill, especially their Gluten Free line. No one does Gluten Free products like they do.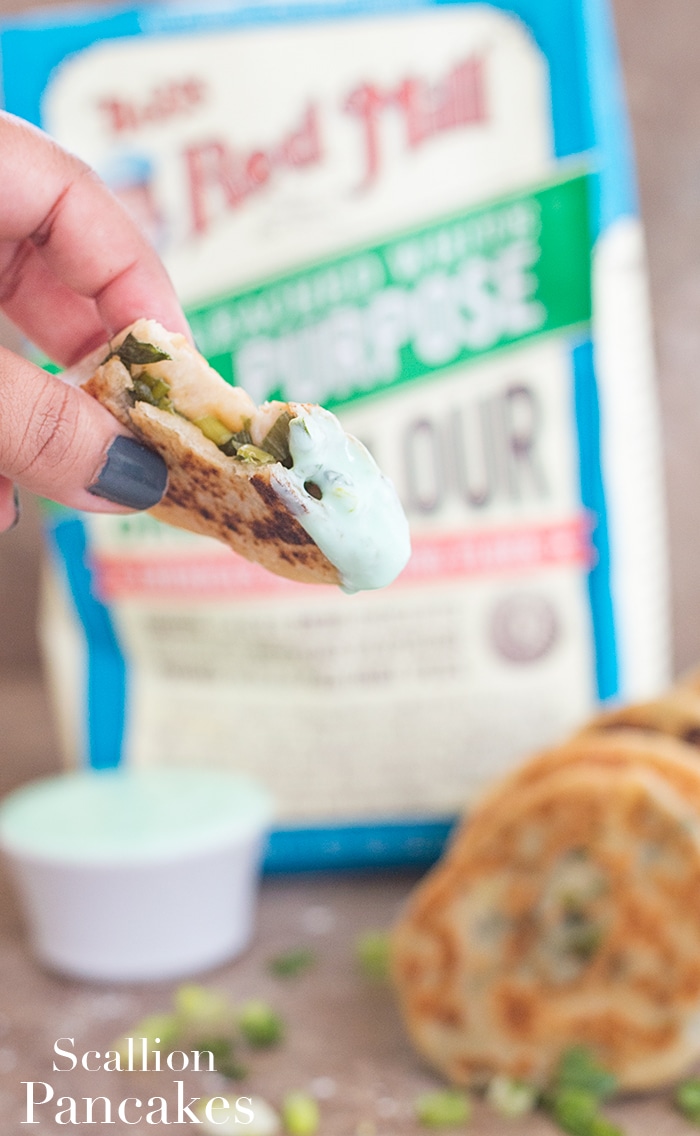 You have to check out their website because they have so many creative recipes. If I made one recipe a day from their site, it would take me at least one year, if not more to make them all!
Besides recipes, Bob's red mill site has details on each and every product they make. From nutrition information to ingredients, you can get the information for each product. And if you like what you see, you can order it directly from their secure site.
Its that easy!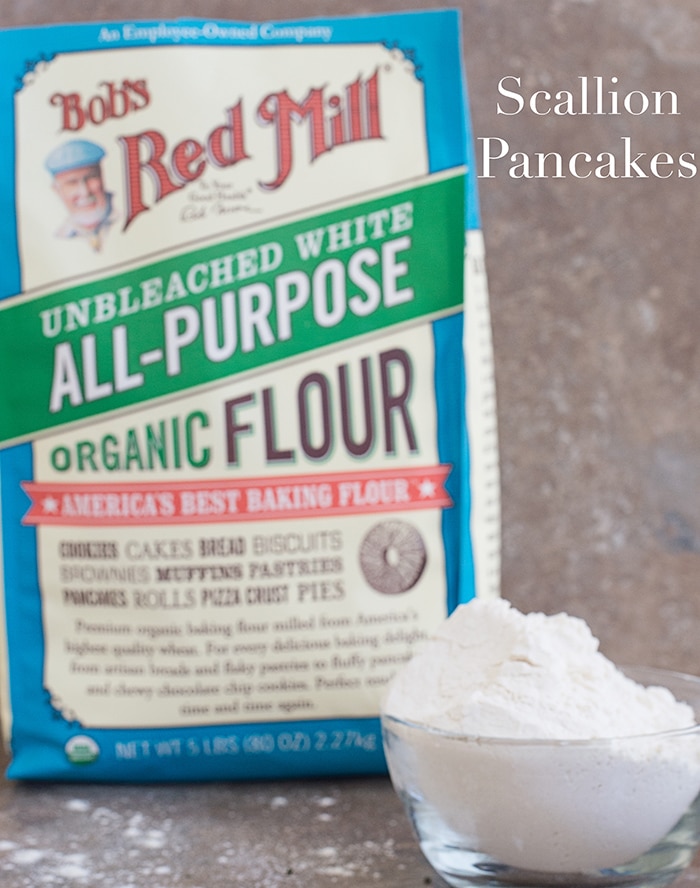 My favorite way to eat these pancakes is dipping them into this avocado dressing. The avocado with the scallions makes for a great combo. However, you can serve it with the traditional soy and ginger sauce.
Or, just eat it right off the griddle!
Try this scallion pancakes and tell me what's #9 on your bucket list!
Scallion Pancakes
1) In a bowl, add 2 cups of Bob's Red Mill unbleached all purpose flour
2) Add 1 tsp of kosher salt
3) Add 1/2 cup of plain yogurt (preferably vegan)
4) Add 2 tsp of canola oil
5) Slowly introduce 3/4 cup of lukewarm water to the bowl while mixing it with the other hand
6) Add 2 more Tbsp of lukewarm water and roll the dough into a bowl. The dough should be sticky
7) Cover the bowl with a dish cloth and let it sit for about 30 minutes
8) In a small bowl, add 2 cups of chopped scallions
9) Add 1/2 tsp of kosher salt, 1/2 tsp of crushed black pepper, 1/2 tsp of freshly squeezed lime juice and mix well. Set aside
10) Heat a griddle on medium heat. While it is warming up, make a small ball (about half the size of a baseball) from the dough
11) Flatten it and roll it into a small circle
12) Add 1 Tbsp of the scallions and fold the edges over it
13) Press down and turn it over. Roll into a small circle. It doesn't have to be a perfect circle
14) Lightly spray the griddle with cooking spray and place the pancake on it
15) Toast each side for about 2 minutes or until it has browned evenly
16) Set aside and repeat the process for the remaining dough. It should make about 10-20 mini scallion pancakes
Serve with your favorite dipping sauce!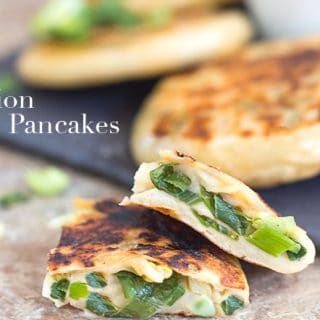 Scallion Pancake Recipe
With only a few ingredients, you can make this soft and easy Scallion Pancakes for breakfast or brunch. The secret to these soft pancakes is yogurt
Ingredients
For the Dough
2

cups

Unbleached All Purpose Flour

Bob's Red Mill Unbleached

1

tsp

Kosher salt

1/2

cup

plain vegan yogurt

2

tsp

canola oil

3/4

cup

water

lukewarm

2

Tbsp

water

lukewarm
For the scallions
2

cups

green onions

cut as finely as possible

1/2

tsp

Kosher salt

1/2

tsp

lime juice

freshly squeezed

1/2

tsp

black pepper

cooking spray
Instructions
In a bowl, add 2 cups of Bob's Red Mill unbleached all purpose flour

Add 1/2 cup of plain yogurt (preferably vegan)

Slowly introduce the water to the bowl while mixing it with the other hand

Mix until all the flour is blended and it should be sticky


Cover the bowl with a dish cloth and let it sit for about 30 minutes

In a small bowl, add 2 cups of chopped scallions

Add 1/2 tsp of kosher salt

Add 1/2 tsp of crushed black pepper

Add 1/2 tsp of freshly squeezed lime juice and mix well. Set aside

Heat a griddle on medium heat.


While it is warming up, make baseball-sized balls from the dough


Flatten it and roll it into a small circle

Add 1 Tbsp of the scallions and fold the edges over it

Press down and turn it over. Roll into a small circle

Lightly spray the griddle with cooking spray and place the pancake on it

Toast each side for about 2 minutes or until it has browned evenly

Set aside and repeat the process for the remaining dough
Notes
Nutritional information is approximate
* The good people at Bob's Red Mill sponsored this post. All opinions are mine *