What is sofrito? Its a simple tomato-based sauce that is easy to prepare and can be used as a base in many Cuban and Latin American recipes. This version is slightly on the spicy side because that's how Cuban food is best enjoyed!
This recipe was part of a guest post I wrote on Debra's Blog – Vegan Cuban Bowl
There is always a special happiness when I am posting a tomato recipe, like this sofrito recipe! It feels like I am getting back to my roots of why I started this blog.
This sofrito recipe made with heirloom tomatoes makes for a rich base in any Cuban recipe. It turns a mild red beans and quinoa recipe into a juicy, flavorful meal!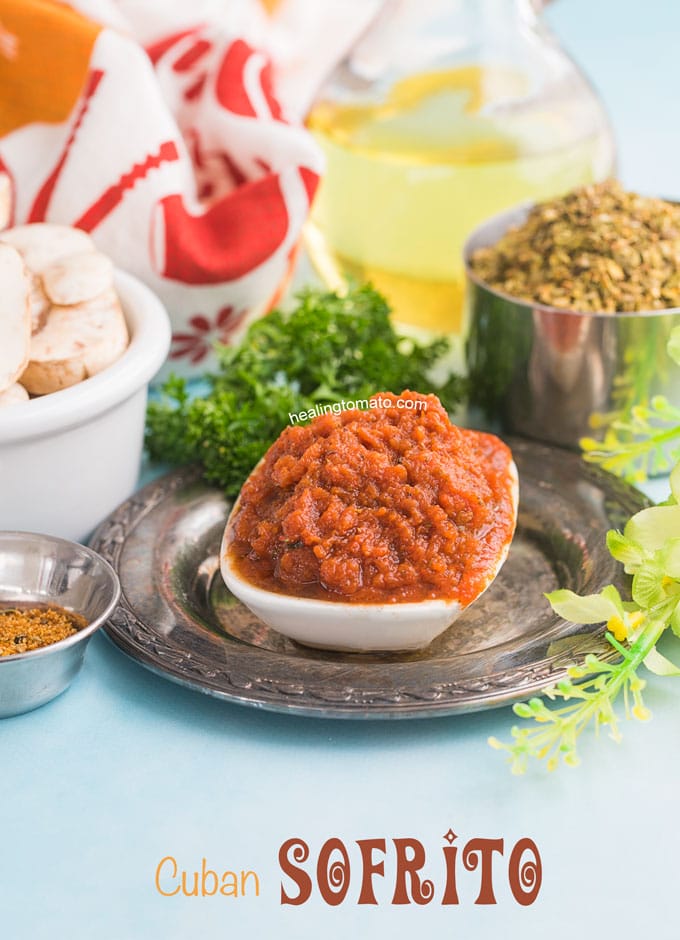 Tips for making sofrito
Make sure the green bell peppers are seeded and chopped
Use a food processor or blender to blend the ingredients. I prefer the food processor
Have left over sofrito? Freeze it in ice cube trays and use it in other recipes
You can also use freezer bag to freeze any leftover sofrito. Be sure to put the date on it and use it within six months
What is Sofrito?
Sofrito is a sauce that is made with many different flavors and ingredients. Its very common in Latin cuisine, but, Italians also have a 'SOFFRITO' base in many of their dishes.
Puerto Rican sofrito is made using Culantro and aji dulce peppers. I have also seen Cubanelle peppers used in their sofrito recipes. I love that they use culantro because its so aromatic and delicious. I used it in my vegan dumpling soup, enhancing its flavor!
If you are Colombian, you prepare your sofrito very simply. You use green onions and tomato which is the perfect combination! This also works as a dip for an arepa.
I have seen it used in Caribbean cuisine as a base for curing many of their ham recipes. They make use of Lard extensively in their sofrito recipe which make their meals so soft!
My recipe is a Cuban version of sofrito which focuses more on the tomatoes and spices. It is normally served over rice and beans, but, I like to put it in Quinoa and red beans too.
I have also heard this recipe being referred to as Cuban tomato sauce! Makes sense why, lol
Source: Wikipedia and my personal experience
Ask me a question
Can sofrito be frozen?
Yes, you can make a big batch and then freeze it. It can also be refrigerated for about 2 weeks.
However, its my humble believe that you sofrito should be made to order. There is nothing quite like freshly made version of these sauce.
When you need it, place the glass bottle in a pan of hot water. After a few minutes, the bottle with open with ease. Let it stay in the warm water until you are able to transfer it to a pan. Cook it for 5 minutes before putting it in another recipe.
In the past, I have gone the ice cube tray route too. Freeze it in ice cube trays and drop those cubes in Cuban recipes as they are cooking.
If all the above don't sound appealing to you, You can also use freezer bags. Freeze any leftover sofrito, remove any air and lay it flat. Be sure to put the date on it and use it within six months
Why can't you just microwave the glass jar after removing it from the freezer?
Well, I am not a fan of thawing meals in the microwave. I find that food tends to get soggy and lose some of its flavors. Heating it stove top will ensure that it retains its flavors and color.
I am totally a snob when it comes to the microwave, right? I think it comes from growing up never having one. It always made use cook food differently.
How do you store it?
Always use a glass jar to store sofrito because glass will not react with the tomato. You can also use ziploc bags. Either way works fine, but, I always make sure I put "date made" on anything I freeze. This way, I know how long its been since I made it.
My favorite thing to refrigerate is Kale chips with sriracha. I grind it up and keep it refrigerated to use as a topping in soups or sandwiches.
What kind of tomatoes do you use?
Traditional sofrito recipes tend to use plum or beef stock tomatoes. If you can't find them, use tomatoes on the vine or even cherry tomatoes.
When I made the recipe for Deb, I used plum tomatoes, which were the perfect texture for the Cuban bowl. However, I had an heirloom tomato left over from my Tomato granola recipe and I figured it would be perfect for use in this recipe.
It doesn't matter what kind of tomatoes you use. The only thing to note is that they have to be firm. Don't use ripe tomatoes because they tend to be slightly on the sweeter side
What to put into sofrito?
Garlic, cilantro, red peppers, onion, olive oil, green or red bell pepper and spices. This will make about 1/2 cup to 1 cup of sofrito
If you want to go nuts with the onion and garlic amounts, I am all for it! I always add a little extra because I love the flavors.
Ingredients in sofrito
– Garlic
– Cilantro
– Red peppers
– Onion
– Olive oil
– Green or red bell pepper and spices.

This will make about 1/2 cup to 1 cup of sofrito
What to make with it
Cuban food is slowly becoming like second nature to me. I love the powerful flavors of this cuisine and all its colorful vibrancy.
My first attempt at true Cuban cuisine was these Vegan Cuban Picadillo. Its one of my all time favorite pressure cooker recipes and its so easy to prepare!
So, in what recipe will you add sofrito?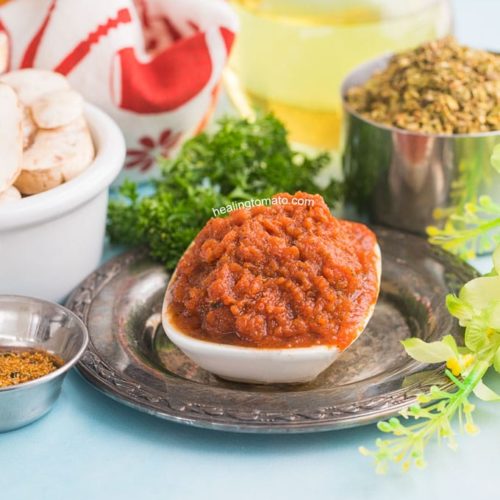 Sofrito Recipe
Quick and easy Cuban-Style Sofrito Recipe

Ingredients
1

heirloom tomato

Purple colored, roughly chopped

1/4

red onion

roughly chopped

1/2

green bell pepper

roughly chopped

3

cloves

garlic

1/4

cup

water

1.5

tsp

lemon juice

1/2

cup

fire roasted tomatoes

1/8

tsp

Cuban seasoning
Instructions
Put all the ingredients for the sofrito into a blender and blend until smooth

Heat a strong bottom pan on medium heat


Gently transfer the blender ingredients into the pan


Heat on medium heat for about 5-10 minutes until water has dissipated

Set aside to let it cool.
Notes
– If you plan to freeze the sofrito, make sure its cooled to room tempreture
– For freezing, use glass bottles or ziplock bags only
Nutrition