Take your regular spring salad and put it on flatbread pizza. This is a quick meal and fun pizza night recipe. Flatbread made from Naan, Pesto & Cheese
Punxsutawney Phil can tell you when winter is going to be done. I have my own way of seeing when spring has began.
When I see delicious varieties of tomatoes all around me, that is how I know that spring has sprung
Spring is in the air because I just saw my local grocery store make extra stands just for the new varieties of tomatoes that are about to make their spring debut.
I feel the need to cleanse myself from all the winter blues with this healthy salad recipe. Sure, there is heaps of cheese on the flatbread. My opinions is that if I cannot see the how much cheese in the recipe, then there is no cheese in it.
The weather is just too nice, so, I didn't want to waste my day sweating in a hot kitchen. Instead, I put together a very quick spring salad and took it to a picnic.
I have learned the secret to a good spring salad recipe. It is color! A vibrant salad recipe will get me to dig in with two forks!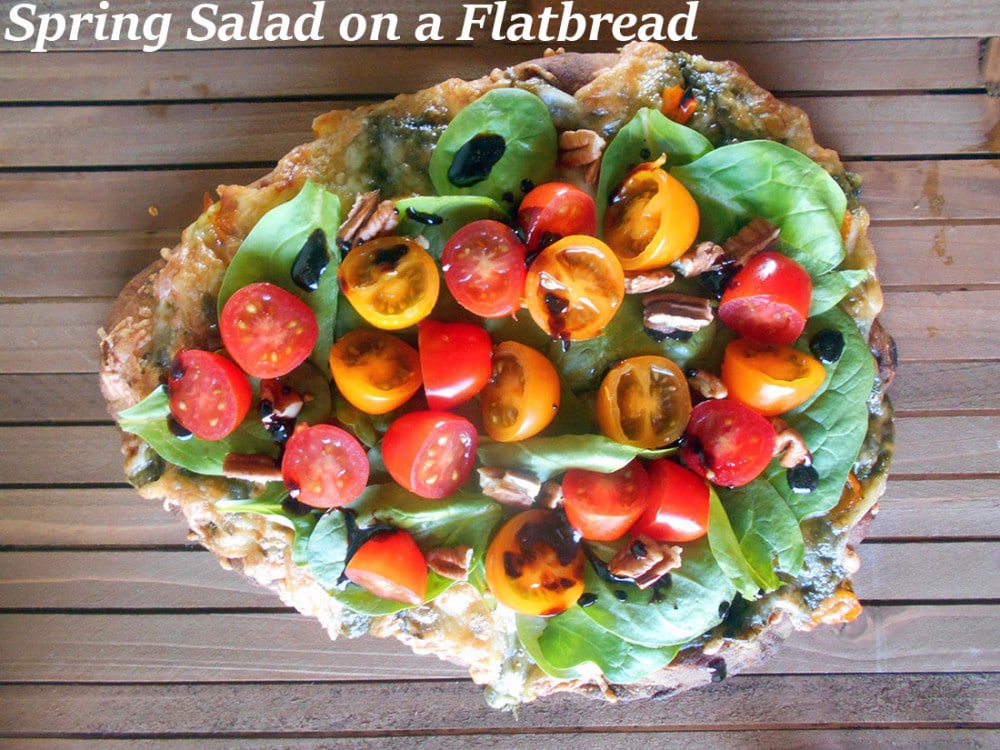 Make this spring salad when you are by yourself because I guarantee you that you will not want to share it with anyone.
It is that good.
Last year, I made a simple Mediterranean tomato salad that is perfect for the spring season. The blueberry vinaigrette is my go-to dressing for spring.
I should have used it for this spring salad recipe.
Instead, I went with a balsamic vinaigrette reduction. If you can find this pomegranate balsamic vinaigrette, use that for the reduction. It is the perfect blend of sweetness and sourness.
The spring salad in top of a homemade cheesy flatbread that is topped with tomatoes and pesto
Also, since it is already sweet, I didn't have to add too much agave to it.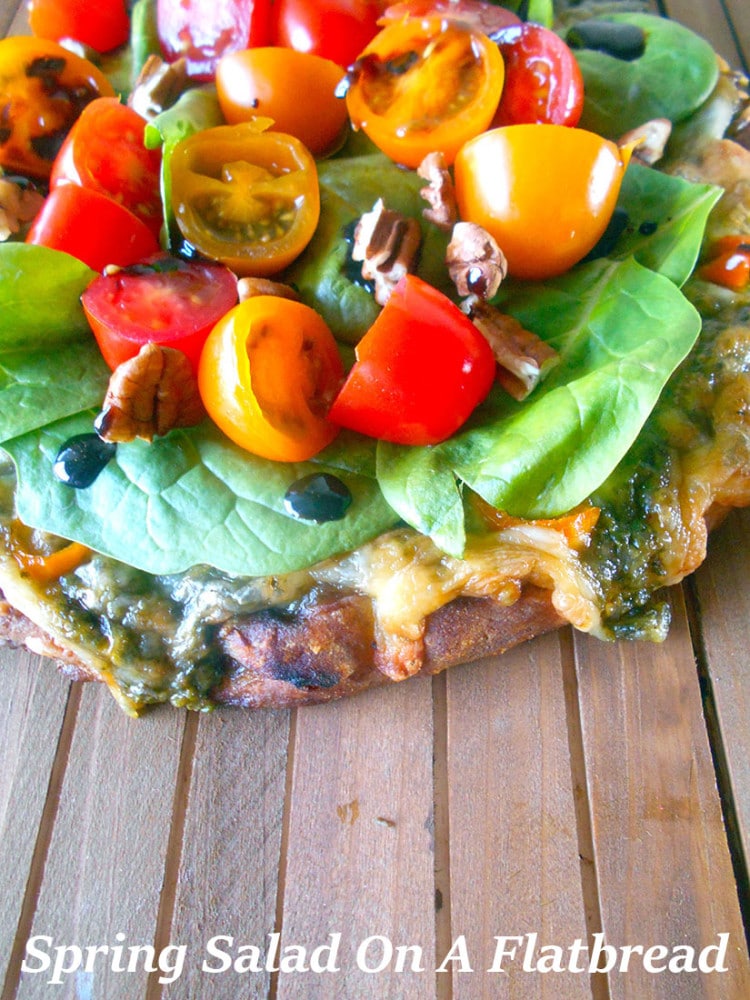 What is your favorite thing about Spring?
Spring Salad On Flatbread Pizza
Take your regular spring salad and put it on flatbread pizza. This is a quick meal and fun pizza night recipe. Flatbread made from Naan, Pesto & Cheese
Ingredients
For The Balsamic Reduction Sauce
3/4

cup

pomegranate balsamic vinaigrette

1/2

cup

agave
For the Flatbread Pizza
1

flatbread

or naan

1

cup

basil pesto

2

cup

pepper jack cheese

2

mini sweet peppers
For the Spring Salad
2

cup

baby spinach

1

cup

red cherry tomatoes

(each cut into half)

1

cup

yellow cherry tomatoes

(each cut into half)

1/4

cup

pecans
Instructions
Prepare the balsamic vinaigrette reduction
In a medium pan, add the pomegranate balsamic vinaigrette and agave

Heat on high heat and bring it to a boil

Reduce heat to low and simmer for about 10 minutes

Let it cool for about 5 minutes
Assemble the Recipe
Prepare the Flatbread first. It is very simple to make.

Take the baby spinach and top it on the flatbread. Be generous


Cut the 2 varieties of cherry tomatoes into half and top it on the flatbread

Top the pecans (Walnuts work great also)

Drizzle with the balsamic vinaigrette reduction