Quick, easy sweet potato fries.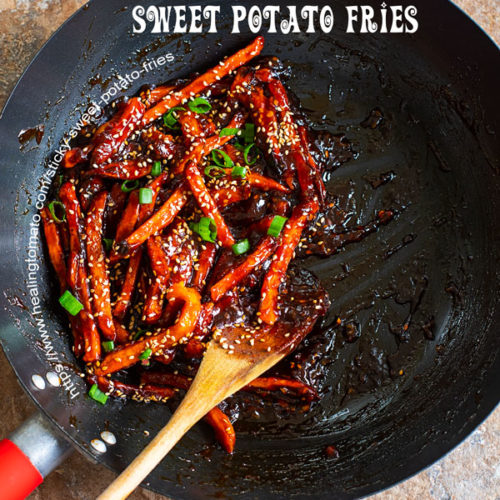 Oven Roasted Sweet Potato Fries mixed with sweet, spicy and sticky sauce. These sticky sweet potato fries are definitely delicious and completely worth all the sticky mess!
Do you love sweet potato fries?
Of course you do! Who doesn't love them!
Potato fries of any kind are a huge attraction and practically irresistible!
I have never been able to resist a French fry, if its put in front of me.
Once in a while, I like to change up my French fries. Remember my sweet potato wedges or butternut squash french fries.
How These Sticky Fries Came To Be!
The other day, I ordered the Chinese broccoli and I had some of that sticky sauce left over on my plate.
On the other side of the table, I had a friend who ordered French fries and let me taste one them.
(Well, technically, it was more like I invited myself to try those fries without asking for permission!)
There was no ketchup left and I was too lazy to get up for ketchup packets!
So, I dipped them into the sauce left over from my broccoli sauce.
The rest is sweet potato history!
Sometimes, laziness does pay off in a big way!
Tips For Making These Sticky Sweet Potato Fries
– Make sure you use thick sweet potato fries and not shoe-string cut because they will hold the sauce
– Don't mix the sauce and sweet potato fries until you are ready to eat them. Otherwise, they will get soggy and clumpy
– Eat these sticky sweet potato fries immediately. They don't freeze well
– You can also use regular potatoes instead of sweet potatoes
– If some of the sweet potato fries are really long, cut them into half because they will be easier to manage in the wok
Since I was short on time, I thought it would be faster to use frozen sweet potato fries. But, you can make your own sweet potato fries from fresh sweet potatoes. If you have time, I think fresh sweet potatoes would be even better.
P/S Do you know how to bake the perfect sweet potato? Check out my 5 tips on baking the perfect sweet potato
I also wanted to add more ingredients in these sticky sweet sauce. What do you think of having these ingredients?
– Red onion (julienned and added as garnish)?
– Mushrooms (very thinly sliced)?
– Bell Peppers (Red or Green, julienned)?
– Bean sprouts (as garnish)?
– Broccolini Rabe (Instead of the sweet potatoes)?
If you are not sold on using sweet potato fries with this sauce, you can still use the sauce as a base to add other ingredients. This sauce is so versatile that it will go with almost any ingredient.
My favorite has always been with steamed broccoli, but, I think tofu, noodles and maybe even pasta will work with the sticky sauce?
This recipe was also a chance for me to use my wok again. I used it to make my kadai paneer and it has been my most used kitchen pan since then. This recipe works very well if you use a wok. Here is one I recommend from Amazon (affiliate link) PFOA-Free Jumbo Wok.
So, did you try these sticky sweet potato fries? Be sure to rate this recipe in the comments section below. I am always eager to hear from all of you.
If you are looking for a few more vegan French fries recipes, check out these sweet potato poutine by Take Two Tapas. She uses marshmallow fluff that you can easily make at home using aquafaba, (affiliate link) cream of tartar and vegan white sugar. Whip up the ingredients until its nice and fluffy.
Check out my useful guide on what vegans don't eat and some helpful alternates to your favorite non-vegan ingredients.
Want more Sweet potato Recipes?
[one-third-first]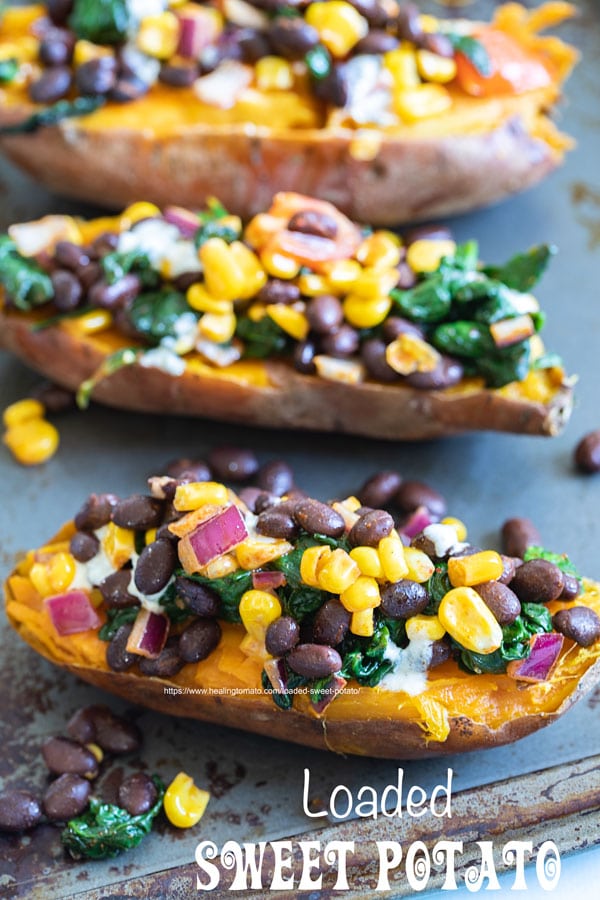 [/one-third-first]
[one-third]
[/one-third]
[one-third]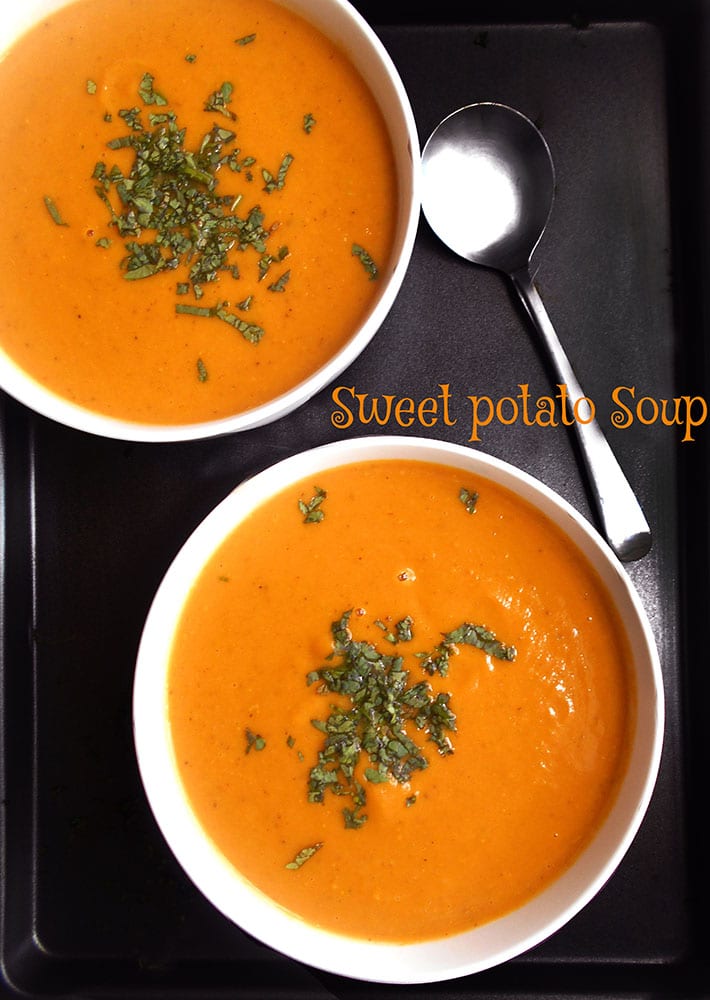 [/one-third]
[one-half-first][/one-half-first]
[one-half][/one-half]
Sticky Sweet Potato Fries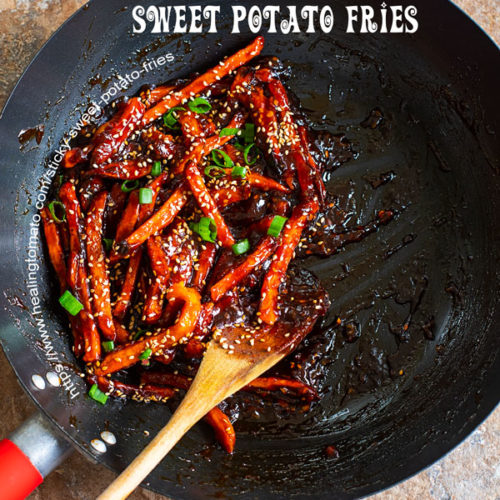 Sticky Sweet Potato Fries
Quick, easy sweet potato fries.

Print
Pin
Rate
Instructions
To roast the sweet potato fries
Preheat oven to 425°


In a baking tray, spread out the sweet potato fries. Cut the long ones into halves


Oven roast the french fries for 25 minutes


Remove and set them aside

To Make the Sticky Sauce
In a heated jumbo wok, add the oil


Add the garlic and ginger. Heat until lightly browned


Add the sweet chili sauce, ketchup, soy sauce, agave and white rice vinegar


Whisk as you add the ingredients


Bring it to a boil on medium heat (takes about 5 minutes)


While you are waiting for the mixture to boil, prepare the corn starch


In a small bowl, add the corn starch and water. Mix well


Turn the heat of the wok to low


Add the corn starch to the sauce with one hand, while whisking it with the other hand


Continue whisking until the sauce is sticky


When the sauce is well blended and sticky (about 2 minutes), turn of the heat


Add the roasted sweet potato fries


Mix well before topping with the sesame seeds and green onions


Serve immediately

Nutrition
Calories:
1148
kcal
|
Carbohydrates:
241
g
|
Protein:
21
g
|
Fat:
12
g
|
Saturated Fat:
1
g
|
Sodium:
2752
mg
|
Potassium:
3501
mg
|
Fiber:
30
g
|
Sugar:
70
g
|
Vitamin A:
138535
IU
|
Vitamin C:
27.1
mg
|
Calcium:
394
mg
|
Iron:
8.1
mg