This yummy strawberry shortcake cookies recipe is inspired by strawberry shortcake without the mess. It is a cardamom recipe & that makes all the difference
Recently, a friend challenged me to make fruit cookies that would be perfect for summer.
The result of this challenge is this delicious strawberry shortcake cookies
And the star of this recipe was…… CARDAMOM!
Fresh strawberries and cardamom gave this strawberry shortcake cookies a wonderful aroma when they came out of the oven.
I wish I could bottle that scent and market it because the aroma is very soothing.
Strawberries can be challenging to work with, especially if they are going to be baked using high heat.
The challenge is to make sure that the strawberries don't get burnt during the baking process and also make sure that they don't lose their illustrious red color in that same process.
Lucky for me, I have genius friends who came up with a sure-fire way to bake strawberries to perfection!
Last summer, I had a friend make strawberry shortcake using a variation of this recipe.
It was, by far, the best strawberry shortcake I have ever tasted. The blend of butter and flour was just the perfect ratio. She also added whole strawberries and that was a nice touch.
The strawberries melted in my mouth almost immediately. The secret to her recipe was the unsalted butter. She melted half of the butter and then coated the strawberries with it.
Then. she set the strawberries aside for 20 minutes before being put into the batter and baked.
In my recipe, I add a little freshly ground cardamom to the melted butter. After cutting the strawberries into tiny pieces, I marinated them in this butter and cardamom mixture.
Fair warning: This recipe is very heavy on the calorie side. Sorry!
If you want to reduce the calories, don't marinate the strawberries. Just add them to the recipe directly and add the cardamom to the flour before adding the butter.
Check out my strawberry salad dressing and strawberry cupcake.
This strawberry shortcake cookies recipe was adapted from Martha Stewart's recipe.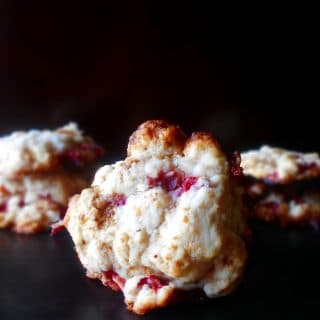 Strawberry Shortcake Cookies
Strawberry Shortcake Cookies – This yummy cookie recipe is inspired by strawberry shortcake but without all the mess. This is a cardamom recipe and it makes all the difference
Ingredients
1

lb

Strawberries

1

tsp

lemon juice

½

cup

granulated sugar

2

cups

All-Purpose Flour

2

tsp

baking powder

1

tsp

Kosher salt

4

ounces

unsalted butter

1

ounce

unsalted butter

for marinating strawberries

2

tsp

cardamom seeds

ground

1

cup

heavy cream

or full fat cocconut milk
Instructions
Preheat oven to 375 degrees

Remove the green leaves from strawberries and cut into small pieces

Melt the 1 ounce of butter and stir cardamom to it

Drizzle this butter and cardamom mixture on top of the cut strawberries and coat it well. Let this strawberry butter marinate for about 20 minutes
Preparation
Mix the Flour, baking powder, sugar and salt together

Cut the butter into small pieces and add it to the flour mixture

Add the heavy cream slowly to this flour mixture until the dough is rough in texture

Add the marinated strawberries to the flour mixture and mix well.

Spray some cooking spray on a baking tray

Make small balls of the strawberry shortcake cookies dough and line them up on the baking tray

Place the baking tray in the oven and bake for about 25 minutes.

Remove the baking tray from the oven and set aside to cool
Serve the strawberry shortcake cookies with a glass of cold milk
Notes
Nutrition info is approximate