Stuffed Shells made with vegan cream cheese, spinach and pistachios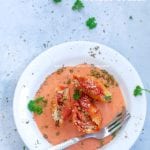 Stuffed Shells made withe vegan cream cheese, spinach and pistachios. Its perfect dinner for two to enjoy on date night at home. Its a stress free meal to make with very little effort, so, you can spend more quality time with your love!

Disclaimer – All sponsored posts must have the disclaimer: This post is sponsored by BabbleBoxx.com on behalf of Bertolli®
Is there a more romantic dinner than pasta shells stuffed with pistachios and bathing in delicious tomato sauce?
No, there isn't!
Today's stuffed shells recipe is all about celebrating the love of your life and for me, tomato is on top of the list!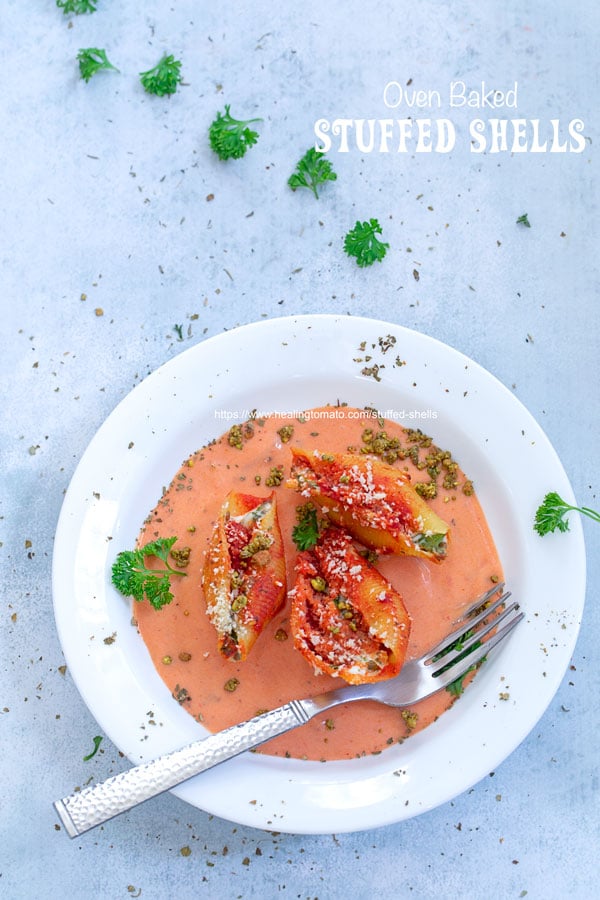 Tips for making these stuffed shells
– You can make the stuffing the night before and refrigerate
– Ideally, you want to make the shells about an hour before eating them. However, you can also cook the shells the night before, but, store them in a container and refrigerate
– Use unsalted pistachios for the stuffing, but, if you can't find unsalted, use salted and reduce the amount of lemon pepper
– Use fresh herbs, if you can. Dried herbs will work too, if you can't find fresh ones
– Instead of using a casserole dish, use a Dutch oven because it really does a great job of evenly cooking the shells. It made my vegan paella fluffy and soft
– Nutmeg is my favorite part of the stuffing. Do not skip it! It has a nice aroma and flavor to the recipe
– The sauce itself is vegetarian, but, I preferred using vegan cream cheese in the stuffing. Its lighter in flavor than regular cream cheese
– Once again, instead of Parmesan cheese, I recommend panko breadcrumbs. As I dsicovered in my casarecce pasta recipe, breadcrumbs are so much better than cheese.
About Bertolli® Sauces
I love Bertolli's® Tomato and Basil Sauce in this stuffed shells recipe because its the perfect marinara sauce. When its a busy night and I have very little time, their sauces are a huge lifesaver! Its the tomato and basil has to be my favorite!
In the past, I have used their pasta sauce to make vegetarian lasagna and fettuccine pasta! Its the perfect meal!
– Their sauce is USDA Organic and they only put non-GMO ingredients in it like
Plump tomatoes
Extra virgin olive oil
Romano Cheese
– This sauce is also USDA Organic Product and made with non-GMO ingredients bringing authentic flavors to my table!
Fresh cream
Whole milk
Real butter
Aged Parmesan
Romano cheeses
Are you following Bertolli on their Social accounts? They are always sharing fun stuff and recipes: Pinterest, Facebook, Twitter, Instagram
Making The Rosa Sauce

– Add 1 cup Bertolli® Organic Creamy Alfredo Sauce to a sauce pan
– Next, add 1 cup Bertolli® Organic Tomato and Basil Sauce to the Alfredo sauce
– Add crushed pistachios (optional)
– Heat on medium heat for 3 minutes and then turn off the heat
– Put some of the sauce on the plates and then top with the stuffed shells
Making These Stuffed Shells
– Preheat oven to 400°
– Cook 8 pasta shells according to instructions. Be sure to drain all the water from it
– Use a strong bottom pan and heat it on low for 30 seconds before adding the garlic
– Add baby Spinach to the pan with the stems cut off. Do not stir it and keep heat at low
– While the spinach is cooking, add pistachio shells, lemon pepper, rosemary, parsley, nutmeg and oregano to a food processor. Grind them to almost powder form
– The spinach should be cooked to half its size. Give it a stir
– Add vegan cream cheese to the pan
– Gently work in the cream cheese with the spinach until smoothly blended
– Add the pistachio mixture to the cream cheese mixture
– Mix everything together and let it cook for about 1 minute on low heat
– Stuff the 8 shells with this spinach and cream cheese mixture. You will have about 1/4 cup of the mixture left over which will be added to the Dutch oven
– In a Dutch oven, add a very thin layer of Bertolli® Organic Traditional Tomato & Basil Sauce
– Arrange the stuffed shells in the Dutch oven. Keep some space between them to make sure they don't stick
– Put all the remaining Bertolli® Sauce in the pan. Cover the shells with the sauce too
– Add the remaining stuffing in between the gaps
– Top with the homemade panko breadcrumbs
– Close the lid and place the Dutch oven in the preheated oven. Cooke for 20 minutes and then turn off the oven but leave the Dutch oven inside for another 10 minutes
– Remove from the oven and place the stuffed shells with the Rosa sauce, including some of the tomato sauce from the Dutch oven
So, with which sauce will you be serving these stuffed shells?
Stuffed Shells
Stuffed Shells made with vegan cream cheese, spinach and pistachios
Print
Pin
Rate
Ingredients
For the Rosa Sauce
2

Tbsp

pistachio

finely ground
Instructions
Preheat oven to 400°

Cook 8 pasta shells according to instructions

Use a strong bottom pan and heat it on low for 30 seconds before adding the garlic

Add baby Spinach to the pan with the stems cut off. Do not stir

While the spinach is cooking, add pistachio shells, lemon pepper, rosemary, parsley, nutmeg and oregano to a food processor

Grind them to almost powder form

The spinach should be cooked to half its size, so, stir to mix garlic

Add vegan cream cheese to the pan

Gently work in the cream cheese with the spinach until smoothly blended

Add the pistachio mixture to the cream cheese mixture

Mix everything together and let it cook for about 1 minute on low heat

Stuff the 8 shells with this spinach and cream cheese mixture

Set aside any of the leftover stuffing

In a Dutch oven, add a very thin layer of Bertolli® Organic Traditional Tomato & Basil Sauce

Arrange the stuffed shells in the Dutch oven

Put all the remaining Bertolli® Sauce in the pan. Cover the shells

Add the remaining stuffing in between the gaps

Top with the panko breadcrumbs

Close the lid and place the Dutch oven in the preheated oven

Cooke for 20 minutes and then turn off the oven

Leave the Dutch oven inside for another 10 minutes
To Make the Rosa Sauce
Heat a medium sauce pan


Add the Alfredo and Tomato sauce to it


Add the ground pistachio


Heat for 3 minutes and then turn it off


Layer a plate with the Rosa sauce


Top with the stuffed shells


Garnish with parsley and serve

Notes
- Be sure to drain all the water from the cooked pasta shells before stuffing them
Nutrition