A quick simple recipe for stuffed tomatoes using Vine-ripened. This recipe has rice, broccoli and corn. The Thai chilies give this recipe an added spice.
Stuffing tomatoes is one of my favorite ways to eat tomatoes
Add cheese and basmati rice to it and you have HEAVEN on a plate!
MY LATEST VIDEOS
I got a sweet (affiliate link) kitchen chopper for Christmas and it is now my favorite kitchen gadget
I didn't realize what I have been missing all this time until I took the new food chopper for a spin (intentional pun!)
My new chopper's maiden voyage was to make tomato sauce out of the insides of vine ripened tomatoes. The pulp was processed faster than the speed of lightening.  I hadn't even taken my finger off the chop button and the tomato pulp had already turned into sauce.
So, why did I scoop out and pulp the insides of a few vine ripened tomatoes?
Simple! I wanted to turn them into stuffed tomatoes.
Look at the difference between the old one (left) and the new one (right)!  I think I should keep my old chopper around just as a keepsake.
Now, let us dive into this stuffed tomato recipe.  It is so simple and tasty, but, don't take my word for it. Try it for yourself and you will see what I mean.
The tomatoes I used are of the Tasti-Lee brand. When I went into the grocery store last week, I noticed this tomatoes were marked as, "New Item".  Now, anytime Tomato varities are marked as "New", I take it as a sign meant just for me!! I give in to temptation and throw a few boxes into my shopping cart!
These tomatoes are vine-ripened naturally and infused with extra lycopene. At least, that is what Tasti-Lee proclaims on their website. All I cared to know was how they tasted.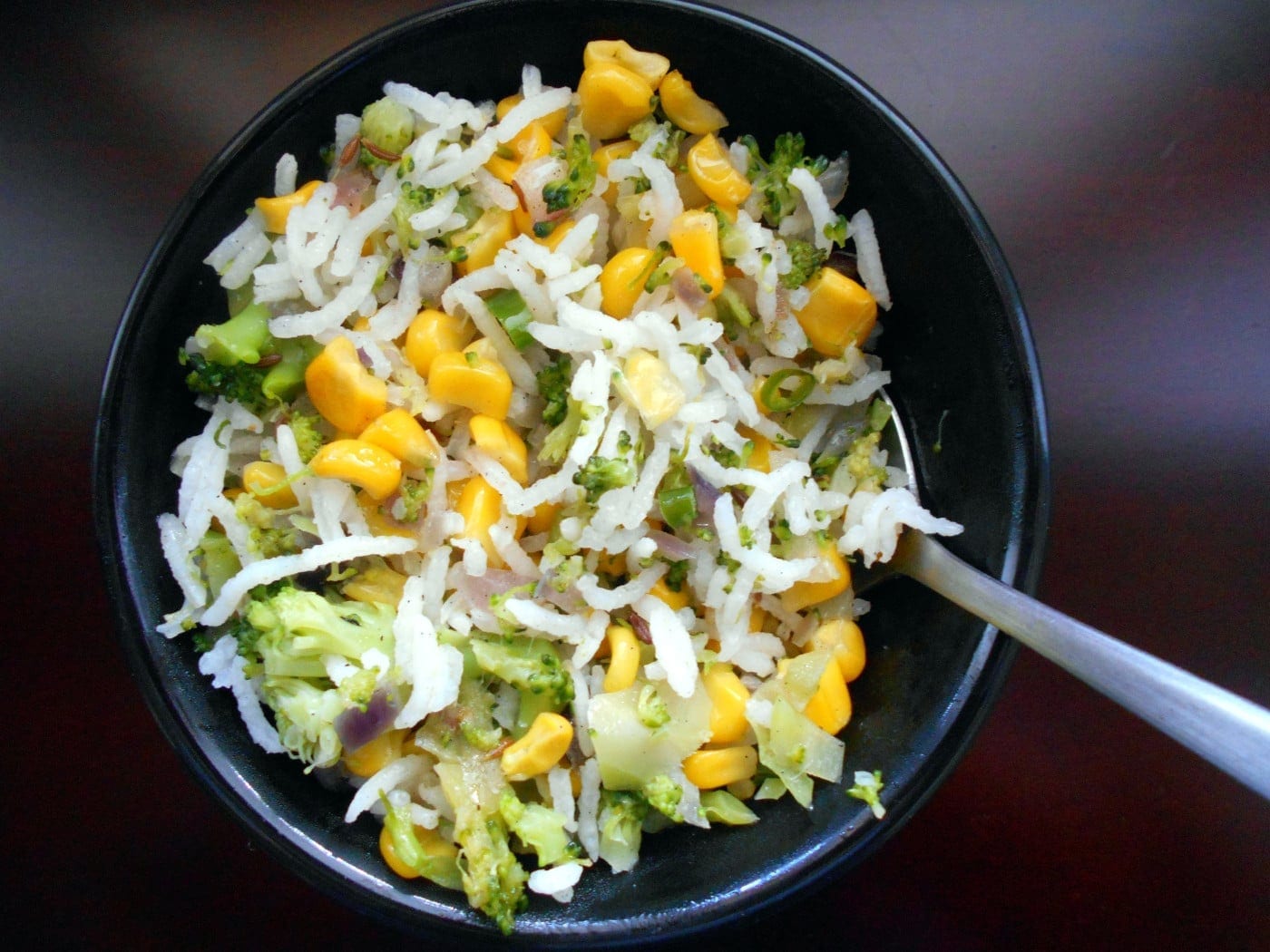 I am happy to report that they tasted really good! They were very soft and semi-sweet. They also tend to cook a little faster than Roma tomatoes which make them ideal for stuffing.
Do you ever find yourself creating fancy or colorful dishes just to get the picky eaters to eat their vegetables?
To get some members of my family to eat broccoli, I have to use this stuffed tomato recipe. That gets them half interested. It is the cheese that they are really attracted to.
For my recipe, I used Basmati rice because it is the only rice I know.  However, you can make it using any rice. I hear Jasmine rice would work great for this recipe.
What did your family get you for Christmas? And how was the gift's maiden voyage?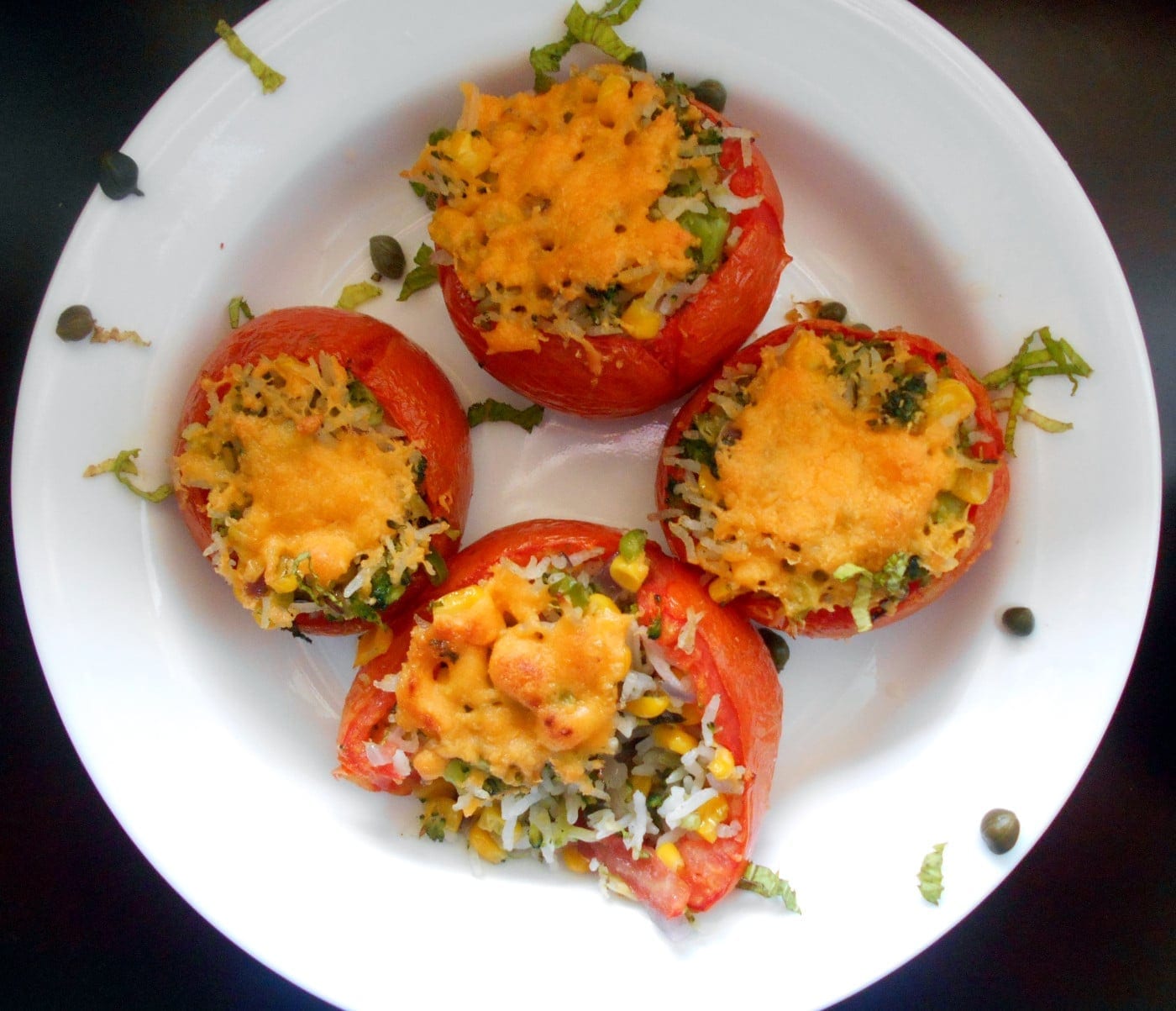 How to make Stuffed Tomatoes
Stuffed Tomatoes
Ingredients
1

cup

broccoli

(Fresh if possible, otherwise you can use frozen)

1

cup

sweet baby corn

1/2

cup

Basmati rice or brown rice

1/4

red onion

2

tsp

capers

3

Thai chilies

(optional)

1

tsp

cumin seed

2

tsp

Extra Virgin olive oil for cooking

2

tsp

of olive oil to brush the tomatoes

2

tsp

salt

(or to taste)

2

tsp

crushed black pepper

1/2

cup

shredded sharp cheddar cheese

2

cups

water
Instructions
Pre-preparation
Preheat the oven to 385 degrees

Rinse the rice using cold water

Add water to a small pot and add the rinsed rice

When the water start boiling and the rice grain has doubled in size, drain the water and set the rice aside

Chop the onions

Cut the tops of the tomatoes and core them. Save the inner pulp for future recipes

Use a paper napkin to suck up any extra moisture and juice from the inside of the tomato

Using a brush, oil the inside and outside of the tomatoes. Make sure they are well coated.

Whether you are using fresh or frozen broccoli, make sure it is chopped really small
Preparation
Put the tomatoes in a baking dish. Put the dish in the oven and allow them to bake for about 25. The tomatoes need to be roasted well before they can be stuffed, so, adjust time according to your oven

In a medium saucepan, add the oil and allow get warm

Add the cumin seeds and allow them to brown a little

Add the onions, broccoli, Thai chilies and corn

Add the salt and pepper

Allow the broccoli to sauté until it is well done. Turn off the heat

Mix the rice with the broccoli mixture.

Add the capers and mix well.

Stuff the tomatoes with the mixture. Don't be afraid to pack in as much of the mixture as you can.

Top the stuffed tomatoes with the shredded cheese and place the baking tray back into the oven

Bake for another 15 minutes or until the cheese has melted completely
Remove from oven and allow cooling for a few minutes.