10 Minute, quickly sauteed sugar snap peas recipe with mint and ginger mixture. This stir fried snap peas are an easy summer vegan side dish to make.
Sugar Snap Peas and I don't always get along.
We have had a tumultuous relationship because we don't seem to understand each other!
Until now?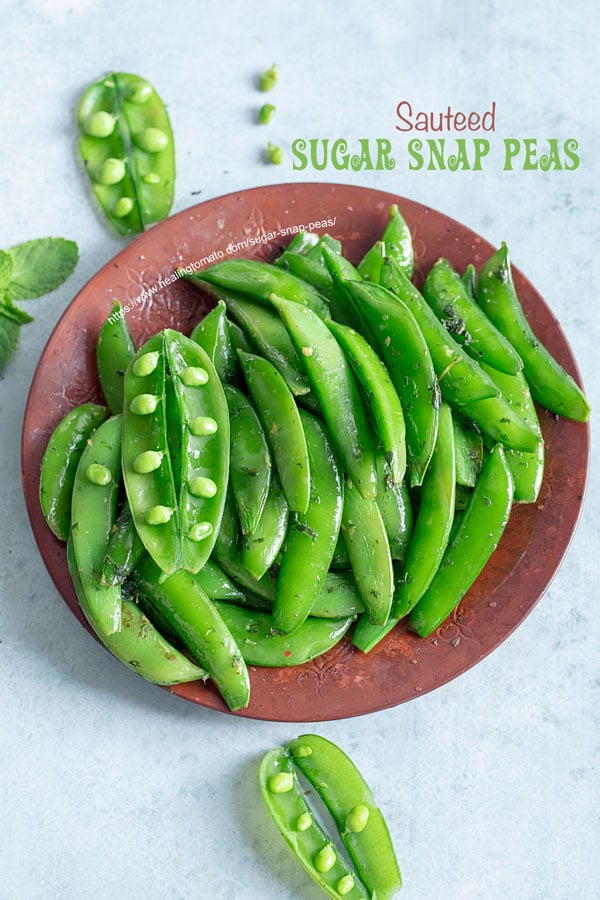 Tips for Working With Sugar Snap Peas
– To keep the sugar snap peas crunchy, don't cook them in water. That means no boiling or steaming them
– Remove the "thread" from the pea pods (AKA trim sugar snap peas) for the best taste results. Its a tedious process, but, totally worth it.
– Some grocery stores will sell the trimmed snap peas. If you find those stores, give the workers a huge hug! They deserve it. 🙂
– Personally, I am not a fan of freezing the peas, but, if you have a huge supply that you can't use up in time, freeze them without cooking.
– Growing sugar snap peas is, well, a 'snap'! 🙂 Check out all the tips and tricks on growing them via Bonnie Plants and Frugal Family Home
Sugar Snap Peas vs Snow Peas
The basic difference is the size of the two. Sugar snap peas have thicker and sturdier pods. The pods are "puffy" in shape because they have empty space inside the pod
The peas inside the sugar snap peas are larger in size compared to snow peas. They also taste sweeter and can be eaten individually
Snow peas, on the other hand, have teeny tiny peas and their pods are almost flat in shape. They can't be split open to remove the peas because its just pointless to do so
Snow peas tend to cook faster and are perfect for stir fry recipes. Check out my stir fry snow peas with carrots recipe.
It took me forever to realize the difference between sugar snap peas and snow peas! But, now, I feel like I am a pro at telling the difference! It took a lot of trips to farmer's markets, grocery stores and cooking them repeatedly!
I loved every minute of the experimenting and learning about both of them. Do you prefer snow peas or snap peas?
Sugar Snap Peas FAQs
How to cook sugar snap peas on the stove top
To keep them crispy, don't steam or microwave them. In a large pan or wok, add a little bit of oil and heat for 30 seconds.
Add the snap peas and cook for 3 minutes on both sides.
Add flavorings like salt, ginger, garlic, seasonings and lemon
Transfer to serving plate and serve immediately
How to eat sugar snap peas
Sugar snap peas can be eaten with the pod itself. The pod is edible and said to have tons of fiber. Source: Live Strong
Can sugar snap peas be shelled
Yes, you can shell the pea pods and eat them. If you are not a fan of eating the pods, the peas are perfectly delicious by themselves. Cook them the same way as the pods by stir fry them lightly in a wok or pan. Season it and serve immediately
As for the pods, they can be used as compost or put them with other veggies to make a broth out of it.
How to trim sugar snap peas
Trimming sugar snap peas is a "snap"! Hold one pea pod with the curvy part facing you.
Take the edge with the thread or tip of the peas and pull along the curved side.
That's it!
If you can find the trimmed version at your local grocery store, get those because they are huge time savers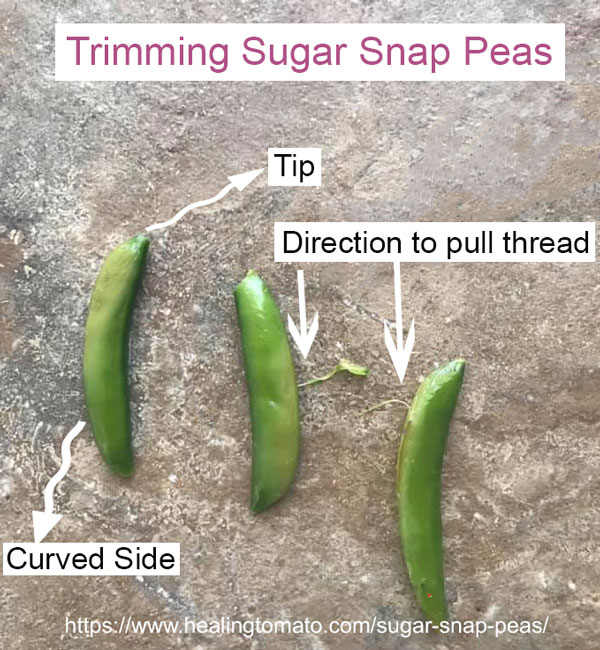 How to Store Sugar Snap Peas
– Store uncooked peas in a zip lock bag and wrapped in a paper towel. The paper towel will absorb the moisture and keep them from drying
– On the zip lock bag, write the date you wrapped the peas. Use it up within a week of wrapping it up
– Freeze them by laying the zip lock bag flat in the freezer. Do not put any heavy items on top of the bag because it will break the pods
Muddling the mint
The mint is the best part of this recipe because it adds a very unique flavor to the peas. Sweet pods and mint are the perfect combination
But, I muddled the mint because it retains all the flavors of it. I think muddling mint is better than putting it in the food processor. I don't know why it tastes better to me, but, it really does.
I like using this (affiliate link) wooden muddling tool which does an AMAZING job of muddling mint, basil, sage and even coriander! Those are the herbs that I have tried muddling and the results are a huge success!
Start with muddling the mint by itself using the muddling tool and a small bowl. I used about 40 leaves which I muddled a few at a time. Then, I added 2 small ginger pieces and salt.
Muddle all the ingredients, add lemon juice and add it to the cooked snap peas. Mix it gently and serve immediately
If you don't have a muddling tool, use a mortar and pestle. I like using a (Affiliate Link) granite mortar and pestle which is very cheap at Amazon.
Food processor will work too, just in case you don't want to use the muddling tool or the mortar.
Other Sugar Snap Pea Recipes

– Snap peas don't have to be eaten by themselves. Debra put them into a hearty Mediterrranean salad and it looks delicious!
– Michelle put them in a garlicky recipe and I am here to tell you, it is PERFECT! The snap peas remain crunchy and the garlic flavor melds so well with the sweetness of the peas.
– Debi has gotten very creative with her recipe. She roasted onions and topped it with ingredients like sugar snap peas! It is definitely one of a kind recipe that I just can't wait to try!
Sauteed Sugar Snap Peas Recipe
Sugar snap peas quickly sauteed and mixed with a light fresh mint mixture
Print
Pin
Rate
Ingredients
For the Mint Mixture
40

leaves

fresh mint

just the leaves, discard the stems

1

Tbsp

extra virgin olive oil

small

ginger

2 small pieces, each about the size of a quarter

1/2

tsp

pink himalayan salt

use regular salt if you don't have pink salt

1.5

tsp

lemon juice
For the Snap Peas
1.5

Tbsp

extra virgin olive oil

or you can sub with avocado oil

16

oz

sugar snap peas

I bought two 8 oz microwave ready sugar snap peas bags
Instructions
Preare the Mint Mixture
In a small bowl, start by muddling about 5 leaves and salt

Keep the muddled mint in the bowl and add 5 more mint leaves, plus a little of the oil

Muddle those and continue the same process until all the leaves and oil is used up

Add the two pieces of ginger to the mint

Muddle the ginger and add the lime juice
Prepare the Sugar Snap Peas
Heat a wok on medium heat for 30 seconds

Add the oil and heat for another 30 seconds

Gently put the sugar snap peas in the oil

Saute them on both sides (3 minutes per side)

Add the mint mixture and mix well

Turn off heat and let it sit on the stove for about a minute
Equipment
Muddler

Stainless Steel Pan
Notes
Estimated cost of this recipe is based on my purchase of the items from my local  Walmart
Nutrition