Easy summer fruit salad with quinoa mixed with a simple za'atar mint dressing. This vegan quinoa salad with berries, avocado and peaches is a summer favorite
Better late than never, right?
I have been promising this recipe ever since I posted my za'atar mint dressing.
This summer fruit salad recipe is totally worth the wait because its delicious, easy and nutritious!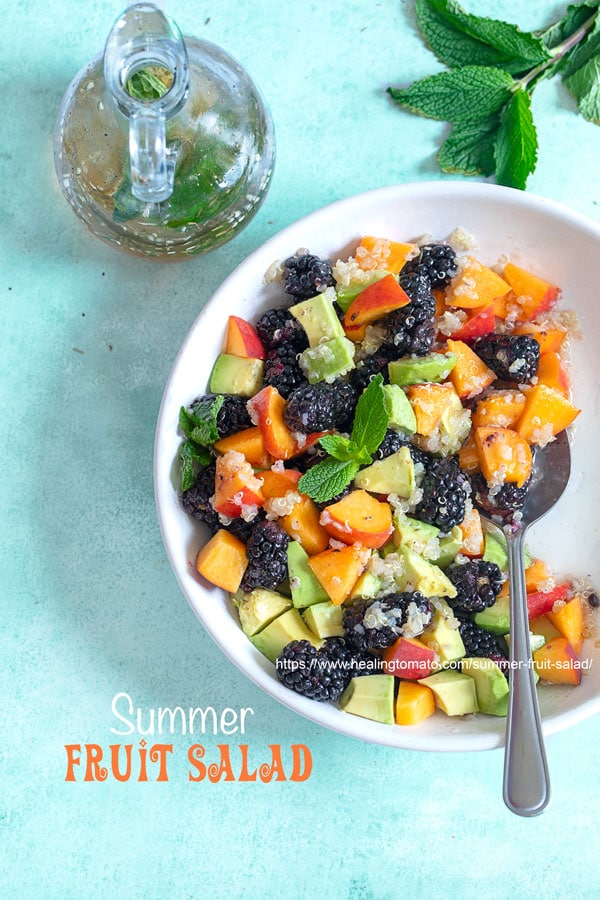 Tips for making this Summer Fruit Salad
Don't assemble this salad until about 30 minutes before you are ready to eat it. It will get soggy
Use any quinoa type in this recipe. I used the plain quinoa, but, I would have preferred using a tri-color quinoa, in this fruit salad recipe If I had it.
Make sure the avocado is not very ripe. My avocado in this summer fruit salad recipe is firm because I didn't want it to get mushy and ruin the texture of the recipe
Use a few leaves of fresh basil if you have it.
Go with with pecans or walnuts, if you have them handy. I had almonds only, so, that's why added them to quinoa fruit salad
For more nutrition, consider added flax seeds, chia seeds or hemp seeds
If you have left over mint, check out my tips on tricks on how to save mint and make it last longer
Fruit Salad Ingredients
Blackberry
Avocado
Peaches
Quinoa
Strawberries
Raspberries
Apples
Mandarin Orange
Pears
Blueberries
Dragon Fruit
The sky is the limit for the types of fruits you can use in this summer fruit salad recipe. I actually love avocado in a tomato salad too. It's a unique recipe that is packed with nutrition and good fats.
Quinoa with fruits is a great idea, trust me!
I have seen quinoa served in dessert recipes at restaurants and resorts. In my head, these two ingredients didn't go well together
I have used quinoa in paellas and Fajita recipes. To me, it was always a savory recipe.
But, a recent trip to Sweet Tomatoes in Orlando changed my perspective. My friend assembled a fresh berry salad with Ancient Grains Quinoa Blend. The colorful plate instantly grabbed my attention!
She topped it with a honey mustard dressing, which I found to be too strong for the fruit salad. The mustard did have a flavor of its own that didn't match the fruits
However, the combination of fruits and quinoa got the wheels turning in my head. I had to try my own summer fruit salad recipe for a delicious quinoa summer fruit salad
Tips for making the dressing
Use Sweet Fruit Salad Dressing – A dressing on the sweeter side is perfect for this summer fruit salad. The sweetness enhances the flavors of the fruit
Stay away from balsamic, mustardy, creamy, vinegary dressings. They add a tartness to the summer fruit salad instead of enhancing the flavors of the fruits
Make the dressing the day before and let it marinate overnight in the refrigerator
Use a light oil for this recipe. If you can find sunflower oil or safflower oil, use that instead of olive oil
The dressing should be kept in the fridge and it should last about 2 weeks
Store the dressing in a glass bottle
Best dressings to use with this salad
As you know, I am OBSESSED with homemade dressings. Anyone of these dressings will be perfect for this summer fruit salad
I used the Za'atar Mint Dressing for this recipe because the mint flavors with agave added the PERFECT flavors to the salad
Za'atar is my obsession. I have quite a few za'atar recipes, so, let me know which one you like
When to eat this salad
That is a very good question. I really wanted this to be a dessert salad, but, I have a feeling that it will work for any time of the day
If you are looking for healthy lunch ideas, this easy fruit salad will be perfect for a light lunch. The summer fruit salad packs quite a bit of nutrition.
This salad is also tailor-made for a brunch you are having with friends. I took it to a friends house a few weekends ago for Sunday brunch and was instantly at home with the Mimosas!
My friend got creative by using sweet pita chips as spoons to eat this summer fruit salad
Common questions when making this salad
Can I make this salad with cool whip?
I don't think quinoa and cool whip make for a great combo. So, if you want to add cool whip, omit the quinoa.
The traditional cool whip is not vegan friendly since it contains dairy. However, Redi-whip does make a dairy-free whipped cream. I haven't tried it, so, you try and let me know what you think.
Wal-mart is now selling the (NOT an affiliate link) non-dairy cool whip which makes it very easy to buy
I have created a helpful guide on what vegans can and can't eat
Can I add nectarines instead of peaches?
Absolutely! Nectarines work just as well in this fruit salad recipe. Try it and let me know what you think
Can I freeze this fruit salad
No, I don't recommend freezing this fruit salad. The berries will become mushy when you thaw it
Also, avocado turns brown when you freeze it. It also changes flavor and becomes a little sour
Every ingredient in my fruit salad recipe can't stand the test of being frozen. It makes me sad to say that. I really wish I could freeze it and make it last for a month
You can refrigerate it, but, use it up within 2-3 days of making it
Is it ok to use dry mint instead of the fresh mint?
Yes, you can use dried mint, but, it won't taste the same. There is something very aromatic and flavorful because of the fresh mint
But, if you don't have fresh mint on hand, go for the dry mint. You can add a little dried oregano to it for added flavor
Summer fruit salad – TLDR Version
This is something new I have started trying. Since my posts can be long (blame a certain search engine and NOT the food blogger for long posts), I thought I would put a quick summary of the recipe
Make the dressing the night before and refrigerate
Use tri-colored quinoa if you have it
Almost any summer stone fruits, berries and nuts will work in this recips
Assemble the salad about 30 minutes before you are ready to serve
Don't freeze the fruit salad because it will turn mushy
Serve it for brunch, lunch or as a dessert
So, now, its your turn to tell me what you think. Do you like the idea of quinoa and fruits together?
How to Make Summer Fruit Salad
Quick Summer Fruit Salad Recipe made with just a few ingredients. Perfect for a light lunch or a summer picnic
Ingredients
For the Dressing
½

cup

extra virgin olive oil

saffron or sunflower oil will work too

1

lemon

juiced

1.5

Tbsp

Za'atar

¼

cup

agave

see notes

½

tsp

salt

adjust to taste

3

mint leaves

finely chopped
For the Fruits
1.5

cup

blackberries

1

avocado

chopped (make sure avocado is slightly firm)

1

peach

chopped

1

cup

quinoa

cooked (½ cup uncooked)

2

Tbsp

almonds

whole or slivers
For Garnish (Optional)
4

leaves

fresh mint

4

leaves

basil
Instructions
Make the dressing
In a salad bottle, add all the ingredients

Refrigerate for 4 hours to overnight
Assemble the Salad (30 Min before serving time)
In a bowl, add all the fruits, quinoa and nuts

Add about 3 Tbsp of the salad dressing or adjust to taste

After 30 minutes, garnish and serve
Notes
– NUTRITION INFO IS APPROXIMATE
– Note that you will not use all the salad dressing for this recipe. I refrigerated my leftover dressing and used it in other salads during the week
– I added a little extra agave based on the recipe I am going to be using it in. Feel free to adjust it based on your recipe
– You can add flax seeds, pumpkin seeds, chia seeds, hemp seeds, pecans and/or walnuts
– Cooking ½ cup of quinoa should take about 10 minutes (Stove Top). While it's cooking, I chop the fruits. If you didn't have time to make the dressing the night before, you can make it while the quinoa is cooking. Then, give the salad dressing as much time to marinate as you can.