Easy summer fruit salad with quinoa mixed with a simple za'atar mint dressing. This vegan quinoa salad with berries, avocado and peaches is packed with nutrition and protein.
Better late than never, right?
I have been promising this recipe ever since I posted my za'atar mint dressing.
This summer fruit salad recipe is totally worth the wait because its easy and packed with proteins and vitamins.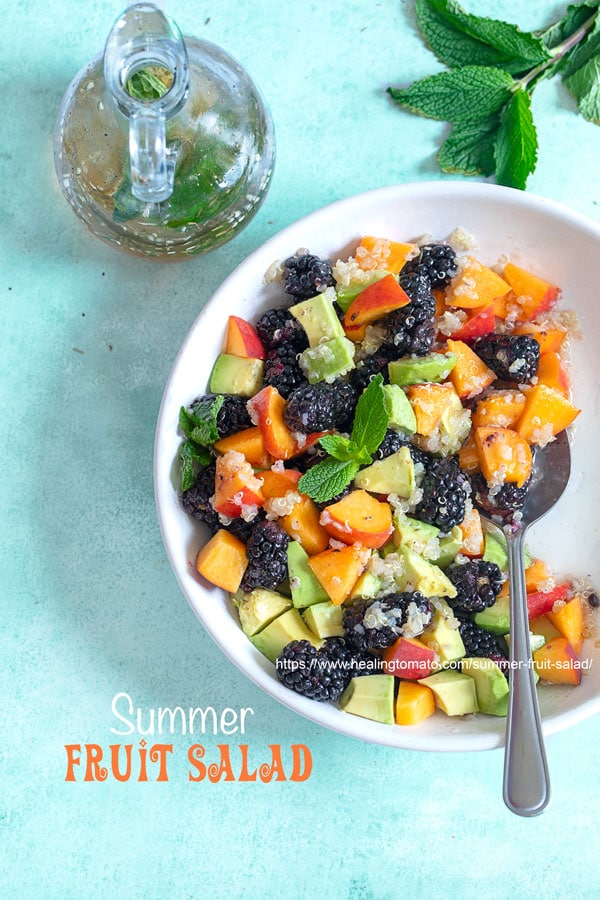 Best fruit for salads
Blackberry
Avocado
Peaches
Quinoa
Strawberries
Raspberries
Apples
Mandarin Orange
Pears
Blueberries
Dragon Fruit
The sky is the limit for the types of fruits you can use in this summer fruit salad recipe. I actually love avocado in a tomato salad too. It's a unique recipe that is packed with nutrition and good fats.
🍅 Handy Tip: Make the dressing the day before, store it in a glass jar and let it marinate overnight in the refrigerator. Shelf life of the refrigerated dressing is 2 weeks.
Quinoa with fruits is a great idea, trust me!
I have seen quinoa served in dessert recipes at restaurants and resorts. But, In my head, these two ingredients didn't go well together
Then, a recent trip to Sweet Tomatoes (now defunct) in Orlando changed my perspective. My friend assembled a fresh berry salad with Ancient Grains Quinoa Blend. The colorful plate instantly grabbed my attention!
The combination of fruits and quinoa got the wheels turning in my head. I had to try my own summer fruit salad recipe for a delicious quinoa summer fruit salad
👩‍🍳 Making tip: Don't assemble this salad until about 30 minutes before you are ready to eat it. It will get soggy.
Best dressings to use with this salad
I prefer using light, sweet salad dressing for a fruit salad. Anyone of these dressings will be perfect for this summer fruit salad.
I used the Za'atar Mint Dressing for this recipe because the mint flavors with agave added the PERFECT flavors to the salad
Za'atar is my obsession. I have quite a few za'atar recipes, so, let me know which one you like
When to eat this salad
That is a very good question. I really wanted this to be a dessert salad, but, I have a feeling that it will work for any time of the day
If you are looking for healthy lunch ideas, this easy fruit salad will be perfect for a light lunch. The summer fruit salad packs quite a bit of nutrition.
This salad is also tailor-made for a brunch you are having with friends. I took it to a friends house a few weekends ago for Sunday brunch and was instantly at home with the Mimosas!
My friend got creative by using sweet pita chips as spoons to eat this summer fruit salad
🍅 Handy Tip: Use a ripe, but firm avocado in this salad. This will prevent the avocado from getting mushy.
Answering Common Questions
How do you keep a fruit salad from browning?
Adding vinegar or lemon juice to a fruit salad will prevent it from browning. Apple cider vinegar is my favorite thing to add to fruit salad.
Can I make this salad with cool whip?
I don't think quinoa and cool whip make for a great combo. So, if you want to add cool whip, omit the quinoa. Redi-Whip makes a (Affiliate Link) vegan cool whip.
Can I add nectarines instead of peaches?
Absolutely! Nectarines work just as well in this fruit salad recipe. Try it and let me know what you think.
Is it ok to use dry mint instead of the fresh mint?
Yes, you can use dried mint, but, it won't taste the same. There is something very aromatic and flavorful because of the fresh mint.
I have created a helpful guide on what vegans can and can't eat and a guide to keeping mint fresher.
Storage and leftovers
This fruit salad cannot be made ahead because it is made with fruits. Avocado turns mushy and brown when frozen. But, the good news is that this salad takes just 10 minutes to make.
Make the salad dressing ahead of time and it can last up to 2 weeks when refrigerated. Use fresh basil too, if you have it on hand.
Store leftovers in glass containers like this (Affiliate Links) AILTEC storage containers. Use the leftovers within 3-4 days of making it.
Sharing is caring
Don't be shy, chime in below in the comments. Let me hear your opinion on this recipe. If you enjoyed this, please give it 5 stars and share it on Facebook, Pinterest, Twitter and Instagram.
How to Prepare Fruit Salad
Quick Summer Fruit Salad Recipe made with just a few ingredients. Perfect for a light lunch or a summer picnic
Ingredients
For the Fruits
For Garnish (Optional)
4

leaves

fresh mint

4

leaves

basil
Instructions
Make the dressing
In a salad bottle, add all the ingredients

Refrigerate for 4 hours to overnight
Assemble the Salad (30 Min before serving time)
In a bowl, add all the fruits, quinoa and nuts

Add about 3 Tbsp of the salad dressing or adjust to taste

After 30 minutes, garnish and serve
Notes
– NUTRITION INFO IS APPROXIMATE
– Note that you will not use all the salad dressing for this recipe. I refrigerated my leftover dressing and used it in other salads during the week
– I added a little extra agave based on the recipe I am going to be using it in. Feel free to adjust it based on your recipe
– You can add flax seeds, pumpkin seeds, chia seeds, hemp seeds, pecans and/or walnuts
– Don't assemble this salad until about 30 minutes before you are ready to eat it. It will get soggy
– Use any quinoa type in this recipe. I used the plain quinoa, but, tri-color would be best.
– Make sure the avocado is not very ripe. It should be a little firm to touch.
– Go with with pecans or walnuts, instead of almonds.
– For more nutrition, consider added flax seeds, chia seeds or hemp seeds
Nutrition