Now, you can easily make air fryer vegan sweet potato drop biscuits from scratch. Serve these easy drop biscuits as a Thanksgiving side dish or at any dinner night.
How amazing is the air fryer that it can churn out the very best vegan drop biscuits??
Every recipe that I have tested in the air fryer has turned out perfectly!
Drop biscuits are now my top 5 favorite recipes to make in the air fryer!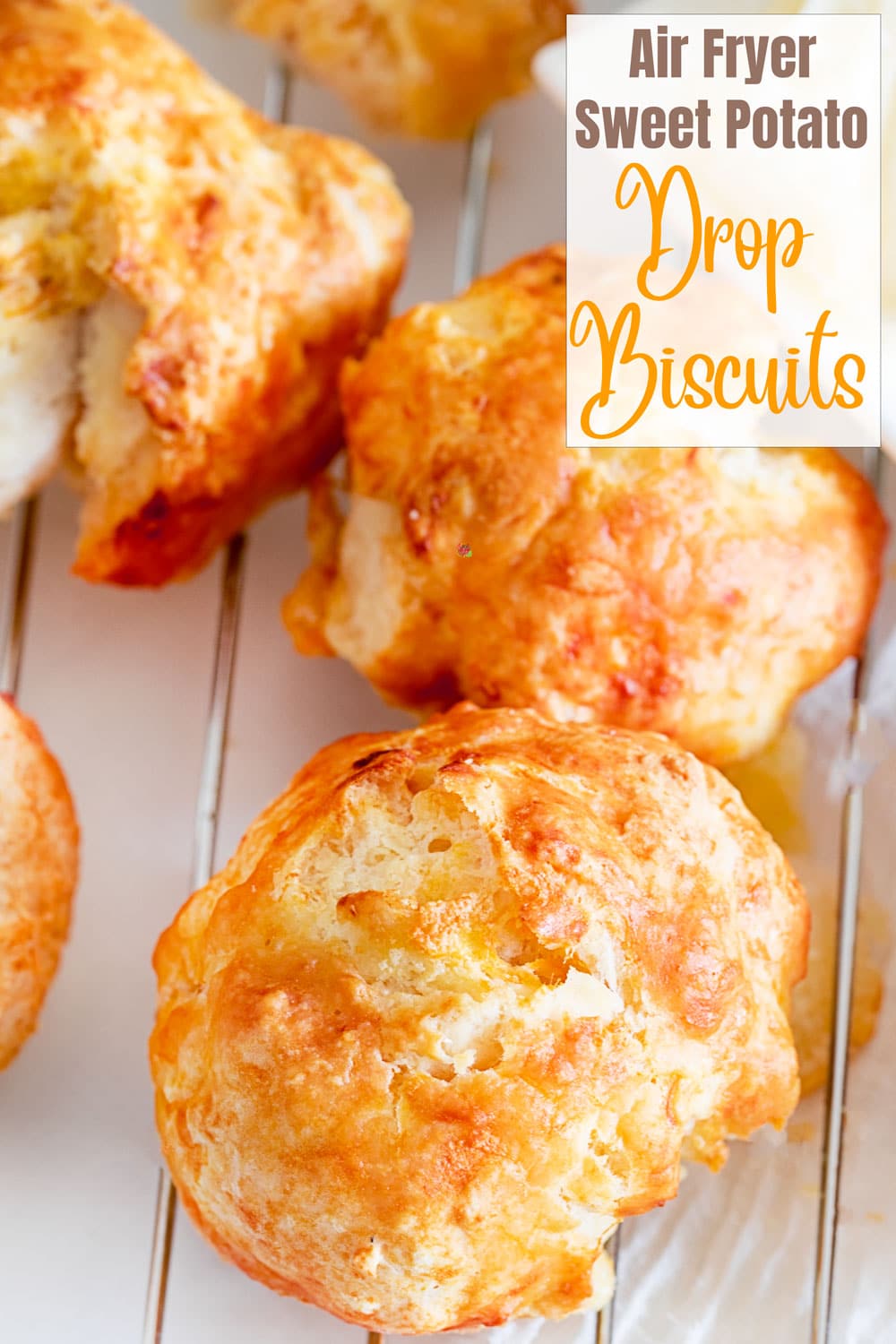 Tips for making these biscuits
Make sure that every ingredient you add to the mixing bowl is chilled! Warm ingredients will make the butter melt before being put in the air fryer
Follow my tips on baking the perfect sweet potato. You will get the best sweet potato puree that is very easy to make.
Once you bake the sweet potato, MAKE SURE you chill it in the freezer first. It must be chilled before being added to the flour
I used self rising in this biscuits recipe because it makes my life easier. If you use all purpose, add 1 tsp of baking powder and 1/2 tsp of baking soda.
Don't leave the mixed dough out on the counter, if you are not able to make it right away. Put the dough in the refrigerator so that it stays chilled
If you don't want to use your hands to mix the flour, you can use a food processor but don't mix it for too long. You don't want the butter to melt
Do NOT over mix the dough. You want to keep the butter as whole as possible.
You can also use an ice cream scooper to make the "drop" biscuits. This way, you don't get your hands dirty and you can also get the perfectly shaped biscuits.
It's ok if the dough is a little sticky.
Personally, I prefer to put the biscuits in a baking tray instead of directly in the air fryer basket because I hate to scrub it. But, it's ok to place the dough directly in the basket.
This recipe make 6 drop biscuits
Using vegan buttermilk!
Have you made vegan buttermilk before?
It's the EASIEST vegan dairy to make at home. All you need are 2 ingredients.
First, use a vegan milk product of your choice. I went with almond milk.
To make it tangy, add vinegar to it. Most people add white vinegar to it, but I didn't have that on hand. So, I used apple cider vinegar which works just as well.
If you do use apple cider vinegar, make sure it's the one with "mother" in it. Here is the one I use -> (Affiliate Link) Kevala Organic Apple Cider Vinegar.
To 1 cup of almond milk, add 1 tsp of apple cider vinegar.
You can absolutely use regular buttermilk (just use a little less) and you can even use regular dairy milk.
Check out tips on how to make vegan buttermilk by Heart Of A Baker.
If you want more information on all things vegan, check out my complete vegan guide. And, check out how I make an entire Thanksgiving dinner in the Air Fryer.
Why are they called drop biscuits?
They are called that because the dough is formed into ball shapes and dropped in the pan. No need to mold or shape them into perfect round shaped biscuits.
That's what I think! Am I wrong?
P/S: You can also make regular vegan dinner rolls, if you are not a fan of drop biscuits.
Air Fryer homemade drop biscuit recipe is a very simple that everyone can make.
Suggested side dishes
Serve them with homemade vegan gravy or slather some lemon balm butter on them and devour.
My friend actually put some tomato relish on the biscuit and ate it up.
They also work great with stews.
P/S: Have you tried making hasselback sweet potatoes in the air fryer! It will be the best thing you make!
Butter's existential crisis
This is something I am struggling with over the last year. I have been a long time user of vegan butter!
But, that stuff caused health problems because of the list of bad and artificial ingredients in it. There is plenty of seed oil use in those butters and they are harmful to the human body, especially the liver.
Miyoko's Cultured vegan butter, though not the best, is a good butter to use in this vegan biscuits recipe.
But, if you can use regular butter in this recipe, I urge you to do so!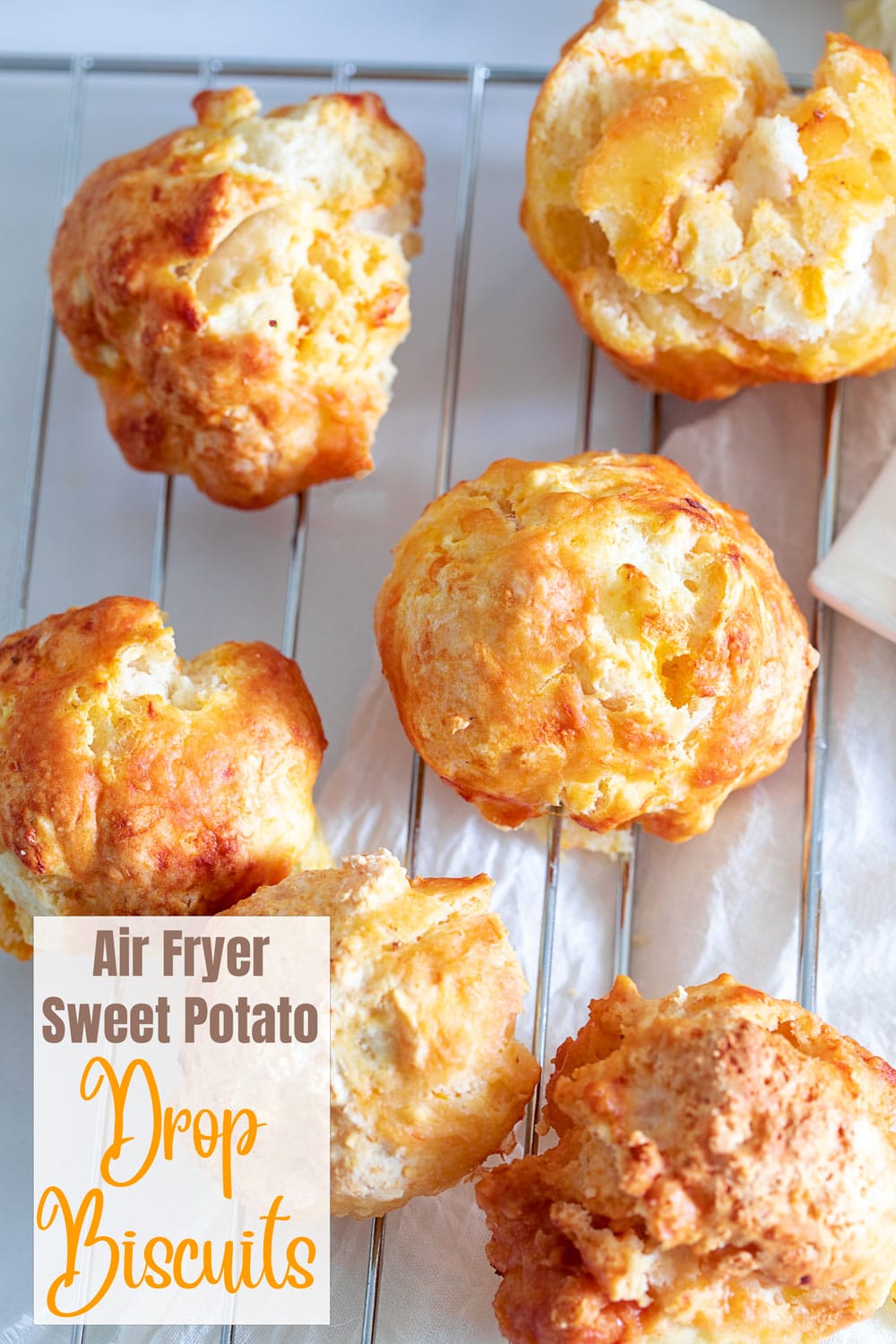 Freezing these biscuits?
I hate the fact that these sweet potato drop biscuits have to be eaten fresh out of the air fryer. Believe me when I say that I really tried to make a freezer friendly version.
What I can suggest is that you make the dough and then, make the drop shapes. Place them on a freezer friendly tray and cover them.
When you are ready to use them, just pop them in the air fryer without thawing them. Set them to 300° and air fry them for 25-30 minutes.
However, you can refrigerate them for about a week. Warm them in a toaster oven.
My recipe is inspired by Barker Bettie's biscuit recipe.
Make delicious homemade drop biscuits using an air fryer. These quick biscuits are perfect side dish for Thanksgiving or any dinner.
Answering your questions
Can I use regular buttermilk?
Yes, you can easily make these buttermilk biscuits recipe using dairy buttermilk and dairy butter. Use the same ingredient amount and instructions.
Sweet potato vs white potato?
Sweet potato has more appropriate texture and taste for this drop biscuits recipe. Regular potatoes are more starchy and bland in flavor. They will make the biscuits more rock like in texture. So, stick to using sweet potatoes
Why use self-rising flour?
Self-rising flour has baking soda included in it. I think that makes it so much easier to work with it instead of regular flour. It also makes the biscuits softer and last longer.
How long will they last?
These fluffy biscuits will remain fluffy and moist for only about 2 or 3 days. So, it's best to use it up as soon as possible.
Other Thanksgiving air fryer recipes
Give your oven a break! These vegan dishes can easily be made in the air fryer.
Who doesn't love candied sweet potatoes, am I right? But, why spend hours making it when you can make them in 20 minutes!
Those tiny potatoes are very addictive, especially when slathered in butter and cooked in the air fryer. Ready in 30 minutes.
Trust me, you will never make garlic bread in the oven again! Plop it in your air fryer and they will be ready in under 10 minutes!
The air fryer is not just good for main courses and Thanksgiving sides. It knows how to do dessert too!
Everything you love about sweet potato casserole, but, now it's in a tartlet. Individual sized so that you don't have to share.
Looking to create your vegan Thanksgiving menu? I have a collection of every recipe you will need, from appetizers to dessert and every thing in between. I even have a collection of potato recipes and sweet potato recipes that you can make.
Equipment used
So, have you made biscuits in the air fryer?
Sharing is caring
Don't be shy, chime-in below in the comments. Let me hear your opinion on this recipe.
⭐️ If you tried and enjoyed this 5 ingredient vegan air fryer sweet potato biscuits recipe, please rate it 5 stars! Share it on Facebook, Pinterest, Twitter, Instagram and even YouTube. ⭐️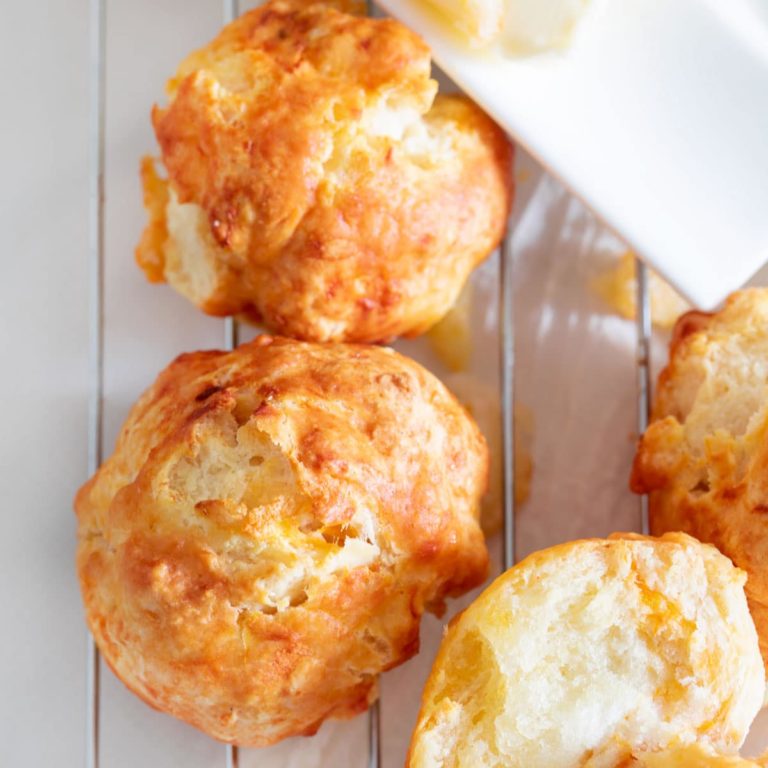 Vegan Sweet Potato Drop Biscuits (Air Fryer)
See how easy it is to make vegan drop biscuits with sweet potatoes in your ar fryer. Takes just 25 minutes to make
Equipment
COSORI Air Fryer

7" Pizza Pan
Ingredients
1½

cup

self rising flour

½

cup

baked sweet potato

about 1/2 of a sweet potato

1

stick butter

roughly cut (regular or vegan, chilled)

½

cup

buttermilk

for vegan buttermilk, see note #1

1

Tbsp

buttermilk

for basting, see note #1
Instructions
Butter a baking tray and set it aside

In a mixing bowl, add the flour, sweet potato and butter

Slowly add the the buttermilk while mixing with the other hand

Mix until it's a dough. Do not over mix it.

Make drop shapes or round shapes

Place the drops in the baking tray

Put the baking tray in the air fryer basket and put the basket in the air fryer.

Set the air fryer to 300°F and set it for 20 minutes

Start the air fryer and let the biscuits bake in it.

Once done, remove and serve immediately.
Notes
CALORIES INFORMATION IS APPROXIMATE. CONSULT A HEALTHCARE PROFESSIONAL FOR MORE DETAILED INFORMATION.
Notes
#1 – How to make vegan Buttermilk – To 1 cup of almond milk, add 1 tsp of apple cider vinegar.
Tips
Make sure that every ingredient you add to the mixing bowl is chilled! Warm ingredients will make the butter melt before being put in the air fryer
Once you bake the sweet potato, MAKE SURE you chill it in the freezer first. It must be chilled before being added to the flour
I used self rising in this biscuits recipe because it makes my life easier. If you use all purpose, add 1 tsp of baking powder and 1/2 tsp of baking soda.
Don't leave the mixed dough out on the counter, if you are not able to make it right away. Put the dough in the refrigerator so that it stays chilled
If you don't want to use your hands to mix the flour, you can use a food processor but don't mix it for too long. You don't want the butter to melt
Do NOT over mix the dough. You want to keep the butter as whole as possible.
You can also use an ice cream scooper to make the "drop" biscuits. This way, you don't get your hands dirty and you can also get the perfectly shaped biscuits.
It's ok if the dough is a little sticky.
Personally, I prefer to put the biscuits in a baking tray instead of directly in the air fryer basket because I hate to scrub it. But, it's ok to place the dough directly in the basket.
This recipe make 6 drop biscuits
Nutrition