A quick and easy sweet potato salsa recipe

Oven Baked Sweet Potato Salsa made with fire roasted corn and tomatoes. This vegan salsa is the perfect appetizer for parties or game day snacks.
This is version 2 of the original recipe. Click here to get more info on version 1.

How much do you love salsa?
Chips and salsa is my favorite appetizer to order at Mexican restaurants.
If a restaurant gives free chips and salsa, it automatically gets 5 stars from me!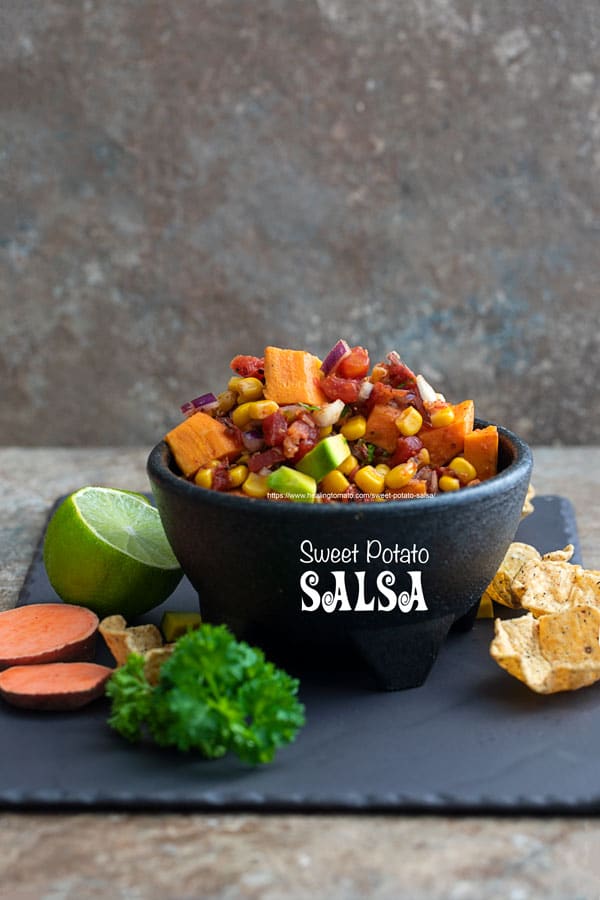 I like making unique salsa that really challenge the status-quo. Have you tried my banana salsa or my tomato salsa on baked brie? They are one of my favorite salsa creations because they are so different from any other salsa I made.
Related: Check out all my salsa recipes here.
The best part of this sweet potato salsa is the oven roasted sweet potato! Roasting this sweet potatoes really brought out the sweet potato's sugars and flavors. It gave them a slightly smokey flavor which made this salsa so much better. Next time, I am going to test it using (affiliate link) liquid smoke for an added smokey taste.
P/S: Do you know how to bake the perfect sweet potato? Check out my 5 tips on baking the perfect sweet potato.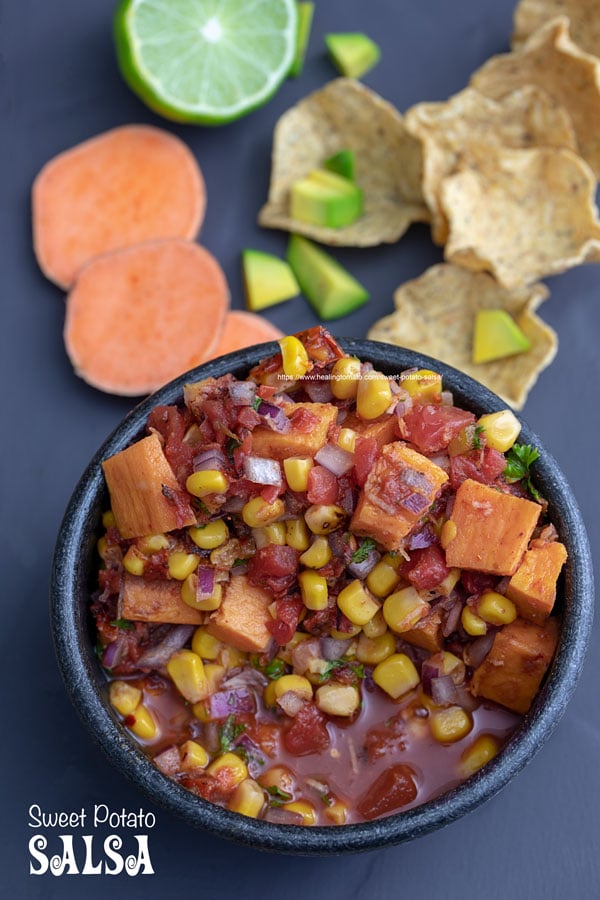 Other Sweet Potato Recipes You Might Like
– Skillet Sweet Potatoes with Tuscan Flavors
Roasted Sweet Potato Salsa
1) Preheat oven to 350 degrees. Peel one sweet potatoes and cut them into tiny pieces. It should make about 1-2 cups of cubed sweet potatoes
2) In a bowl, add the potatoes, 1 tbsp of oil and 1/8 tsp of salt. Place the sweet potato in a baking tray and place in the oven. Bake for 20-25 minutes or until the sweet potatoes are soft and browning on the top
3) While the sweet potatoes are roasting, collect the other ingredients. Add 1 can (15oz) of fire roasted sweet corn
4) Add 1/2 cup of chopped red onions to the bowl
5) Add 1 tsp of chopped garlic and ginger to the bowl
6) Add 1 Tbsp of chopped serrano peppers (I used cayenne pepper in the updated sweet potato salsa recipe, but, either will work)
7) Once the sweet potatoes are done, let them cool for a few minutes and then add to the bowl
8) Add 1/2 tsp of salt to the bowl
9) Add 1/2 tsp of crushed black pepper. This is optional
10) Add 1 TBSP of taco seasoning (The updated recipe uses a little more taco seasoning than this image below)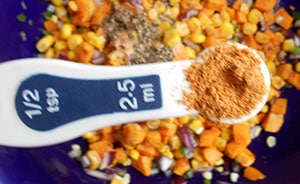 11) Add 2 tsp of freshly squeezed lime juice (The updated recipe uses a little more lime juice than this image below)
12)Add the fire-roasted tomatoes, cumin, sweet relish, mint and curly parsley.
13) Mix well, then, add 1/4 cup of chopped avocado
14) Set the sweet potato salsa aside for about 45 min before serving. I served them with (affiliate link) Tostinos multigrain scoops. They taste great with any chips.
Version one of this sweet potato salsa
Occasionally, I will go back in time to look at previous recipes and see if they need updating. The update can be an overhaul of the recipe or a few tweaks of the ingredients. The post also gets updated with new words and phrases that will help you find it faster in a web search.
Also, as I work on improving my food photography, it helps to update a post with pictures that look more appetizing.
This sweet potato salsa recipe had minor tweaks in the recipe since its first posting on February 5th, 2016 at 12:07am. That's almost 3 years ago! How time flies, right?
I remember what I was doing and where I was when I first made this recipe, photographed it and eventually posted it. So many fun memories associated with it! Lucky for me, the Wayback Machine has kept a record of the original post which you can get by clicking here.
The main reason I tweaked this recipe was because of the feedback I get from my readers. Many of you had mentioned that the salsa was a little on the dry side. So, I experimented with a few ingredients and made changes to it. Your opinion is valuable to me, so, feel free to sound off below on what you think of this recipe.
The new version of this sweet potato salsa also has a video which you can see below. I hope its helpful to you when you make this recipe.
Printable Version of Sweet Potato Salsa
Sweet Potato Salsa
A quick and easy sweet potato salsa recipe

Print
Pin
Rate
Ingredients
To Bake The Sweet Potato
1

sweet potato

1

tbsp

oil

1/8

tsp

salt

(for roasting the sweet potato)
Instructions
Preheat oven to 350 degrees


Wash, peel one sweet potato and cut into cubes

In a bowl, mix the cubed sweet potatoes, oil and salt


Place the sweet potato in a baking tray and place in the oven


Bake for 20-25 minutes or until the sweet potatoes are browning

While the sweet potatoes are roasting, assemble the salad


Add the red onions to a large bowl

Add the remaining ingredients in the order listed above


Mix well and set aside for about 45 minutes

Nutrition
Serving:
3
g
|
Calories:
217
kcal
|
Carbohydrates:
38
g
|
Protein:
5
g
|
Fat:
6
g
|
Sodium:
680
mg
|
Potassium:
419
mg
|
Fiber:
5
g
|
Sugar:
10
g
|
Vitamin A:
5795
IU
|
Vitamin C:
14
mg
|
Calcium:
48
mg
|
Iron:
1.8
mg