Homemade Vegan Marinara Sauce made with 9 different types of tomatoes. Made with all natural ingredients and a ton of garlic. Serve it in pasta recipes or as a pizza topping.
So, why is this marinara sauce "magical"? It came out so great despite having so many tomatoes that were past their prime.
Do you tomatoes ever get to the point where they are really ripe and will begin rotting in the next minute if they are not used?
No?
Just me then?
They had gotten very ripe and I almost thought of throwing them out. Then, I thought better of it and decided that I should at least try to make something out of them.
I am a huge lover of pasta. Pastas of any variety always gets my attention. I have never said no to a vegetarian pasta recipe.
Marinara sauce is such an integral part of any Italian recipe. The beauty of a good marinara sauce is that it can be enjoyed be vegetarians, vegans and meat lovers alike.
Italian food is all about family and sharing. Different people from different walks of life can come together and share a simple meal of spaghetti with marinara sauce. Everyone would go home happy.
That is why I decided to blend all tomatoes with all different kinds of flavors come together in this sauce.
The oregano and basil were so perfect in this recipe. I can't believe how amazing the flavors rounded out.
I put mint garnish and that caused some controversy. Apparently mint doesn't go well with marinara sauce?
Personally, I loved it. No complaints from me.
There is the yellow tomato, green tomato, steak tomato, plum tomato, Campari tomato, yellow tomato and the tomatillo. I wasn't planning on using the yellow grape tomato and then changed my mind at the last minute
This particular marinara has a not-so-secret ingredient.
I added a little sweet vermouth to this recipe to take away some of the tanginess from all the tomatoes. It was a nice way to balance out the flavors without the use of sugar.
The sweet vermouth is the perfect ingredient for that task. Don't worry, the sweet vermouth burns off and you don't have to worry about getting drunk.
Your eyes are not deceiving you. That is actually a can of tomato sauce. Fresh tomatoes are great in taste for this recipe. However, the canned tomato sauce actually provides a little depth and texture to this recipe. You only need half a can for this recipe, but, it will do the trick.
See all that color and wholesome goodness of all those tomatoes? That color is so pleasing to the eye that you cannot stop looking at it.
Roast the tomatoes with nothing but salt and oil. You want to add the taste when the marinara is cooking. This way, all the ingredients have a chance to soak the spices
This is what the roasted tomatoes look like after thirty minutes in the oven. You will be tempted to just reach in there with your hands and pop one into your mouth, right from the baking dish. It is okay to do so, but, don't be an idiot like me and forget that these tomatoes are HOT!!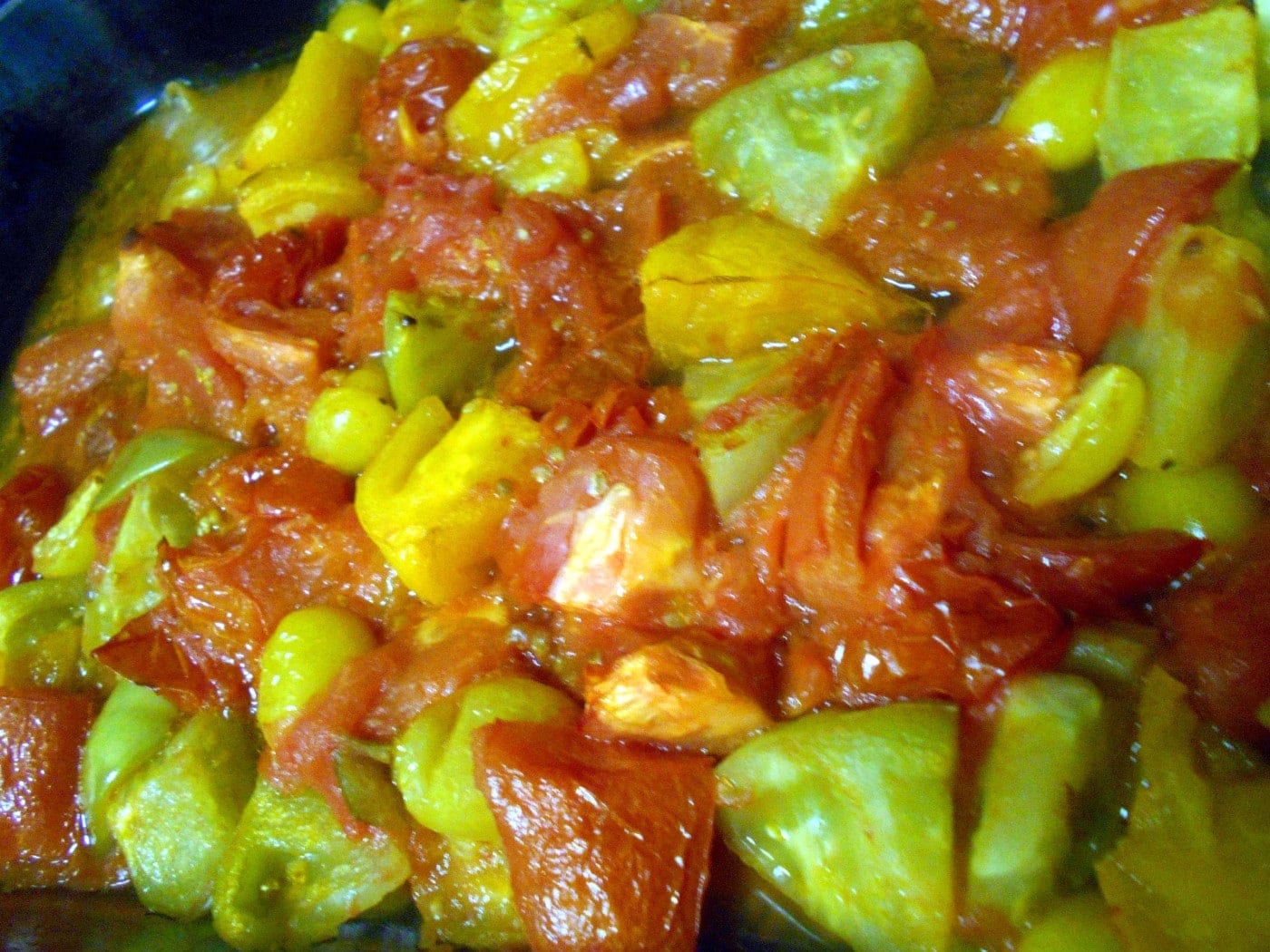 Use this marinara sauce in a fettuccine pasta recipe.
The Magical 9 Tomato Marinara Sauce
Homemade Marinara Sauce made with freshly roasted tomatoes

Ingredients
1

yellow tomato

2

tomatillos

1

beefsteak tomato

1

green tomato

4

Campari tomatoes

7

yellow grape tomatoes

2

Roma tomatoes

1

Vine ripened tomato

6

cherry tomatoes

½

red onion

7

cloves

garlic

roughly chopped

½

cup

sweet vermouth

if you have really sour tomatoes, use 1 cup of sweet vermouth

¼

cup

extra virgin olive oil

for roasting the tomato

3

tsp

olive oil

for cooking

1

tsp

rosemary

dried or fresh

1

tsp

parsley

dried or fresh

2

tsp

basil

dried or fresh

2

tsp

oregano

dried or fresh

1

tsp

fresh ground pepper

3

Thai Chili

optional

5

Mint Leaves

3 for the mariniara and 2 for garnish

1

tsp

salt

for roasting the tomatoes

3

tsp

Kosher salt

for cooking
Instructions
Pre heat oven to 400 degrees

Chop all the tomatoes into large chunks

In a baking pan, place all the tomatoes

Drizzle with extra virgin olive oil and add 1 tsp of salt.

Use your hands and mix the tomatoes well.

Place in oven and roast for about 30 minutes

Half way through their roasting process, stir the tomatoes to roast evenly


While the tomatoes are roasting, chop the garlic finely

Chop the onion finely

Chop the 3 mint leaves finely

Remove tomatoes from the oven and cool for 10 min


If there is too much water in the roasted tomatoes,remove some of it using a spoon

Blend the roasted tomatoes and set aside


In a medium pan, add the olive oil and wait until heated

Add the garlic cloves and let them to brown

Add the onions and red chili flakes.

When onions are browned, add sweet vermouth


When vermouth has burned away, add the chopped mint, herbs and black pepper


Add the tomato puree into this pan

Lower the heat to very low and stir constantly

Keep on the stove until the marinara has a thick consistency (about 30 min)


Remove from heat and serve
For best results, refrigerate the sauce overnight.
Notes
– Nutrition value is approximate
– Refrigerate the marinara sauce overnight