Tomato Pesto Sauce? Yes, it is possible. This vegetarian recipe gives pesto a unique orange color because of the tomatoes. Simple, quick to make and tastes perfect with any pasta recipe
I love pesto sauce in my gnocchi and pasta recipes.
My favorite pesto sauce is basil pesto, because it will taste great in any pasta recipe
Have you tried homemade arugula pesto recipe?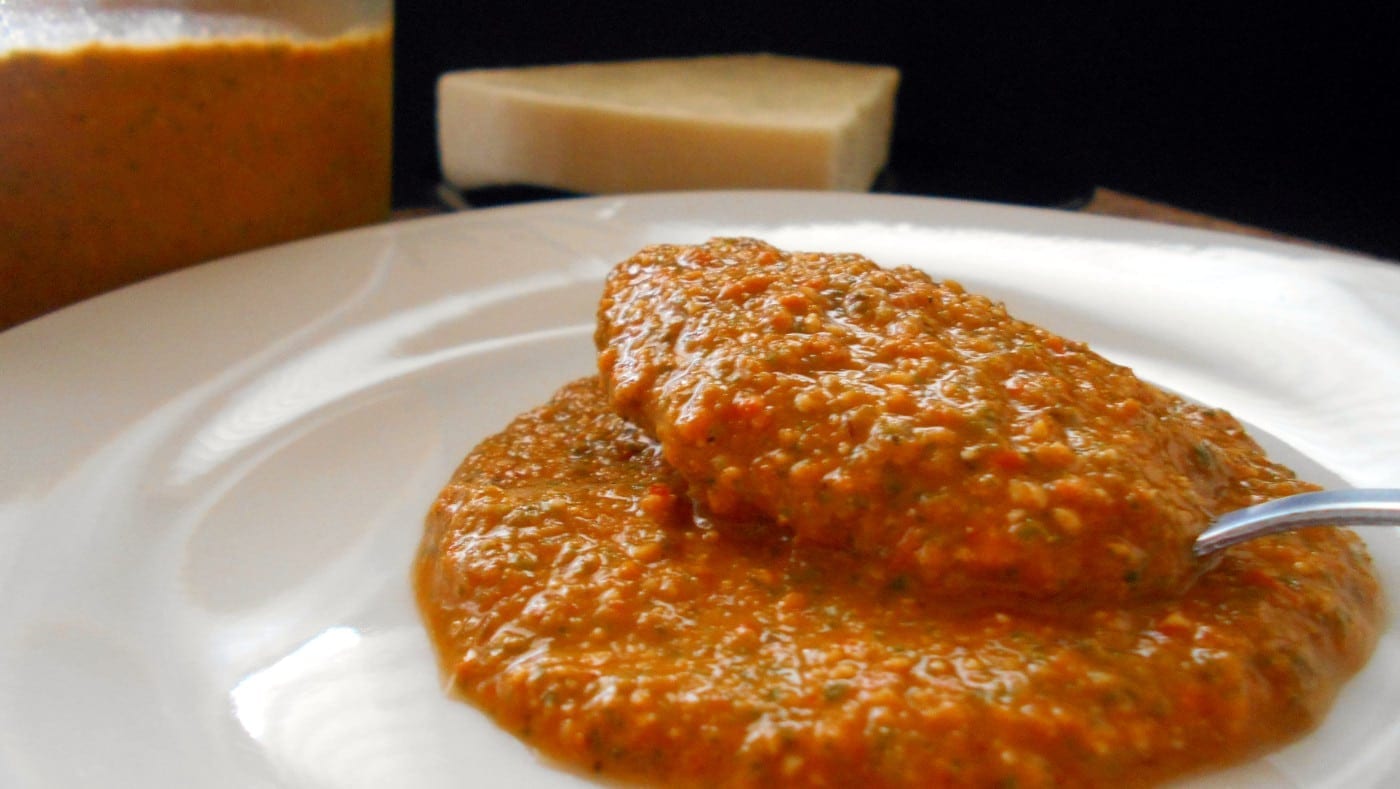 If you are a vegetarian, chances are you are huge Pesto sauce fan. Vegetarians are forced to choose from only 2 types of pasta sauces at an Italian restaurant. All the pastas either have Marinara or Pesto sauce.
Many vegetarians I know tend to stay away from the heavy Alfredo sauces because some of them might actually have eggs in them. I have a vegan friendly Alfredo recipe that is so delicious!
Over time, I got used to pesto sauce in my pasta. It was definitely an acquired taste for me. In fact, it took me years to develop a palette for the sauce. The only time I had really liked it was when it was incorporated with Gnocchi.
Gnocchi is the only reason why potatoes exist on earth.
Just a side note: If you have an hour or two extra, make the vegan Gnocchi yourself. It is one of the most rewarding taste experiences ever.
Some of the restaurants make the pesto sauces on the rich side. They tend to use too much cream in their sauce or too much Parmesan cheese. The good restaurants know what the exact balance is between cheese, cream and basil.
My pesto sauce has tomatoes in it. Before you ask why, take look at the name of the site. Tomato is in our name 🙂
Yes, I put tomatoes into anything and everything that my tiny brain can think of. I have fried the tomato, put it into popcorn and even made jam from it.
I wear my love for tomatoes on my sleeve!
Sometimes, quite literally. You should see my dry cleaning bills. 🙂
Tomato pesto also makes spaghetti taste so much better. It tastes better with Pesto than it does with Marinara sauce. That is just this humble vegetarian's very humble opinion.
So, do you prefer this tomato pesto over marinara? What is your favorite pasta sauce?
How To Make Tomato Pesto Sauce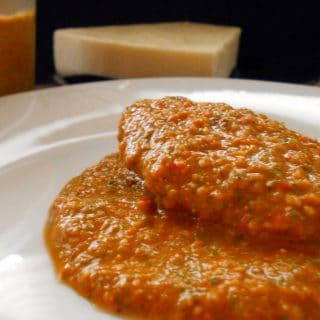 Tomato Pesto With Basil And Pine Nuts
Tomato Pesto With Basil And Pine Nuts
Ingredients
2

Cups

basil leaves

⅓

red onion

roughly chopped

½

cup

Romano cheese

1

cup

cherry tomatoes

½

cup

yellow cherry tomatoes

1

Roma tomato

roughly chopped

2

tsp

sea salt

2

tsp

black pepper

1

tsp

oregano

dried or fresh

3

Thai chili

roughly chopped, Optional

½

cup

Coconut milk

2

cloves

garlic

1

tsp

capers

1

tsp

dried cranberries

½

cup

pine nuts

⅓

cup

extra virgin olive oil

3

tsp

water

Basil

for garnish

2

tsp

sunflower oil

for final assembly of dish

1

Tbsp

Vegan Parmesan cheese

for garnish

16

oz

Spaghetti

1 packet, cooked
Instructions
Lightly roast the pine nuts for about 3 minutes

In a food processor, add all the ingredients except for the olive oil, sunflower oil, Parmesan and garnish basil


Start the processor and slowly add the oil from the top of the processor

Blend until all the items until the sauce is smooth

In medium pan, heat up the sunflower oil

Add cooked spaghetti and the pesto sauce

Heat on medium heat for about 5 minutes or until all the spaghetti is well coated

Remove from heat and move to serving dish

Chop the remaining 2 basil leaves

Garnish with the chopped basil leaves and shredded Parmesan cheese
Notes
Nutrition Info is approximate