Melon salad with arugula is topped with a tangy lemon dressing. Easy vegan fruit salad to take to picnics or for lunch anytime. Serve it on a bed of pita chips or serve in a cinnamon sugar pita pocket.
When you have been handed a whole bunch of cantaloupes, watermelons and honeydew fruits, what is the most sensible thing to do?
Dust of your melon baller and make melon salad with it? Well, I pulled out my melon baller and went to town on these melons!
Tips
Use the smaller side of a melon baller. Suggested: (Affiliate Link) – OXO Melon Baller.
Once you carve out the melon balls, put them in the bowl and refrigerate until you have made the pita bread and assembled the rest of the ingredients.
You can skip the tangy lemon dressing and serve it as a sweet dessert.
Use arugula because it is the perfect taste compliment to the sweet melons. If you don't have arugula, go with baby kale or mixed greens.
If you don't want to use all 3 types of melons choose just 1 or 2 types. My favorite was the cantaloupe.
2 ways to serve this melon salad
There are two ways to eat this arugula melon salad. I love both methods because the melon salad is the king in each method. How will you serve it?
Method 1
First method is the fancy-schmancy way of eating it as seen in the photo below. I put down my cinnamon sugar pita chips and topped it with arugula.
Then, I added a few melons and drizzled it with a tangy yogurt vegan dressing. This is so perfect for an elegant brunch party you are throwing for very special people.
Method 2
The second way to serve it is in a pita pocket.
This is no ordinary pita pocket.
The outside of the pita pocket is coated with cinnamon and sugar before roasting in the oven for a few minutes.
After they cool down, add a bed of arugula and top with a few melon balls. Drizzle with the same tangy yogurt dressing.
If you have arugula left over, you should turn it into a delicious arugula pesto recipe.
What are some of your favorite cantaloupe recipes? Which is your favorite melon?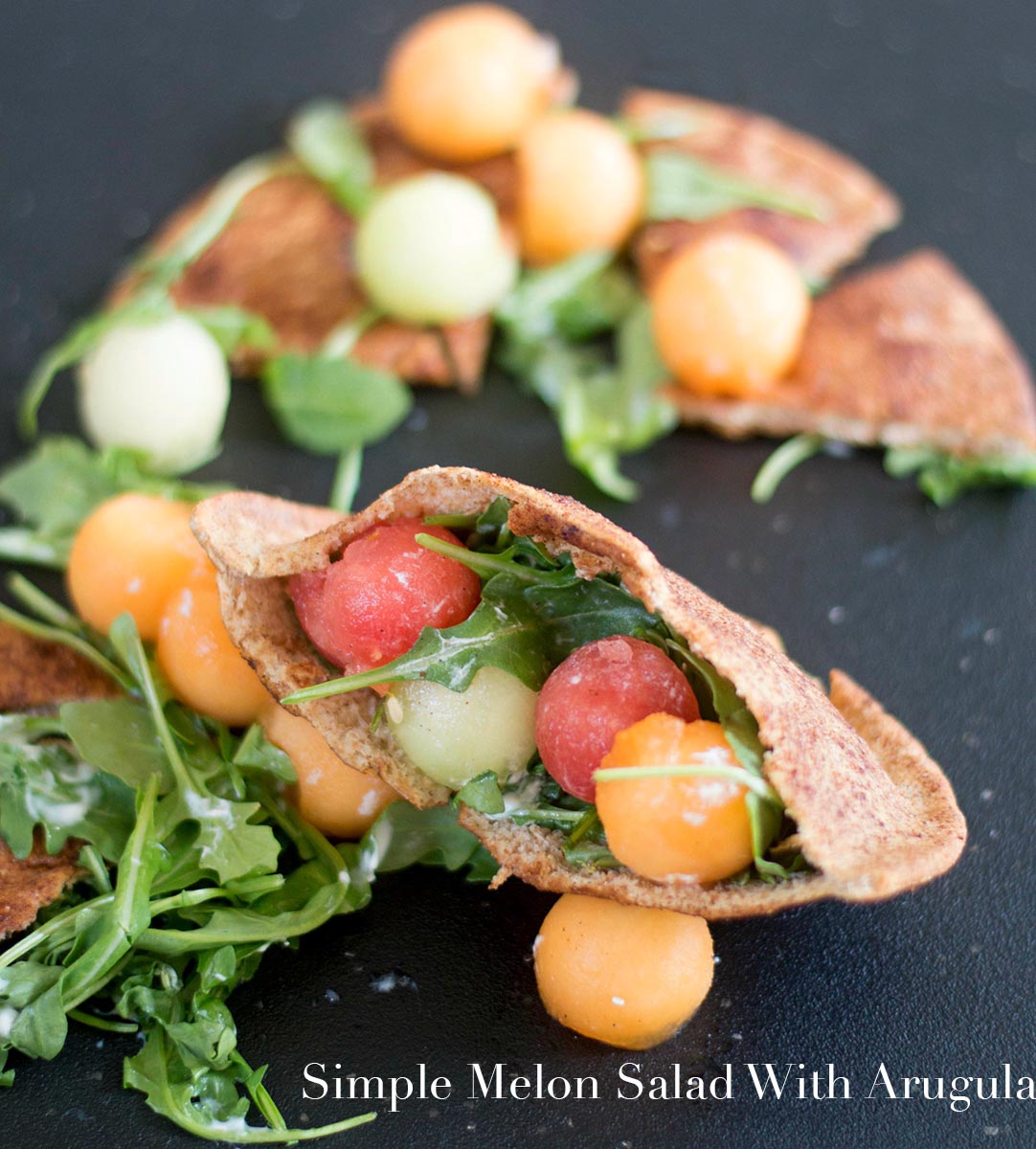 Other melon recipes
How to make melon salad
1) Take ¼ of a cantaloupe, honeydew and watermelon. Remove the seeds from them and then use a melon baller to make small balls out of them
2) Refrigerate them while you prepare the other ingredients
3) If you serving this arugula salad on a bed of pita chips, make the cinnamon sugar pita chips first. It is very simple to make and takes less than 20 minutes
4) If you want to serve this salad inside a pita pocket, take 2 whole wheat pita and cut them into halves
5) Open both halves and butter the inside of the pita. I melted 2 Tbsp of melted butter and make sure to brush the opening generously
6) Butter the outsides of the halved pita. Mix 5 tsp of sugar and 2½ tsp of cinnamon. Drizzle the sugar mixture on outsides of the halved pita.
7) Place the pita in a 350 degree preheated oven and let it bake for 5 minutes or until the pita has browned
8) While the pita is toasting, make the yogurt dressing. Add ⅔ cup of vegan yogurt to a bowl and add ½ tsp of lime zest. Add 1 Tbsp of freshly squeezed lime juice and 2 tsp of agave. Add a pinch of salt to the yogurt and mix well. Keep it in the refrigerator until you are ready to use it
9) Remove from the oven and let it cool for a few minutes
10) Place the pita chips on a salad plate and top with ½ cup of arugula salad
11) Add the melon balls on the arugula and drizzle with about 1 tbsp of the yogurt dressing. Serve immediately
12) To serve in a pita pocket, once the pita pocket has cooled down, place the arugula salad inside the pocket. I used about ½ cup per pocket. Add 1 tsp of yogurt dressing then top with 2 watermelon balls, 2 cantaloupe balls and 2 honeydew balls. Top with the tangy yogurt dressing and serve immediately
Sharing is caring
Don't be shy, chime in below in the comments. Let me hear your opinion on this recipe. If you enjoyed this, please give it 5 stars and share it on Facebook, Pinterest, Twitter and Instagram.
⭐️ Want even more Healing Tomato recipes? Sign up for my weekly newsletter ⭐️
Crazy Good Melon Salad
A simple melon and arugula salad with a vegan yogurt dressing. Served on a bed of pita chips or serve in a cinnamon sugar pita pocket. Easy Lunch recipe
Ingredients
¼

cantaloupe

de-seeded

¼

honeydew

de-seeded

¼

watermelon

de-seeded

2

cups

arugula

divided into 4 parts
For the pitas
2

whole wheat pitas

Cut into halves

5

tsp

sugar

2½

tsp

cinnamon powder

2

Tbsp

vegan butter
For the yogurt dressing
⅔

cup

vegan yogurt

½

tsp

lime zest

1

Tbsp

lime juice

freshly squeezed

2

tsp

agave

Pinch of salt

optional
Instructions
Make melon balls out of the fruits and refrigerate


Open pita halves and generously butter the inside and outside of the pita.


Mix sugar and cinnamon before drizzling it on the outsides of the pita

Place the pita in a oven and let it bake for 5 minutes or until the pita has browned

While the pita is toasting, make the ingredients for the yogurt dressing

Remove pita from the oven and let it cool for a few minutes

Place the pita chips on a salad plate and top with 1 part of the arugula

Add the melon balls on the arugula and drizzle with the yogurt dressing