A simple melon and arugula salad with a vegan yogurt dressing. Served on a bed of pita chips or serve in a cinnamon sugar pita pocket. Easy Lunch recipe
Arugula salad with melon balls topped with a tangy lemon dressing. Served on a bed of pita chips or serve in a cinnamon sugar pita pocket.
When you have been handed a whole bunch of cantaloupes, watermelons and honeydew fruits, what is the most sensible thing to do?
Dust of your melon baller and make melon balls with it? Well, I pulled out my melon baller and went to town on these melons!
There are two ways to eat this arugula salad.  First method is the fancy-schmancy way of eating it as seen in the photo below.  I put down my cinnamon sugar pita chips and topped it with arugula.
Then, I added a few melons and drizzled it with a tangy yogurt vegan dressing.  This is so perfect for an elegant brunch party you are throwing for very special people.
The second way to serve it is in a pita pocket.
This is no ordinary pita pocket.
The outside of the pita pocket is coated with cinnamon and sugar before roasting in the oven for a few minutes.
After they cool down, add a bed of arugula and top with a few melon balls.  Drizzle with the same tangy yogurt dressing.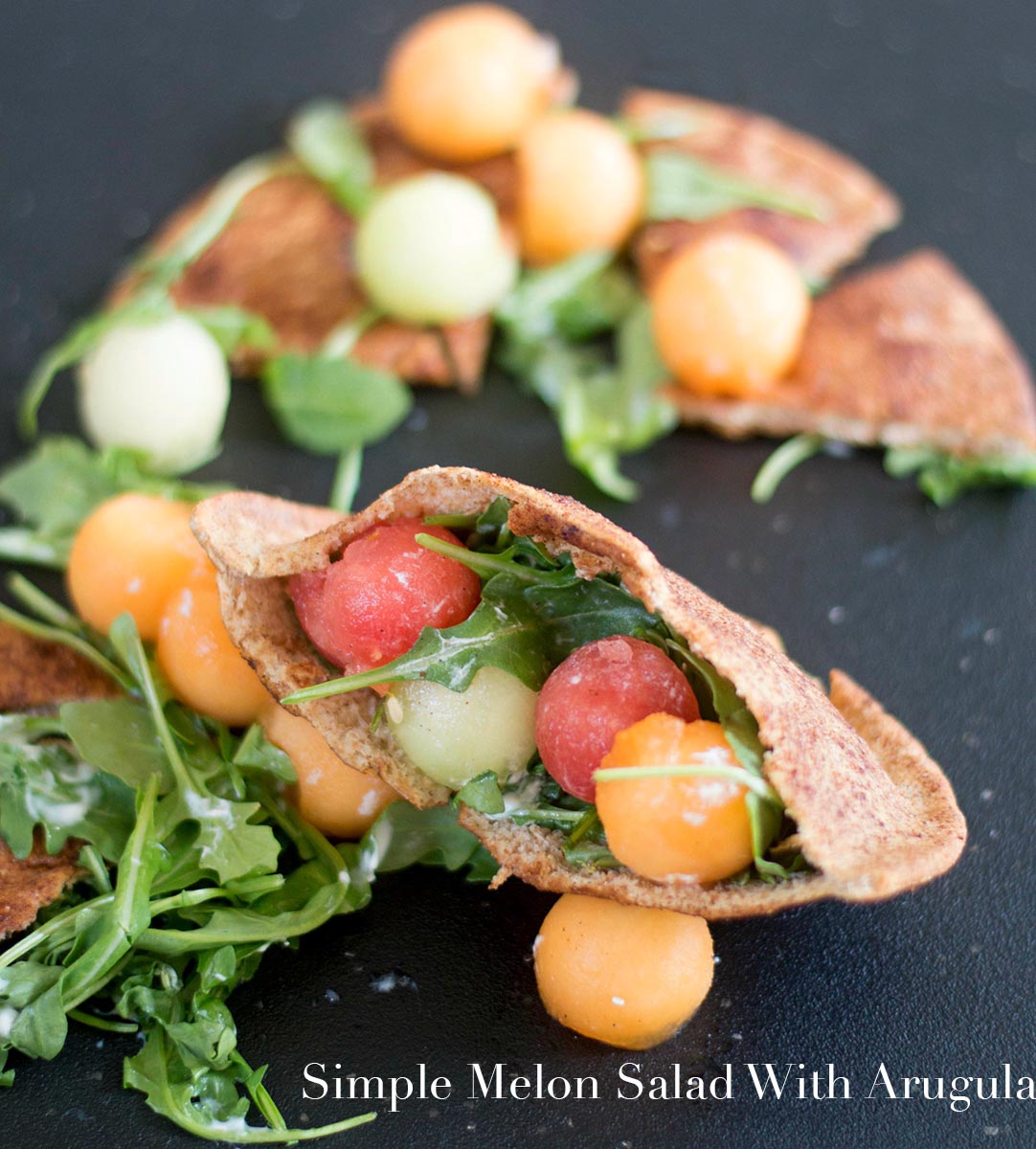 There are so many wonderful ways to use melons.  My favorite cantaloupe recipe is the cantaloupe margarita.
Watermelon is very popular in my home.  This delicious watermelon salad with goat cheese is a perennial favorite.  Watermelon curry is a fan favorite and it is very near and dear to my heart.
This is the first time I have used honeydew on my blog and I can't imagine not using them in the future.
If you have arugula left over, you should turn it into a delicious arugula pesto recipe.
What are some of your favorite cantaloupe recipes?  Which is your favorite melon?
Arugula Salad With Melons
1) Take 1/4 of a cantaloupe, honeydew and watermelon.  Remove the seeds from them and then use a melon baller to make small balls out of them
2) Refrigerate them while you prepare the other ingredients
3) If you serving this arugula salad on a bed of pita chips, make the cinnamon sugar pita chips first.  It is very simple to make and takes less than 20 minutes
4) If you want to serve this salad inside a pita pocket, take 2 whole wheat pita and cut them into halves
5) Open both halves and butter the inside of the pita.  I melted 2 Tbsp of melted butter and make sure to brush the opening generously
6) Butter the outsides of the halved pita.  Mix 5 tsp of sugar and 2.5 tsp of cinnamon.  Drizzle the sugar mixture on outsides of the halved pita.
7) Place the pita in a 350 degree preheated oven and let it bake for 5 minutes or until the pita has browned
8) While the pita is toasting, make the yogurt dressing.  Add 2/3 cup of vegan yogurt to a bowl and add 1/2 tsp of lime zest.  Add 1 Tbsp of freshly squeezed lime juice and 2 tsp of agave.  Add a pinch of salt to the yogurt and mix well.  Keep it in the refrigerator until you are ready to use it
9) Remove from the oven and let it cool for a few minutes
10) Place the pita chips on a salad plate and top with 1/2 cup of arugula salad
11) Add the melon balls on the arugula and drizzle with about 1 tbsp of the yogurt dressing.  Serve immediately
12) To serve in a pita pocket, once the pita pocket has cooled down, place the arugula salad inside the pocket.  I used about 1/2 cup per pocket.  Add 1 tsp of yogurt dressing then top with 2 watermelon balls, 2 cantaloupe balls and 2 honeydew balls.  Top with the tangy yogurt dressing and serve immediately


Arugula Salad With Melons And Yogurt Sauce (Vegan)
A simple melon and arugula salad with a vegan yogurt dressing. Served on a bed of pita chips or serve in a cinnamon sugar pita pocket. Easy Lunch recipe
Print
Pin
Rate
Ingredients
1/4

cantaloupe

de-seeded

1/4

honeydew

de-seeded

1/4

watermelon

de-seeded

2

cups

arugula

divided into 4 parts
For the yogurt dressing
2/3

cup

vegan yogurt

1/2

tsp

lime zest

1

Tbsp

lime juice

freshly squeezed

2

tsp

agave

Pinch of salt
Instructions
Make melon balls out of the fruits and refrigerate


Open pita halves and generously butter the inside and outside of the pita.


Mix sugar and cinnamon before drizzling it on the outsides of the pita

Place the pita in a oven and let it bake for 5 minutes or until the pita has browned

While the pita is toasting, make the ingredients for the yogurt dressing

Remove pita from the oven and let it cool for a few minutes

Place the pita chips on a salad plate and top with 1 part of the arugula

Add the melon balls on the arugula and drizzle with the yogurt dressing

Nutrition
Calories:
404
kcal
|
Carbohydrates:
80
g
|
Protein:
8
g
|
Fat:
8
g
|
Saturated Fat:
1
g
|
Sodium:
267
mg
|
Potassium:
898
mg
|
Fiber:
7
g
|
Sugar:
49
g
|
Vitamin A:
4415
IU
|
Vitamin C:
76.6
mg
|
Calcium:
152
mg
|
Iron:
2.7
mg