Vegan Smoothie recipe using avocado and banana – Needs only 5 ingredients and 10 minutes to make.  A Vegan and healthy smoothie recipe for breakfast or lunch
Some days, I need a smoothie but I am too lazy to make anything elaborate.
I put a few ingredients together and that is how this delicious recipe was born.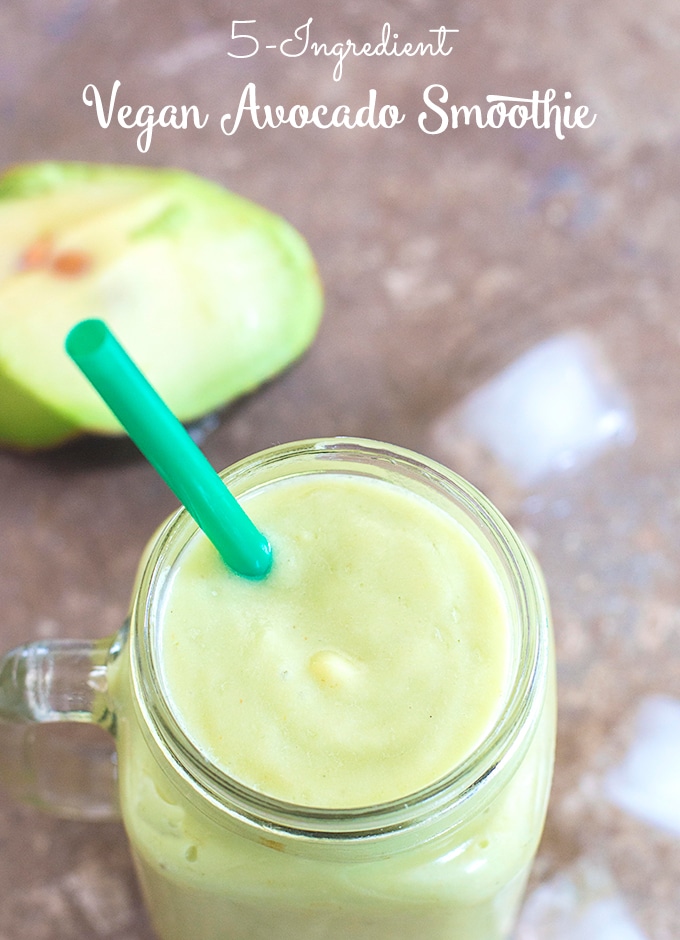 I have eaten so much comfort food over the last few days and it has been very comforting.  My comfort foods have included both the regular potatoes and sweet potatoes, breads and chili.
You can relate, I am sure!
Today, I cleaned out my fridge and it never surprises me when I see what was in there.  I found Chinese food that I had ordered months ago. It was vegetable chow mein, just in case you wanted to know.
Tucked in there somewhere where avocado, a small bottle of almond milk and a banana.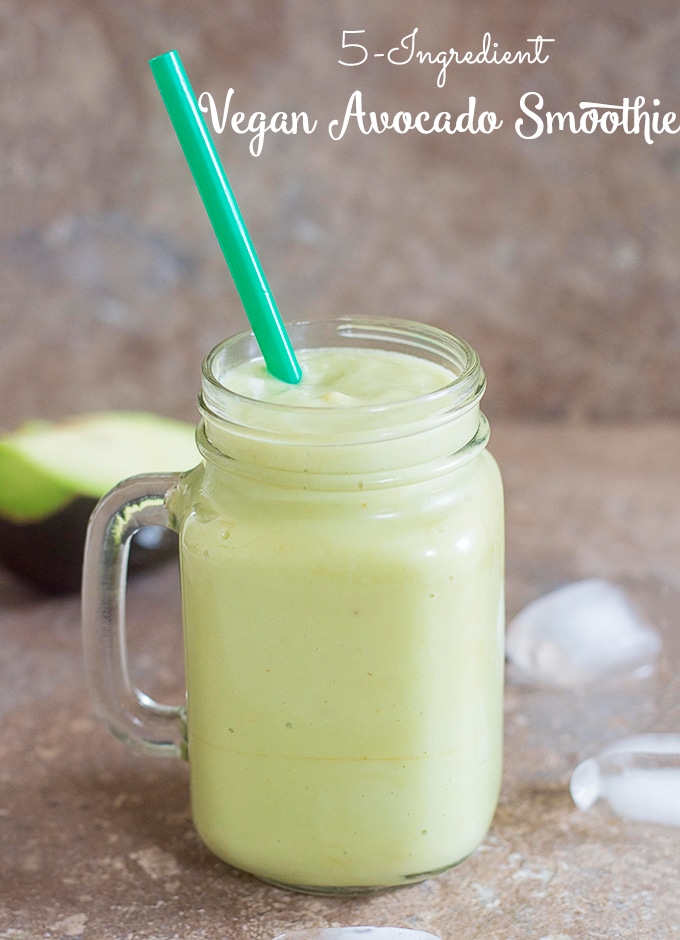 "What can I make with this?" I asked to an empty room
" A SMOOTHIE!!" came the answer.  I don't know where that answer came from, but just like a gift horse, I will not one look a good idea in the mouth.
The almond milk meant that the smoothie had to be vegan, so, maple syrup was perfect for sweetness.  I had a bottle of it and it had 2 Tbsp worth which is all I needed.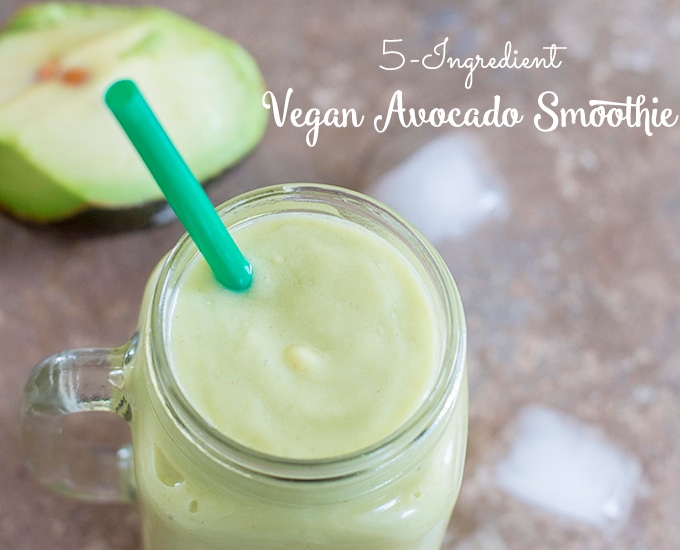 I love when I have the exact amount of everything I need for a recipe on fridge cleaning day! I can't wait to make more healthy smoothie recipes from all the other stuff I found in the fridge.  Is there a way to turn chow mein into a smoothie recipe?  The wheels are turning in my head…
Avocado recipes are always popular on the internet.  You HAVE to try my avocado on toast recipe.  The not so secret ingredient is pina colada guacamole.
Do you have any fruit smoothie recipes that are your go-to healthy recipes?


Vegan Smoothie Recipe With Avocado
Smoothie Recipe With Only 5 Ingredients
Avocado & banana smoothie recipe that takes only 5 ingredients. Can be Made in 10 minutes or less.

Ingredients
1

avocado

1/2

banana

1

cup

almond milk, unsweetened

2

Tbsp

100% Dark Maple Syrup

Adjust to your taste

5

ice cubes
Instructions
In a blender, add 1 avocado peeled and roughly chopped

Add 1/2 of a banana and 1 cup of unsweetened almond milk

Add 2 Tbsp of Maple Syrup. You can adjust this to your liking

Add about 5 medium sized cubes of ice

Blend on medium speed until well blended
Transfer the smoothie to a mug and devour immediately
Recipe Notes
Nutrition Facts
Smoothie Recipe With Only 5 Ingredients
Amount Per Serving (2 cups)
Calories 517
Calories from Fat 288
% Daily Value*
Total Fat 32g 49%
Sodium 346mg 14%
Potassium 1276mg 36%
Total Carbohydrates 58g 19%
Protein 5g 10%
* Percent Daily Values are based on a 2000 calorie diet.